Hi. Iuliana from Hip2thrift here. If we're gonna be friends, you need to know that I hate baking, and if we get to hang out together, the cookies will most likely be store bought. What does this have to do with this crochet lamp shade pattern, you ask? Nothing really, except to illustrate that when you bake you have to be exact, and like one of my awesome friends told me once, it is a science. Nuh-ah. Not with crochet! You can totally wing it so much of the time, and depending on how loose or tight you crochet, on the thickness of the yarn or the size of the hook (crochet hook…not Captain Hook, in case you too are obsessed with Once Upon a Time), your work can turn out to be completely different from whatever pattern you were following, which I guess can be frustrating sometimes, but totally awesome for me. I hate following exact recipes, patterns or directions (yeah…I do get lost a lot).
That, my friends is the case with this super simple and fast project.  You've seen lampshades covered with flowers, paint, burlap, fabric, washi tape…you name it…blogland has seen it. This is my crochet spin on it.
 – This pattern will work for any size/shape lampshade that needs a little makeover. I used a  13" diameter JÄRA Shade from Ikea that I had gotten a few years ago
– Any Super Bulky weight yarn. I used Lion Brand Wool-Ease
SC – Single Crochet
SL ST – Slip Stitch (or join)
DC – Double Crochet
Pattern & Tutorial
Round 1: Chain enough chains to go around the top rim of your lampshade minus 5 stitches. For mine it was 55 CH. Making sure not to twist, make a ring by joining with a SL ST.
Round 2: CH 1. SC all around. SL ST to join (55 SC total)
Round 3: CH 1. Work a SC in each stitch. If your lampshade is a bit concave like mine, you'll have to  increase evenly 4 times during this round. An increase is 2 SC in the same stitch. (59 SC total)
If your lampshade is perfectly tubular, no increases are necessary in this round or any of the rest
Join with a SL ST.
Round 4: CH 3. Work DC in the back loop of each stitch to make a ledge that will fold in. SL ST in the top of the CH3 (59 DC total)
Round 5: CH 3. Work one DC in the same CH 3 stitch. This will be your increase in every row. Join. (60 DC total)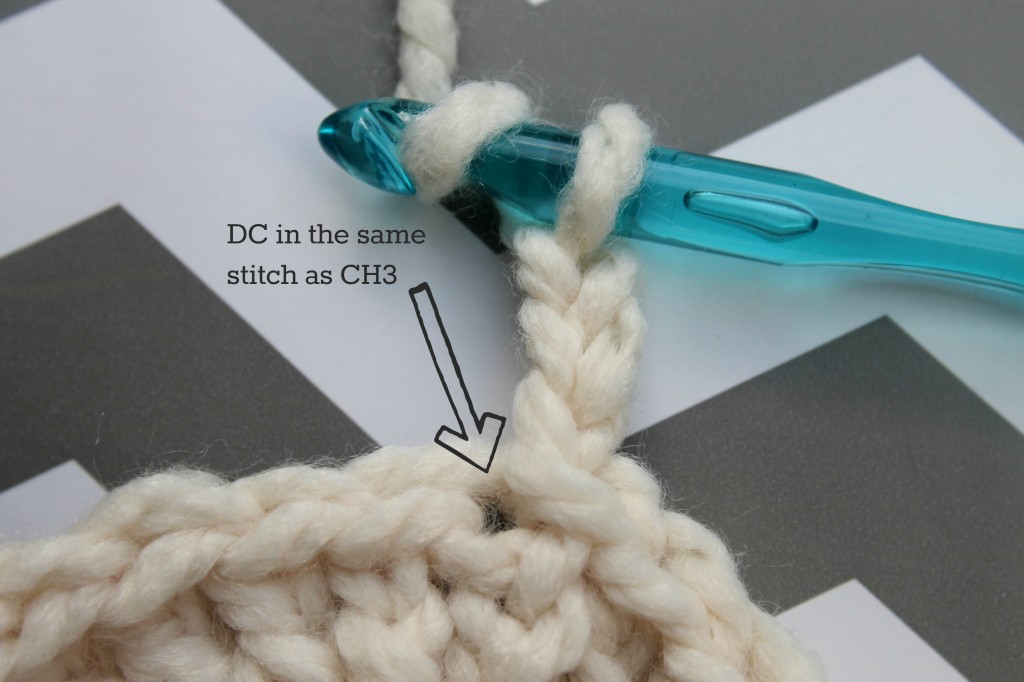 Round 6-13:
Repeat Round 5 until you get to the bottom rim of the lampshade. For mine it required 8 more rows.
Round 14: CH 1. SC in the back loop all around. This is a repeat of the little ledge we created for the top brim. Join.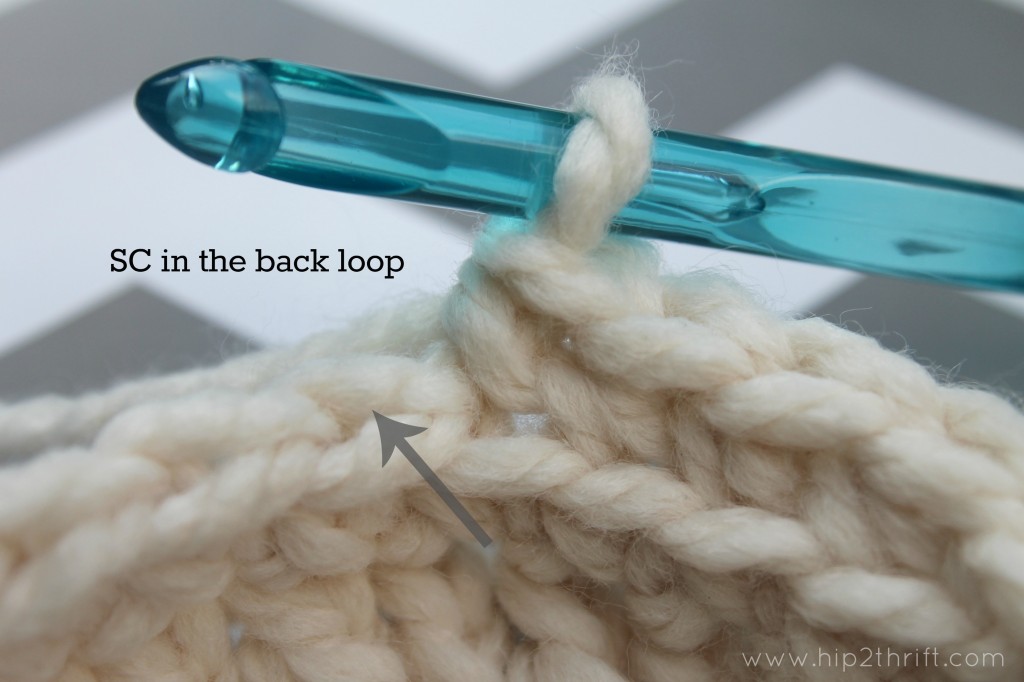 Round 15: CH 1. Work 4 decreases dispersed evenly around.
How to do a Single Crochet Decrease:
Put the hook through the first stitch, wrap the yarn over and pull through. You now have 2 loops on the hook.  Leave both loops on the hook.  Put the hook through the next stitch, wrap the yarn over and pull through.  There are 3 loops on the hook. Wrap the yarn over and pull through all three loops.

Round 16: CH 1. SC all around. Join. Weave in tail.
Dress  your lamp with it's new coat making sure you use the skinnier part for the top of the lamp and match the folded edge with rims of the lamp.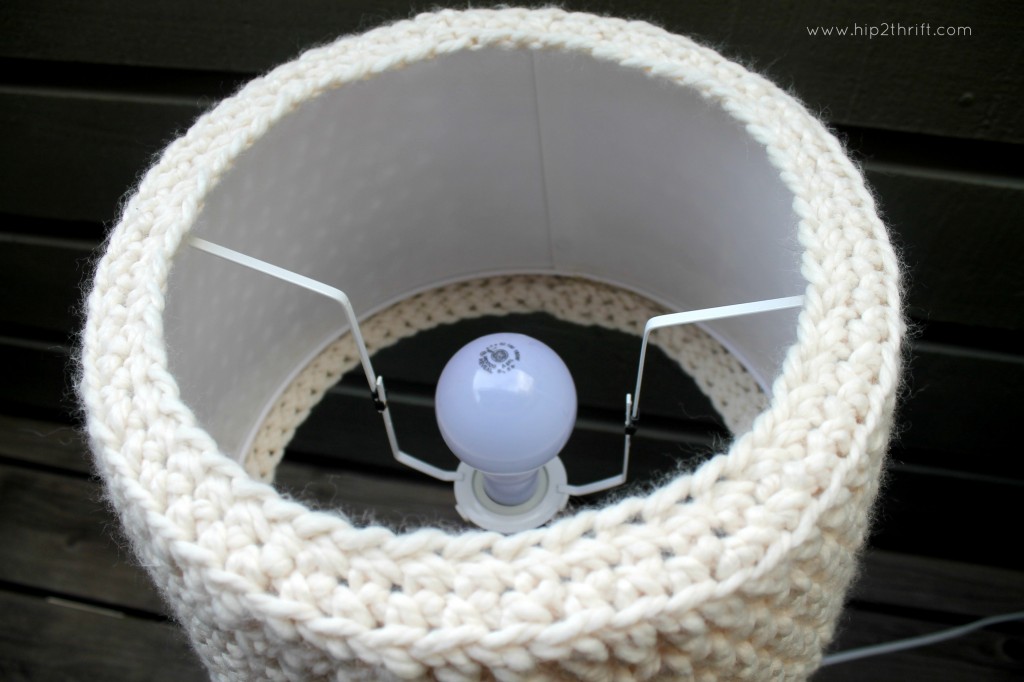 You're done! Because of the chunky yarn and large size hook, this is a very quick project. I did it while I watched some NBA documentary with the hubs (and no…it wasn't my choice. It was documentary night and it was between that or one about how to armor an SUV).
Also, if you've ever bought a lampshade from Ikea before, than you know they usually don't work with non-Ikea lamps. Check out a tutorial over at Hip2Thrift about how to hack an Ikea lampshade in order for it to work for all lamps.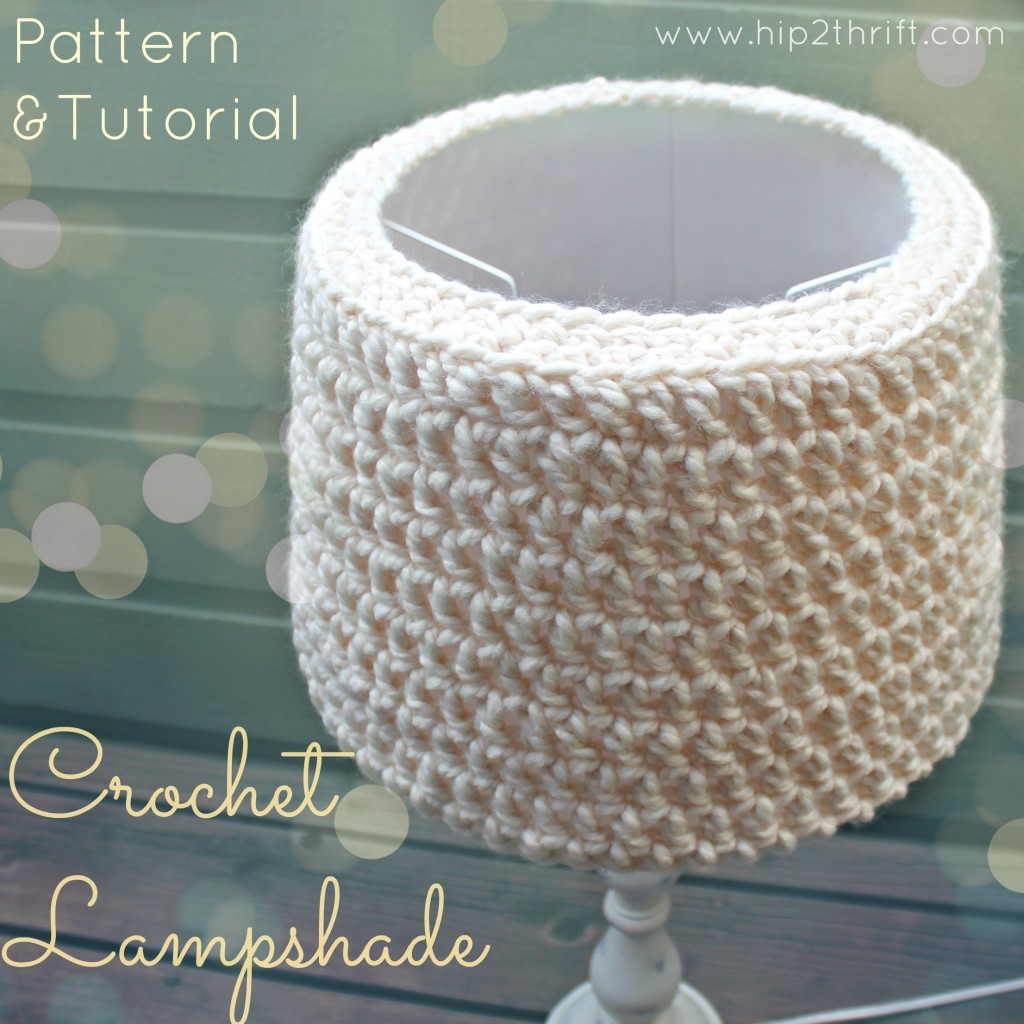 Enjoy a whole new look for your lamp, added texture and character!
Hugs, Iuliana
Follow Craftaholics Anonymous® on Pinterest for more crafting inspiration! 
Don't forget to enter to win $100 to Barn Owl Primitives giveaway!
Latest posts by Craftaholics Anonymous (see all)