Happy Friday, Crafters! Lina is here {again!} to show off her new crafting space. She recently moved and so she now has a brand new space to  create in! {check out Lina's craft closet!} You will love her bright, cheery colors and smart storage ideas. Enjoy! -Linda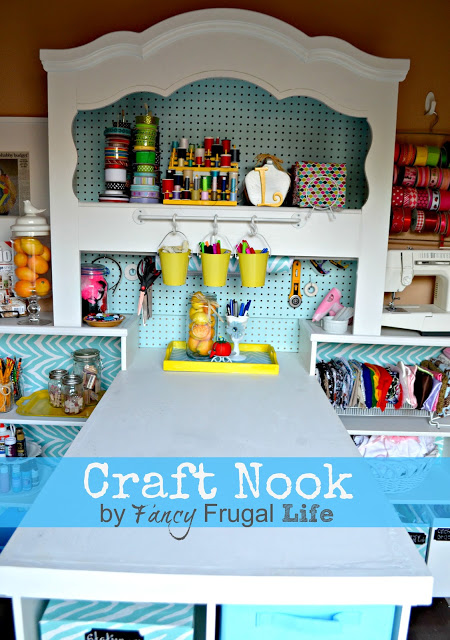 Craft Room

Hi there! My name is Lina and my blog is called Fancy Frugal Life. I write about frugal decorating and entertaining ideas. I also have a love of thrifts stores, chalkboards, crafts, and cooking.
I'm super excited to show you my new creative space. Thanks so much, Linda for having me today!!!
As some of you know may know, I created a craft closet in my home last spring.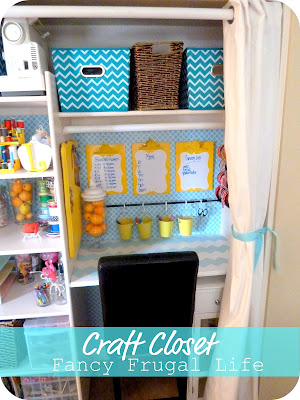 It brought some exciting attention/press to Fancy Frugal Life.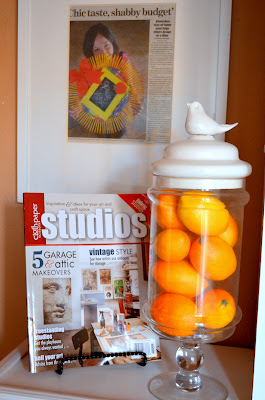 Three months ago we moved to Central California for my husband's job and found a house with this "nook" area. It is located under the stairs and is a pass through from the living and dining room. To the left is the sliding door to the backyard.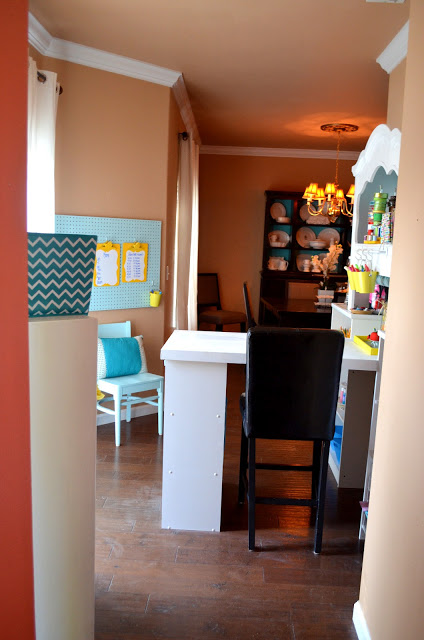 A few months earlier I found this headboard on the curb of our old neighborhood and rescued it thinking I'd make it into a puppet theater or something creative for my kids. Well my husband had the genius idea of using it as craft space storage and together we made this space happen!
After lots of priming, filing wholes, sanding, and white paint I got this result. My husband also shortened the piece by 6 inches. Yay for a hubby who knows power tools since I don't! :)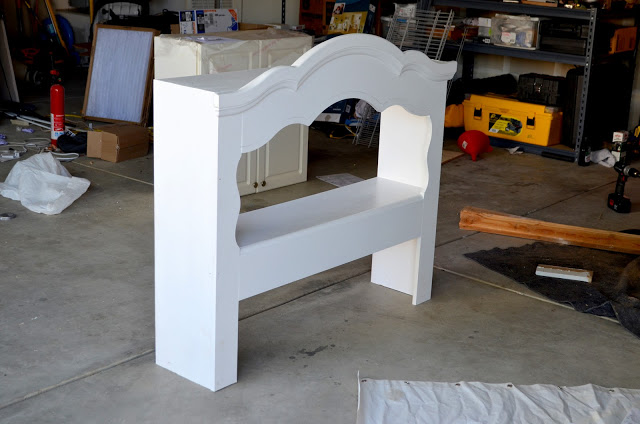 When we went to Lowe's to buy pegboard, they told us we could have anything for free in the scrap pile next to the saw!! There was a huge piece of pegboard and other wood in there! Whoohoo! So I painted the pegboard with Valspar Crystal Blue in satin.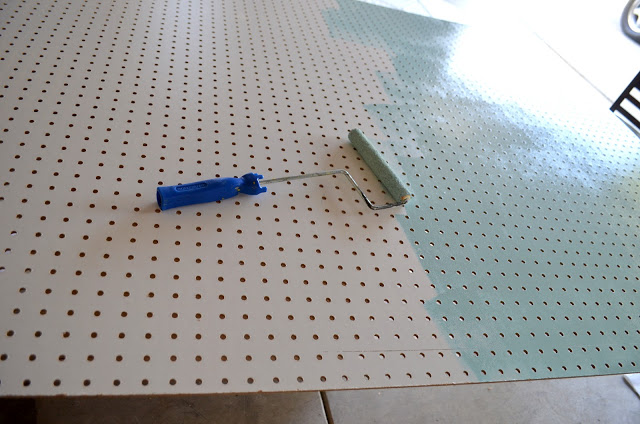 We attached that to the back as well as a towel bar in the front of the cabinet.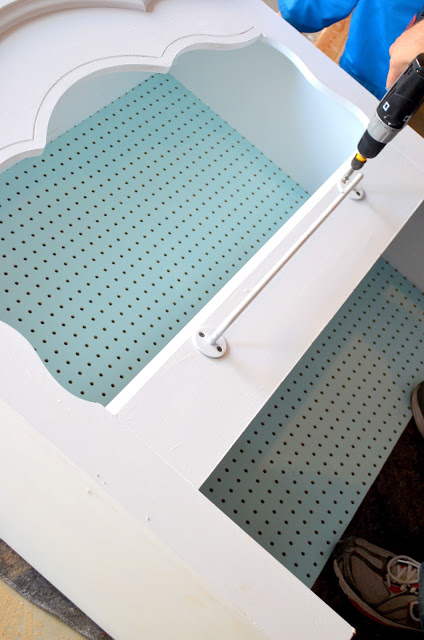 I bought some pegboard pins to hang craft supplies.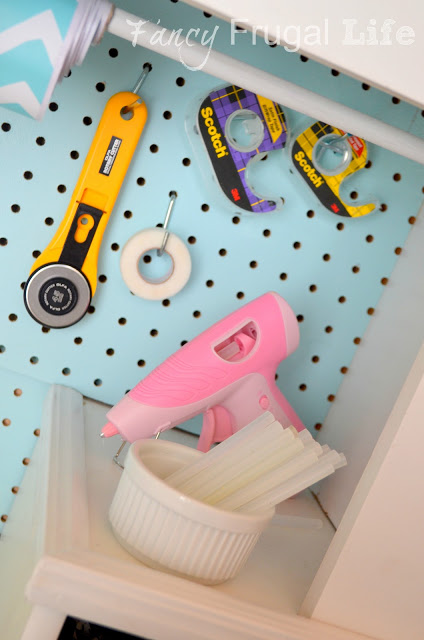 Also my husband framed a small strip of molding around the top of these inexpensive bookcases that used to be in the garage…It makes it look polished I think.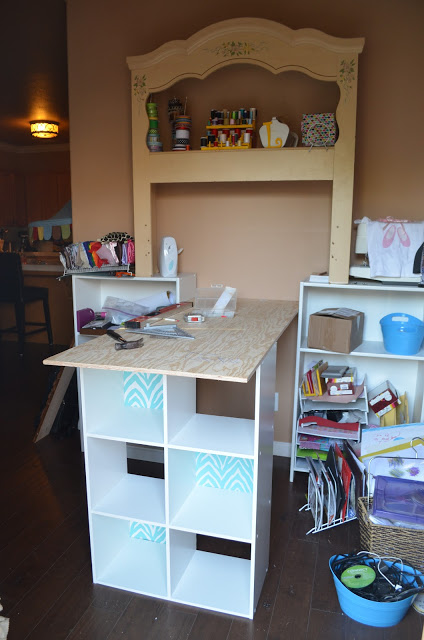 Here's another before pic. So there are two inexpensive book cases on both ends of the cabinet, and then we built a counter coming out from the wall. I did buy a new cabinet from Lowe's with square shelves to make a desk appearance.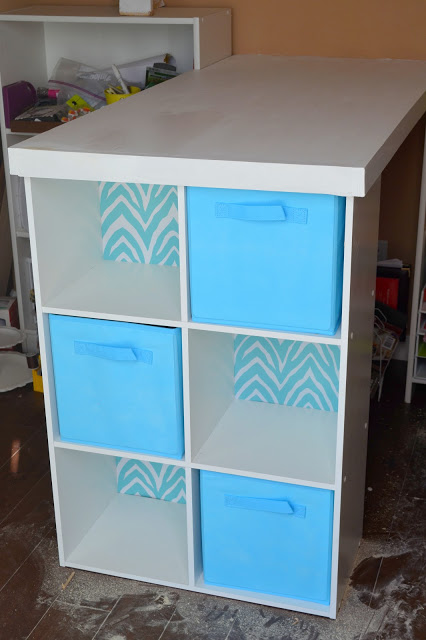 I primed and painted it.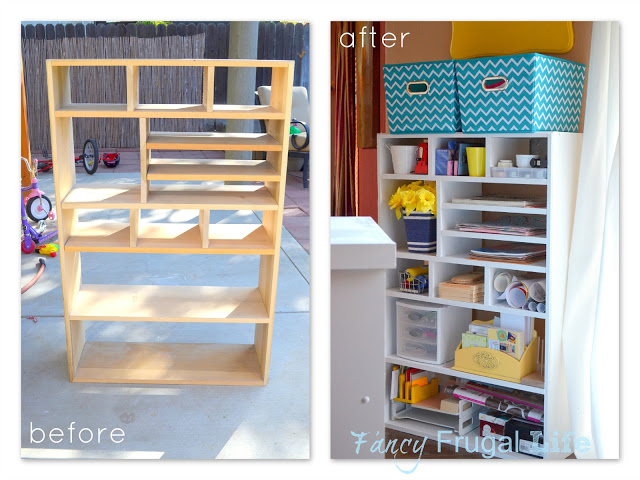 My husband made me this shoe organizer about 5 years ago and in this house the master closet isn't big enough for it (which also meant two boxes of high heels from my previous office environment job gone!) Anyway, I painted this piece white as well. It makes great craft storage now!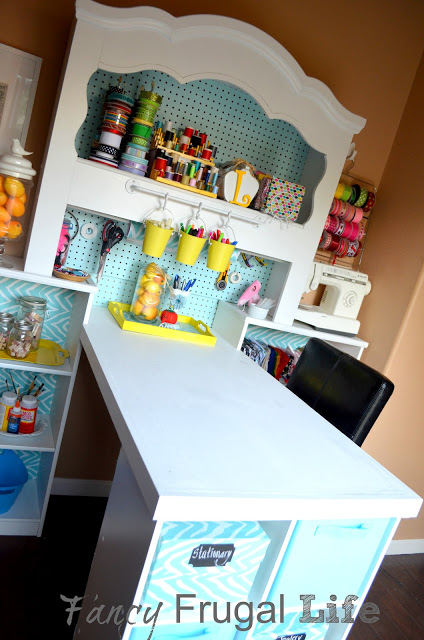 So what do you think of my free headboard, free wood, and thrift store painted items?! And who wants to come over and hang out in the craft nook? :)

I'd love to have you visit me at Fancy Frugal Life :)
Thanks for showing off your craft nook, Lina! You did a fanatic job on it!

happy crafting,

Linda

Don't forget to enter the All I want For Christmas Giveaway Part II??
Latest posts by Craftaholics Anonymous (see all)