Happy Thursday, friends! Today I am sharing YOUR tips and recommendations when it comes to picking a first sewing machine. That first sewing machine is such an important one! Which is probably why this is a common question on the Craftaholics Anonymous® Facebook page. Read what your fellow sewers have to say and what they recommend when it comes to picking that first sewing machine. There are some really fantastic insights!
This post is taken from this thread: "I want to buy a sewing machine. I'm just a beginner but want a machine that will grow with me as my skills improve. I would mostly do home decor, small crafts and clothing. I'm willing to pay for quality (but not a mortgage payment like a Bernina). What would be the best brand and/or model for me to look into?" -Terina
Tips to Picking a First Sewing Machine
1. "Janome" – Augumn G.
2. "I started (and still use 9 yrs later) with a Singer 5050 and I still use it nine years later!" Tammy K.
3. "I second that, Janome!" – Nancy L.
4. "The Bernette is the low-end Bernina and might be worth looking into. Also, you can often get a good used Bernina on eBay, which is worth it. The Bernina people stand by their machines– even if you aren't the original owner." – Anne Z.
5. "I bought an inexpensive Janome, under $200, and it sews beautifully. Easy to use but has lots of functionality to grow with you as a seamstress." – Gail O.
6. "I have always been a Husqvarna gal and Love my Viking Sapphire. It has a large bed for quilting, a multitude of stitches, is great for sewing garments and embellishments, a 1/4″ stitch, easy on off feet, and very easy to use and get used to." – Monika K.
7. "Get one that you can drop the feed dogs." – Jana N.
8. "Janome!" – Laurie K.
9. "I just have a couple of items to think about (that I wish I would've thought about when purchasing my first sewing machine) – 1. Make sure you have someone near you that works on said machine brand. 2. Check what extra feet come with your sewing machine (so you don't have to purchase a ton as you get into more projects.) 3. Read reviews and see if you can actually work on the machine you're interested in, some quilting stores actually have them available to use. Good luck and have fun!" – LaRie S.
10. "I love My Janome 2030 QDC. It can totally grow with you as you're skill level increases." – Deana W.
11. "I just bought a Brother SQ9050 and I am in love with it!!! Easy enough to learn on but has over 140 stitch functions that I can learn one day!" – Tina S.
12. "I love my Pfaff Hobby – it can sew just about anything!" – Lindsey M.
13. "Another fan of Janome here. My sewing teacher swears by hers. She does a lot of home decor sewing for clients on her machine. Shes had the same machine for 20 years and it's never given her any trouble." – Amanda C.
14. "I have a Husqvarna and I LOVE it!" – Linen and Oak
15. "I like Babylock and Janome." – Amanda D.
16. "I SWEAR by my Singer 4411. And while I'm a professional, I've recommended it to several novice seamsters and seamstresses with wonderful feedback. The inner frame is metal, so it holds up well. Singers last forever, my last domestic Singer lasted through 8 years of HARDCORE use!" – Britney L.
17. "I have had a Kenmore for over 22 years now, and it's still going." – Sue G.
18. "I got a Singer Confidence from Amazon & love it. It has tons of stitches, comes with tons of feet (3 diff button hole feet alone). It was about $300, but I watched it and ended up paying less than half." – Alicia A.
19. "I am on the Janome band wagon. I bought a used Janome DC2011 and love it. I have sewn everything from appliques to baby blankets to queen size quilt using it. Love it." – Sabrina S.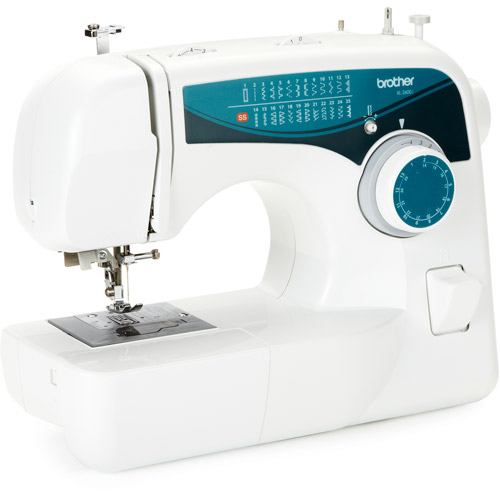 more information to help you pick your first sewing machine…
20. "I have a Kenmore too. I spent $150 and it's still going strong 5 years later and I use it ALOT! I am just now looking to upgrade to something with more functions." – Colette L.
21. "I have a Janome. Not too fancy or expensive. $300 I think. Love it!!!" – Theresa G.
22. "I love old machines. I have a Singer from the 50's and it is the best machine I have ever sewn on! Plus the older machines have lots of charm and are like a piece of art!" – Amanda M.
23. "We just bought my first sewing machine a couple weeks ago and got Janome. So far, I really like it – it is a very good machine to learn with." Diana S.
24. "I sew on a Bernina at work and they are awesome. The Bernette is a good one and is less expensive. I own two Brothers: a Project Runway and the cheap one. They are good but I have found they can have issues if you use them a lot and they need serviced regularly. But honestly my favorite machine is a 37 year old Kenmore I purchased second hand. It is heavy duty and works like a dream. If you can get a manual they also have detailed instruction on how to oil and service them yourself. While I purchased it as a cheap back up I have moved over my newer machines and use my vintage Kenmore." – Opal B.
25. "I suggest a Janome, Singer or a Toyota as they are easy to use, have all the bits and pieces you need, and are less than $500." – Lindy K.
26. "Janome is the best price-wise, besides maybe a used Bernina. Depending on where you live, because different things are sold in different areas, you can find used Bernina machines for anywhere from $30-$200 on publicsurplus.com." – Chantel D.
27. "I have a Janome DC1050 ($299) and love it. I'd avoid any new Singer or Brother machines. They have cheap plastic parts that cost more to repair than replace the machine." – Amanda G.
28. "I bought my daughter-in-law a Brother. It does everything she needs and a bit more. It has room to grow with her as she learns to do more things." – Karla W.
29. "I have a Brother Smartstitch (I think that's his name), and I LOVE IT!!! It's a very forgiving machine. He will tell you exactly what's wrong with it, auto-adjusts for tension, and won't hate me for accidentally running over safety pins – don't ask. My kind of machine! And at around $125.00, you can buy a big fancy-pants machine later if you want. Although, I have done everything under the sun on this machine – from sewing paper, to quilting, to making clothes – and it's seriously awesome." – Dana A.
30. "I got a Brother Project Runway, but after buying it and using it I should have bought the Brother embroidery machine with the USB to hook to my computer." – Stephanie R.
31. "As for buying a new machine, I have tried many. Janome is what I purchased for my sewing school and they are excellent machines. Sometimes they have deals on the shopping channel. For an industrial machine I would buy Juki – it is meant to be reliable work horses. They are solid and never let you down. $450 should get you am excellent domestic (home) machine." – Andrea T.
32. "I bought a used Bernina for $400 and have really liked it!" – Sue W.
33. "The basic Pfaff is great . Go try a couple at a sewing store. Sometimes they will give you a great deal on a demo model!" – Jilli O.
34. "I would check with a Bernina dealer for a used 300 series. I sold my extra Bernina 830 through a Bernina store. It is absolutely the best brand for a beginner!!" – Sandi P.
35. "I love my Janome! Great machine, very dependable, beautiful stitches on lower priced models as well as more expensive ones!" – Betsey H.
36. "I bought a slightly used Viking on Craigslist and adore it. No problems so far, it sews great, and is very quiet. If you can find an old Singer though hold onto those!" – Janelle N.
37. "I've had my Pfaff for over 20 years and it's been in the shop ONCE a couple of years ago. Love Love Love it!" – Lanetta's Creations
38. "I have a BabyLock from back in the 80s that works like it's brand new and it's fantastic. I'm sure they have other newer sewing machines that you can order off their site that are similar. This one has all the bells and whistles and I've been using it for a year. I also have a Wal-Mart bought Brother machine that works fantastic. I use it for quick projects that I don't worry so much about quality on. I would avoid Singer. I had one of those two years ago and it broke after only sewing one project on it." – Marianne G.
Thanks for stopping by today! I know I learned a few things about picking out a sewing machine. Make sure to check out the Craftaholics Anonymous Facebook page for lots of crafty tips and tricks from fellow crafters!
happy crafting,
Linda
Did you enjoy this article? Sign up to follow along via RSS feed or email updates!
Latest posts by Craftaholics Anonymous (see all)