Happy Friday, Craftaholics! Today Virginia is here to share her bright and colorful craft room! She has lots of great storage and organization ideas! Enjoy! – Linda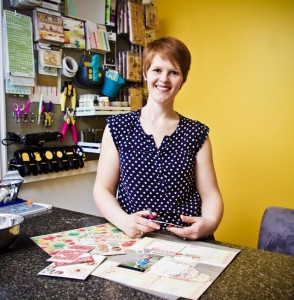 Craft Room Tour
Hey Craftaholics! I am Virginia from Fynes Designs and I am so excited to be sharing my workspace with you! I'm a working from home mama with 2 wee ones, a small catering business, and a passion for all things crafty. Stop by for a visit and follow along with my DIY, craft, sewing, paper crafting, yarn raveling, and frugal adventures… everything you find (including this craft room) is done on a bitty budget!
My old space had to be converted to a bedroom, so I took a bit of money I saved up and built a new room in our basement. As you can imagine, building a room from scratch most of my budget was eaten up by drywall, flooring and fixtures, so the pretties are all thrifty finds and DIY. Please have a look…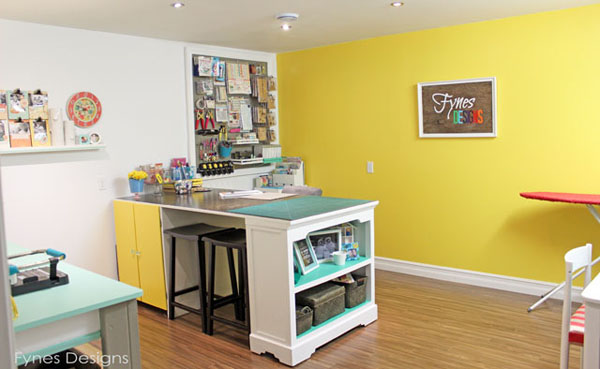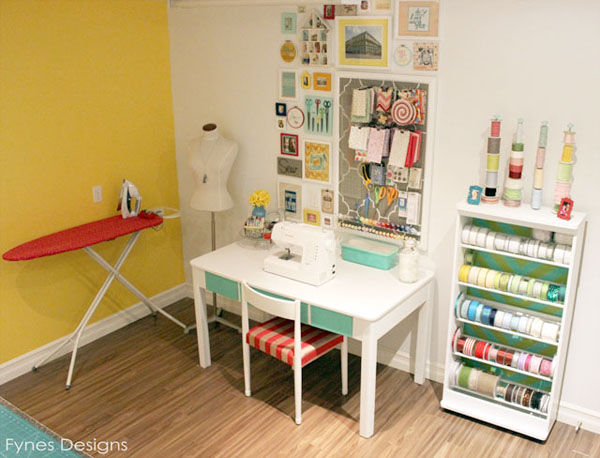 The way I have the room set up I can reach everything I need for a certain craft from one spot. When sewing, all my notions are in arms reach, my ironing board is close by and I just turn around and the cutting mat is right there, I really tried hard to create good working triangles.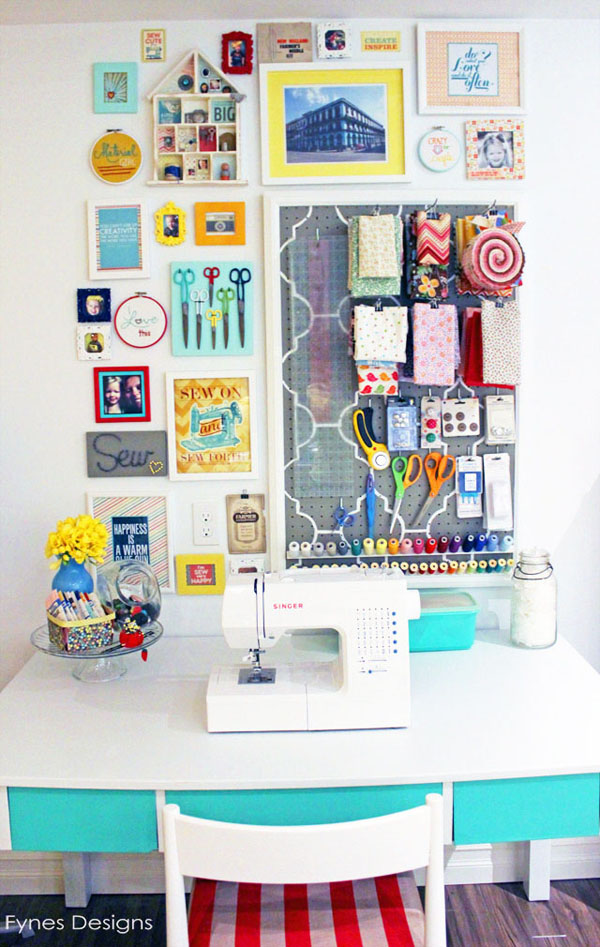 The main thing I wanted in my new craft space was a home for each tool and supply. Pegboard was the answer. I reused it from my old space, but cut it up to make two areas. My brother used leftover baseboard pieces to create the frame around the large one and the smaller is in an old photo frame. My gallery is all DIY art and Instagram shots.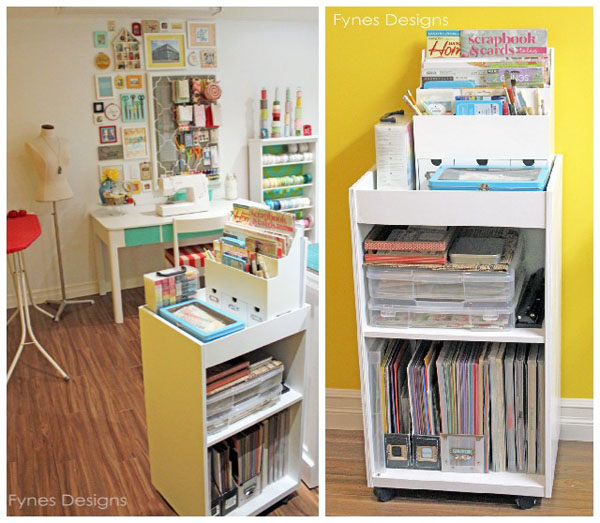 Another great storage idea is my rolling cart repurposed from an old record player I found in my mothers attic. It holds all my scrapbooking paper and a few tools.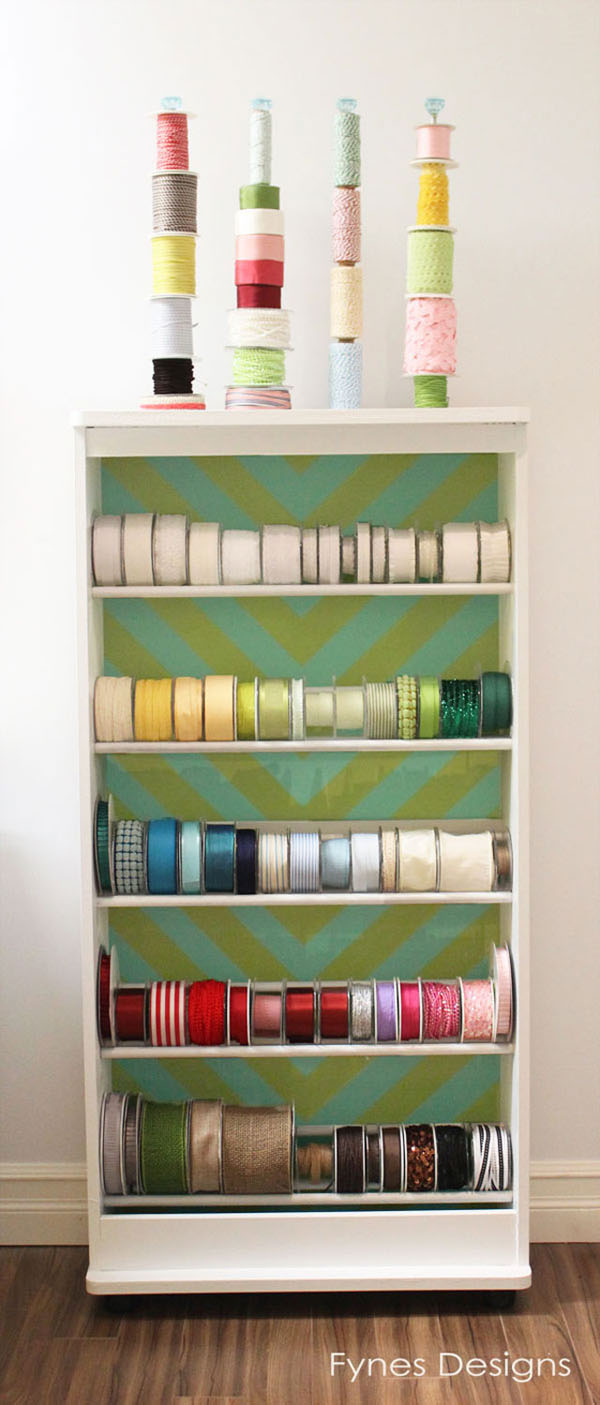 I am on the May Arts Ribbon design team, so I have a boatload of beautiful ribbons. Since VHS is obsolete finding this stand to convert into a storage rack wasn't much trouble.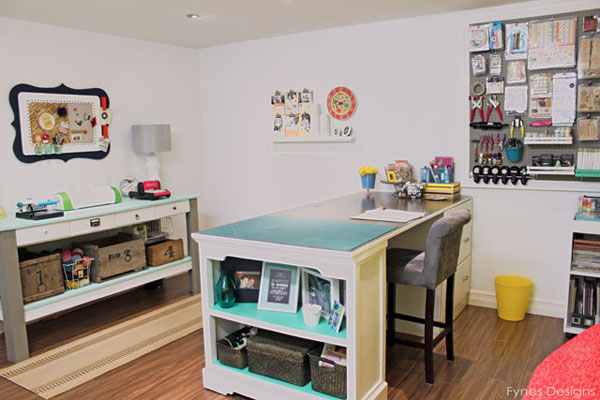 I have a great desk (also from my old space), it had to be cut in half to get it into the new room, so it got a fresh coat of paint that really brought it to life. I made it from a bank of drawers from the Home Depot, a cabinet from my sister's kitchen Reno and a shelf I got for cheap because the top was busted. Then topped with a 4-x8 sheet of plywood and arborite.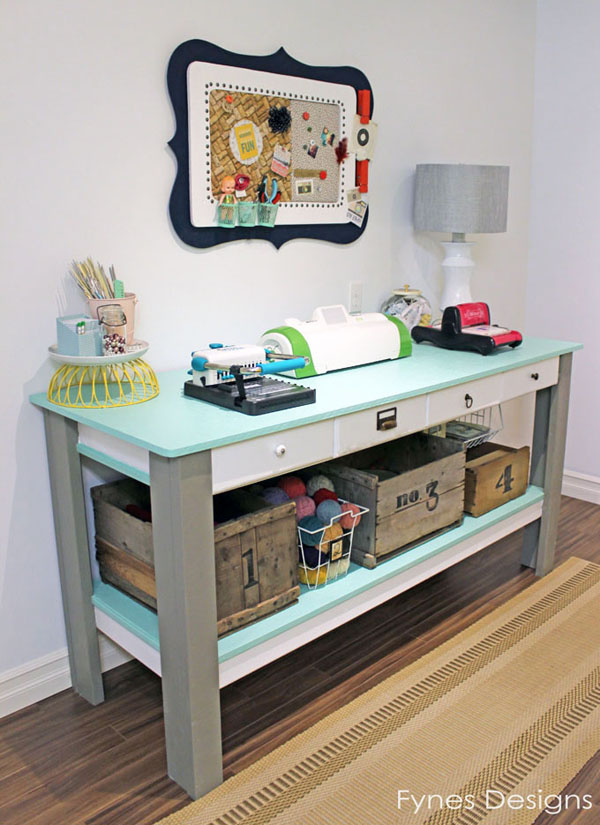 My hubby built the workbench from a plan I found on Pinterest. It is the perfect place for all my large tools and the drawers hold tons of accessories. The crates are from my aunt who had an apple orchard.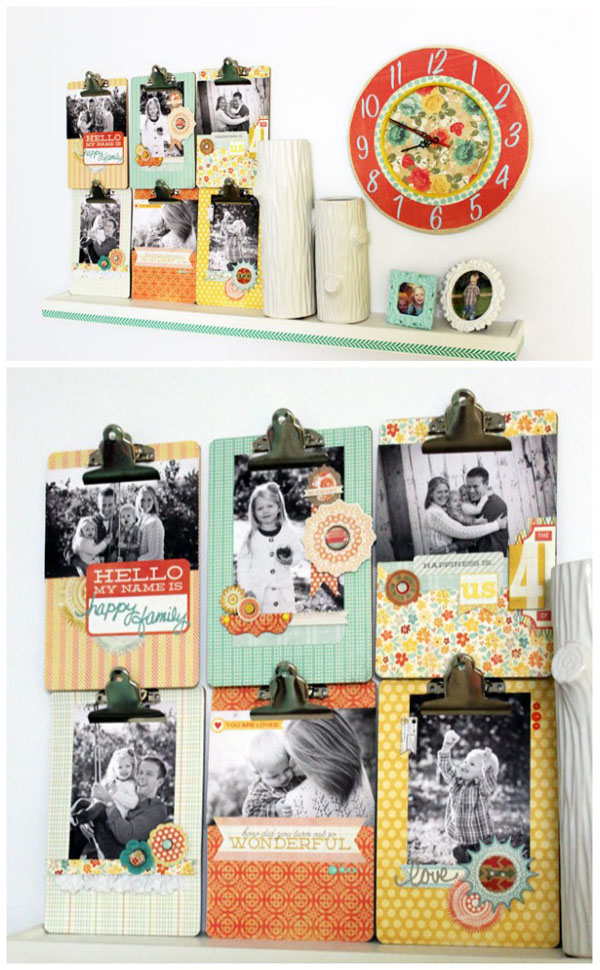 When planning out my color scheme, MME came out with this this new collection and I immediately fell in love with the colors. Luckily I found mistint paint to coordinate!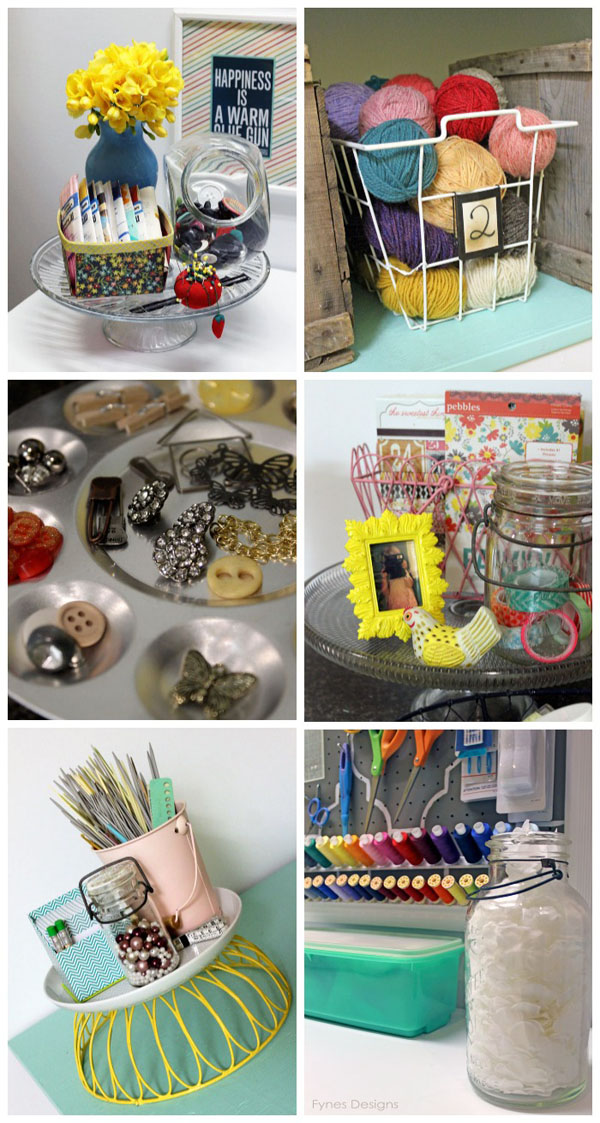 Thanks for touring my craft room I hope you'll join me on Facebook for more of my crafty ideas!
Virginia
 Seriously in love with all the bright colors in Virginia's room! Do you have a craft space you'd like to show off on Craftaholics Anonymous®, please email info{at}craftaholicsanonymous{dot}net. 

You can find all the Craft Rooms featured on CA here. 

happy crafting,

Linda

Latest posts by Craftaholics Anonymous (see all)