Happy FRIDAY, crafters! Megan is here to show off her small craft room! enjoy! -linda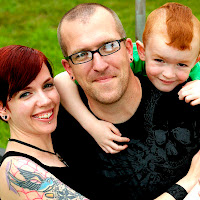 Hello, fellow Craftaholics! My name is Megan and I blog over at Polish The Stars where I share colorful and quirky crafts, decor, recipes, and projects for kids. Everything that you need to make a home fun and beautifulwith a small budget. Today I am here to share my craft room with you!
Craft Room
This room has been a challenge since it is long, narrow and also serves as our library and workout space. These challenges have just forced me to be even more creative though and my cozy little space has become a wonderful place to craft.
It's actually pretty amazing if you consider how it started out:

You can't tell from the grainy iPhone pics but the walls were as filthy as the carpet and at one point they were baby pink. Yuck! Once the carpet was replaced I painted all of the trim Ultra Pure White and the walls my own custom gray color. Then I had a fresh, clean canvas to work with.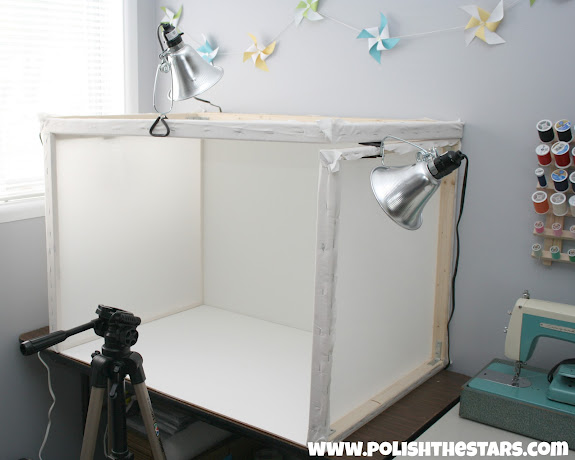 Over in the corner I built a photography light box so that I could take better photos of my projects. Under the table is where I store all of the shipping supplies for my Etsy shop. One of these days I will probably get around to making some kind of cute skirt to hide all of that.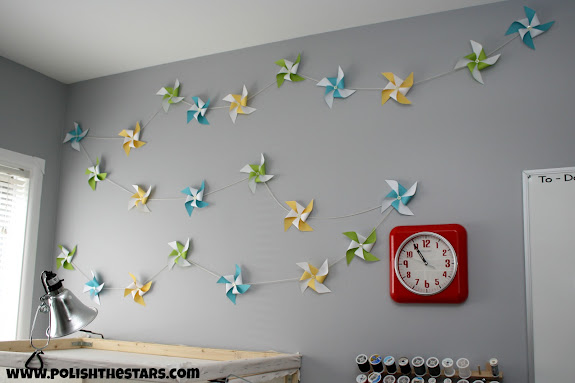 There was a large blank wall space over the light box so I made a whimsical pinwheel garland to add some color.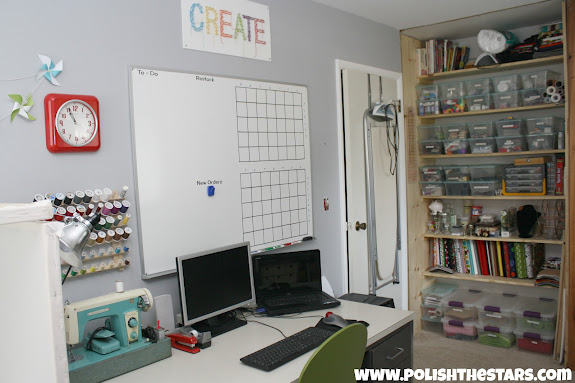 To the right of that is my work station. I found the desk on craigslist and gave it a makeover with a few cans of dark gray spray paint. This serves as a place to craft, blog, and pay the bills. The desk also has a built in filing cabinet that I use to organize my colored cardstock as well as all of our household papers.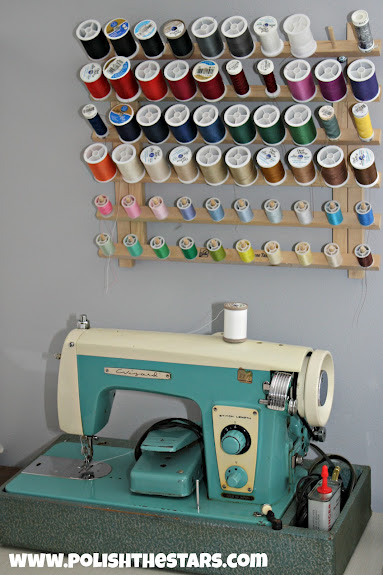 Proudly displayed on my desk is my Grandma's sewing machine that I use for all of my sewing projects. There is just something special about working with the same machine that Grandma used to sew with. I also love the retro look and the color is great!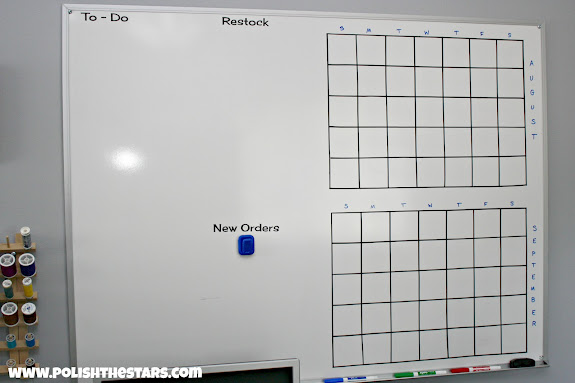 Above the desk I have an extra large dry erase board where I organize everything for both my shop and the blog. I used my silhouette to cut out vinyl lettering to mark the areas for things that need to be done, items in the shop that are running low, and a clip that holds the invoices for all new orders that need to be filled and shipped.
I also cut super thin strips of black vinyl to make calendar grids. I use this to keep track of upcoming blog posts. I color code all of them so that I can glance up and see which projects still need to be made, which ones have been created but still have photos that need to be edited and the post needs to be written, and which ones have been written and are all scheduled to post.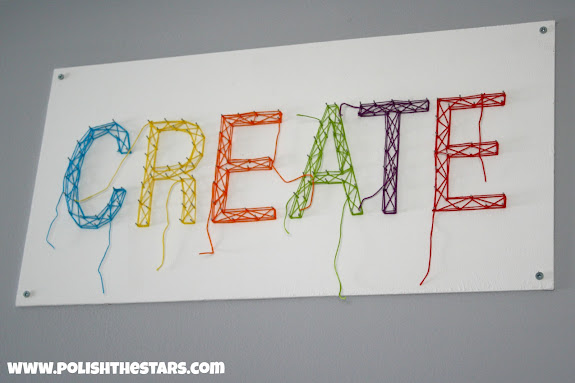 I made some colorful, messy string art to hang above the dry erase board. I intentionally left the ends loose because the creative process often gets messy. :)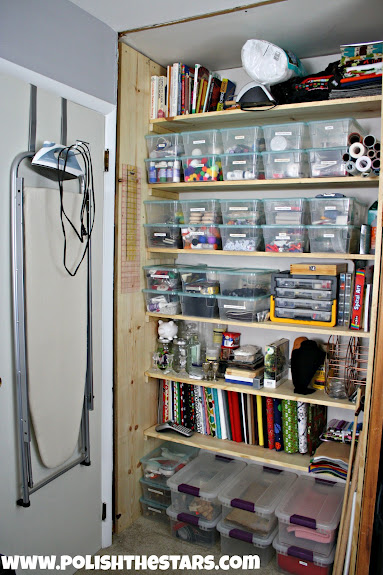 To the right of the desk is where all of my supplies are stored. The over the door ironing board is a great space saver and not only stores itself but my iron as well. The shelving system is pretty simple. There are 10″ x 1″ x 8′ boards screwed onto the sides of the closet and then 1″ x 2″ x 10″ boards screwed into that to provide a ledge to hold up each of the shelves. This makes the whole thing removable if we decide to change things around later.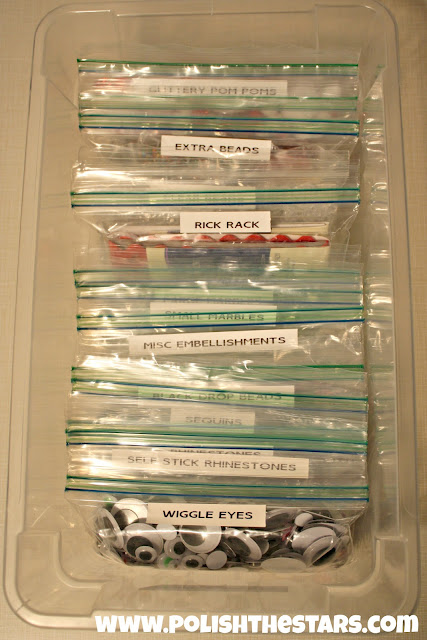 Most of my supplies are organized in plastic shoeboxes. For the really small items, I separated them into snack size ziploc bags and labeled each one so I can just flip through them and find what I am looking for.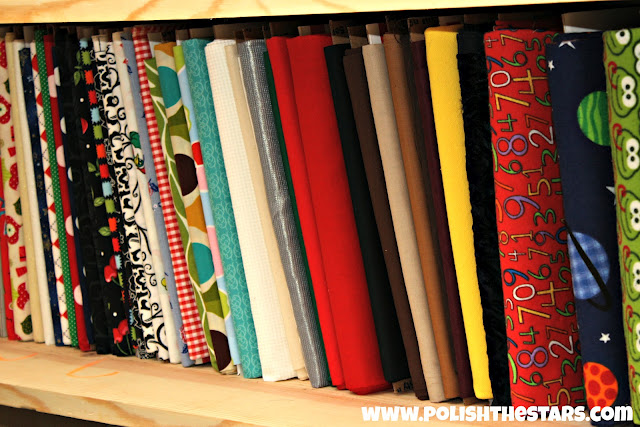 I had previously folded my fabric using a quilting ruler so I just slipped in some pieces of cardboard from old boxes to make mini fabric bolts. I also made a little fabric swatch ring that I can take with me to the fabric store so I can find complimentary fabrics or just to remember what I have already purchased.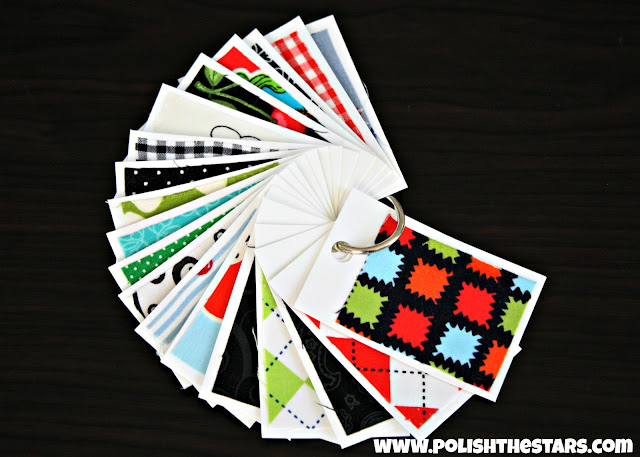 Thanks for having me here at Craftaholics Anonymous. I hope you all enjoyed the tour of my crafty space! I would love it if you stopped by to visit me over at Polish The Stars. I love making new blog friends. :)

What a great space, Megan! You've done a lot with it! My favorite was the pinwheel garland. Want to take a peek at more craft rooms featured on Craftaholics Anonymous?

happy crafting,

Linda
If you'd like to submit your craft room to be featured, send a picture or link to info@craftaholicsanonymous.net!
Don't miss a craft! Sign up for Craftaholics Anonymous RSS feed!
Latest posts by Craftaholics Anonymous (see all)