Need some ideas for a college student gift basket? Stephanie on our Creative Team is here to help! -Linda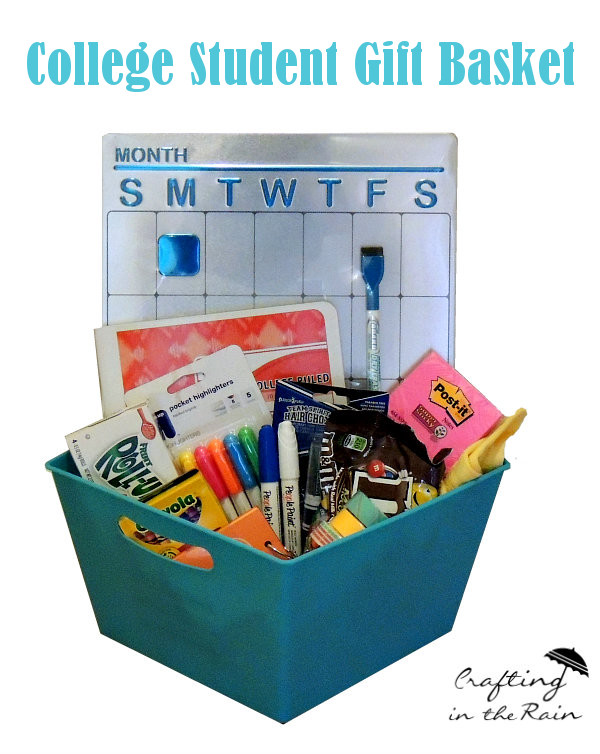 There's something about extra pointy pencils and Post-it notes that makes the most chaotic person (ahem) feel like they can be an organizing maven. Plus, put them in a cute basket and you get an instant gift!  This one was designed with a college student in mind, but it could be applied to any age student or teacher.
Here's what I used:
Dry erase calendar

Notebooks
Highlighters
Post-its
Crayons
Blank flash cards
Washi tape
Washcloths
Study snacks (fruit rolls and M&Ms)
Hair chalk and face paint markers in school colors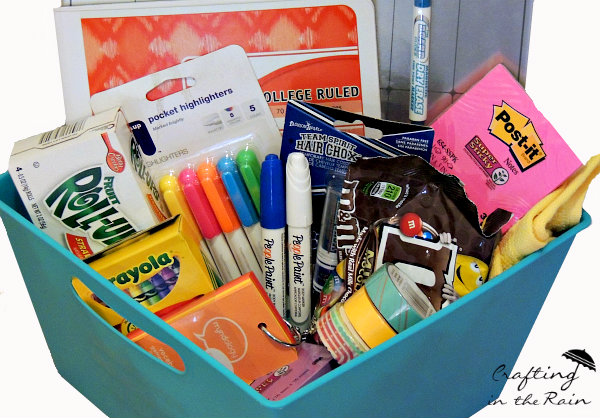 You can always adjust the cost of your basket by what and how much you put in it.  Remember, a smaller box, basket or other container can look just as cute, and fills up much faster.
To assemble the basket, start with the largest item.  In this case it was the calendar.  I also taped the gift receipt to the back of the calendar, just in case there's something here that she already has or really won't use.  Then start adding other items, again going from larger to smaller, and moving from the back.  I put 2 extra notebooks behind the calendar and just left one out in front to be seen. One washcloth was put in the front bottom of the basket and the washi tape and flashcards are propped up on it.   At this point you could wrap it up with clear cellophane, but I don't think it's necessary.
What would you put into a college student gift basket?
Share and Enjoy
Steph lives in the Pacific Northwest where she can usually be found cutting or gluing something. Besides making messes, she stays busy with her 3 kids, church, PTO and of course blogging.
Latest posts by Steph Paxman (see all)