I love growing tomatoes in my garden; they're simple to grow and so delicious! Plus, if you also have basil in your garden, there are tons of recipes you can easily make starting with those two ingredients. We had a huge crop of tomatoes ripen on the vine a few weeks ago, so we decided to make caprese bruschetta for dinner one night; it's quick and easy to make, and only requires a few ingredients!
Caprese Bruschetta Recipe
Ingredients:
tomatoes
basil chiffonade
mozzarella cheese
loaf of french bread
balsamic vinegar
Directions:
I started with a ton of tomatoes and basil from our garden.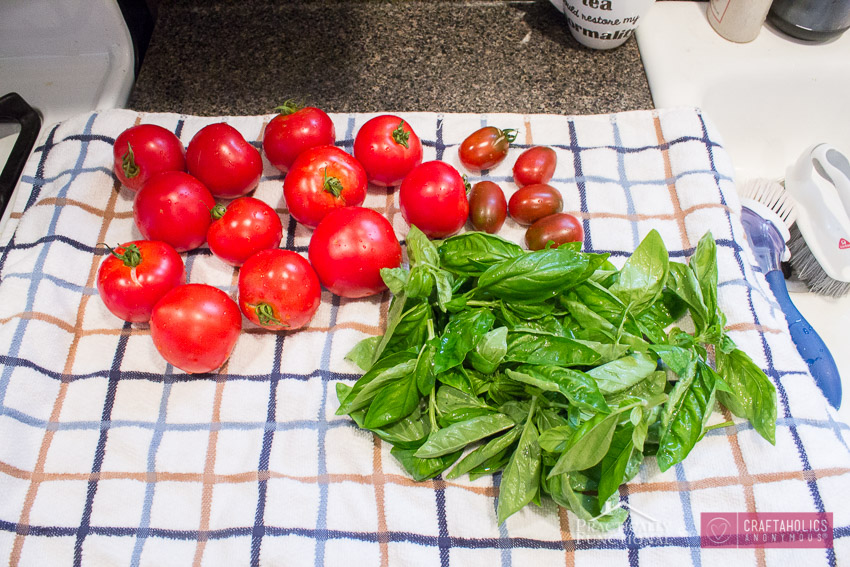 I washed them, diced the tomatoes, and sliced the basil into thin strips (chiffonade).
I put about a quarter cup of balsamic vinegar in a small saucepan and turned it on medium-high. Once it started to simmer I stirred constantly to help the vinegar reduce; after about 8-10 minutes it had started to thicken, so I turned off the burner and poured the balsamic vinegar reduction into a glass measuring cup and set it aside to cool and reduce further.
I sliced a ball of mozzarella into cubes and sliced a loaf of french bread into thick strips. I put the bread on a cookie sheet and toasted it gently under the broiler for a few minutes to give it a nice golden color.
Once the bread was toasted I added diced tomatoes, basil chiffonade, and cubed mozzarella on top of every piece, and drizzled the whole thing with the balsamic vinegar reduction. And that's it, you have caprese bruschetta! It's a great appetizer or light lunch, and it's totally delicious!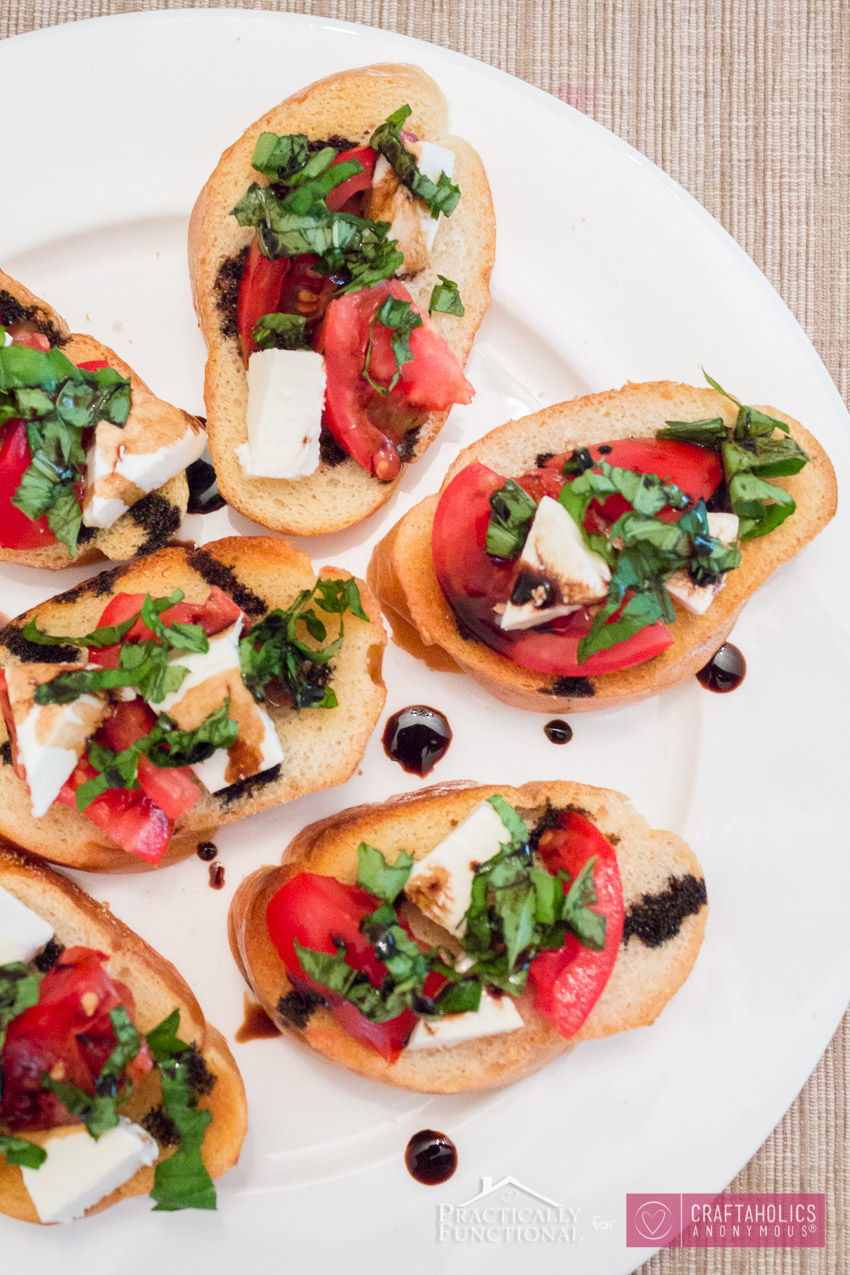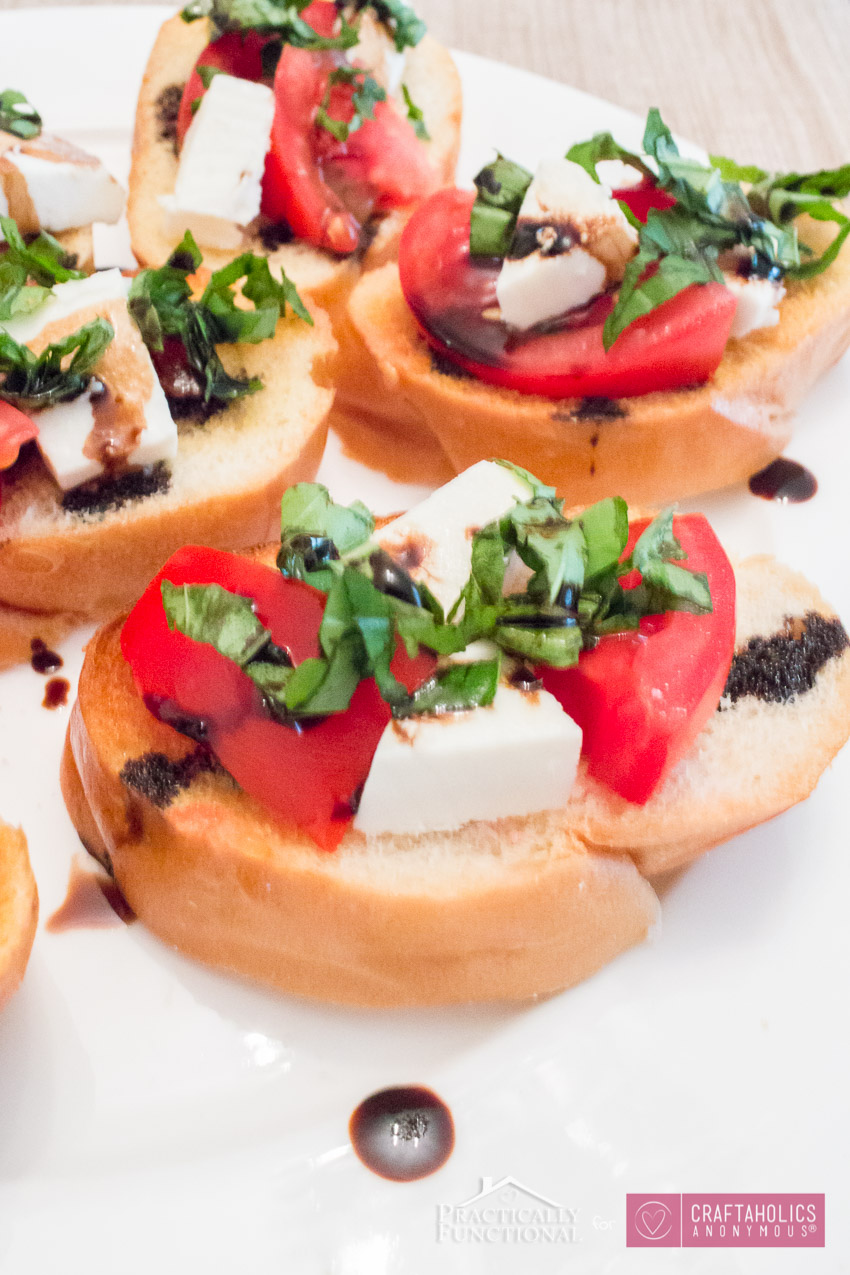 If you want to try another delicious appetizer, check out these quick and easy bacon wrapped dates! They're a huge hit every time!
If you love simple, realistic, achievable projects, make sure you stop by Practically Functional for a visit anytime, or follow along through social media! I'd love to see you there!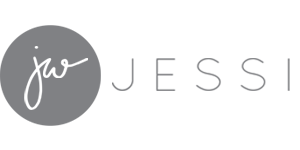 Ingredients
tomatoes
basil chiffonade
mozarella cheese
loaf of french bread
balsamic vinegar
Instructions
Wash your produce.
Dice the tomatoes.
Chiffonade the basil.
Heat the balsamic vinegar in a small saucepan on medium-high to a simmer. Stir constantly until the balsamic vinegar begins to thicken. Turn off the heat, pour the reduction into a glass measuring cup, and set aside to cool.
Cube a ball of mozarella.
Slice a loaf of french bread into thick slices and lightly toast them under the broiler.
Once the bread is toasted, top each slice with tomatoes, basil, and mozarella, and then lightly drizzle the entire thing with the balsamic reduction.
https://www.craftaholicsanonymous.net/caprese-bruschetta
Share and Enjoy
Hi, I'm Jessi, and I blog at Practically Functional, a blog about real projects that real people can actually do! You don't have to be a pro in order to craft or do DIY projects; Practically Functional is full of projects for everyday life that anyone can do, regardless of skill or experience! Whether you're looking for fun crafts, DIY projects both big and small, gardening advice, cleaning tips, or quick and easy recipes, you'll find them here! Follow the step by step instructions in every tutorial, and don't hesitate to ask if you have any questions! Make sure you
subscribe to free weekly emails
so you don't miss a single tutorial!
Latest posts by Jessi @ Practically Functional (see all)