With the end of school right around the corner, its time to show your child's school teachers some love! This post is filled with Teacher Appreciation gift ideas and some awesome do's and don't from teachers themselves. This post is taken from Janelle's question on our Facebook page:
Jenelle has a question: "What are some good teacher appreciation gifts that might actually be useful? (And if you are a teacher, what are the gifts that make you secretly cringe when you get them? so we can avoid those!)"
Answers taken from this thread.
Teacher Appreciation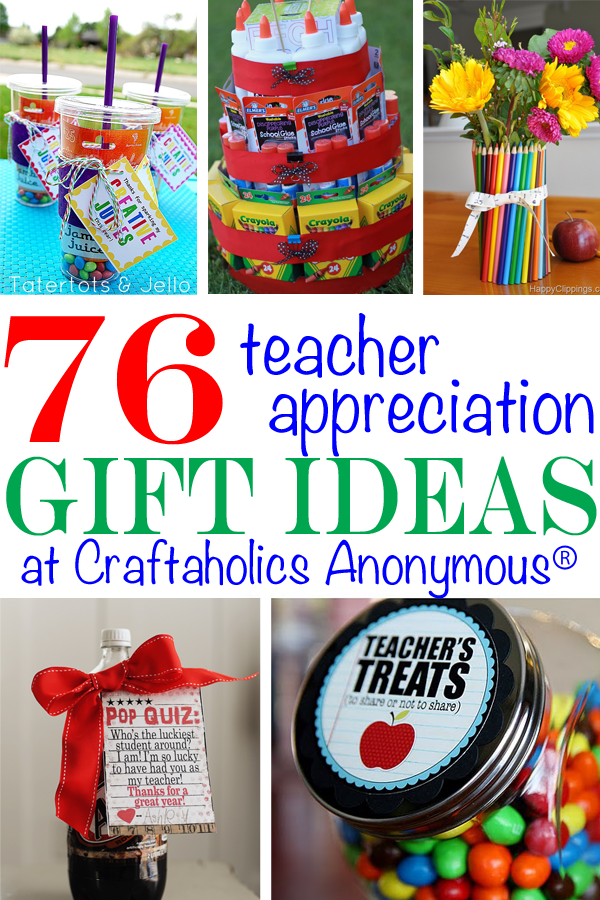 images from: Tatertots & Jello, What's Scrapping, Happy Clippings, Tammy Mitchell Designs, & eighteen25
1. "We gave my daughter's preschool teacher a "supply of the month" club coupon booklet. Each coupon has a space for her to write what supply the classroom is in need of and if there's a date the supply is needed by. Her teacher loves it. She was having to buy supplies for projects because the school didn't always have everything she wanted to complete the project. It's also great because we get to give to all of the class each month." – Nancy G.
2. "I am a teacher and I think we are just really grateful for any type of appreciation!!! Not sure where you live but we are not allowed to wear lanyards at my school anymore because a little boy choked on one. :( Best gifts really are gift cards. They are not impersonal at all – in my opinion anyhow! I always appreciate gifts for my classroom that the school doesn't provide like classroom library books, classroom rewards (stickers, pencils, etc.). But I do agree that knick knacks (although thoughtful) are probably the least useful. Thanks everyone for thinking of us teachers!" – Jenn T.
3. "I am a teacher and I would absolutely love a gift card from one of my students. I don't think you can go wrong with Target, Michael's or Starbucks! I have more apple-themed, #1 teacher stuff than my desk can hold so gift cards are perfect! In my thank you cards I let the family know what I purchased with their generous gift!" – Shannon E.
4. "This is my 10th year teaching. Teaching is very often a thankless job so anything that you or your children want to give or do means a lot." – Michael B.
5. "Gift cards to Sonic or Starbucks are good. Please – no mugs!" – Gina S.
6. "My school kept a notebook (PTO actually) of teacher likes, etc. Gift cards are always appreciated whether they are personal (nail salon, Starbucks, movies, restaurants, etc.) or professional (teacher supply, book stores, etc.). I received many handmade items through the years that were special as well. "Teacher" gifts may be cute but honestly, if you have been teaching awhile they end up being recycled or donated elsewhere. Find out if your teacher could use classroom items – colored pens, colored notebook paper, mini-sharpeners, cool erasers. Look at Atlas Pen and Pencil to buy these in bulk. Teachers really do appreciate anything they receive but think if it were you, just how many mugs, candles, magnets, apple things, etc. could you really use year after year? For those who think gift cards are impersonal, please remember that so many teachers use their own money to buy items for their students and classrooms… what is wrong with pampering your teacher in return?" Betty C.
7. "Teacher-turned-stay-at-home-mom (and room mom for my kids' classes!) here! Think of gifts you would give a good friend and not ones involving crayons, coffee mugs, rulers or apples, haha. Group gift certificates are always awesome (anything from Starbucks, to the mall, to Target, but not the teacher supply store), bringing lunch or supper, etc. Also, a sincere note about the teacher sent to her(him) AND the principal goes a long way! Or get the inside scoop on what the teacher likes from another teacher or sometimes even from the students! One year the girls in my class (3rd grade) grilled me about my purse when we were on the playground. I thought they were just "girly girls" being silly until they have me a Coach purse for an end-of-the-year gift!!" – Lauren V.
8. "How about a beach towel rolled up with a magazine & sunscreen/tanning oil, tied up with ribbon." – Samantha G.
9. "I give Starbucks cards and this year I gave pairs of movie tickets." – Rachel C.
10. "Our PTA keeps a list of the teacher's favorites because they try to incorporate them when they do a teacher appreciate day. We gave my daughter's teacher the pencil bouquet when we moved back to our home state in the middle of the school year. Our school also provides all the basic supplies, but like a previous poster said, sometimes it's not enough for projects. This year we want to do a gift card tree. I've purchased Hobby Lobby, Target, and Sonic gift cards so far. I want her to be able to get things for herself as well as the classroom." – Whitney B. 
11. "I took my son to Color Me Mine, had him paint a flower pot, painted "thanks for helping me grow" on it, planted a flower and stuck a ruler in the top. He was in preschool." – Stephanie C.
12. "My classroom is themed (Dr. Seuss is my homeboy), so when students/parents give me things that fit the theme, I love it. When I get decorations (plaques, etc) that don't fit the theme, I feel guilty not displaying them, but I don't know what to do with them. I am up to my eyeballs in coffee mugs!!! No more please!" – Leen S.
13. "I can safely say, avoid those paper 'cubes', coffee mugs, body products & candles (unless you know what she loves). Gift cards are great. Check with the PTA or school office to see if they have a favorites list for her/him." – Joey B.
14. "I made my sons teacher & a couple of his cousins' teachers beaded lanyards & they were a hit! I see them wearing their name badges on them everyday!" – Jenuinely Beadiful
15. "I'm not a teacher but my youngest chose a Christmas Gift for his teacher in his first year at school – he was 6 – a packet of bright pink paper serviettes with a Yellow crown on them – and when she opened them (I swear that lady is made of steel not a flicker of a smirk – I'd have been in hysterics I think) he very seriously said – they're for you 'cos crowns are for queens. (keep in mind 12 months prior to starting school the same child and teacher had had a huge run in and I almost had to send him to another school). I lift my hat to her keeping a straight face." – Jacqueline T.
16. "I try to find out if they like Sonic or Starbucks (or have favorite place) and give gift cards!" – Donna R.
17. "Best gift I ever got was a rose bush. It is in my yard and makes me feel appreciated every time it blooms. As it grows, I watch the little guy who gave it to me grow. I would love to invite him and his kids someday to my house to see his rose bush." – Lisa O.
18. "I would add to the gift cards – teacher supply store cards! I've been in a school the last two years, but will be in my own classroom next year. Thinking of buying all that first year stuff is overwhelming! So the teacher supply store in your area would be great for a gift card. Also, if their class has any technology – like iPods or iPads, an iTunes gift card is great!" – Lisa T.
19. "Gift cards are always appreciated. Notepads, nice pens, journals, and plants are also good. I loved plants in student-decorated clay pots. Please, no coffee mugs or little plaques with sayings on them." – Janet H.
20. "Books for the classroom. You can put a personalized sticker/nameplate on the inside cover that says To, From, and the Year." – Susan M.
21. "Anything is a great gift, it's the thought that counts." – Michael B.
22. "We throw out all homemade food and treats so maybe not those lol! Gift cards are nice from a Starbucks or local coffee shop, wrapped candy, classroom supplies like boxes of paper (sad but true! We spend a lot of money on school Supplies out of our own pocket). Do not need any more: lotion, bath sets, candles, cups, mugs, and the like." – Jennifer L.
23. "Gift cards!!!! We don't make a ton of money & gift cards are an awesome way to say thank you. I know people often feel that it's an impersonal present, but that's not the case. It's the best kind of gift! Practical & enjoyable! Cringe = mugs, dollar store trinkets, anything with A, B, C or 1, 2, 3, handmade décor (we've only got so much space in our classrooms & at home), etc." – Anne S.
24. "One year my class went in on a spa day gift certificate. I really felt appreciated." – Jessamy T.
25. "Coffee cups= cringe" – Sarah M.
26. "I have a custom vinyl business so I've made things like personalized drinking tumblers, really CUTE hand sanitizer bottles (germ juice), teacher wall art, etc." – Ashley V.
27. "$5-$10 Dunkin' Donuts or Starbucks' gift cards are the BEST! No more cheap chocolate, mugs, apple-themed whatever, hats, scarves, mittens, etc. We're teachers; we are hoarders by nature & have enough STUFF. So that's my PSA." – Eileen A.
28. "A gift card to a local coffee shop or to a local craft store." – Nicci M.
29. "I had a parent bring me lunch once. That was awesome. She asked me in advance what I would like and delivered it to my desk. We never get to go out for lunch, so it was a nice treat!" – Katryna A.
30. "I bought bottles of Purell and removed the label. Then using final sticker wrote Mrs. Smith on them and added a ribbon around the pump. It was adorable! The teachers loved them. And they now had their own sanitizer instead of sharing one with all the kids" – Stacy B.
Teacher Appreciation Gift Ideas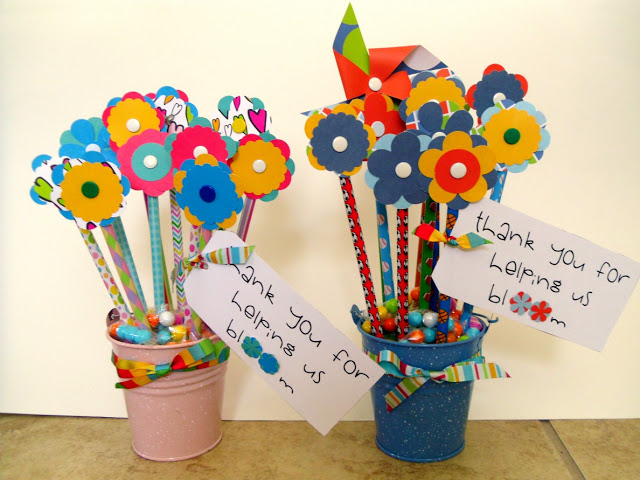 Teacher gift image from Ameroonie Designs
31. "Hubby is a teacher and he prefers gift cards to any other kind of gift. Gourmet coffee (he is not a morning person) is also much appreciated. But we also have a file of letters from former students, telling him how much they learned from him or how much they enjoyed his class. And that, honestly, is always the most moving thing he receives and the one thing he's guaranteed to hold onto." – Cyndi H.
32. "Buy something for the teacher and not the class. So often we get school supplies and while we use them in our class and need them it's not really for me." – Leah S.
33. "You don't have to spend a ton of money. A $5 Starbucks gift card would be greatly appreciated. A cute handmade gift is sweet. Avoid anything the teacher has to wear, even handmade jewelry." – Melanie W.
34. "Gift cards to coffee/donut places, gift cards for wine/booze, gift cards for a drug store (they can choose their own hand cream etc…)" – Renee M.
35. "My husband, who has been a teacher for 8 years, says don't give a teacher anything that says "teacher" on it like "number one teacher" or "World's greatest teacher." Recognizing that they are something besides just a teacher is great. I always like when someone bakes something. It comes from the heart and shows a little more effort." – Chandeen S.
36. "My sister is a music teacher and hates hates HATES receiving stuff with music notes or treble clefs on them! It's like giving your dentist things covered in images of teeth. It gets old very quickly." – Johanna M.
37. "Michaels gift card = win!" – Melissa D.
38. "Coupons! Free drink certificate things from sonic (they have some teacher ones). Water bottle, food. These are some of the things I got for teacher appreciation week recently. Before you get supplies for them, check to see what they have available at their school already. We have a lot of resources, so supplies weren't necessary. And would really just be a waste of budget." – Adrienne M.
39. "I make "Teachers Rule" aprons! My site is down right now but you can sign up to check it out when I have it back up and running in May. Still time to order before school is out." – Mary B.
40. "I make my kids' teachers monogrammed bookbags that we fill with extra supplies." – Jamie S.
41. "I've been a classroom teacher for 25+ years. I would love to receive gift cards more than anything. I also love books for my class library. I could live without more coffee mugs, smelly lotions, or giant Hershey kisses." – Maria C.
42. "Gift cards are awesome! And I love it when I get monogrammed things too!" – Kristi N.
43. "Really good strong magnets would be a thoughtful gift. I saw where someone had taken the wooden abc blocks and affixed strong magnets to them so they would cling to metal and not fall, it was really cute." – Carla S.
44. "Most gift cards end up being used in the classroom – even Starbucks indirectly! So yes, those are appreciated very much! I would love hand sanitizer and kleenex, extra pencils and dry erase markers (my kids are supposed to have their own but they never do!) or sharpies! You can never have too many sharpies!" – Katy C.
45. "I'm not a teacher but I work in the classroom (feeling like a teacher) and I'm not really allowed to have coffee in the classroom. So if it were me, I think my favorite gifts would be just a cold Starbucks frapp, (the one in the glass bottles so I can drink it later), a gift card to random supply stores, or a monogrammed tote bag." – Amy T.
46. "I have taught preschool for years and I like the supply of the month club idea that Nancy suggested. I always love a home made card and picture of the child and art or craft supplies for the classroom. Teachers are given mugs a lot, I got so many, so stay away from those. Starbucks gift cards are nice too." – Amy R.
47. "By the time teacher appreciation time rolls around, most teachers have already spent a good deal of money on supplies, so if you give a gift card (I don't personally know a teacher who doesn't appreciate them) make it a money card because giving specialized cards limits the teacher. He or she may not go to specific stores or fast food places, so the card may end up unused and under appreciated.
One of my colleagues confessed to me that the lotions, cute teacher products end up at her garage sales. I often see those gifts in the Share box that teachers leave behind when they go to a different school.
If you don't have money, and plenty don't, consider asking the teacher how you could help her. Are you an artist or crafter who could bring supplies and teach a fun art project? Are you a musician who could teach the children about your instrument or teach them some appropriate songs? Do you have a hobby that would be educational for the children to learn about. Could you come after or before class and help prepare student work to be put up on the bulletin boards? How about helping to decorate for a party. Find out what she needs and make her a coupon for these things as a gift.
A nice card is always nice to receive, especially if it is handmade. It would be a nice thing for parents and students to work on the card together and give her a little message about how great she is." – Jean B.
48. "I agree with those who said no homemade treats. And no more lotions soaps or other things like that." – Michelle S.
49. "I love homemade note cards from students or gifts that are useful like expo markers, a flash drive, even pencils/pens or sticky notes. I always love treats too and I agree, don't need anymore lotions, candles, mugs, picture frames but I do like soaps or hand sanitizer or tissues since I can use that in my room" – Courtney M.
50. "We do appreciate all gifts, but it truly is the "thought" that counts. The more thoughtful the gift the more I appreciate it. Ceramic mugs are not really useful to most elementary teachers (if they are avid coffee/tea drinkers, travel mugs are easier to use in a school). Putting our name (in lieu of "Teacher") on anything is nice. Gift cards (no matter the amount) are always a treat. Teacher secret: Most teachers are kind of fanatical about school supplies, some like certain brands, certain things, etc. We can find a use for almost anything (thus the hoarders tendencies), but after you use 1,000 glue sticks or crayons…you know what works best in your classroom." – Wenonah W.
51. "I am a teacher and definitely love gift cards and homemade items from my students. I agree with the other cringe worthy items: lotion, dollar store stuffed animals, chocolate. I really love ornaments – I know wrong time of year, but I do." – Jenna L.
52. "I did those craft divider kits with cute office supplies and candies for the ladies and Starbucks for the men. They were all really well received." – Laura L.
53. "PTO at my school always kept a book with a page for each teacher's likes. Gift cards are always appreciated. Think of how much each teacher spends of their OWN money on items for their class, then you will realize they could have spent it on themselves but chose not to. That may help you understand why gift cards are so welcomed by teachers for personal use (nail salon, Starbucks, restaurants, movies) or professional (book stores, teacher supply stores, etc.). Items like colored sharpies, dry erase markers, colored notebook paper, mini sharpeners, cute erasers… many of these can be purchased in bulk from places like Atlas Pen and Pencil online. Meaningful homemade items are appreciated, but it always made me laugh that parents could give us food but we were restricted from giving food out ourselves! Beware of those traditional "teacher" gifts like mugs, apples, plaques, etc. They may be cute but honestly how many of these can a teacher receive before being on overload." – Betty C.
54. "We gave the teachers imprinted flash drives last year and they were greatly appreciated." – Guylene W.
55. "As a teacher I say no to ANYTHING school/teacher related, candles, coffee mugs, or jewelry. I love getting gift cards, no matter the amount!" – Amanda D.
56. "I have done a class quilt. Every child painted a square and I had a class picture as the middle square. I also love a group gift card to a favorite restraint or somewhere special to the teacher." – Lesa J.
57. "Group gifts are great! I've received one to a local day spa & one to a fancy restaurant. Those say, "relax, you deserve it!" Coffee cups, candles & lotions are common. They don't equal a cringe though. Gift cards, even for $5 are nice!" – Heather T.58. "Little gift cards are always appreciative. Cups = cringe my husband joked we could have a cup bonfire." – Mickelle G.
58. "Manicure gift cards have been appreciated, but Quick Snippers design scissors/edging cutters are useful for teachers." – Limri LLC
59. "I use to give dish towels. It is something you just don't buy for yourself but we all need. You can do seasonal ones all year long at a very reasonable price." – Bonita H.
60. "I got a crayon wreath one year and love it. Also, a nice tote bag with an initial on it, and a pretty coffee mug (lidded) that I would never buy for myself. Lotions and soaps aren't usually a good idea because scent is so subjective." – Melissa D.
61. "I saw a cute gift on Pinterest. Buy one of those plastic double walled cup with lid and straw and put some Crystal light packets in there. Make sure to get a good one. The doubled wall one will not sweat on their desk. I am not a teacher, but that is a practical gift. You could even put some gift cards in there." – Patti S.
62. "Hand sanitizer, chocolate, and Starbucks gift cards." – Krista Q.
63. "What about pre-K teachers? Or speech teachers? And the student-teachers/aides/substitutes? They all are very much appreciated and loved by our kids too." – Jessica W.
64. "Hand sanitizer! I also get a ton of Starbucks and Barnes and Noble Gift cards. I don't do coffee and I use my Kindle most of the time. I do love the insulated cups, I have gotten cute fleece throws from kids at different seasons I love those, I like plants, and I also got personalized note pads and post its that I loved. But honestly a card from the student or parent is the best or a class picture in a cute frame that I can display for years to come of all my classes is the best!" – The Sparkle Fairies
65. "Last year I did a large tervis cup with crystal light packets in it. I saw her with the cup at the beginning of this school year." – Kathy Z.
66. "Gift cards to a bar and grill that say 'Sorry if my kid makes you drink, teaching isn't as easy as people think.'" – Christina K.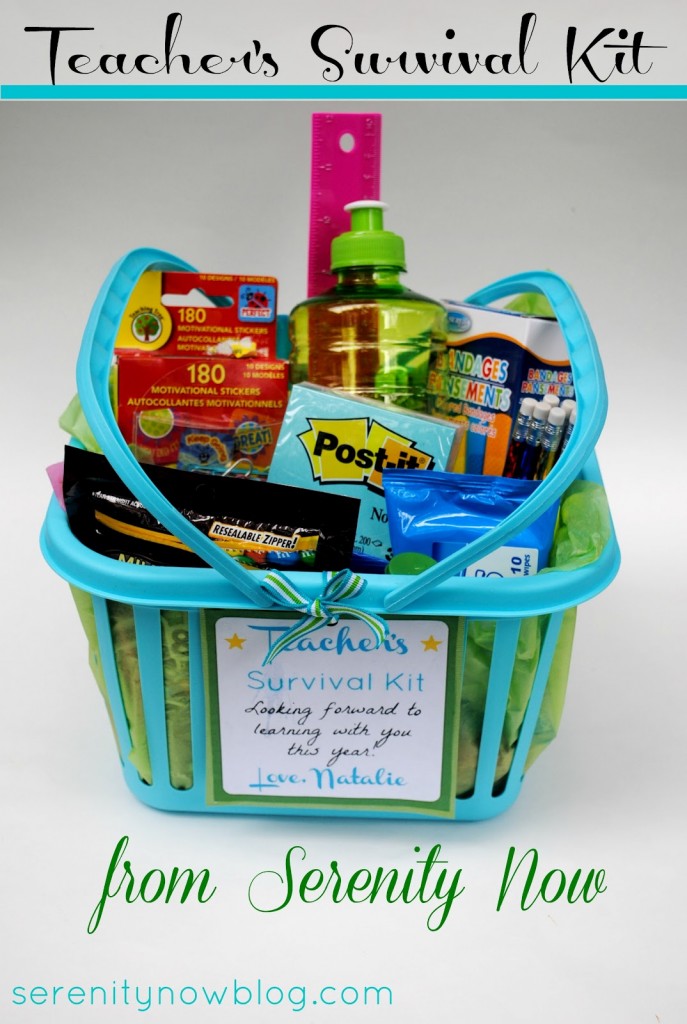 Teacher survival kit image from Serenity Now
67. "Scentsy has an apple warmer as the warmer of the month. It is cute, and not "overly teacherish" I agree with the gift cards." Amber W.
68. "I have to say, I don't enjoy receiving coffee mugs – you can only have so many!" – Angela S.
69. "Not too many kids give thank you gifts to the speech teachers (Or OT, PT, art, etc) but when they do, I appreciate small (hypoallergenic) hand lotions. I wash my hands a lot of times everyday and they are always in need of some TLC as are we!" – Kim L.
70. "I like to give things to do or places to go. Passes, classes or parking vouchers or metro cards in a city, admissions, tours, etc. I love to get these things too." – Sheri D.
71. "NO: lotion, mugs, supplies for kids to use like crayons, glue, pencils, etc. If you want to get supplies, get fine tip felt markers for grading, a nice calculator, decorated clipboard/binder." – Lisa O.
72. "No more mugs! like gift cards to Starbucks or some homemade note cards would be appreciated." – Michelle S.
73. "Highlighter tape and white 1" "oops" tape are always nice. Along with all the other classroom supplies that are so needed. Add in some personal items like gift cards, candy, magazine subscriptions and you have one great basket." – Wendy Z.
74. "We did 'You're Simply the Best' with Simply Lemonade or Simply Raspberry Lemonade last year and the teachers LOVED it – it was something they could use and was refreshing which showed our appreciation. Sounds like gift cards are the way to go though!" – Alison W.
75. "Appreciated: gift cards to book stores or coffee shops or nice note telling the teacher how much you appreciate him/her. I have them posted my board near my desk, and when things get difficult I read them. Not appreciated: mugs, nicknacks." – Jill M.
76. "Gift cards to office supply stores, book stores, or teacher stores. Teachers spend tons of money on their classrooms each year out of their own pockets, so this will help cut back on the expense. If you wanted to make something crafty, take pens/pencils and fake flowers and tape them together with floral tape then add to a pot with small stones. The teacher can put this on her desk for when students forget their pens/pencils. Then it's easy to identify which students have borrowed pens and get them back before the end of class. When not in use, it just looks like a cute floral arrangement." – Angela R.
Hope you enjoyed all these Teacher Appreciation gift ideas and tips! I sure did.
Happy crafting,
Linda

Hi! I'm Linda, the craft addict behind Craftaholics Anonymous®, a craft blog. Crafting is cheaper than therapy, right? When I'm not DIYing something, I can be found taxiing around our 4 crazy kids or working out. Or shoe shopping... because you can never have too many shoes! Happy crafting! ♥