Yay for Friday! Christen is here to show us how to make the cutest Ombre Heart Pocket Pillow! Enjoy! -Linda
Ombre Heart Pocket Pillow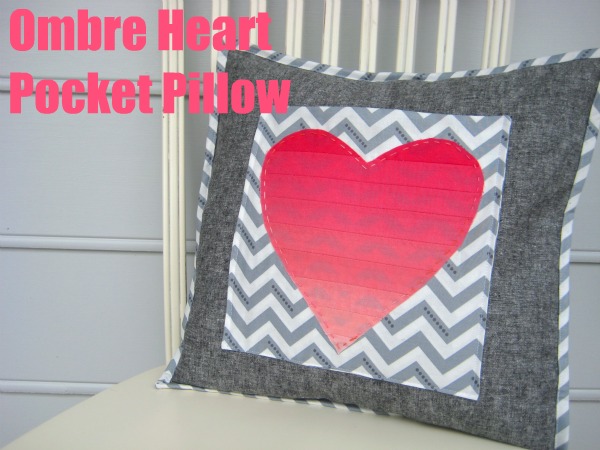 I don't know about you, but I love super quick sewing projects. My favorites are projects that require minimal effort but yield super satisfying results.  And, since I often leave holiday gifts or décor to the last minute, this ombre heart pocket pillow has it all, as it doesn't require any difficult sewing steps, goes together quickly, and has a fun surprise!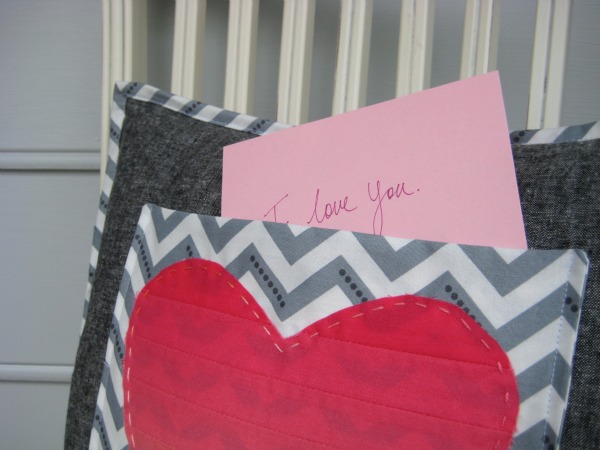 What I really love about this pillow is that it is so versatile. It can be gifted to include a card and Valentine's Day treats like a chocolate heart to a grown-up, or made in fun kid fabrics and include small toys. You can even make it for yourself and add it to your seasonal décor and have fun leaving love notes to your significant other or your kids.
Supplies
To make your own 16" pillow, you'll need the following supplies:
½ yd fabric for front and back of pillow
½ yd fabric for pocket and binding
¼ yd fabric for heart
1, 9" x 9" piece of heat n' bond
16 ½" x 16 ½" piece of fusible fleece (used Pellon TP 971F)
1, 16" pillow form
Free Heart Template
Fabrics used:
Pillow front and back, Essex Yarn Dyed Linen by Robert Kaufman
Pillow pocket and binding, Simply Color by V & Co. for Moda
Heart, Simply Color by V & Co. for Moda
Instructions on How to make a Heart Pocket Pillow
Making the heart
From the ombre fabric that is already 9" wide, cut 9, 1 ½" strips from the various colors in the fabric, approximately 3 dark, 3 medium, and 3 light to get the desired ombre effect for the heart.
Next, sew all the strips together in order from dark to light along the 9" side to create a 9" x 9" square. Press all seams open.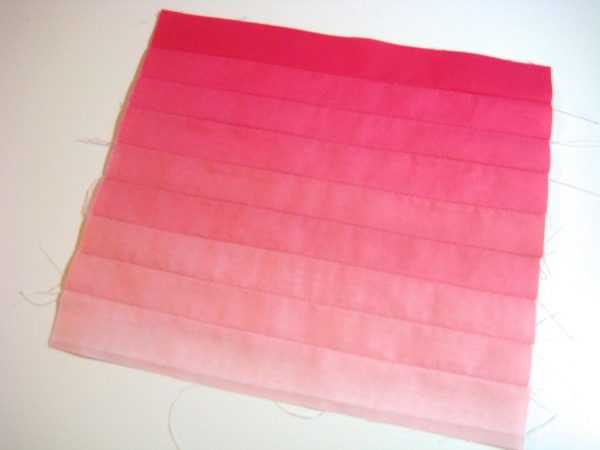 Place your 9" x 9" square of fabric face down on your ironing board with your 9" x 9" piece of heat n' bond on top. Following instructions for the heat n' bond, press together and allow to cool.
Using the heart template, trace the heart outline onto the paper side of the heat n' bond and cut out your heart. Set aside.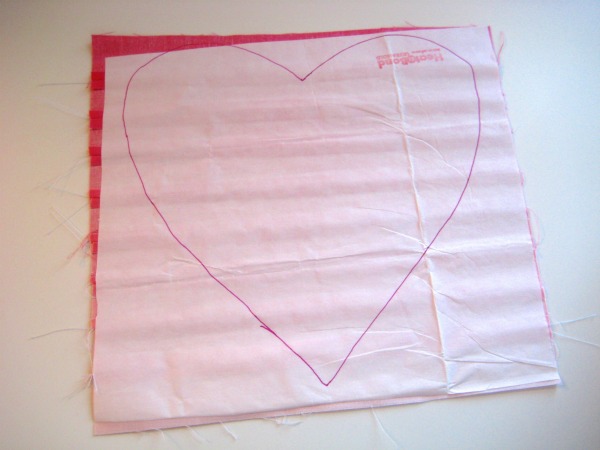 Making the Pocket
Cut 2 pieces 10 ½" x 10 ½" from your pocket fabric. Place both pieces right sides together and pin in place. Sew around all 4 sides using a ¼" seam allowance, leaving a 3" opening at the bottom. Clip your corners and turn right side out. Press flat, ensuring your opening seam is folded into the pocket.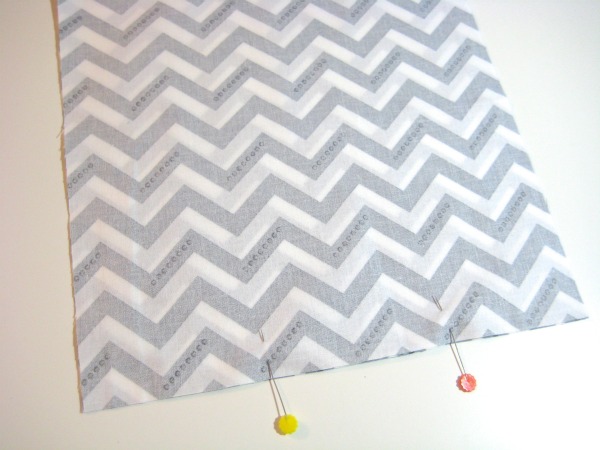 Take your heart and remove the paper backing. Center it on the pocket and press in place using a hot iron. To sew the heart in place, I used variegated pearl cotton and hand-stitched around the outside edge. However, you can also use a long straight stitch on your machine and sew around the edge of the heart as well. Note that this method can allow for some frayed edges since it is raw-edge applique.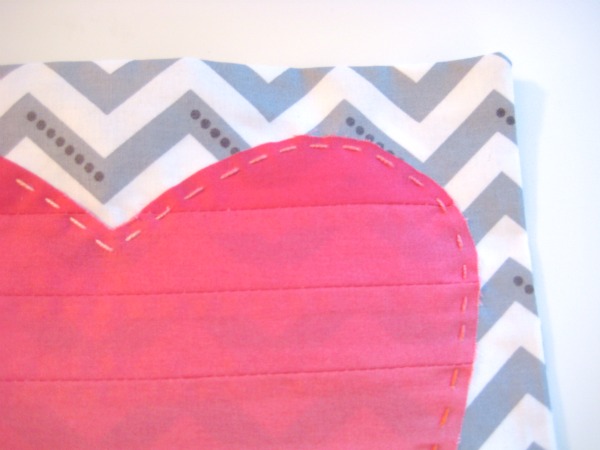 Attach the Pocket to the Pillow Front
Cut a 16 ½" x 16 ½" square from your pillow front fabric.  Fuse this piece to your piece of fusible fleece to give the front a bit of weight. Center the pocket with the heart and pin in place. Sew around three sides, leaving the top open and making sure to catch the pocket opening in your stitch line along the bottom.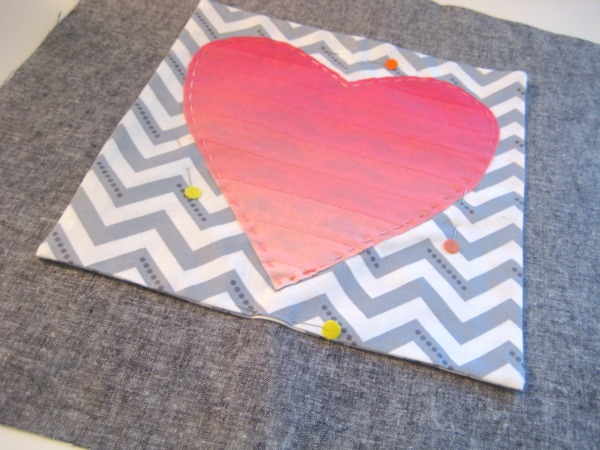 Making the Back
To make an envelope closure on the back of the pillow, cut 2 pieces 16 ½" x 10". Along one edge of each piece, fold in ¼" and press, and fold in another ¼" and press to create a finished edge. Using a straight stitch on your machine, sew down the middle.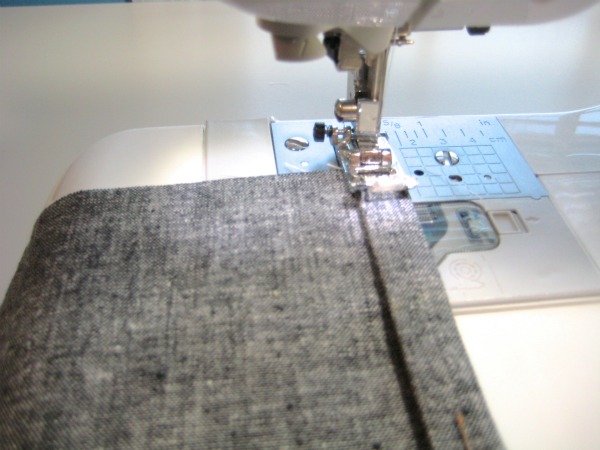 Finishing the Pillow
Place your pillow front face down on a flat work surface. Next, place both of your back pieces right side up, lining up the three unfinished edges with the edges of the front. Your pieces will overlap approximately 2 inches on the back, creating the envelope back. Pin in place.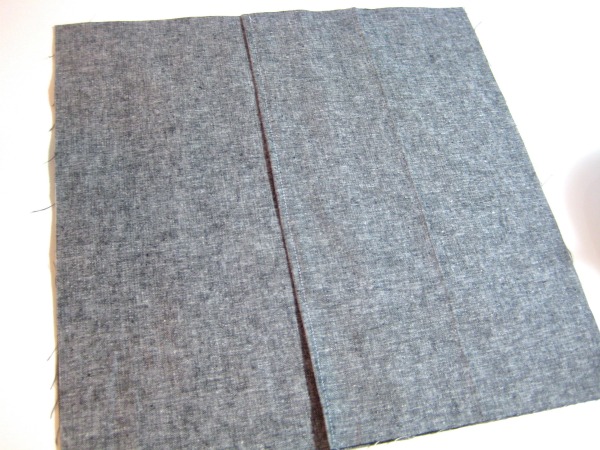 Next, create your binding using your preferred method by cutting 2, 2 ¼" x wof (width of fabric) strips from your desired fabric. Since I wanted the project to be quick, I sewed my binding to the back of the pillow using my machine, and then I sewed to the front using my machine rather than hand stitching. Some say its cheating, but I say its quick and it works for me!
Next, just put in your pillow form and your pillow is finished!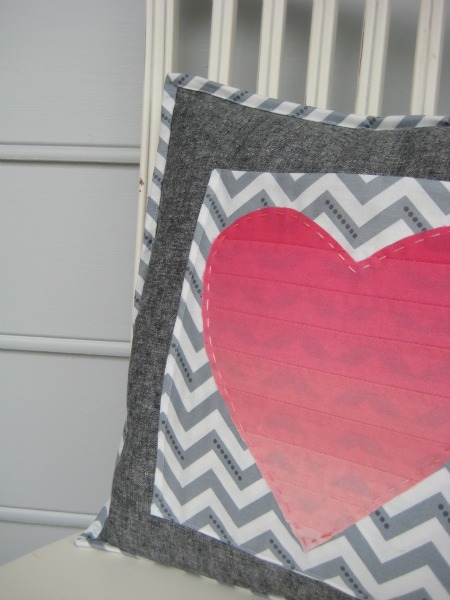 What ideas do you have for using the pocket? I can't wait to hear your thoughts!
Happy Valentines Day!
Christen
Have you entered to win a spot in simplify 101's Organize Your Creative Space online class?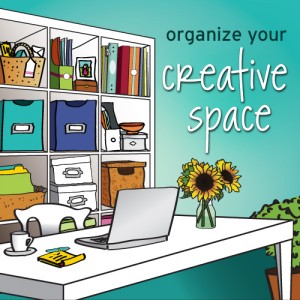 For more craft inspiration, follow Craftaholics Anonymous® on Pinterest!
Latest posts by Christen Barber (see all)