Iuliana is here to show us how to crochet a heart and how to make a cute garland with crocheted hearts! enjoy! -Linda
 How to Crochet a Heart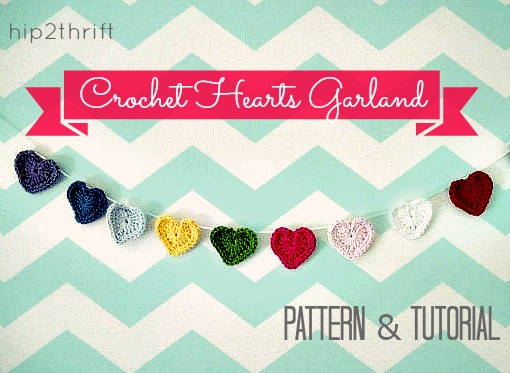 Hi, I am Iuliana and I am so excited to share my first contributor post with you guys. I have enjoyed following Linda's creative genius for awhile now, and  only hope that my projects will also be of value to you guys.
Today I want to share a tutorial for Mini Crochet Hearts, that you can use to make a garland, or whatever strikes your fancy.
For this project you will need to know  how to crochet a basic single crochet, and double crochet. If you are not sure about a certain step, there are really good crochet videos out there, which is what I consulted in my first days of my crocheting adventure, or you can go over to Hip2Thrift for more crochet tips and tutorials.
For this project I used the following Supplies:
– Worsted Weight Yarn (these crochet hearts are quite small, so you can use scraps of yarn)
– H crochet hook (you can make the hearts bigger or smaller simply by using bigger or smaller size crochet hooks)
– scissors
How to Crochet a Heart Step by step tutorial:
Step 1: Start with a magic loop/circle (don't you just love the name of this step?
I'll tell you later what makes it magic)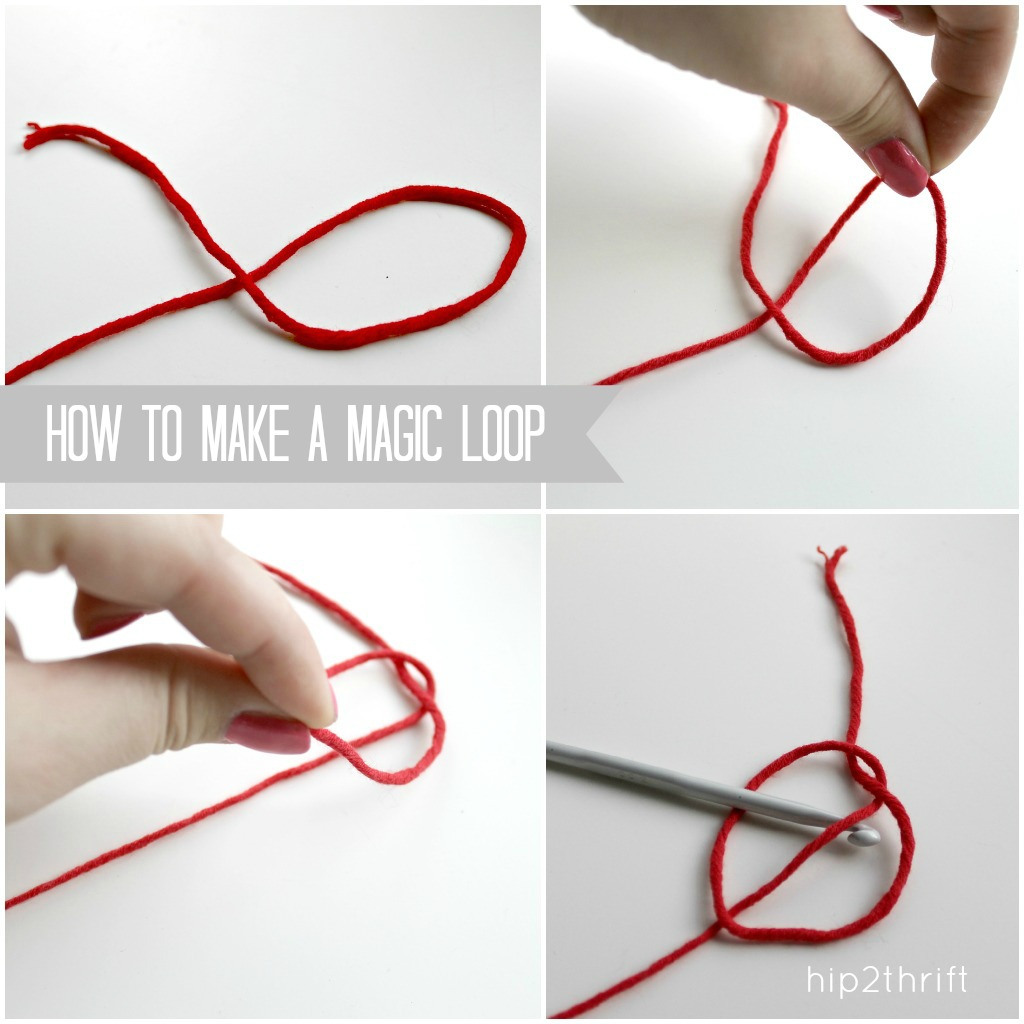 Step 2: Chain 3 into the circle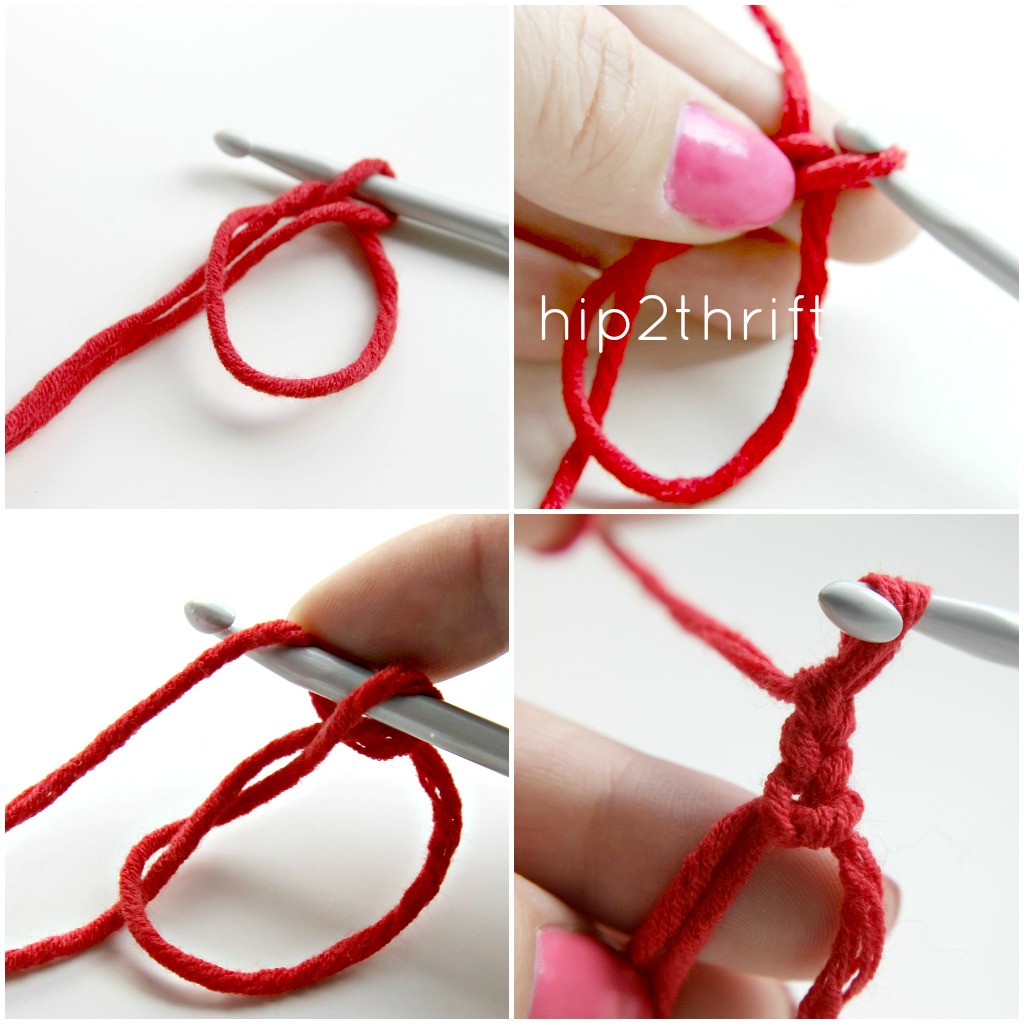 Step 3: Work 3 treble (or triple) crochets into the circle.
This is how you make a treble crochet: Yarn over your hook twice and then insert into the circle

Pull up a loop. Yarn over. Pull through two loops. Now you have 5 loops plus yarn over. Pull through 2 loops. You have 3 left on the hook plus yarn over.

Yarn over and pull through the remaining 2 loops. You now have your first treble crochet.
Step 4: Make 2 more treble crochets.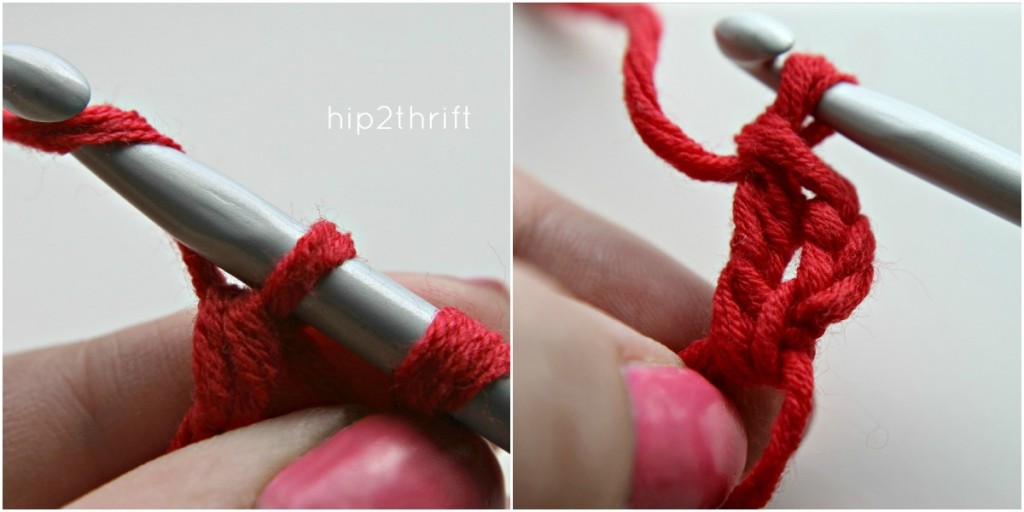 Step 4: Make a double crochet. Yarn over and insert hook into the circle. Pull through. You now have 3 loops on the hook.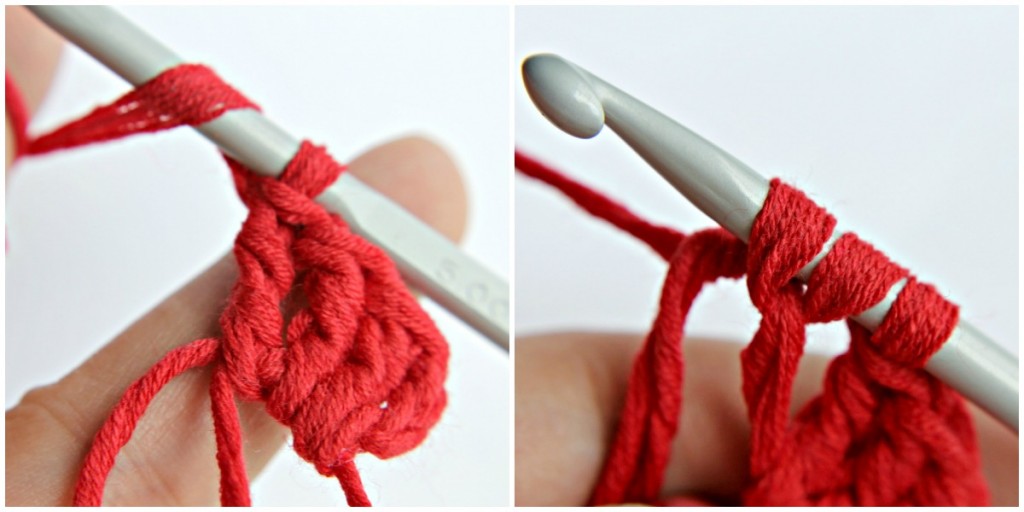 Yarn over and pull through 2 loops. Yarn over, pull through the remaining 2. Repeat process two more times. You now have 3 double crochets.

Step 5: We are now going to work on the tip of the heart. Chain 1 and then make one Treble crochet. Chain 1 again. This is the tip.

Step 6: Now let's work on the other half of the heart. (I really wanted to get cheesy here, and talk about how the two halves of the heart are meant to be together, but then I stopped myself, and stuck to the tutorial). We will be repeating everything we've done so far, but in reverse order.
3 Double Crochets into the circle. 3 Trebles Crochets and then chain 2.

Step 7: Slip Stitch by inserting your hook into the circle, yarn over and pull through both loops at the same time.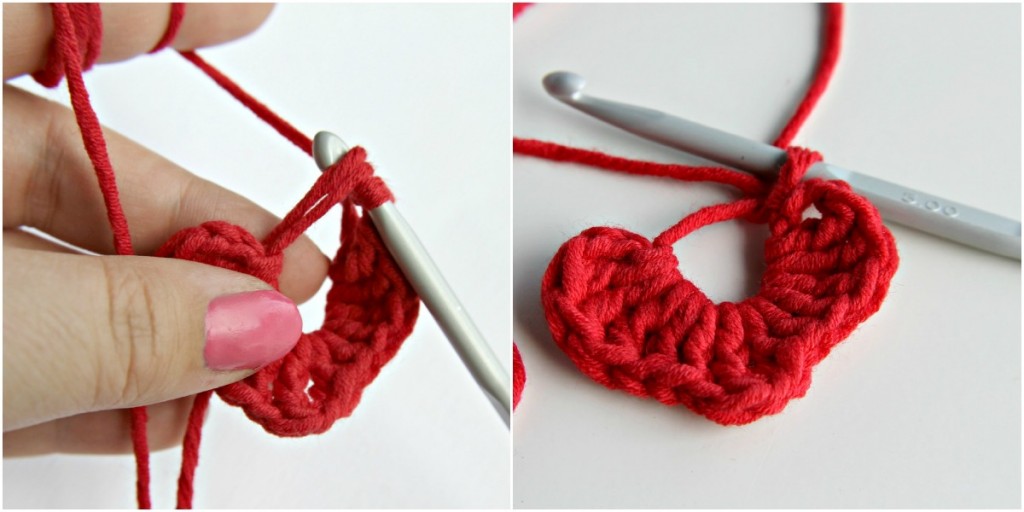 You won't believe it, but we are almost to the end. Below is a goofy looking diagram of what we've done so far: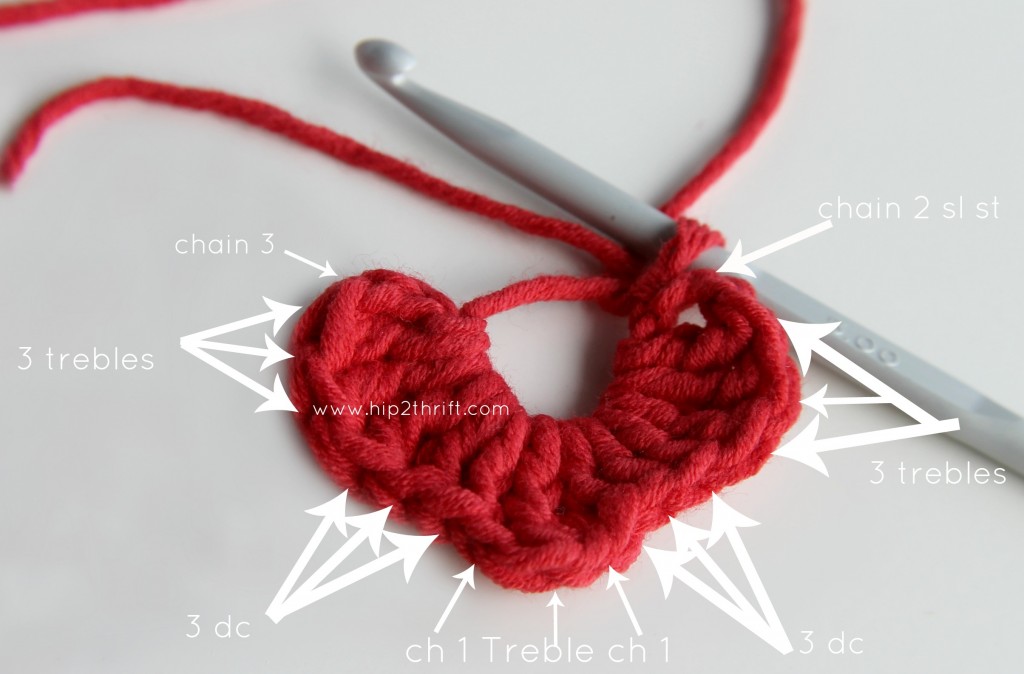 Step 8: You see that tail or end of the yarn? Let's pull on that and tighten the two halves of the heart together. And this my friend is why they call it the magic loop.
Picture making a hat – you start with the top of the hat and you really don't want to have a hole there, which is where the magic loop comes in handy. An alternative to this method is chaining 3 and then slip stitching it together. You have a circle that you can start making your stitches into, but not much control over how big or small the circle ends up being, which is why I usually opt for the magic loop.
Step 9: Ch 1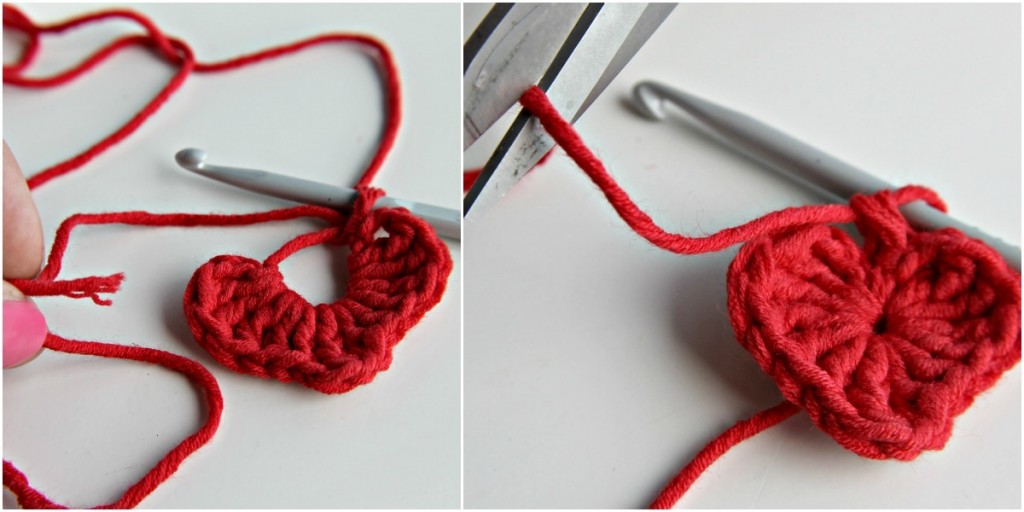 Cut the long yarn and pull tight. Use this leftover yarn to attach it to ribbon or twine to make your garland. I used 12 different colors to make my hearts for the garland.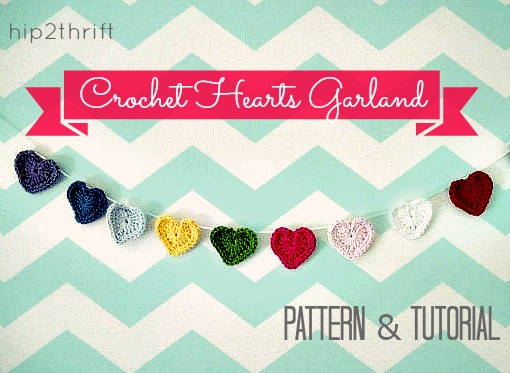 Take a needle, thread some twine, or thread, or baker's twine and go through all your hearts.  You can hot glue them to simple valentine's Day cards, or attach a barrette and you have a cute hair accessory for a little girl. There are lots of things you can do with them, and since it takes about 3 minutes to whip one up, you can really make a ton during an episode of your favorite show.
I hope you enjoy making these adorable lil' crochet hearts. Let me know in the comments below if you have any questions about any steps described above.
Hugs, Iuliana
Such cute crochet hearts! Those are perfect for Valentine Crafts! Thanks for the tutorial on how to crochet hearts, Iuliana!
Have you crocheted something for Valentine's Day? If so, we'd love to hear what you made!
For more craft ideas, follow Craftaholics Anonymous® on Pinterest!
Latest posts by Craftaholics Anonymous (see all)