When I was in college one of my guy friends would come over every month and bring my roommates and I treats. It was totally a non-romantic situation, he was just a great friend that loved baking things for people. One of his specialties was making fruit pizzas, or fruit tarts. He made them quite a few times for us, and every time I thought, "man, I need to learn how to make these sugar cookie fruit tarts!"
Sugar Cookie Fruit Tarts
With all the amazing weather we've been having in Georgia lately, I've found myself craving a refreshing treat in the afternoon. I love adding fresh fruit to everything in the spring and summer, and I thought that topping some sugar cookies we'd just made with some cream cheese frosting and fresh fruit would be the perfect  combination.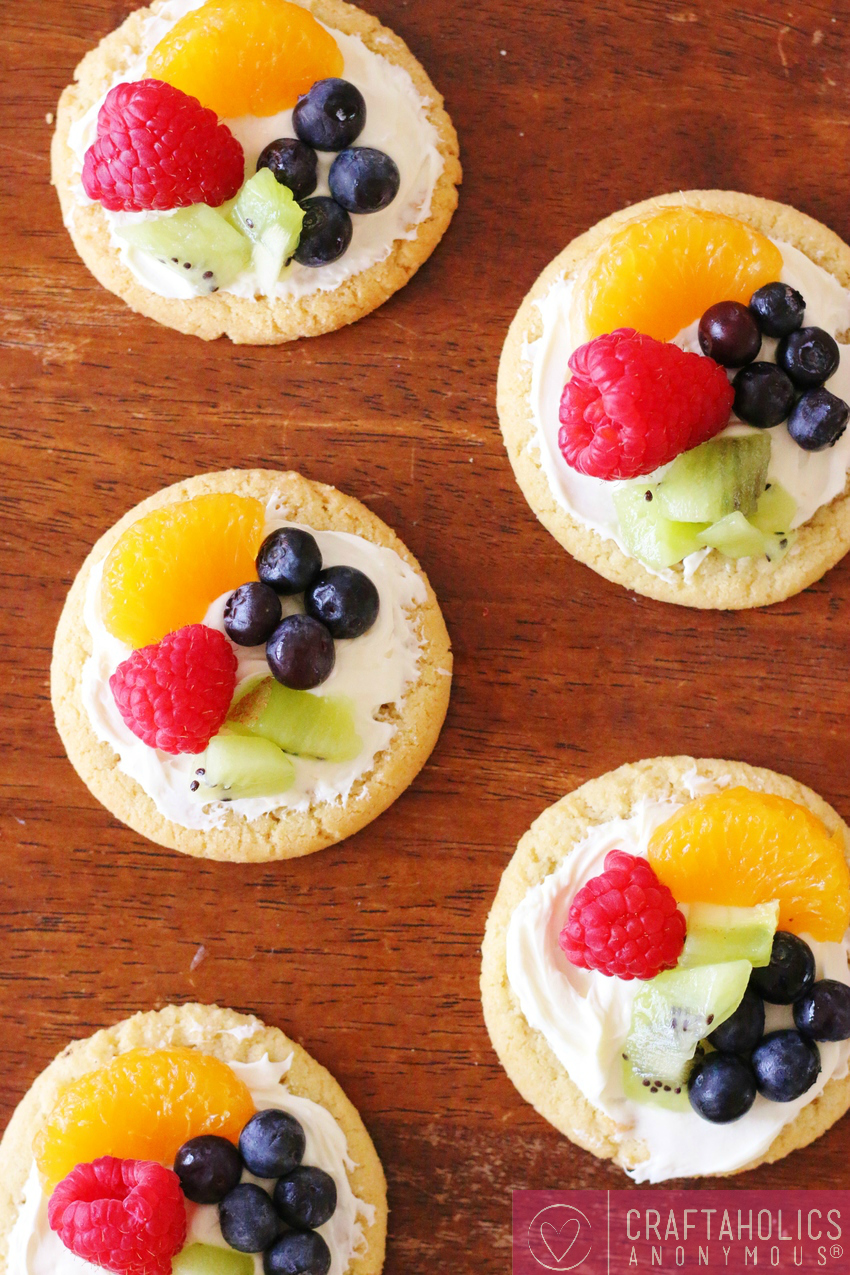 Like the other recipes I've made over here for Craftaholics, these fruit tarts can be as hard, or as easy, as you want to make them. I made my cookies and frosting from scratch, but if you're in a pinch and need a dessert to take somewhere fast, you could easily buy some sugar cookies, spread on some store bought frosting, and then add the fresh fruit and you would have a perfect spring treat in no time. You guys like when I can make things easy and hard for you all at once right?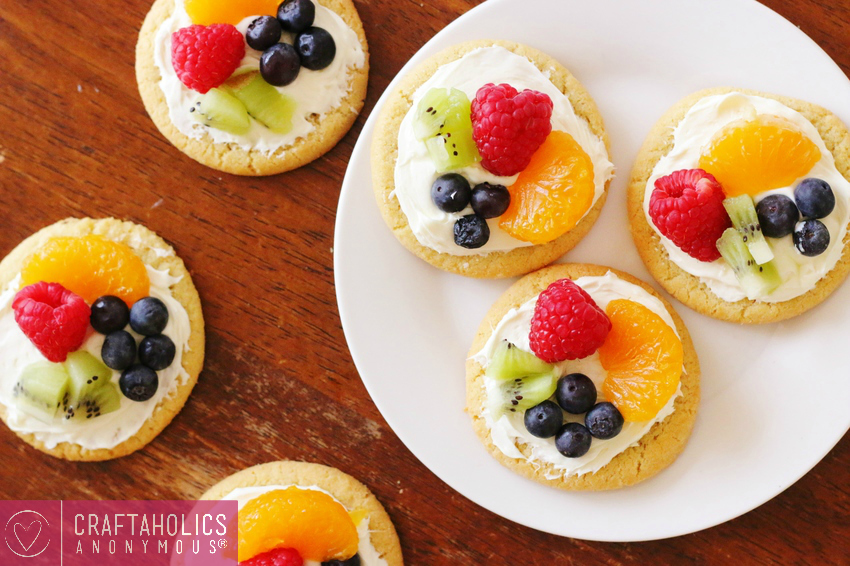 Another added benefit is that you can adjust the fruit to whatever your wants and needs are. If these are for a specific party, you can use whatever fruit best matches the theme you're going for. These could easily be made for the Fourth of July by taking out the kiwis and oranges and just using the raspberries and blueberries. Like everything, the sky is the limit.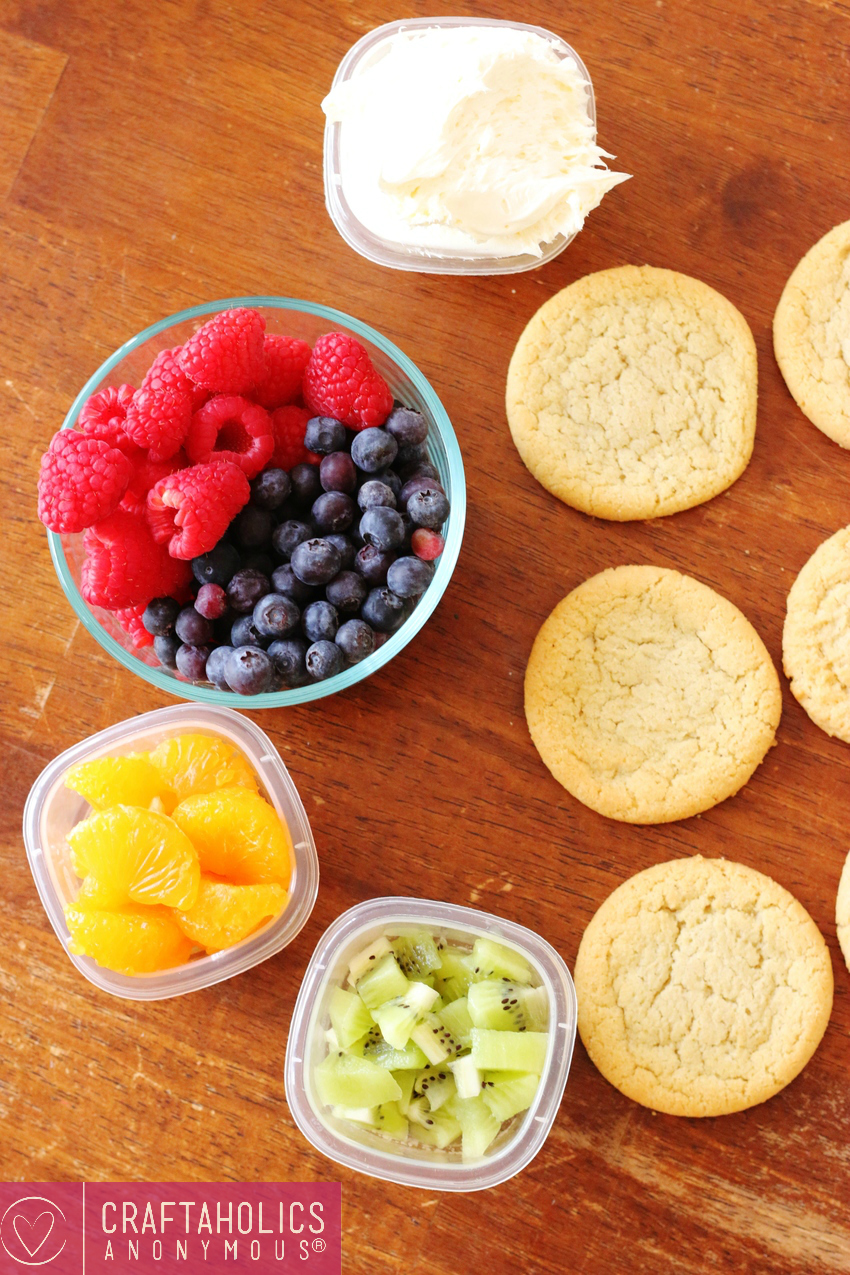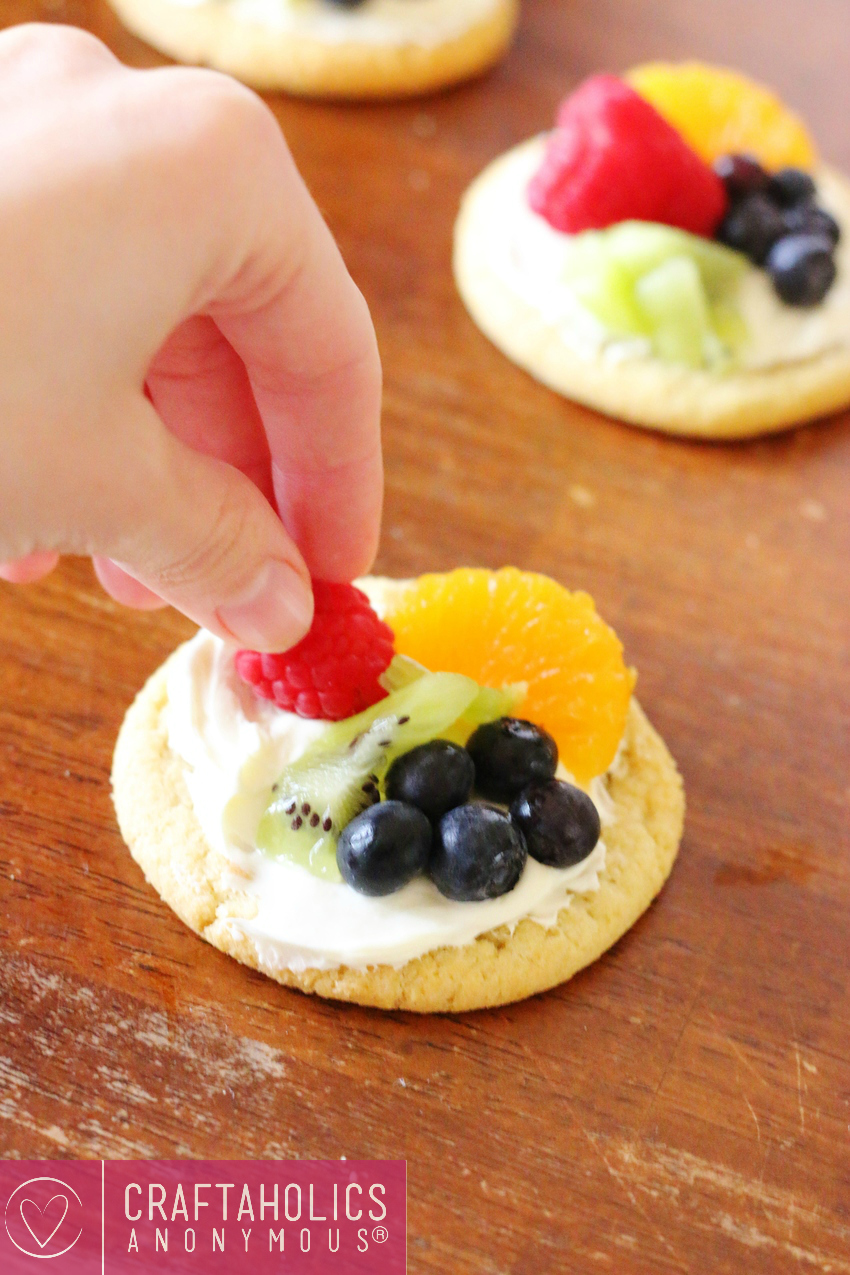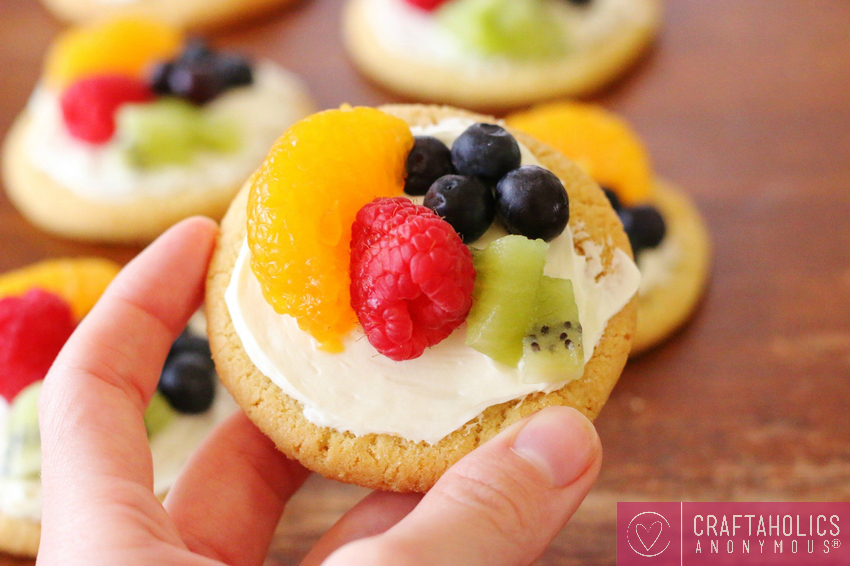 Ingredients
For The Cookies

½ cup butter
½ cup shortening
2 cups sugar
2 teaspoons baking powder
? teaspoon salt
3 egg yolks
½ teaspoon vanilla
2 and ½ cups all-purpose flour

For the Cheesecake Spread

1 (8 oz) package cream cheese, softened
½ powdered sugar
1 cup heavy cream
½ teaspoon vanilla
Fresh fruit for topping the cookies. I used Mandarin oranges, blueberries, raspberries, and kiwis, but use whatever you have on hand, or is in season.
Instructions
To make the cookies, preheat the oven to 300 F. In the bowl of a stand mixer, beat together the butter and shorting. Cream in the sugar, baking powder and salt until fluffy. Add the eggs and vanilla and beat in well. Stir in the flour.
Roll the dough into 1 inch balls and place on a baking sheet. Bake for 12-14 min. Do not let them brown. Let them cool on the baking sheet for 2 minutes. Remove from the tray and let cool completely.
Meanwhile, make the cheesecake spread. Beat the cream cheese with the sugar until light and smooth. Pour in the heavy cream. Beginning with the mixer on slow speed, start to beat in the cream. Increase the speed of the mixer gradually until the mixture thickens.
Spread the cookies with a bit of the cream cheese and top with fresh fruit. Eat within a couple days of making. Store in refrigerator.
https://www.craftaholicsanonymous.net/sugar-cookie-fruit-tarts

Latest posts by Paige Flamm (see all)