Disclosure: This post is brought to you by Scotch®. All opinions are 100% mine. I received free product to try.
DIY Santa Belt Votive Candles
Candles are a favorite this time of year! They add ambiance and warmth to any gathering. These adorable and easy to make Santa Belt Votive candles are the perfect Christmas craft to add to your holiday party!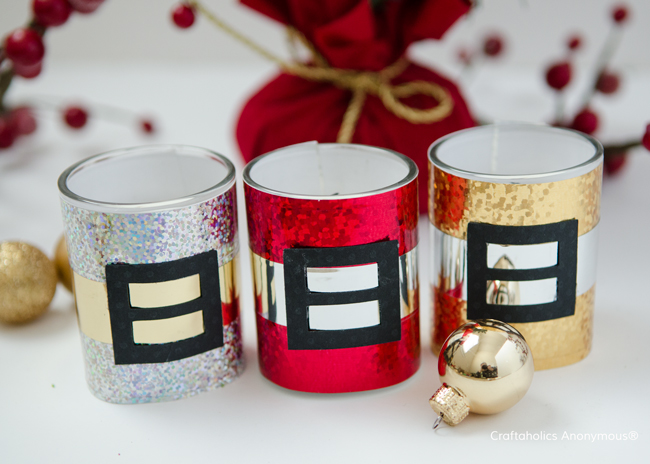 How to Make Santa Belt Votive Candles
 Supplies

Cut a strip of each Holiday Paper to 7″ by 2 3/8″ using the paper trimmer or scissors
Using a digital die cutter, cut 5 belt buckles out of the black cardstock. Buckle should measure about 1″ tall by 1.5″ wide.
Apply a strip of metallic Scotch Expressions Metallic tape across the center of each holiday strip of paper as shown to create "Santa's belt". Use scissors to trim off excess tape. Optional: cover all of the paper with one metallic tape and apply one strip of another metallic color tape for the belt as shown in the first picture at the top of this post. 
Using the glue stick, attach the buckle over the center of the washi tape "belt". Allow to dry for a few minutes.
Apply 4-5 Adhesive Dots along one short side of the Holiday paper.
Wrap the paper strip around one glass votive candle holder, overlapping the paper slightly and press in place so that adhesive dots hold paper in place. You may need to press the belt buckle down after this step.
Repeat steps 3-6 for each of the four remaining votive holders.
Place a votice candle or LED tea light candle in each votice holder and enjoy!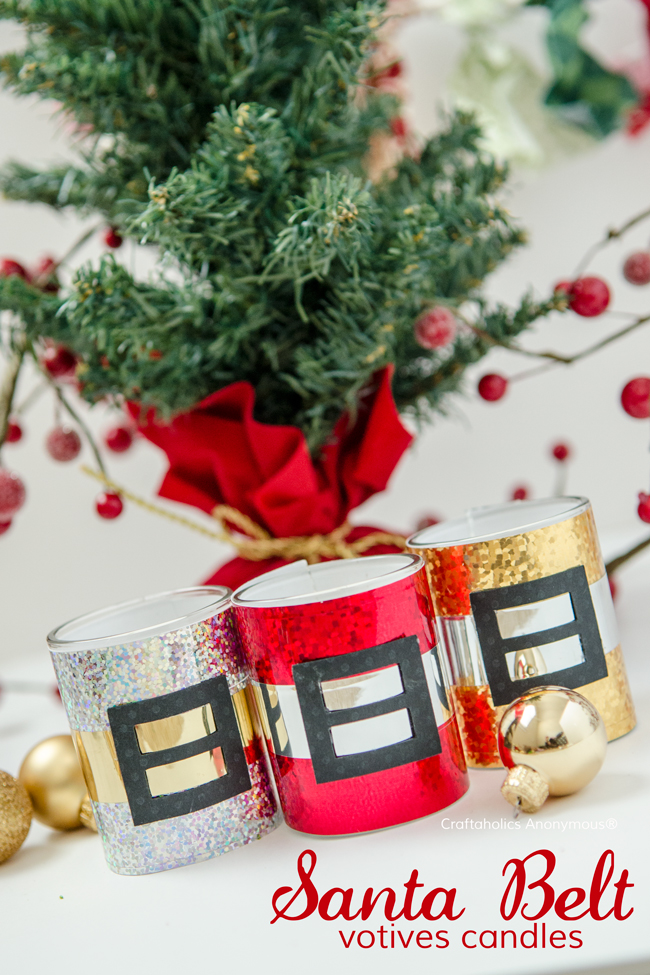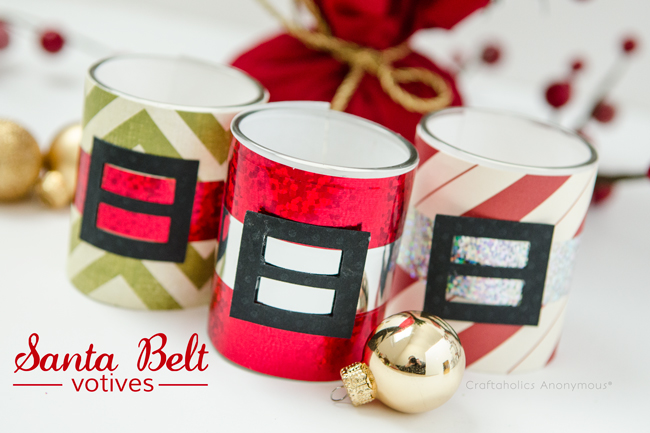 Super cute and easy! These would also make a fabulous party favor to give to your guests. Or kids could make these for their friends for easy handmade Christmas gifts! They can be made for very cheap!
More easy handmade Christmas gift ideas:
51 Christmas Gift-in-a-Jar ideas. Loads of really awesome handmade gift ideas in one place!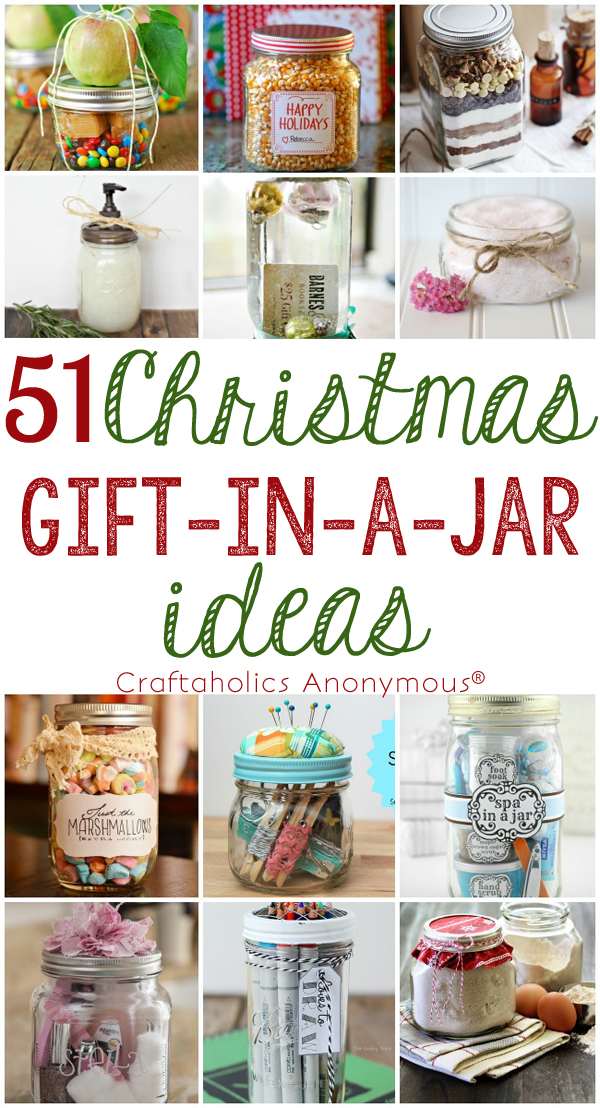 Gift idea for the Crafter: Mason Jar Glue Stick Dispenser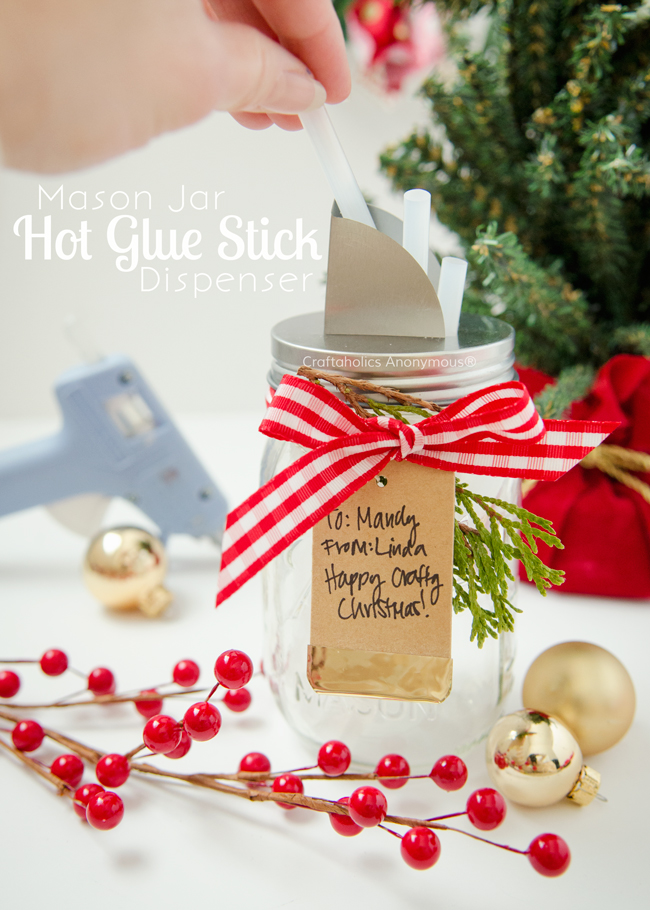 Find even more Christmas ideas and inspiration on my Pinterest page!
How would you use the Santa Belt Votive Candle Holders?? I'd love to hear in the comments below!
PSSSST!! Did you know Silhouette's Biggest Sale of the Year is STILL going on? Save $$$ with code: CRAFT for more details and exclusive bundles, click here. 

Hi! I'm Linda, the craft addict behind Craftaholics Anonymous®, a craft blog. Crafting is cheaper than therapy, right? When I'm not DIYing something, I can be found taxiing around our 4 crazy kids or working out. Or shoe shopping... because you can never have too many shoes! Happy crafting! ♥