Hi everyone! I'm so excited to be back with you, sharing my second post as part of the Craftaholics Anonoymous® Creative team.  Today, I'm sharing these Cadbury Mini Eggs cake stack s – a last minute Easter dessert idea that you can whip up in under 30 minutes with just three (store bought) ingredients!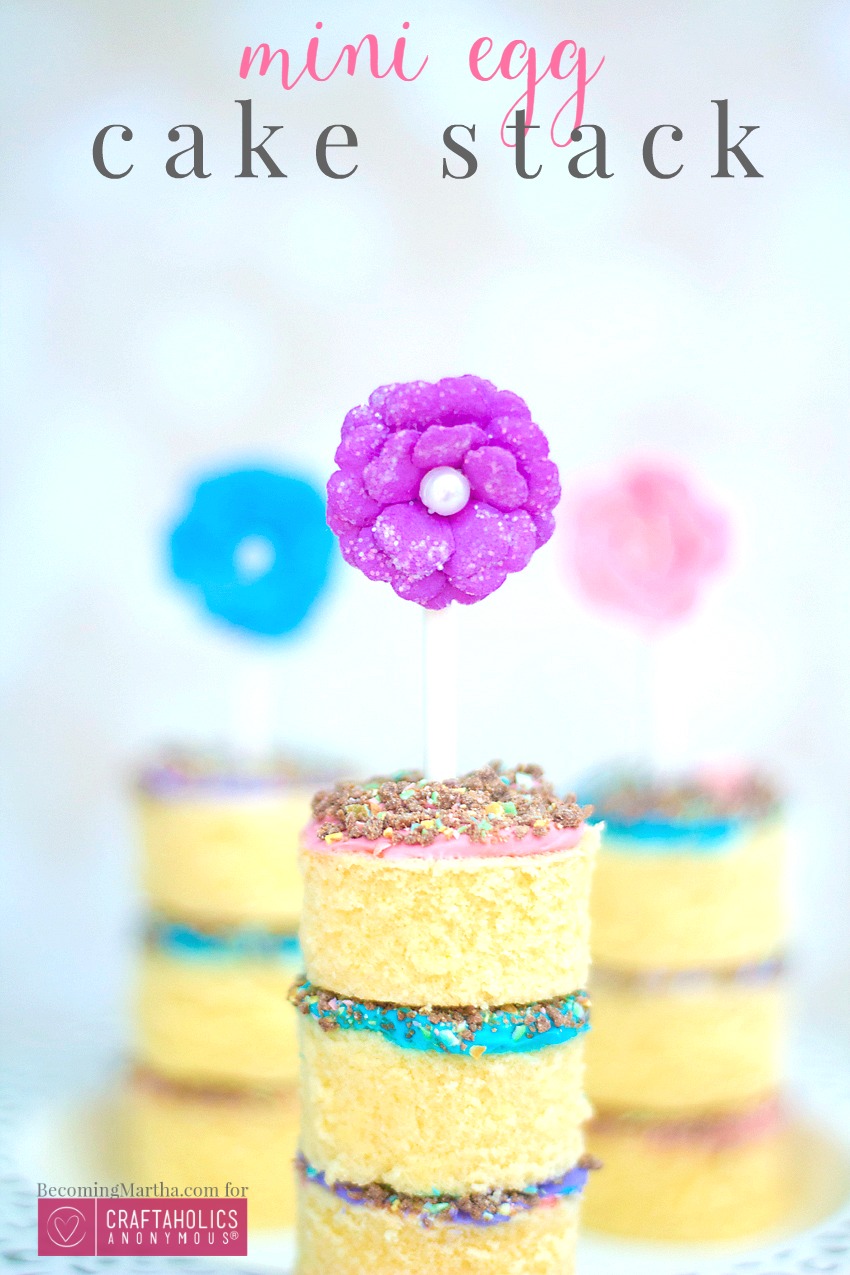 Cadbury Mini Eggs Cake Stack Easter Dessert

To make your own, here's all of the ingredients and tools you'll need:
frozen pound cake, sliced (3/4″ slices)
white icing
Cadbury Mini Eggs
food coloring
lollipop sticks
flower decorations
hot glue gun
circle cookie cutter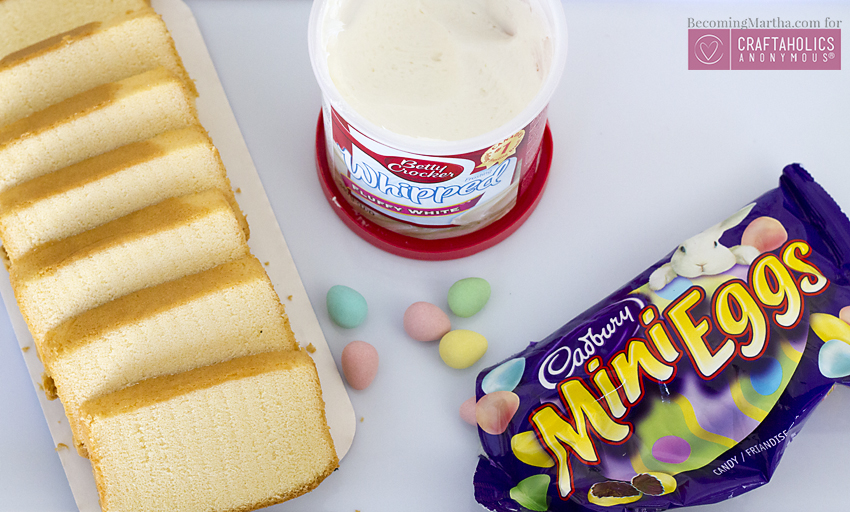 Use the cookie cutter to cut circles out of each slice of cake.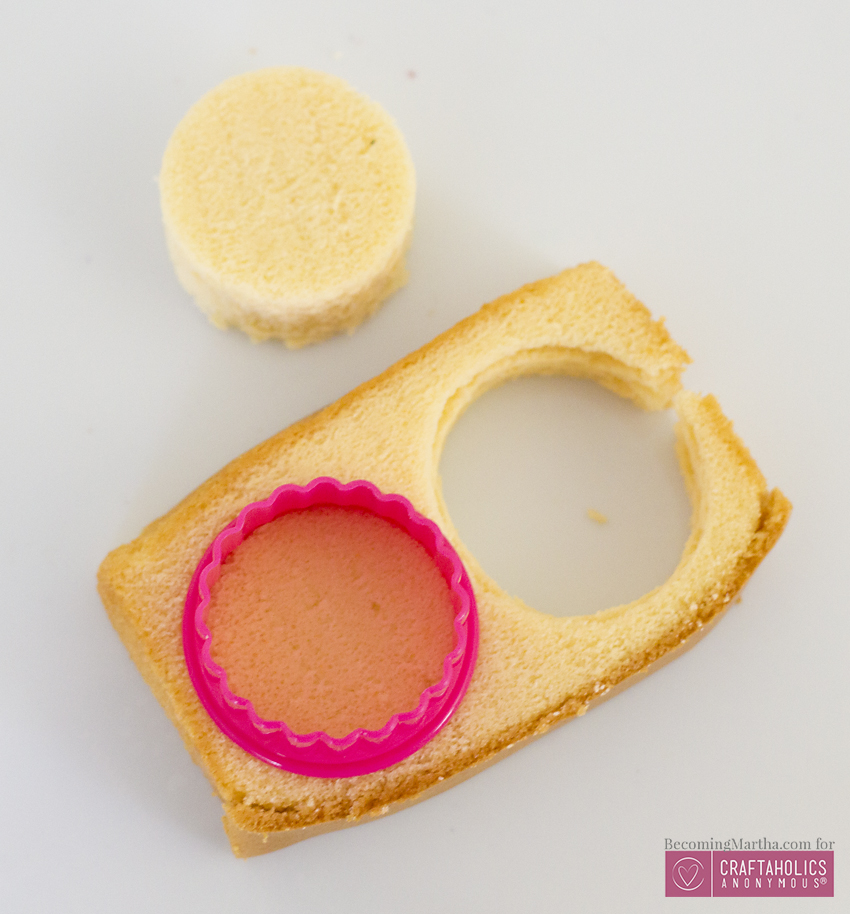 Seperate your icing into three bowls, and use food coloring to dye each bowl a different icing color.  Initially, I had planned to do a pink, blue, and purple ombre, but when I realized that would mean 9 icing colors, I scrapped that idea and just did one shade of each color.  I used Wilton food colors – petal pink, violet (with a dab of petal pink), and sky blue (with a dab of teal).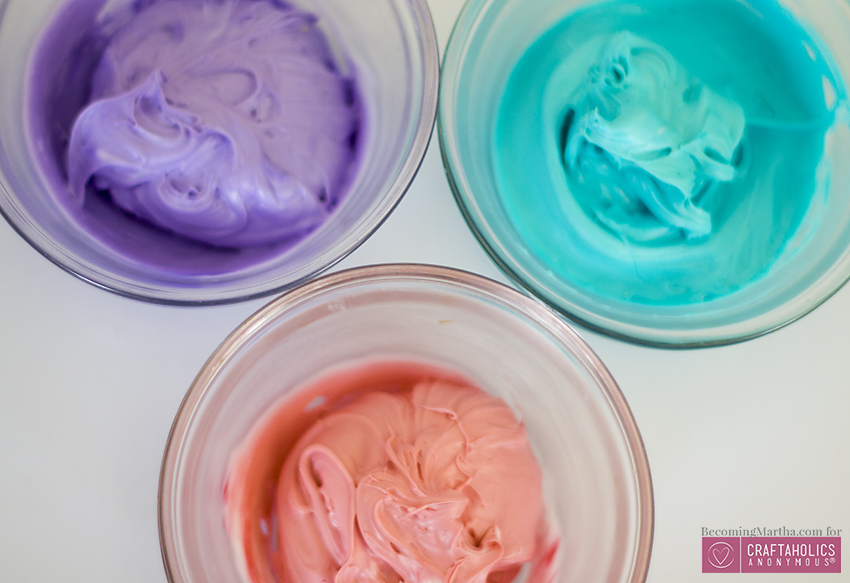 Use a mini food processor to crush some of the mini eggs.   You could also put them in a ziploc bag and use a rolling pin or heavy can to crush them as well.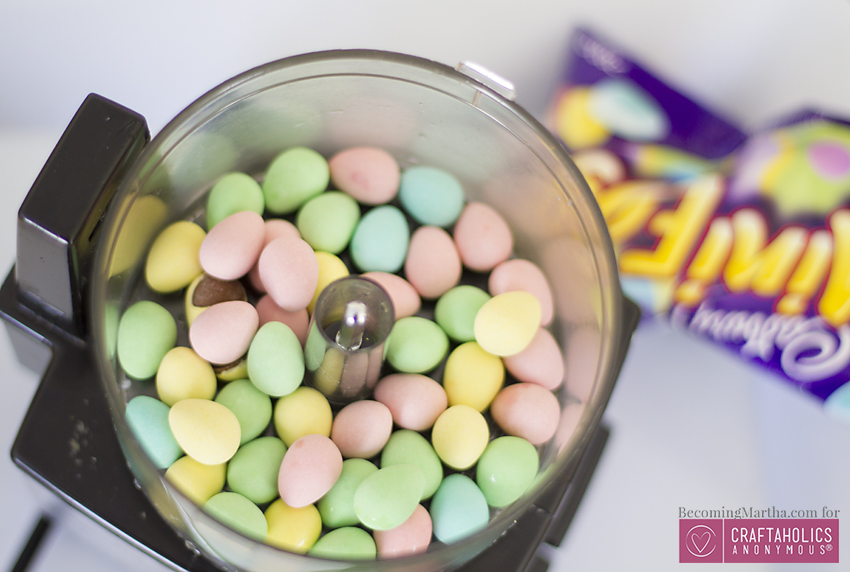 Spread icing onto the cake – a third of the cakes in each color.  Then, dip them into the Mini Egg "crumbs".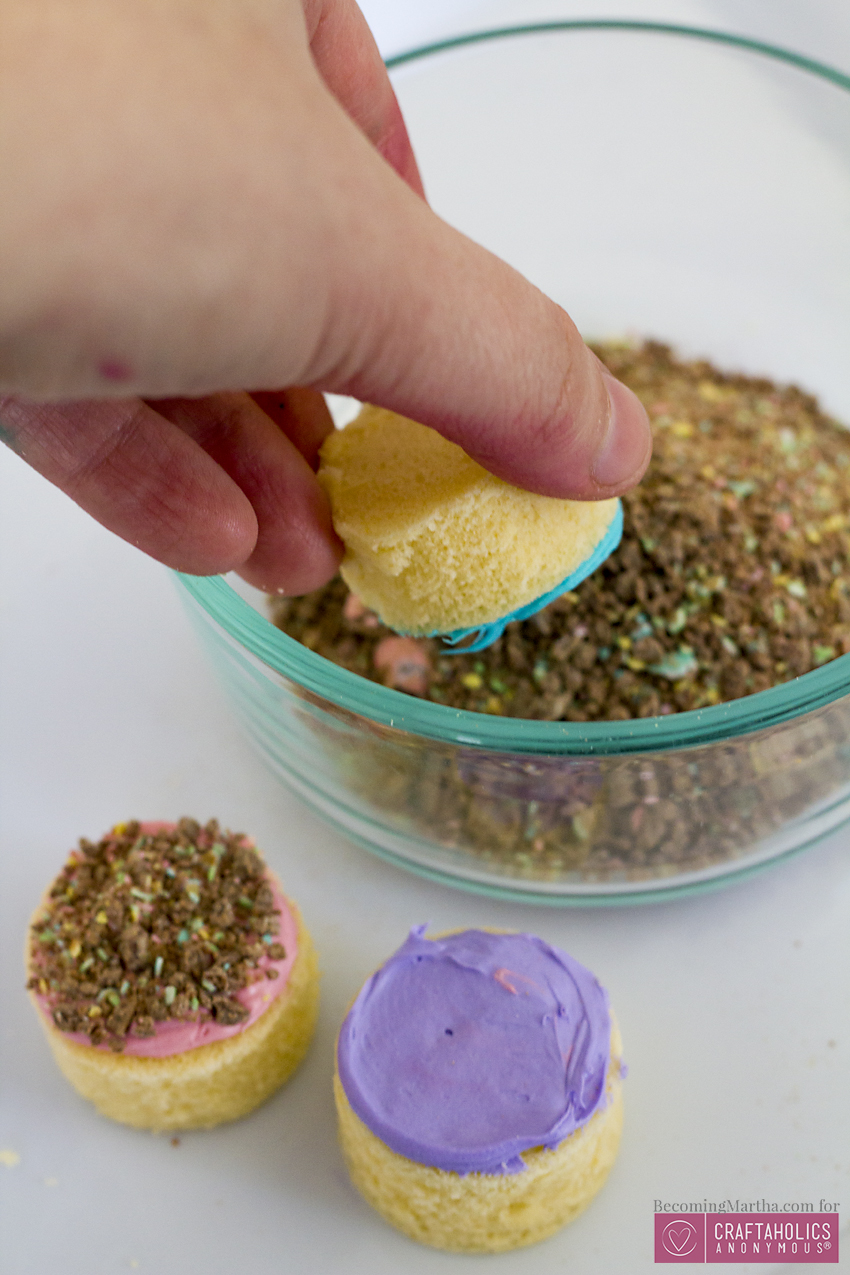 The next step is to prepare the toppers.  I used these little flowers decorations that I found last year in the Michaels dollar bins.  You may not find the exact colors this year, but I always see these types of flowers there, so it shouldn't be too hard to find.  Using your hot glue gun, stick a flower onto the top of a lollipop stick.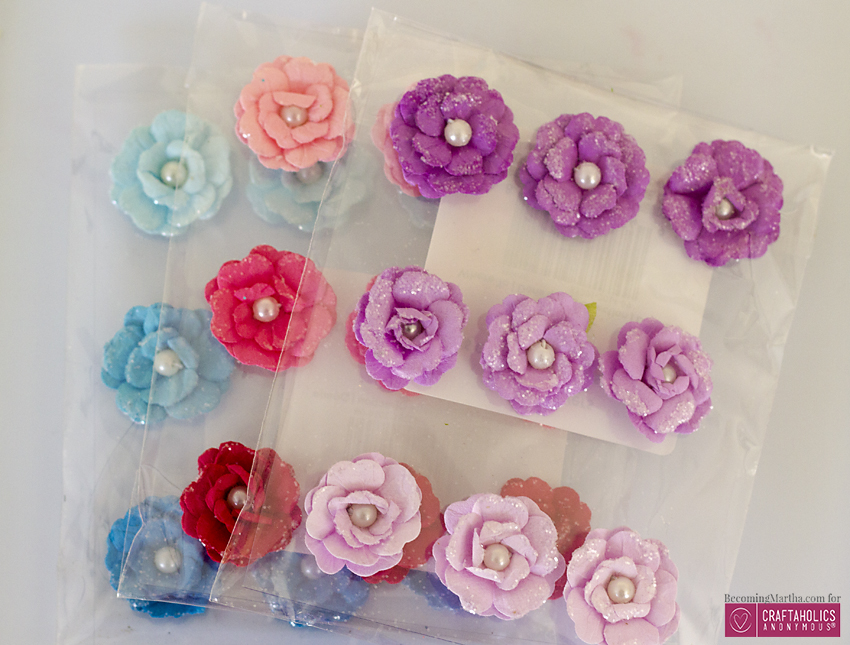 Stack three mini circles on top of each other, one of each color, and stick the lollipop sticks down through all three.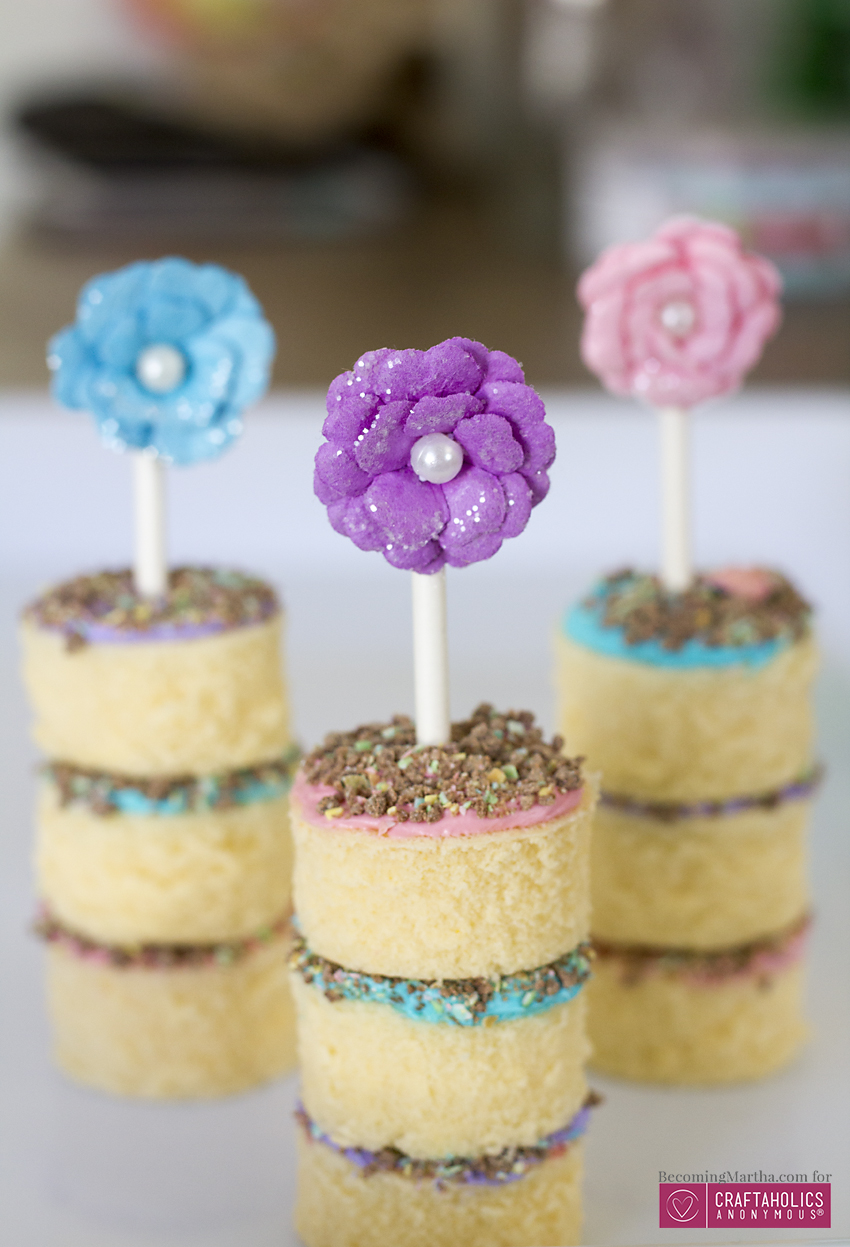 And that's all there is to it – it's a super simple and easy way to dress up simple, storebought ingredients.  Wouldn't these be adorable at a kids table for Easter dinner?  My daughters loved them, and you can never go wrong with pound cake (it's actually my favorite kind of cake!)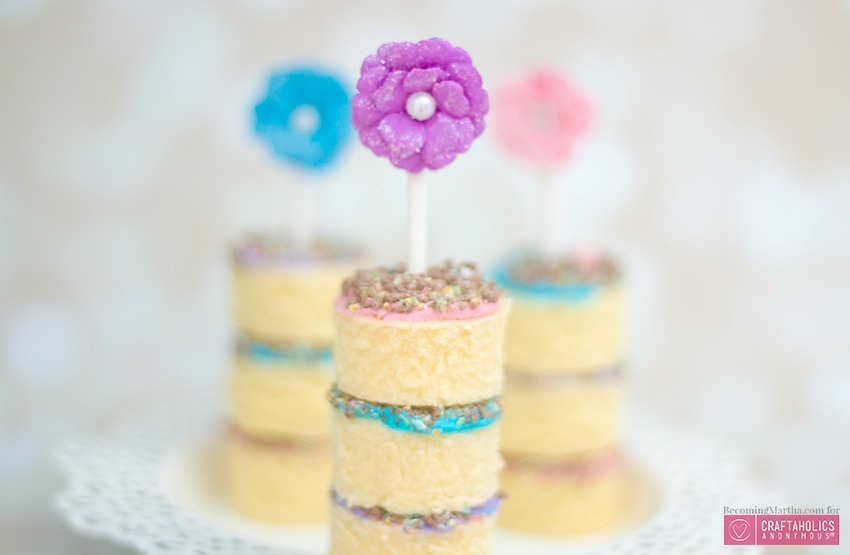 I hope you enjoyed this post, and if you are looking for more fun Spring ideas, make sure you check out my adorable Spring Wreath over at Becoming Martha.  It's the perfect door decor for your Easter dinner!  And if you'd like, follow me on instagram and tag me in your Easter DIYs – I love checking out everyone else's projects.

See you all again next month, and have a Happy Easter!
More Easter Crafts You'll Love!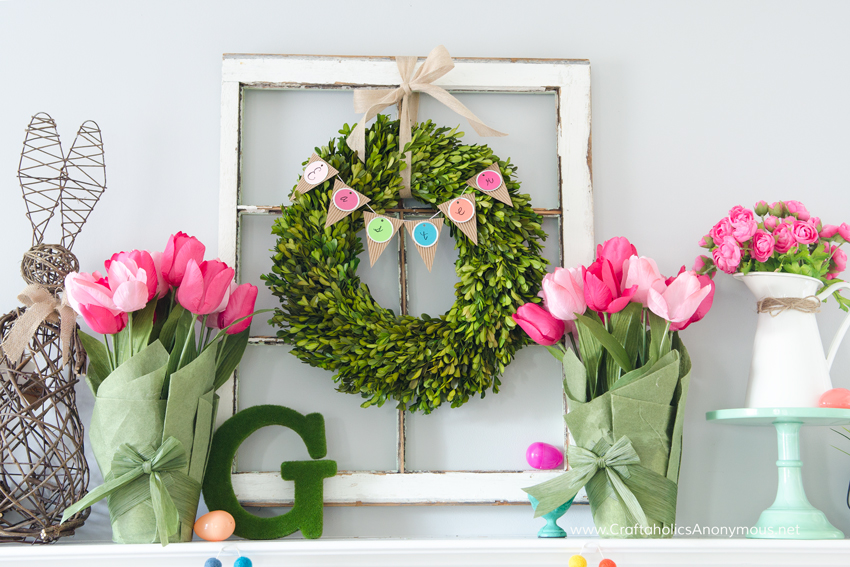 Easter Mantel :: A fresh, colorful mantelscape that will get your home feeling spring-y!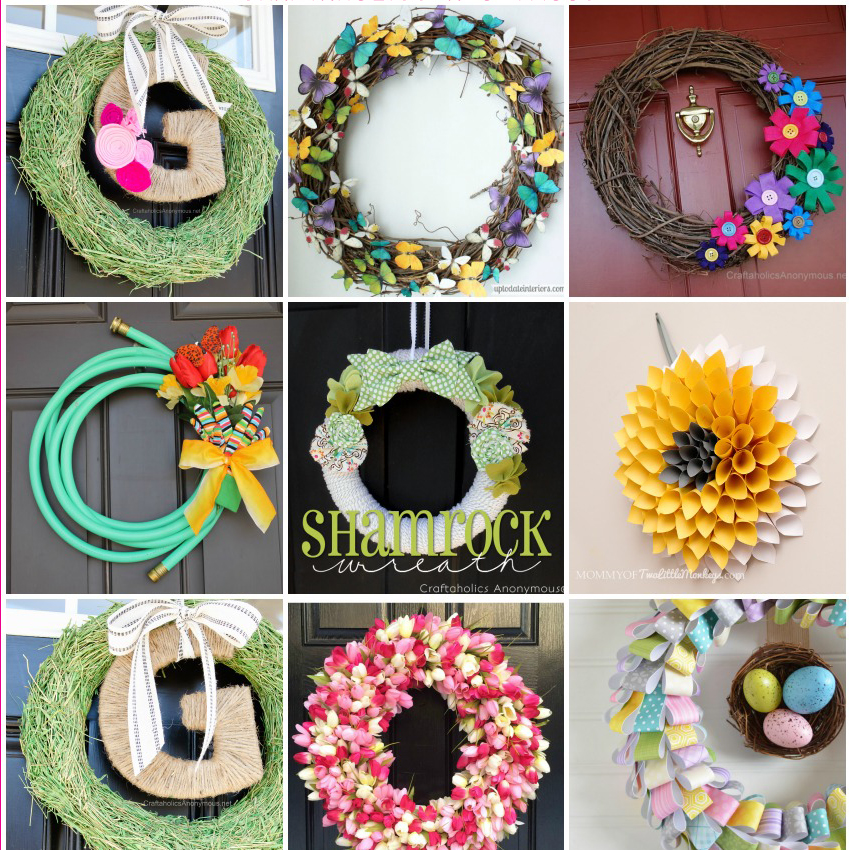 DIY Spring Wreath Roundup :: So many wreath ideas!
Latest posts by Sarah Desjardins (see all)