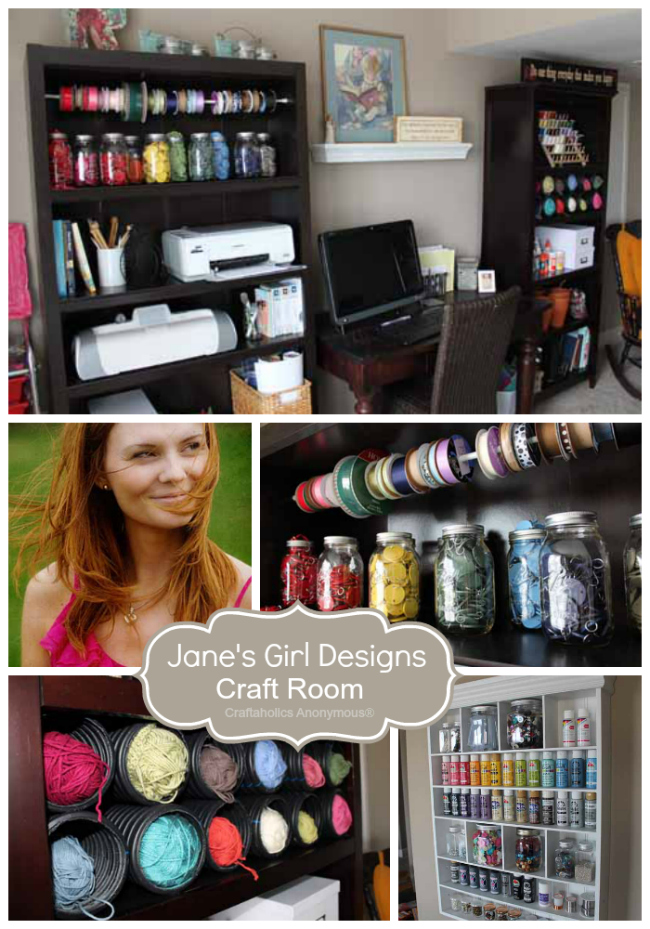 Happy Friday crafters! Rae from Jane's Girl Designs is here today to show off her beautiful craft room! She has some great storage and organizing tips too! Enjoy! – Linda 
Jane's Girl Designs Craft Room Tour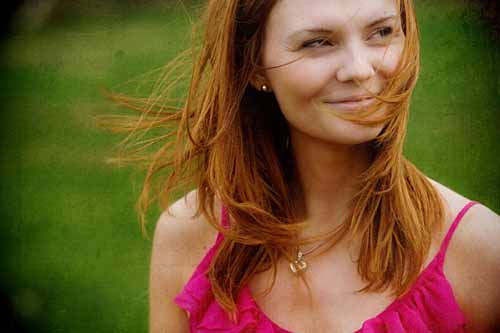 Hi there. I'm Rae from Jane's Girl Designs. I'm a serious crafter and an occasional craft blogger. I am born and raised in the Midwest and currently call a little town in Kansas home. I'm really lucky to have an amazing husband that's really supportive of my crafting addiction. My craft room has gone through multiple remodels over time, but the pictures below are some of my favorite! I used to sell stuff on Etsy but I also work full time and found that my crafting became all about business and less about fun. Now I participate in the occasional craft fair (to fund my craft supply addiction) and make a lot of crafts for my friends and family.
My craft room is in our walk out basement – which works great for me! It's a finished basement and gets a lot of natural light. It's also great because I have easy access to the backyard and a lot of my crafting involves spray paint!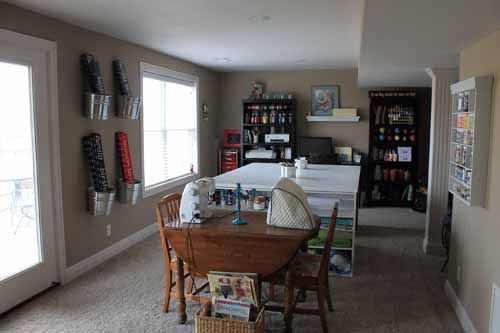 My craft table is by far the most important piece in my craft room (and my personal favorite!). It's a Pinterest inspired table consisting of four inexpensive shelves (we found ours at WalMart) and two hollow doors. The total price for the table was under $100 and it's easily the most useful piece of furniture in my craft room.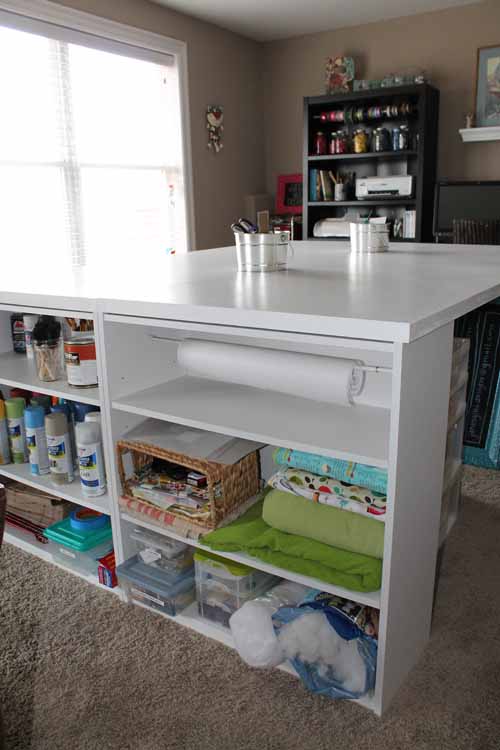 As a craft hoarder, I've also learned the value of finding storage space wherever you can. My table provides great shelving on both ends that I take full advantage of. I also try to group my supplies with like-items (paint with brushes, etc.)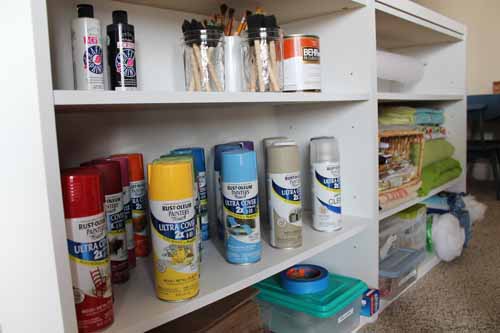 Under my craft table, I have 4 plastic drawer units that I use to store fabric, sewing, and knitting supplies. I've found that labeling the drawers and again, placing like-items together, saves me a lot of time when I'm searching for supplies mid-project.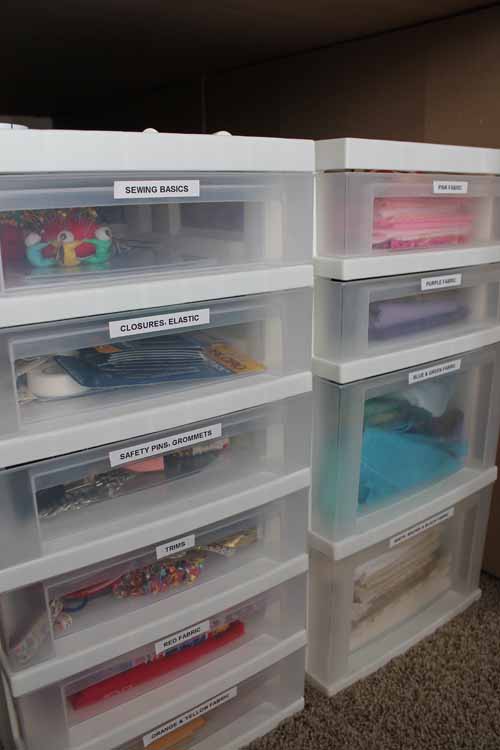 I've incorporated some of my favorite antique pieces into my craft room, including a table that's been in my family since long before I was born. I've found it works great to hold my sewing machine and serger – and the leaves that fold up on either side of the table come in handy mid-project. Having a designated place where my sewing machine and serger always stay out and ready to go has been a great bonus in my craft room.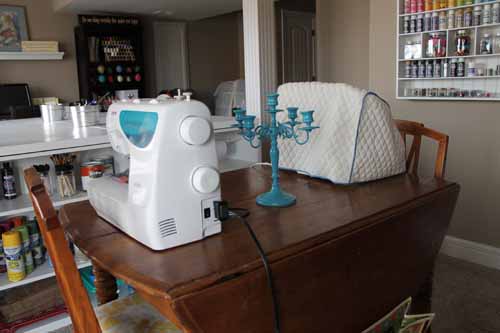 In the interest of using every bit of wall space as another opportunity to hoard crafting supplies, I purchased 4 metal buckets from Home Depot (at about $10 a piece) and had my husband drill them into the wall. They work great to hold odds and ends, including some of my finished birthday boards.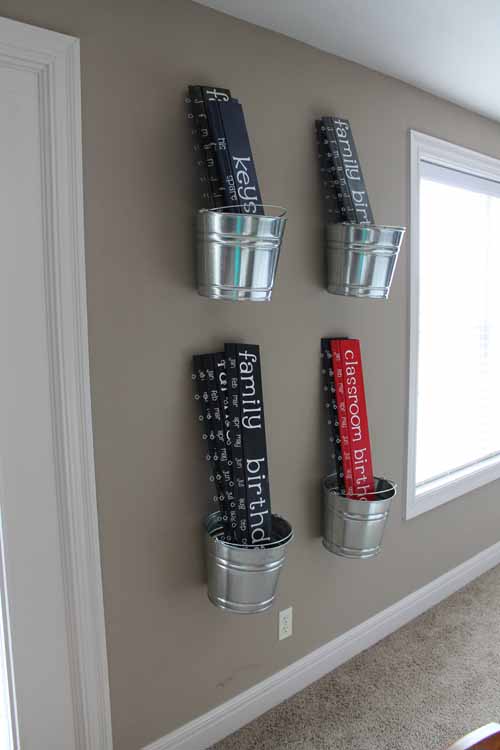 I'm never opposed to a piece of furniture specifically manufactured to hold craft supplies. This great little white shelf comes from Michaels craft store and it's a great place to keep small paints and containers of odds and ends.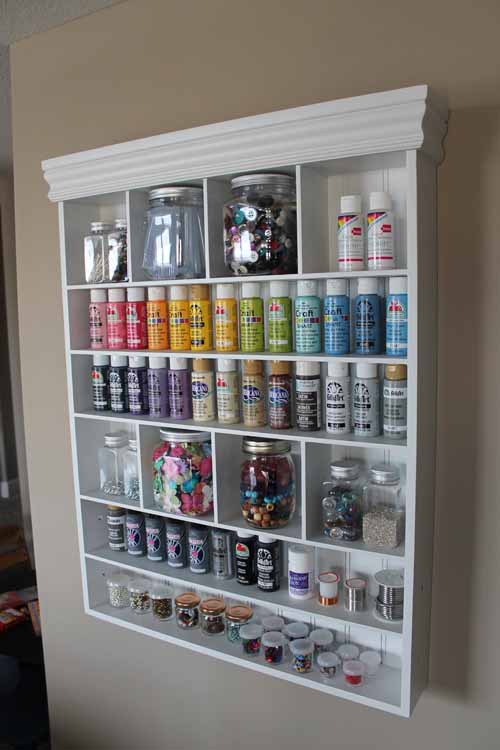 The back wall of my craft room has two store bought shelves and my desk fits perfectly in the middle.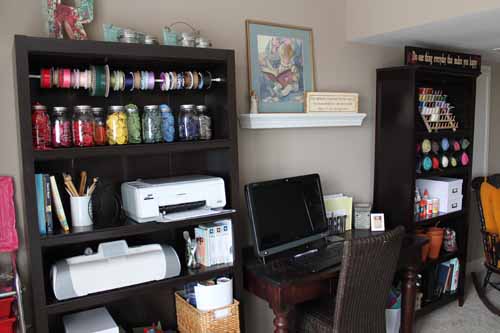 I've found that tension rods are a great way to store ribbon, paper towels, and other rolls of paper on a shelf for easy access.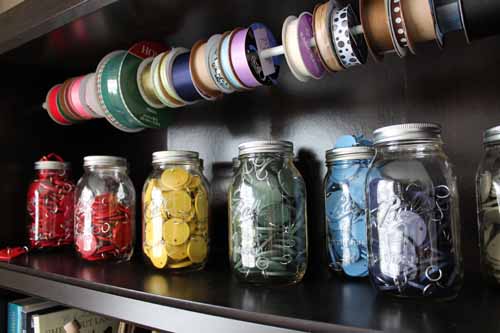 Over time I've also found that Home Depot is a great place to get craft room supplies! I bought a french drain for about $5 and cut it into sections that were as long as the depth of my shelf. I just cut it up myself using a handsaw. Then, I stacked them up in my shelf and have found they hold yarn perfectly to keep each skein clean and untangled.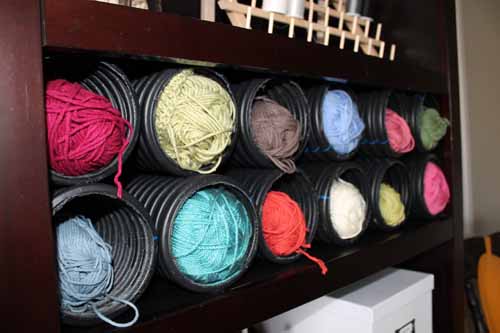 Thanks so much for letting me show you my craft room! It's certainly a conversation starter with repair men that come to our house or any of my husband's friends that have seen it. Please feel free to stop by my blog to learn more about the projects I do, my craft room, and my crazy little crafting life!
What a fun place to create in, Rae! Thanks for sharing your pretty space with us today! If you have a craft space you'd like to show off, email info@craftaholicsanonymous.net with a picture of your space! 
Looking for more ideas for your Craft Room? Follow our Craft Room board  on Pinterest or browse 40+ craft room tours here. 
Latest posts by Craftaholics Anonymous (see all)