Happy Tuesday! Thank you for the kind words on my Halloween Mantel yesterday! Totally made my day. As promised, here are the Halloween Crafts featured on my mantel with the how to's. They are all super easy and come together quick. Enjoy!
Halloween Crafts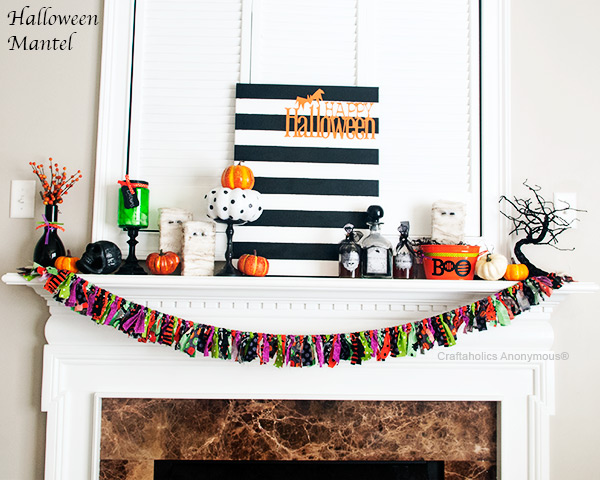 My mantel features stripes, polka dots, glitter, mummies, brains, pumpkins, and lots of color! I like to call it Scary cute :)
Halloween Stripe Canvas
If you follow this craft blog, you know I'm always playing with canvases! They are easy and basically an empty pallet.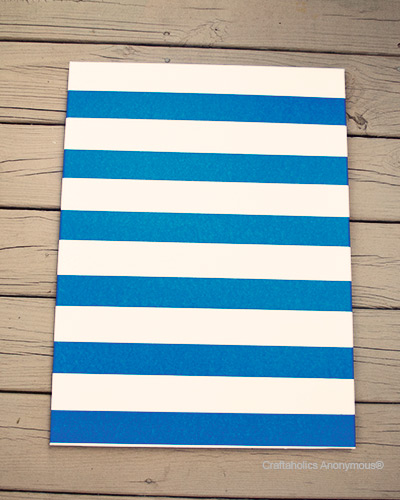 First I spray painted the 18×24 canvas white. Then I used 2″ thick painters tape and taped off stripes. Then spray painted the exposed canvas with black spray paint. Then I used my Silhouette Cameo and cut "Happy Halloween" out in orange vinyl. Then applied it to the top right corner of the canvas.
Polka Dot Glitter Pumpkin
Polka dots and Glitter. Need I say more?! hehe Love me some polka dots! And glitter polka dots are super easy to do. This is one of those fantastic-ly EASY Halloween Crafts!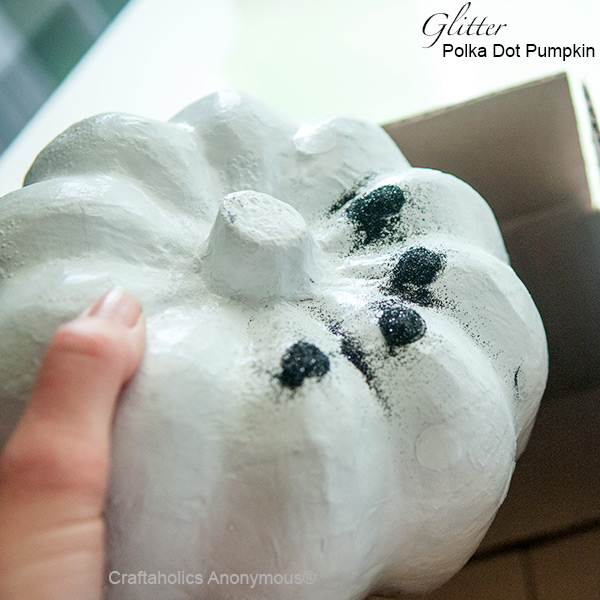 I took a plain brown paper marche pumpkin and spray painted it white. Two coats for even coverage. Then I applied large, thin glue dots all over the pumpkin. Grabbed a box and some black glitter and sprinkled the black glitter on the glue dots while holding the pumpkin over the box to collect the excess glitter. Did I mention easy?
Chalkboard Skull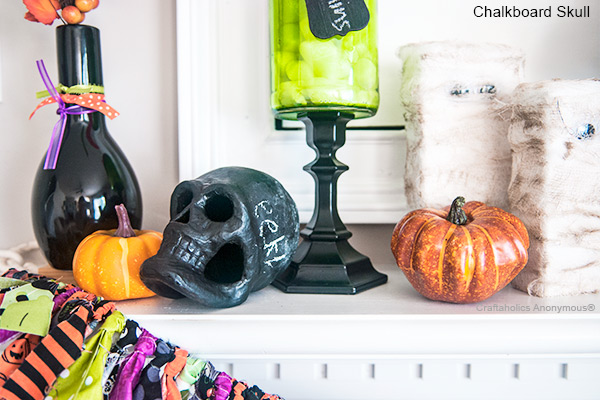 This chalkboard skull was super easy to make!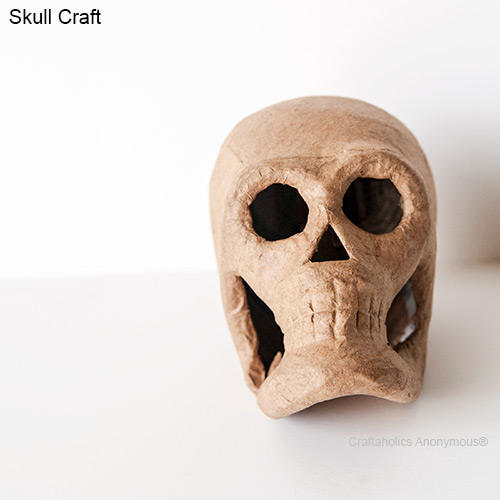 I used a plain paper marche skull from the craft store. Spray painted it black and then used a foam brush to apply chalkboard paint where I wanted to write on it. Then seasoned the chalkboard paint by rubbing chalk all over it and wiping it off. Then I had fun picking out what word to write on the skull!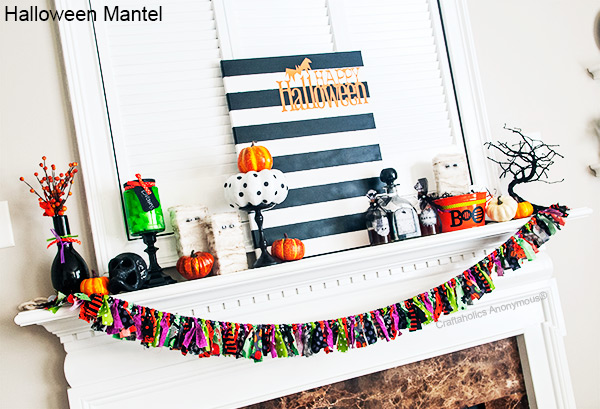 More Halloween Crafts featured on my Halloween Mantel
Well I hope you enjoy these tutorials and feel inspired to make one or all of them! Thank you for stopping by today! I really appreciate it.
happy crafting,
Linda
Don't miss a Craft! Sign up for email updates {top right corner} or follow Craftaholics Anonymous RSS feed!'
Share and Enjoy

Hi! I'm Linda, the craft addict behind Craftaholics Anonymous®, a craft blog. Crafting is cheaper than therapy, right? When I'm not DIYing something, I can be found taxiing around our 4 crazy kids or working out. Or shoe shopping... because you can never have too many shoes! Happy crafting! ♥