Need something to stow all that sidewalk chalk in? Here's a no-sew solution from Jessica, Creative Team! This drawstring pouch tutorial is as easy as a summer breeze to make! And a fun summer craft all in one. Enjoy! -Linda
Drawstring Pouch Tutorial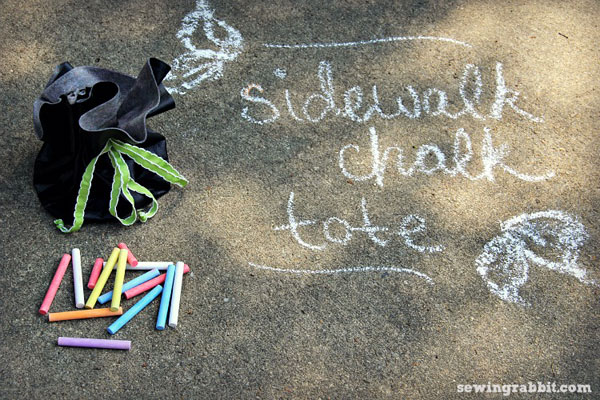 Today's tutorial is for a fun and easy craft, a no-sew pouch that you can make in under 10 minutes! Perfect for storing little items, like sidewalk chalk, toys, crayons, and more.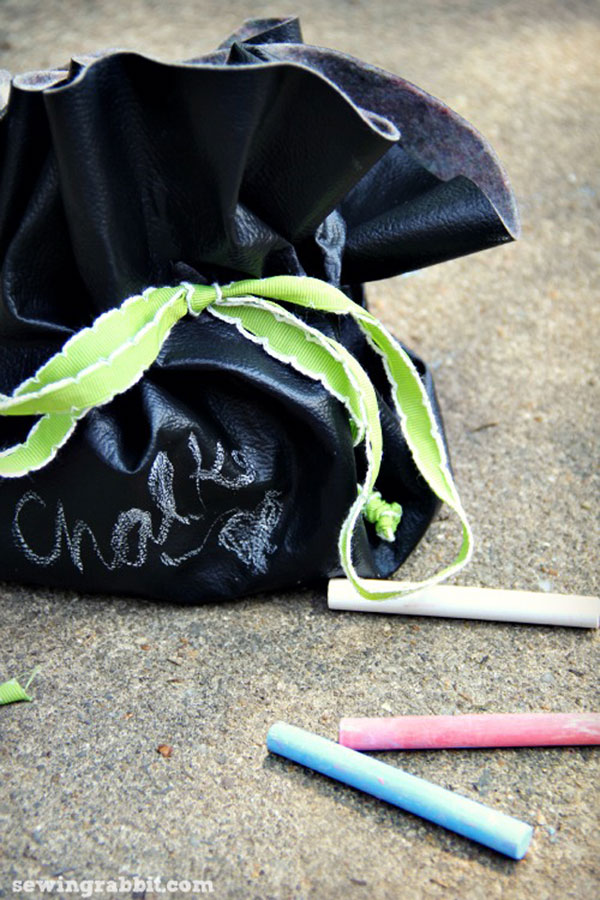 My kids play with sidewalk chalk almost all year round – the only problem is, it never seems to go back into the box once it has been opened. Chalk breaks, gets distorted, messy, and will just never go back into those neat little rows. I found I was throwing more sidewalk chalk away than was necessary, just because I didn't want to keep up with the mess.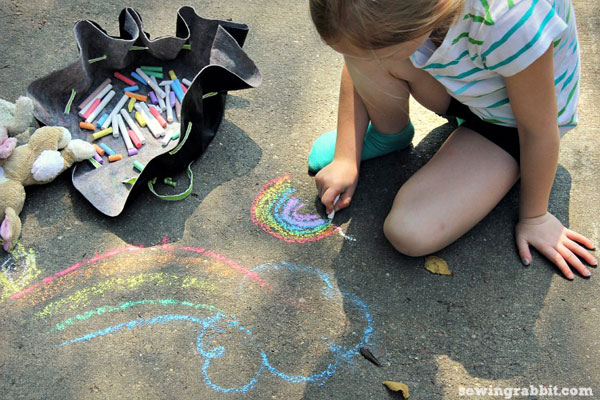 What I love about this drawstring pouch tutorial, is not only how easy it is to make, but how it opens. I don't have to dip my hand into a messy pouch, just to get the chalk out. Especially when dumping it always leads to more chalk breakage! But rather, this pouch will open up into a full circle, with all of the chalk right in the middle. And of course cinches closed just as easily.
Let me show you just how you can craft this no-sew pouch in under 10 minutes…
And that's it! Easy peasy lemon squeezy.
By using vinyl or chalkboard fabric, you don't need to worry about the holes ripping or fraying. And the bag took such a short time to make, that you won't be freaking out if your child manages to lose it (you know they will at some point! Lol)
Now go enjoy the Summer with your kids and their crafts, easy clean ups are ahead.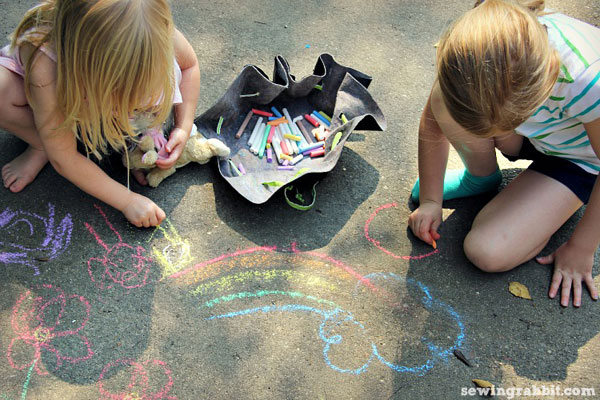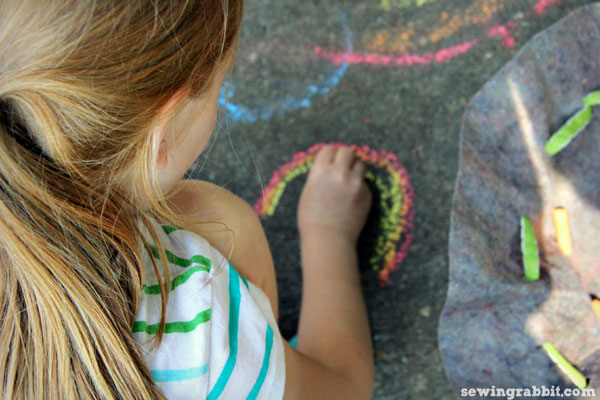 Happy crafting,
Jess
*Google Reader is going away on July 1. Make sure you don't miss a craft tutorial by signing up to follow Craftaholics Anonymous® on Bloglovin!*
Enter to win a $100 Lowe's Gift Card giveaway!
Jessica Abbott, the Sewing Rabbit, blogs over at Me Sew Crazy where she posts about all things sewing related. Specializing in children's clothing, her readers continue to come back for her tutorials, patterns and collections. Creative Director behind SewSet.com, a sewing pattern and tutorial search engine. Jessica also runs the Jo-Ann Fabric & Craft Stores Girl's Night Out Event, bringing sewing and craft enthusiasts together in different cities around the nation. She currently resides in Virginia Beach with her husband and three fabulous children.
Latest posts by Jess Abbott (see all)