Looking for ideas and easy to make play food for your kids? Here are some create ideas and resources to help you get started making some DIY play food!
Ashleigh has a Q: "For Christmas we are building my daughter a play kitchen. I want to make her some play food to go with it. Any suggestions or ideas on how to do this? I'm already saving small food containers that I can clean and reseal."
Answers were taken from this post on the Craftaholics Anonymous® Facebook Page.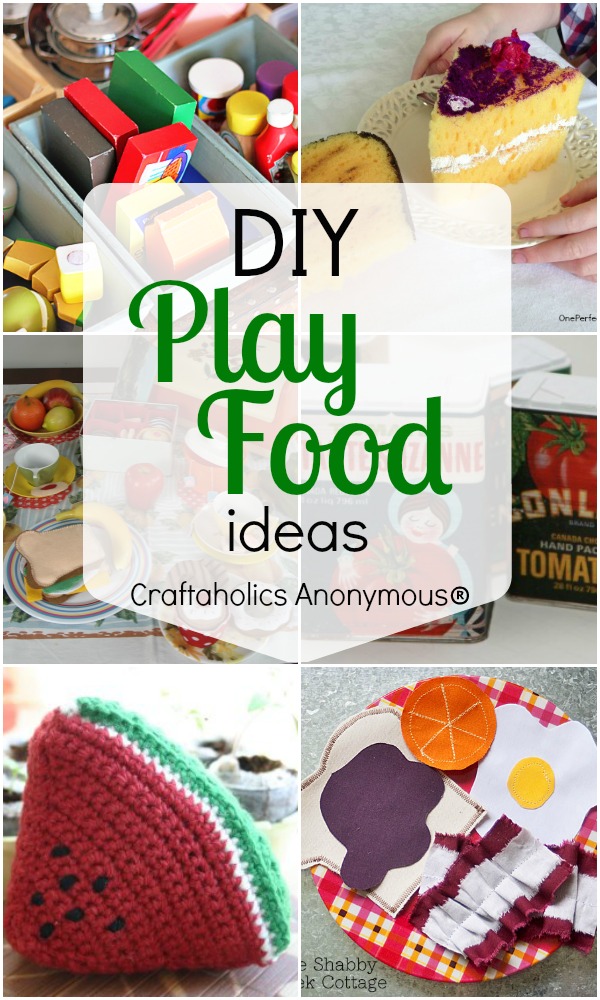 DIY Play Food Ideas
1. "I love this book for making felt food! The patterns are easy and well written!" – Val P.
2. "There are TONS felt play food patterns. Try Pinterest!" – Michele H.
3. "Felt food is cute." – Melissa E.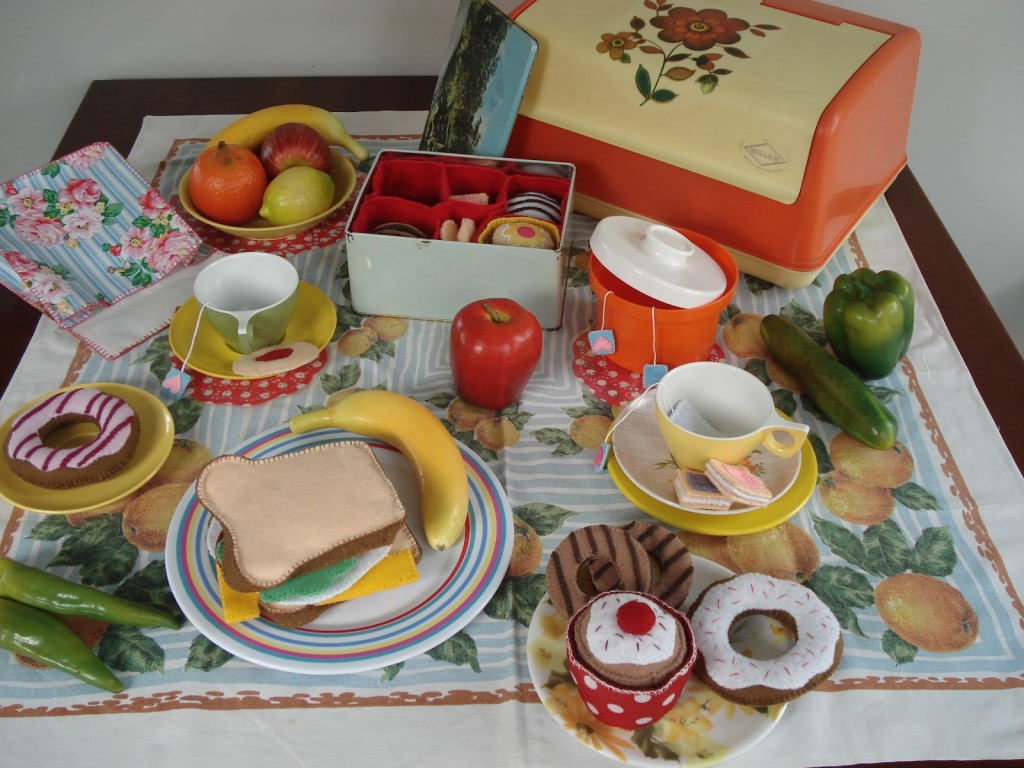 Image from Cupcake Cutie
4. "Check out this page, they have tutorials for felt donuts, tea bags and a sandwich. Do a search for felt food tutorials or play food tutorials!" – Char H.
5. "All play food will go in their mouth at some point. I say felt." – Sarah D.
6. "Felt food is wonderful! I really like using embroidery floss to sew it all together, exposing it along the edges. Round foods are harder to do, but most food is really simple! Eggs are really fun to do with the embroidery floss, just sewing the yolk onto a scrap of white… One piece of advice: Use quilt batting for things like bread or pancakes, it will make them flat, rather than using polyfil. Felt food is a great way to use up scraps you may have laying around, and it lasts forEVER! Good luck, and merry Christmas!" – Jolyn A.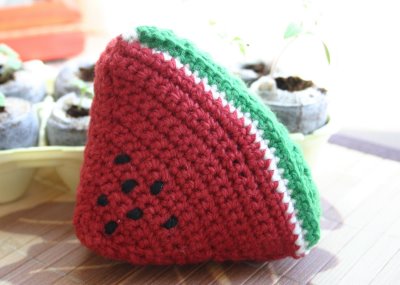 Image from Tasty Crochet
7. "How about sheets of fun foam for cheese slices. Cut holes in a cream colored sheet for Swiss cheese, and orange for American cheese. I don't know how old your child is, but bakeable clay would make good bread or peas. This might be a time to include healthy choices that she may not like to eat yet, but if she made them for her dolls, she may be encouraged to try them herself!" – Barbara B.
8. "I remember a tip that was given By Rosie O'Donnell once that she makes small loaves of bread and then she shellacs them and they stayed good forever. Might try that!" – Sandra E.
9. "I'm getting my daughter a kitchen for Christmas also and was going to make some foods. I'm saving cans and going to cover the inside and outside with felt and decorate the outside to say certain foods. Also going to make felt foods which you can find patterns for on Pinterest. I also thought about getting those various sized and shaped wooden blocks and decoupaging printed off food labels." – Jenny B.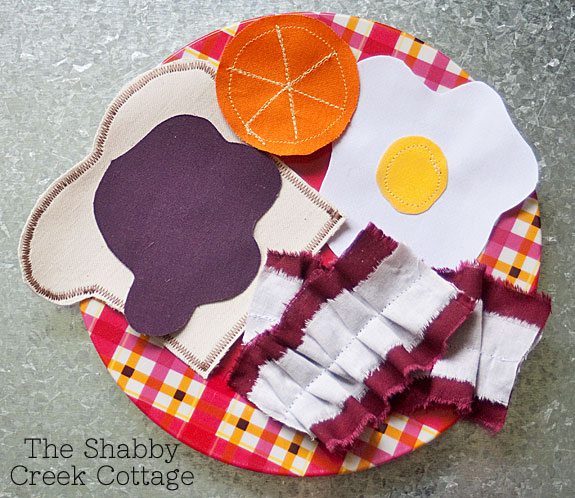 Image from The Shabby Chic Cottage
10. "Felt food all the way! It's so much fun to make." – Kristi T.
11. "Crochet or plastic canvas?" – Renee M.
12. "My friend made amazing felt food for her son, mountains of it! She got her patterns from Etsy." – Rae N.
13. "Use salt dough and watered down food coloring to paint it." – Cheryl F.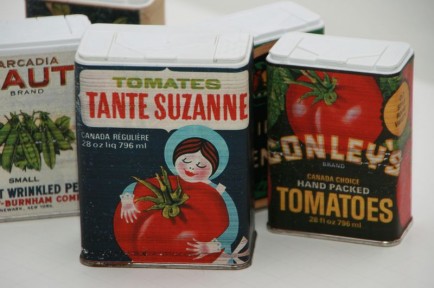 Image from I Make Stuff
14. "The Sewing Loft (on etsy) has great pattens for felt food." – Donna T.
15. "McCalls and Simplicity have patterns to make food from felt! Very easy! Go visit JoAnn's or Hobby Lobby for patterns!" – Gail M.
16. "Crochet or knit. Tons of free patterns on ravelry.com." – Jamie R.
17. "I like painting on pieces of wood – for cereal, etc." – Patricia C.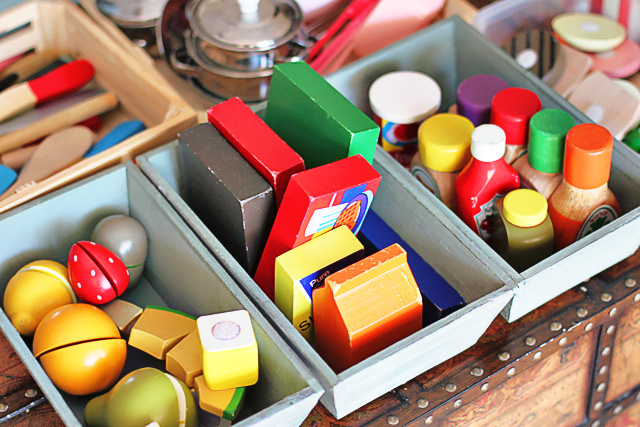 Image from Babble
18. "I bought some of the plastic play food at Target a few years ago for gifts, in the $1 section. Or check out Lil Blue Boo – she did that in her daughter's bedroom. Very cute!" – Valerie V.
19. "I do realize that you said that you want to MAKE food for your play set, BUT just in case you run out of time (as I have found myself doing on many occasions as I tend to make many gifts during the holiday season) if you live anywhere near an Ikea or plan to make a trip anytime soon, in their kids section they have some of the most awesome cloth food. They have 4 or 5 different sets ranging in price from $4 to $7 which includes everything from bananas you can peal to breads and meats. They also have some really cool kitchen play sets that are made out of metal like a miniature Bundt pan, muffin tins, etc with wood rolling pins. (All things that could be used in a real oven/kitchen as well – just mini sizes for their little hands.) Just in case you find yourself without time!" – Chelsea H.
20. "Felt food: There are lots of free online patterns and lots is easy to make yourself without a pattern. Esty also has some great patterns for felt food for the more rounded stuff like fruits and vegetables that are more complicated pattern wise. Recycled box food: Several people have free printables for cute food labels to put on old boxes that look like food." – Hope B.
21. "Fimo or Sculpy too make realistic looking food." – Rhonda T.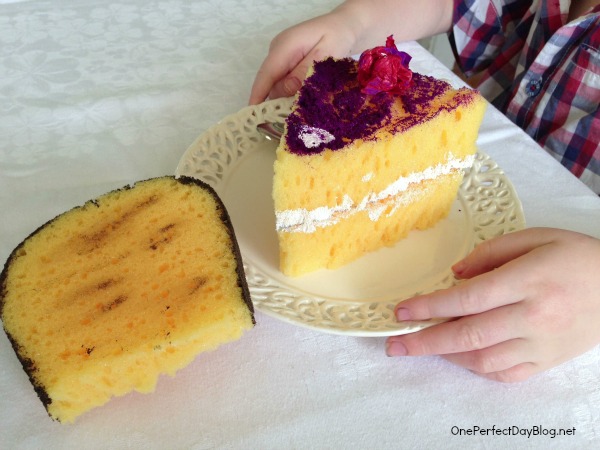 Image from One Perfect Day Blog
22. "When I was teaching preschool I would save food boxes and fill them with Styrofoam and reseal them as if they were never opened. Cans were cleaned and the sharp edges either taped off or filed off." – Janet C.
23. "Salt dough molded into food shapes, baked for hours, hand painted with acrylic paints and then vanished with water-based satin varnish will last ears as long as is kept dry." – Beth C.
Hope these ideas get you going on your crafting adventures in making Play Food!
For more crafting inspiration from around the web, follow along on Pinterest! Or post your craft question on our Facebook page!
Have you entered this giveaway?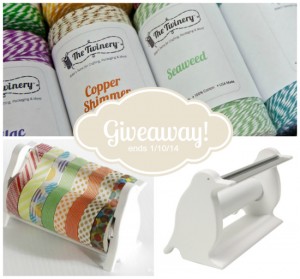 Disclosure: Affiliate links used in this post.
Latest posts by Craftaholics Anonymous (see all)