Jennifer is here to share her fun, multipurpose craft room today! Enjoy! – Linda
Craft Room Tour
I love creating awesome things in my most amazing craft room!
This is the view standing in the doorway. You get a good view of my cabinets and counters which my husband and I installed by ourselves. We are very proud of our one time DIY cabinet install project.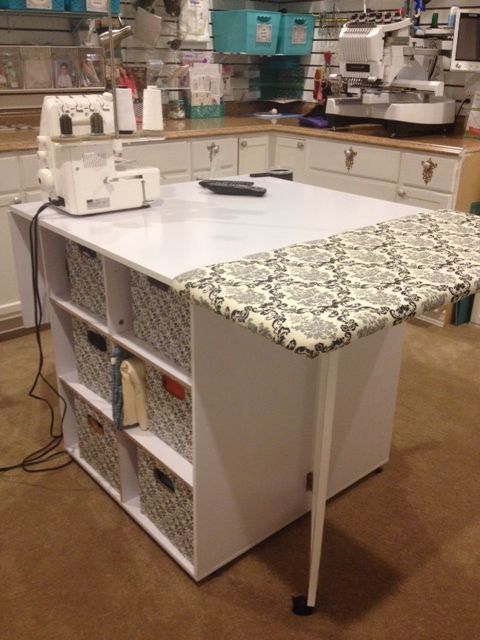 The craft table with iron pad from different angle. It's great because it sill folds down leaving more room to move around!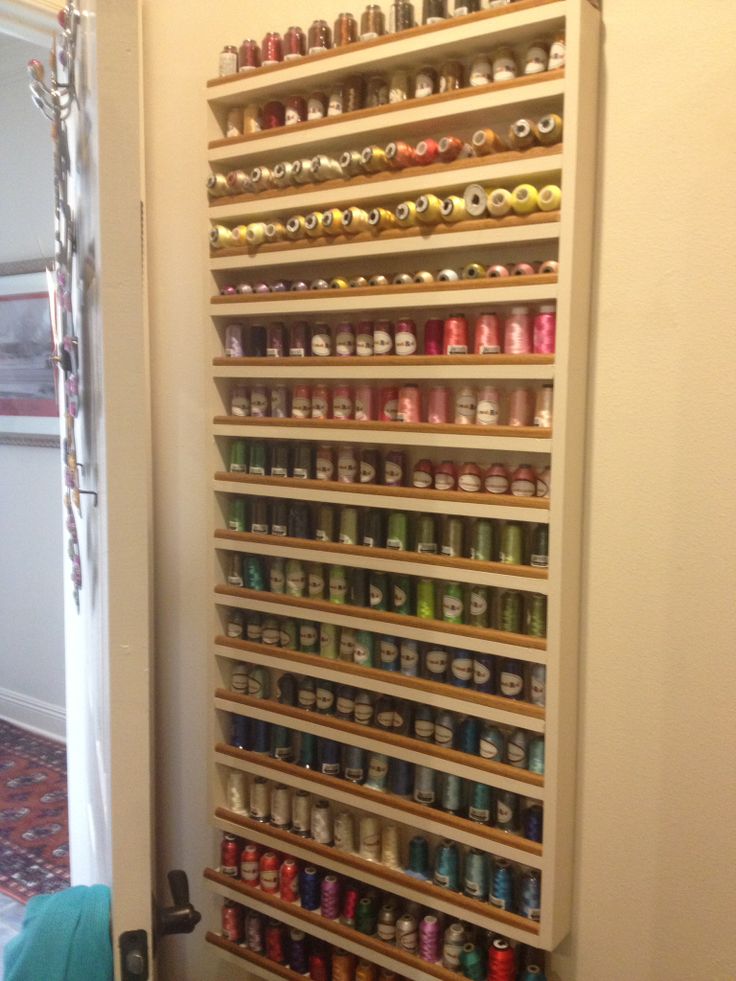 My thread storage, a project I did all by myself and very proud of. I cut every board, added the trim in the front, to keep thread from falling off, and nailed it all together using my husband's nail gun. Once it was together I hung it with some "L" brackets into a stud. It's huge but does not take up any space because of its narrow depth-it fit behind the door perfectly! Makes finding thread colors so much easier!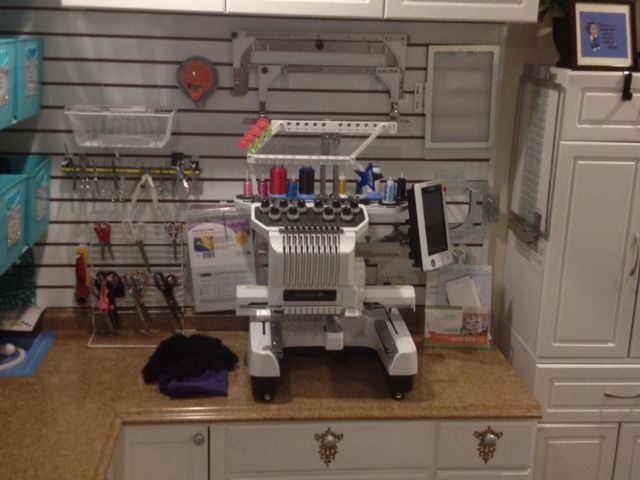 The jewel of the room….my Brother PR1000!! The highest priced item in the room and I have my wonderful husband for the best embroidery machine any crafter could ever want. Great anniversary gift for sure!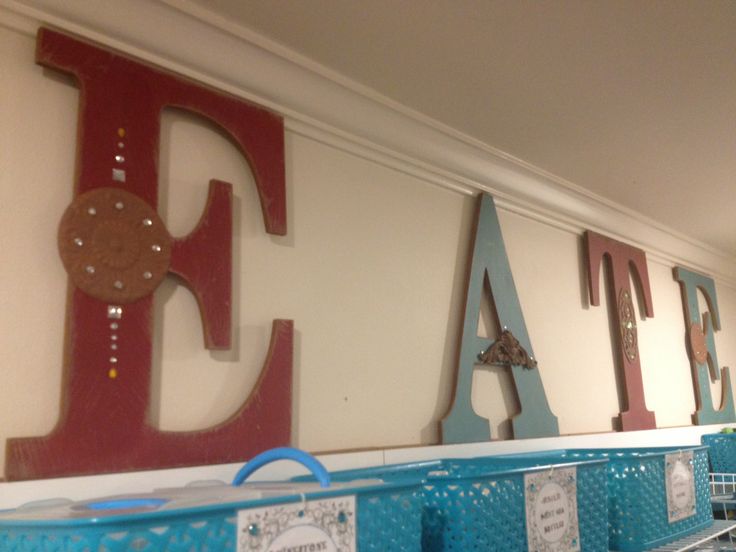 Another favorite in my craft room….the LARGE 18″ decorative letters that I found at Hobby Lobby….not cheap but worth every penny! Could not have gone with anything smaller in that space!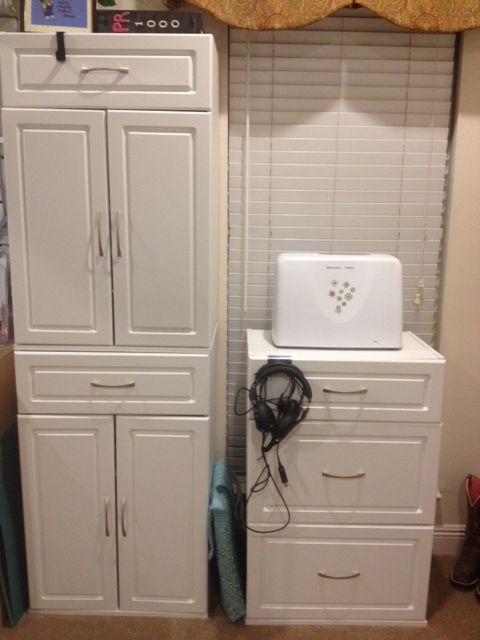 I have a tall storage cabinet on both sides of the counter which is in a "U" shaped design. Then I added a smaller cabinet where I keep my sewing machine and all my sewing supplies.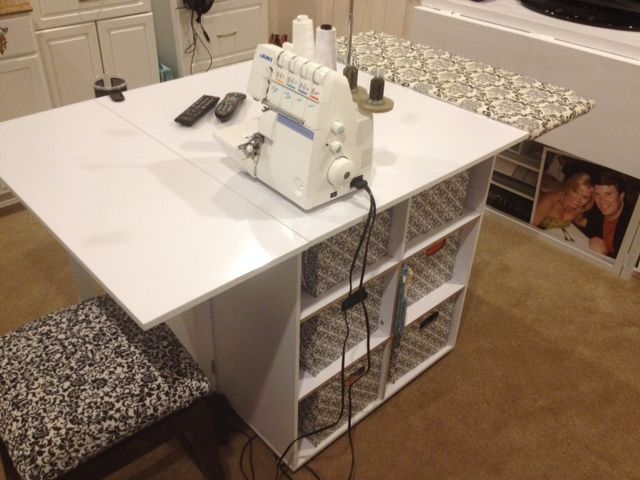 Once I got my cabinets installed I didn't need all the space on my craft table so I kept the left side as added space but turned the right side into an ironing pad. It has been one of the best additions of the room! I just added padding and covered it with an iron pad, then stapled it underneath.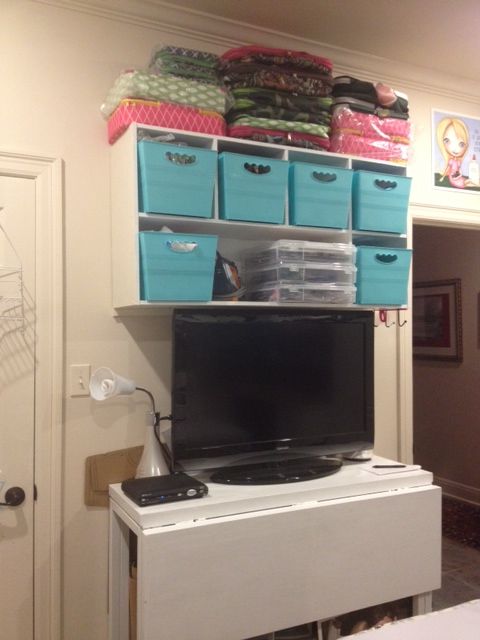 On the opposite side of the room I have more storage, still need to add my labels, and of course my TV so I can keep up with all my girly shows!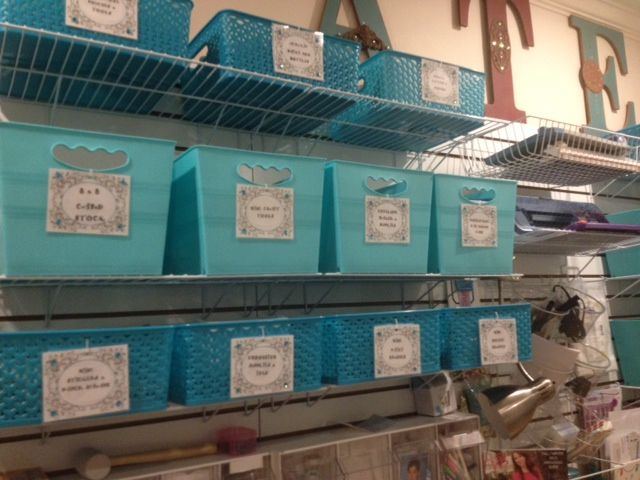 Used my favorite color throughout the room for storage! Having the bins on the slat wall makes it so nice because I can slide them around when needed.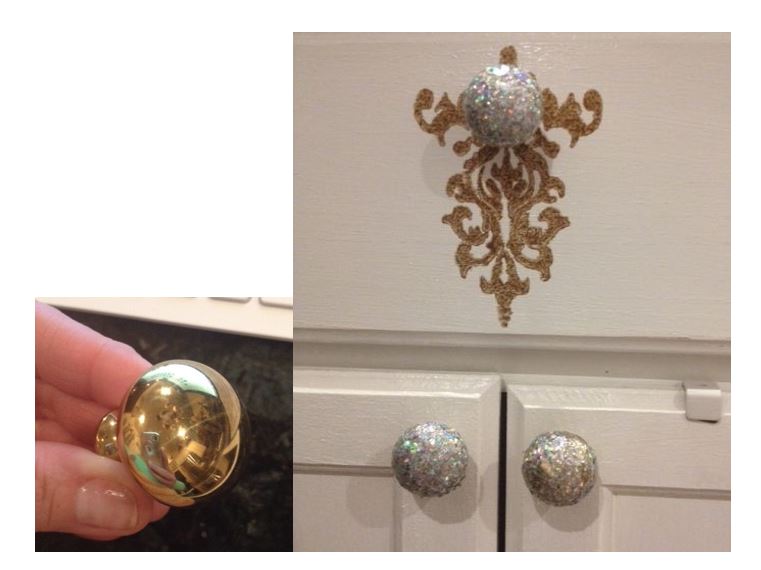 I took these old ugly brass knobs and BLINGED them out! After looking at the cost of decorative knobs I decided to create my own…. so I got out my Modge Podge, added a little GLITTER, of course, and used my Martha Stewart stencil for background design! Turned out awesome!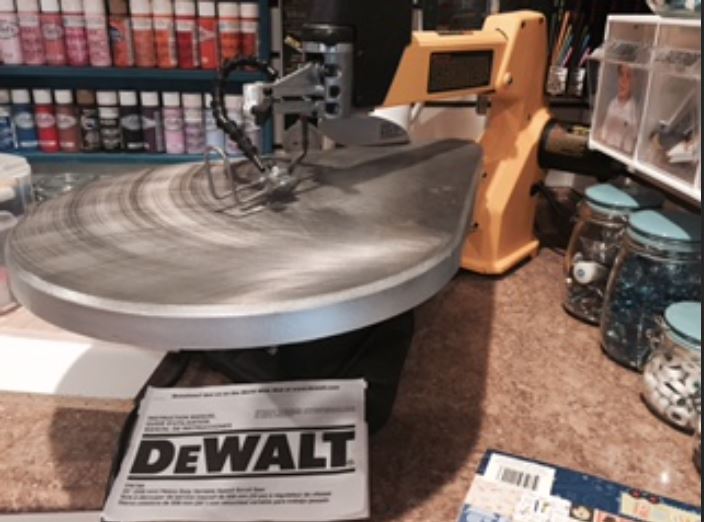 My latest addition to the craft room is my FAVORITE toy, a scroll saw, Christmas gift from my husband.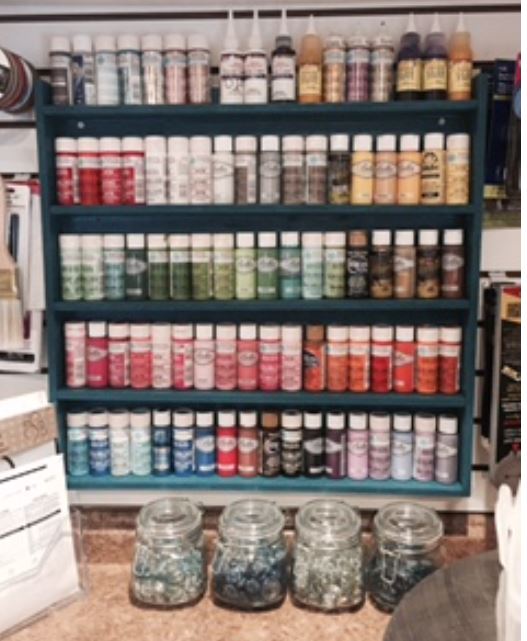 First thing I made with the scroll saw was some script letters to hang on our front door. Then I made this great storage shelf for all my paint.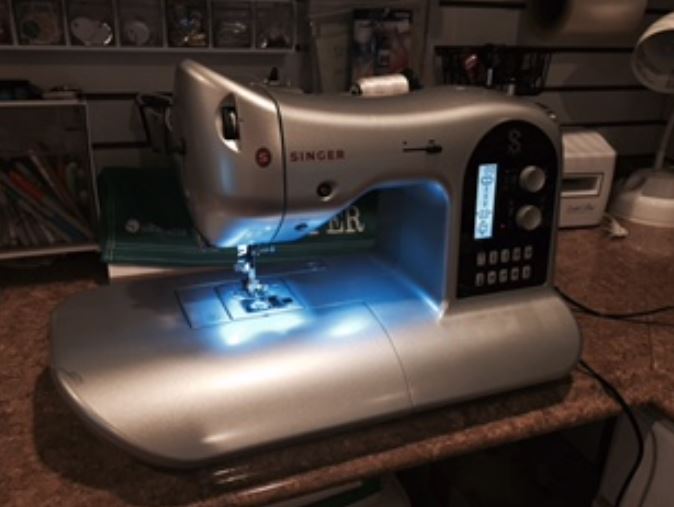 The other is my new vintage inspired Singer machine, reminds me of my grandmothers old pedal model.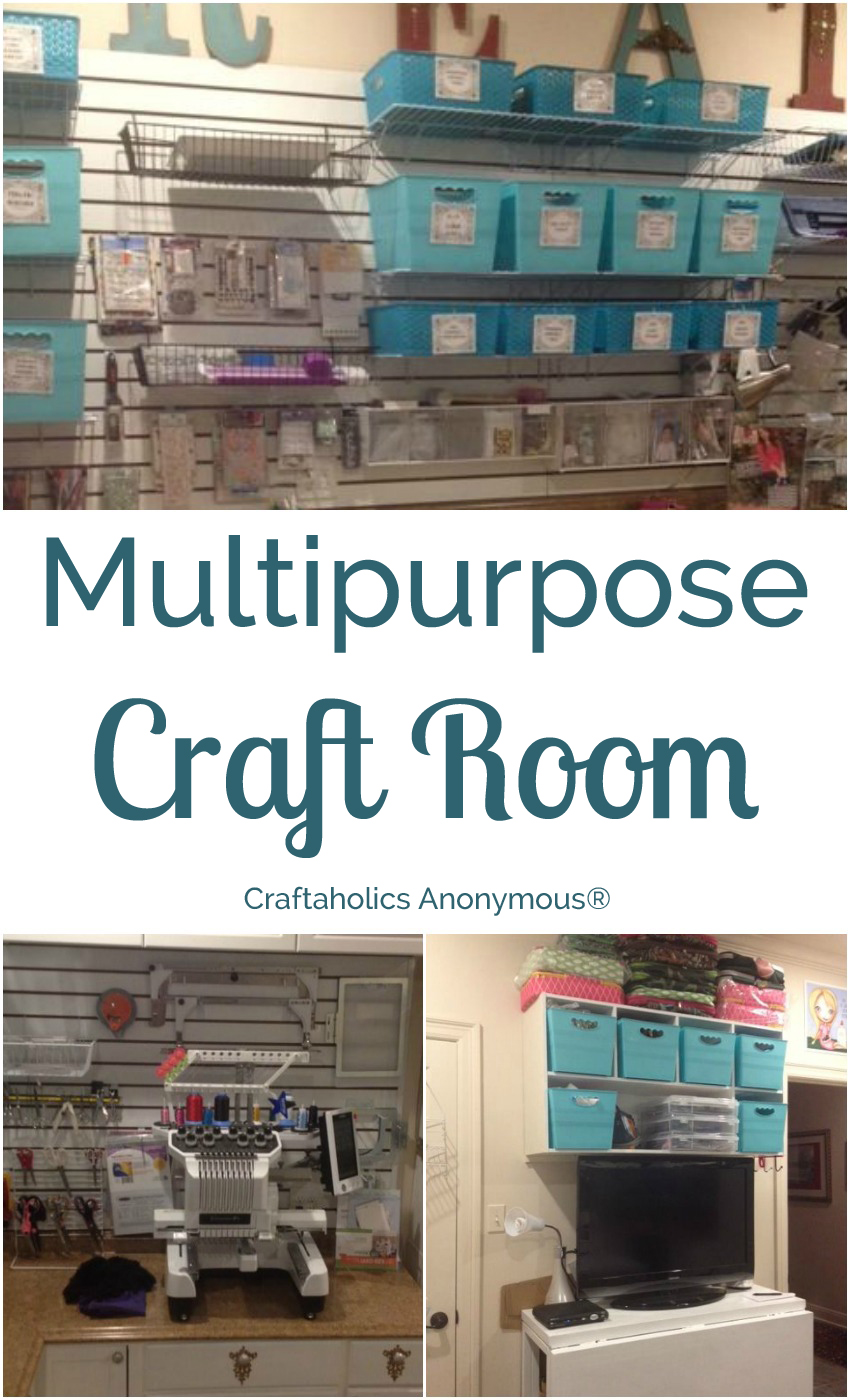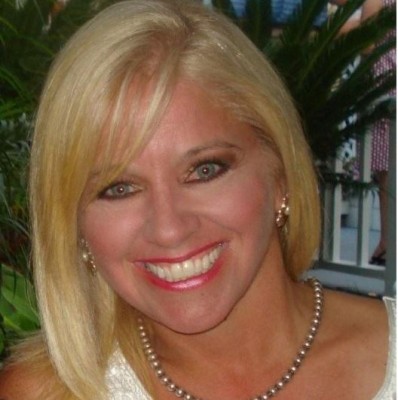 About Jennifer: If I'm not on the tennis court, you can bet I'm in that fabulous craft room creating! : ) I'm a Registered Nurse by day and a crafter by night! I am the mother to the greatest little boy in the world, Jack (10) and the best husband (Brent) any woman can dream for! I have been truly blessed by God not only for my 2 favorite guys but for being a 6 year survivor of breast cancer. When you go thru something like cancer you look at life in an entire different way. I always wanted to advance my career and that was the first thing I pursued after my treatment. I have since graduated with my Master's in Nursing Education and have started my own company. I have 10 nurses who work for me and we are blessed to be able to work from our homes which allows us to always be there for our families and to have a life. We are auditors for several Home Health agencies, helping to keep them compliant.
Want to see YOUR craft room featured on Craftaholics Anonymous? Submit a few pictures of your creative space to info@craftaholicsanonmous.net!
More Craft Room you'll love!
Tool Shed Turned Craft Room || Super clever use of an old shed!
Bright and Colorful Craft Room || Love this happy space!
Latest posts by Craftaholics Anonymous (see all)