Chocolate Peanut Butter Pie Cake
Hi everyone! I am Amanda from Old House to New Home and I am so excited to be here this year contributing to Craftaholics Anonymous®! I wanted to start off the year with sharing one of my favorite dessert combinations ever…chocolate and peanut butter. Seriously, what's more delicious than salty, creamy peanut butter mixed with rich chocolate? If you know of a better combination, please let me know!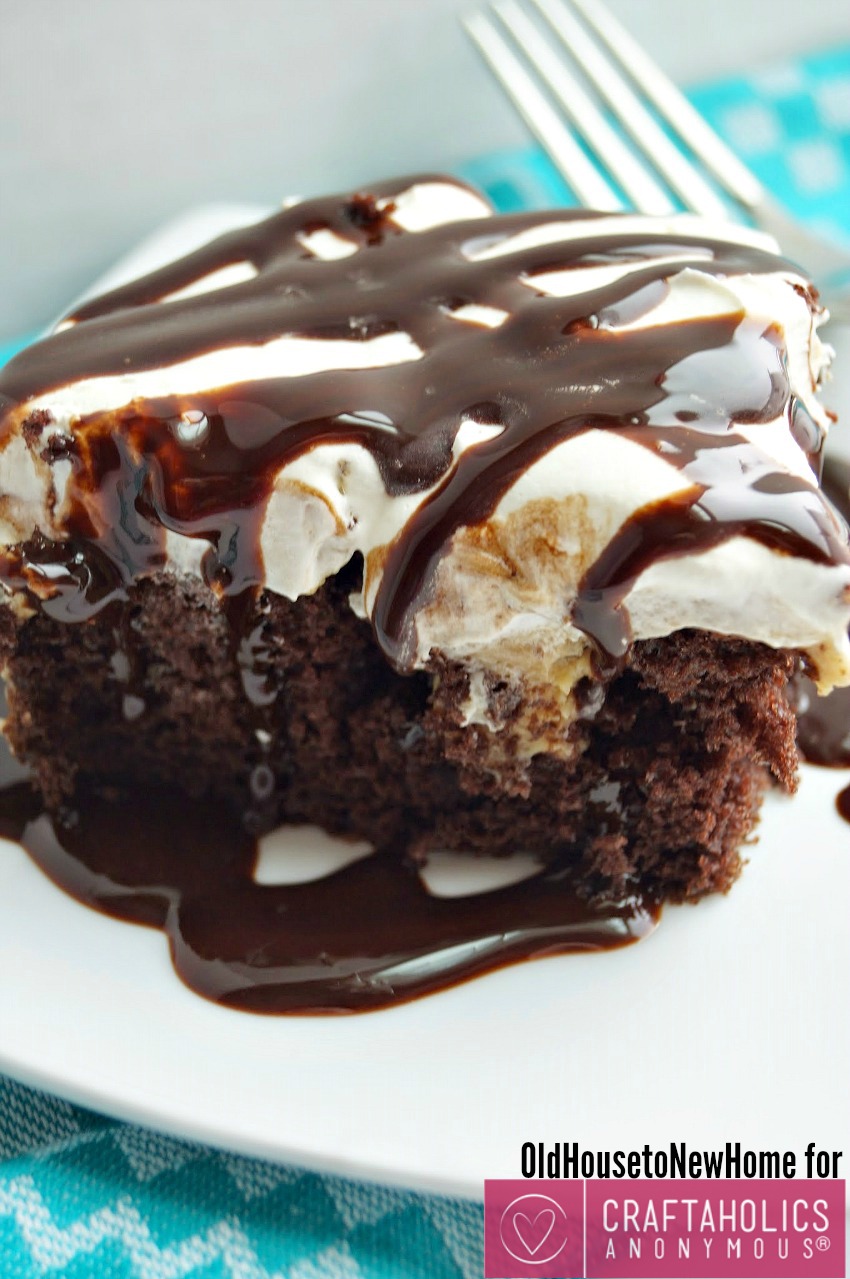 So not only did I combine chocolate and peanut butter here, but I took it a step further and combined cake and pie! I made a simple but delicious chocolate cake and frosted it with the typical elements that make up a peanut butter pie. If chocolate cake and peanut butter pie had a baby, this is what they would have! And what a delicious baby it is! ha!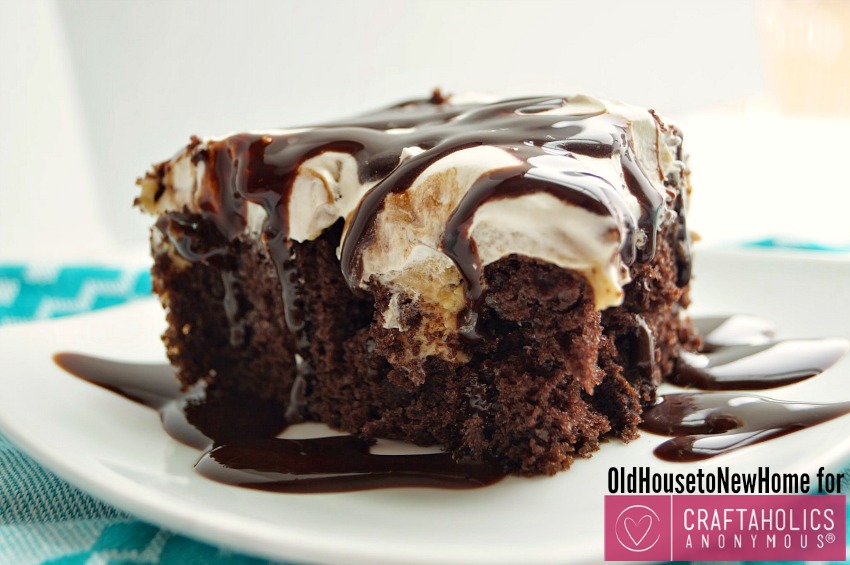 I recently made this for a church luncheon and the best cook in the church, a woman who everyone loves both for her cooking and great personality, told me that this cake is to die for, which is a great compliment from her! She asked if she was ever having a dessert emergency, would I make this for her? I said of course, because this cake is as easy as it is delicious. By using a doctored up cake mix, you save time, but still get a great base to hold your "pie frosting." You could certainly make a chocolate cake from scratch, but since the real star of the show here is the frosting, it really isn't necessary. As for what cake mix to use, I usually pick one of the mixes that have pudding in the mix. I think they just turn out more moist than others.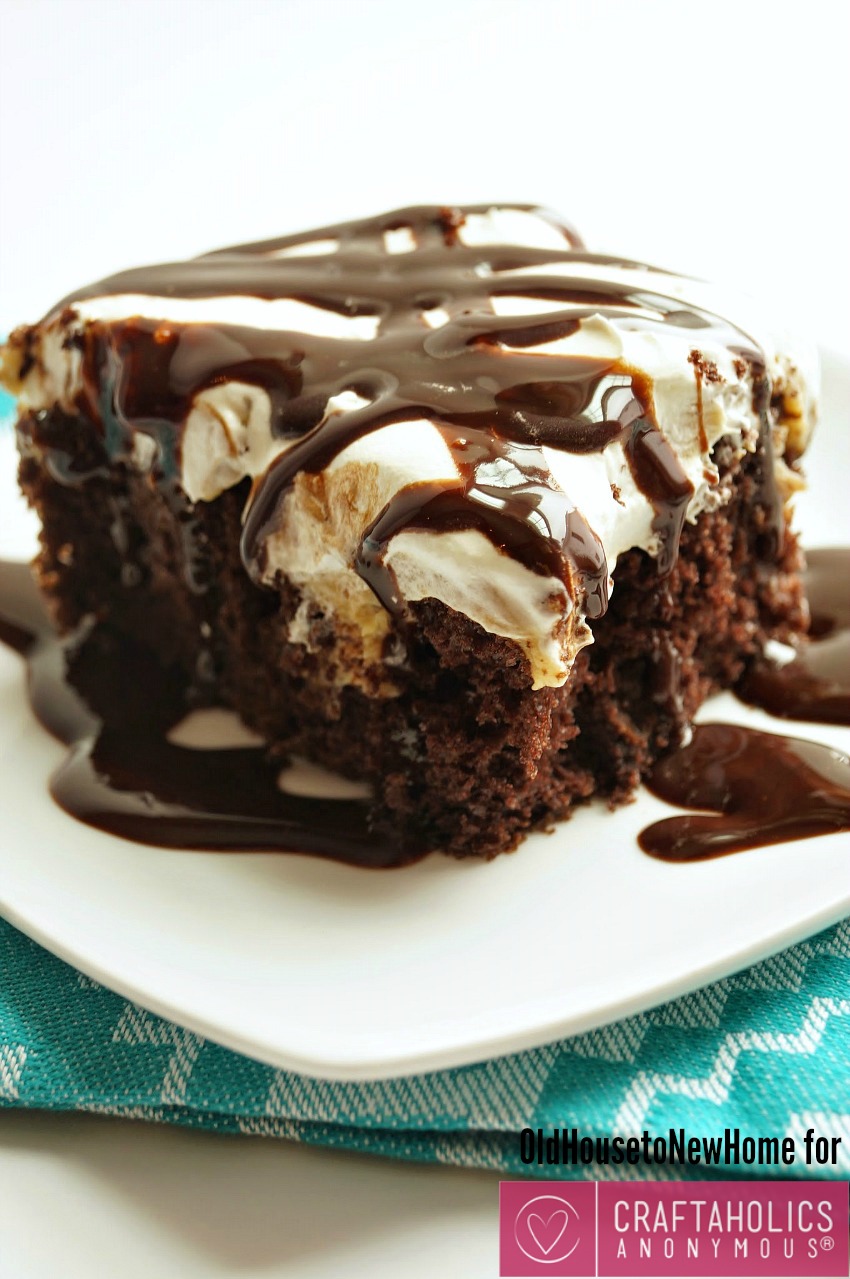 Make this for your next potluck or family get together and I guarantee it will become your new go to dessert!
Chocolate Peanut Butter Pie Cake Recipe
Ingredients 
1 Chocolate Cake Mix, preferably with pudding in the mix
Ingredients that the mix calls for, but replace the water with equal parts milk
8 oz cream cheese, softened
1 cup Peanut Butter
1 14 oz. can Sweetened Condensed Milk
12 oz. container Cool Whip
Chocolate Syrup
Directions
Prepare cake mix according to instructions, but replace the amount of water called for with milk. This makes for a moister cake.
When cake is finished, set aside to cool. When just slightly warm, poke large 1 inch deep holes all over the cake with the back of a wooden spoon. This creates small pockets of peanut butter to seep in.
Using an electric mixer, beat together the cream cheese and condensed milk until smooth and creamy. Add in the peanut butter and continue beating until smooth. Spread in an even layer over the cake. Tap cake pan on your counter a few times to encourage the peanut butter mixture to seep into the holes. Cover loosely, being careful not to touch the peanut butter, with plastic wrap. Refrigerate for at least six hours, but best overnight.
Right before serving, spread your defrosted cool whip in an evenly layer over the cake. Drizzle with chocolate syrup and serve immediately. Enjoy!!
Chocolate Peanut Butter Pie Cake
Ingredients
1 chocolate cake mix, preferably with pudding in the mix
Ingredients that the mix calls for, but replace the water with equal parts milk
8 oz cream cheese, softened
1 cup peanut butter
1 14 oz. can sweetened condensed milk
12 oz. container cool whip
chocolate syrup
https://www.craftaholicsanonymous.net/chocolate-peanut-butter-pie-cake
Recipe Adapted from: South Your Mouth