I'm back with another HERSHEY'S craft challenge! HERSHEY'S gave me the theme of Diversity and I was supposed to make a Diversity craft using HERSHEY'S KISSES. And this is what I came up with!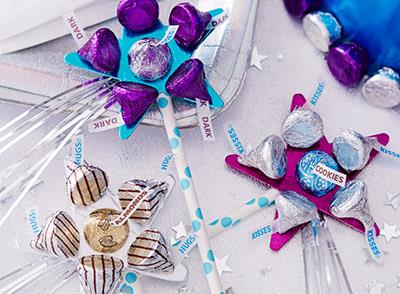 Those are diversity wands to celebrate how unique each individual is. A little sparkle with the silver ribbon to remind us to let our talents shine. This is a fun craft idea for kids, for sure! They would love to wave these around and then eat them. Plus kids can have fun picking out different colored/patterned paper straws for their wand.
Diversity Craft: Wands
Supplies
2 bag (11oz) of HERSHEY'S KISSES Brand Milk Chocolates in a variety of flavors and foil colors*
Hot glue gun
Chipboard
Cardstock in assorted colors
Paper straw
Thin Silver Ribbon
Scissors
*Suggestions include HERSHEY'S KISSES Brand Milk Chocolates (silver foils), HERSHEY'S KISSES Brand SPECIAL DARK Chocolates (purple foils), HERSHEY'S KISSES Brand Milk Chocolates Filled with Caramel (orange foils) and HERSHEY'S KISSES Cookies 'n' Creme Candies (blue foils).
Instructions
Using scissors, cut out three stars from the cardstock and chipboard.
Attach a cardstock star to each chipboard star with the hot glue gun.
Continue using the hot glue gun to attach a variety of different colored HERSHEY'S KISSES Brand Milk Chocolates on each point of the star and on different colored chocolate at the center. Chocolates should be attached with the points facing away from the center.
Attach a single chocolate to the center of the star facing up.
Repeat steps 1-4 to create a matching star with attached chocolates
Flatten one end of the paper straw (about one inch) and hot glue the chipboard onto the flattened part of the straw.
Cut silver ribbon to different lengths ranging between 5 and 10 inches.
Group together one end from each piece of ribbon. Hot glue the gathered ends to the end of the paper straw just under where the chipboard is attached.
Finally, hot glue the two chipboard stars together to create the wand.
You can find this Diversity craft along with lots of others HERSHEY'S crafts here.
Disclosure: This post is brought to you by HERSHEY'S KISSES. All opinions are 100% my own! I only write about products I use and love. :) See my complete 
disclosure statement 
here.
Follow along on Pinterest to for more Craft Inspiration from around the web! 
Share and Enjoy

Hi! I'm Linda, the craft addict behind Craftaholics Anonymous®, a craft blog. Crafting is cheaper than therapy, right? When I'm not DIYing something, I can be found taxiing around our 4 crazy kids or working out. Or shoe shopping... because you can never have too many shoes! Happy crafting! ♥