images from Picklee.com and Wiki
How to Cut Wine Bottles
Cutting wine bottles is really popular! Crafters everywhere are using empty wine bottles for DIY weddings, home decor, and all sorts of different crafts. So if you're looking to reuse wine bottles and need to cut them, here are some tips and tricks on How to Cut Wine Bottles! You can DIY it or buy a tool to do it for you. Here are what your fellow crafters had to say about the different methods and tools.
Ashley asks:

"Help! We are wanting to cut the bottoms off wine bottles for part of our wedding decorations! We have collected several wine bottles but don't know where to start when it comes to cutting them. Have any of you had success in doing this? Any special tricks? ANY help is appreciated! Thanks!"
Ideas for this post were taken from this thread on the Craftaholics Anonymous® Facebook page.
"Soaking cotton yarn in nail polish remover, wrapping it around the bottle and then lighting it on fire works awesome!" – Danielle C.
"My sister bought a glass cutting tool that is made just for this type thing called a Kinkajou. Believe me, it works great!! You will skip all the frustrating ways you see posted!" – Jenna H.
"A jig and a glass cutter. My dad built the jig and I spent maybe $2 on the glass cutter at Lowes. I found that once the glass is scored running cold and boiling water over it at the same time gave me the cleanest cut. Good luck!" – Melissa S.
"I tried the burning string and it didn't work at all for me. I ordered a glass cutter from Amazon for less than $20 but haven't gotten to try it yet." – Missy M.
"I've used the G2 Bottle Cutter and have had success with only 1 wine bottle out of about 10! It's not hard to use, and it could def be user error." – Laura O.
"This Green Power Science cutter works very well but expensive. You may ruin a couple of bottles while getting the hang of it. Good video too to show how it works."
"The Generation Green bottle cutter from hobby lobby (available online here)" – Jamie R.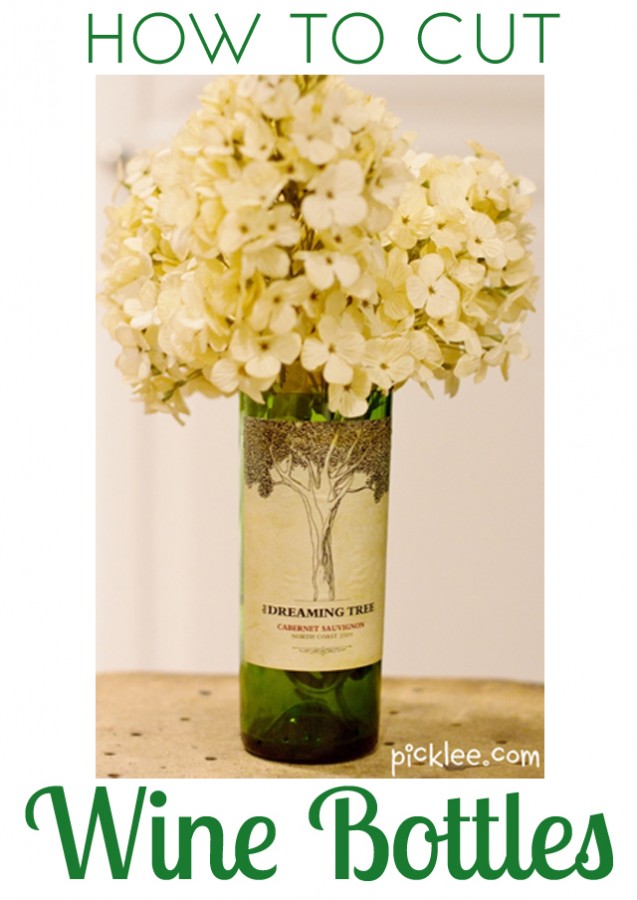 For even more ways to cut glass, check out this Wiki article.
How do you cut Wine Bottles or Glass bottles? We'd love to hear in the comments below!

Hi! I'm Linda, the craft addict behind Craftaholics Anonymous®, a craft blog. Crafting is cheaper than therapy, right? When I'm not DIYing something, I can be found taxiing around our 4 crazy kids or working out. Or shoe shopping... because you can never have too many shoes! Happy crafting! ♥