Christmas. That one word brings on many feelings and emotions, doesn't it?! Sometimes when I think of Christmas time, I imagine myself drowning in a sea of to-do's, deadlines, and school activities. It is a such a busy time of year! Which makes it easy for adults, let alone kids, to remember the true meaning of Christmas.
I am really excited to share with you about a new family tradition we are starting this Christmas! It is called the 25 Days of Christ. Christ is very important to us and I know that this tradition will help our family keep Christ at the focus of our Christmas.
25 Days of Christ

This post is brought to you by New Tradition Crafts. As always, all opinions are mine! Please see my disclosure page for a complete statement.
What is 25 Days of Christ?
25 Days of Christ is a short daily devotional for the 25 days leading up to Christmas. It starts with Christ's birth and goes through his life and death. Each day there is a coordinating ornament to go along with the stories and scriptures that were studied that day.
The 25 Days of Christ was designed to help families engage in learning about Christ and to keep the focus on Christ during the holidays.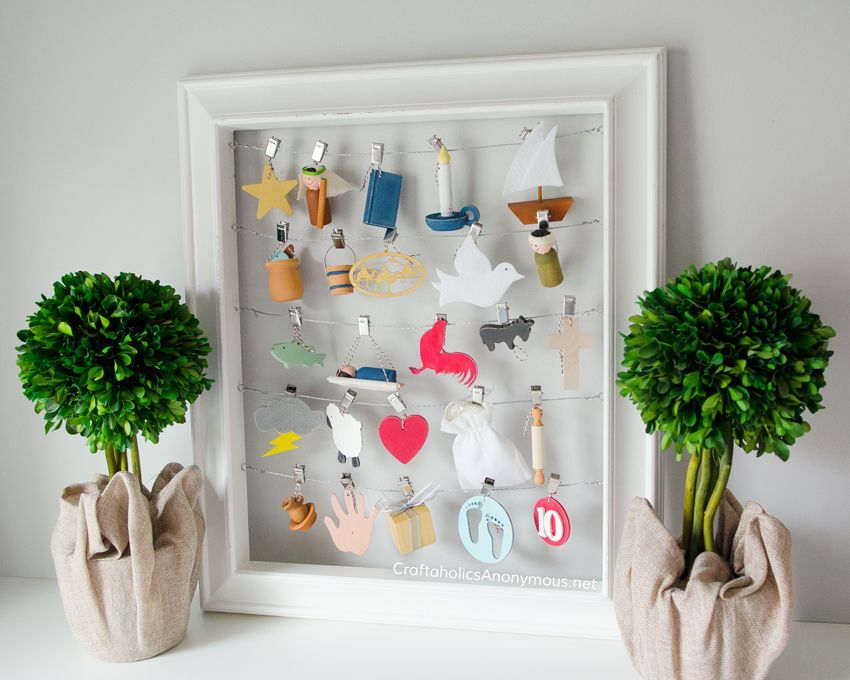 The ornaments that go along with each day are easy to make. I actually got Davis to help me paint them and he really enjoyed it! He mixed paints to get that peachy skin color you see up there. So if you need someone to mix a nice fleshy peach color for you, he's the man! ha!
I put my ornaments on my Advent Calendar Picture Frame for a pretty display. But when I do this with my kids, I will have the kids put the daily ornament on a table Christmas tree because I think they'll have more fun finding the perfect spot on a Christmas tree vs clipping it onto a wire. But you can display them however you want!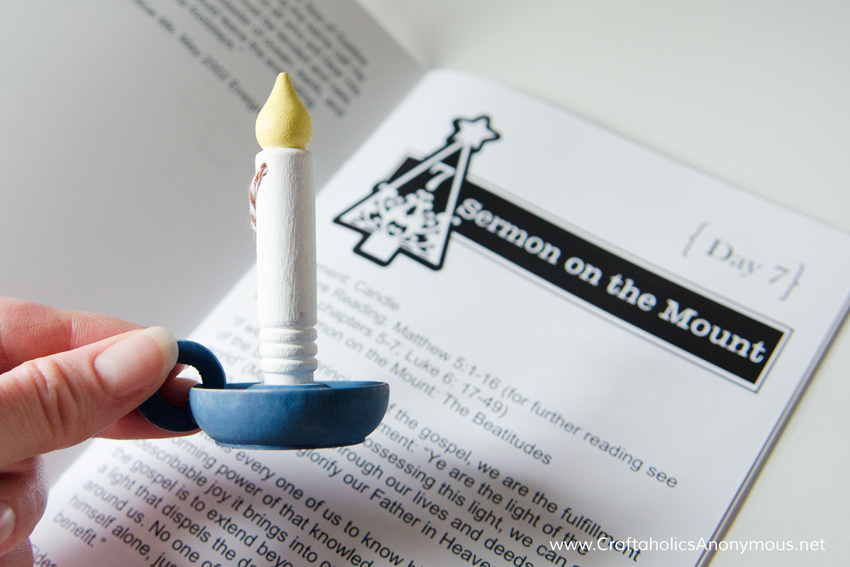 Here is the candle ornament for Day #7 where the Sermon on the Mount is studied. The 25 Days of Christ kit comes with a beautiful book that outlines each day's devotional and instructions.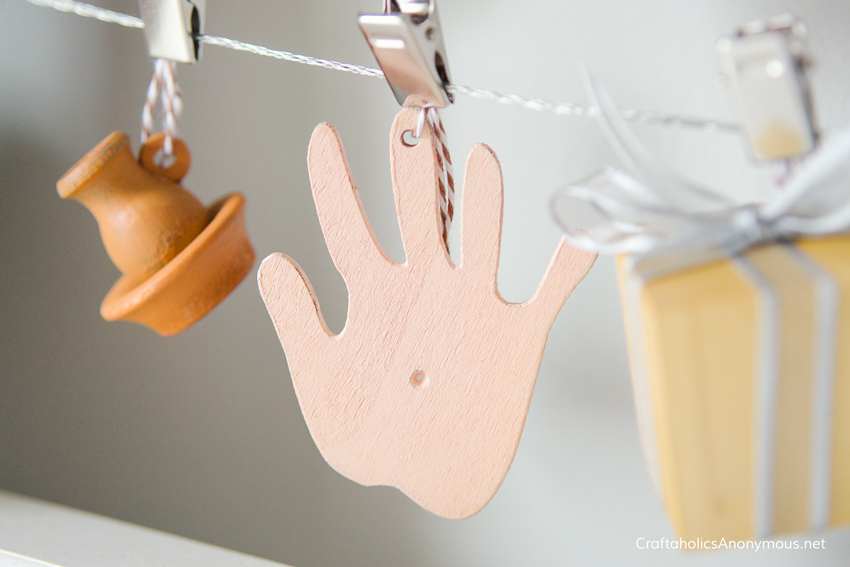 This is the ornament signifying Christ's resurrection, the nail prints in his hands.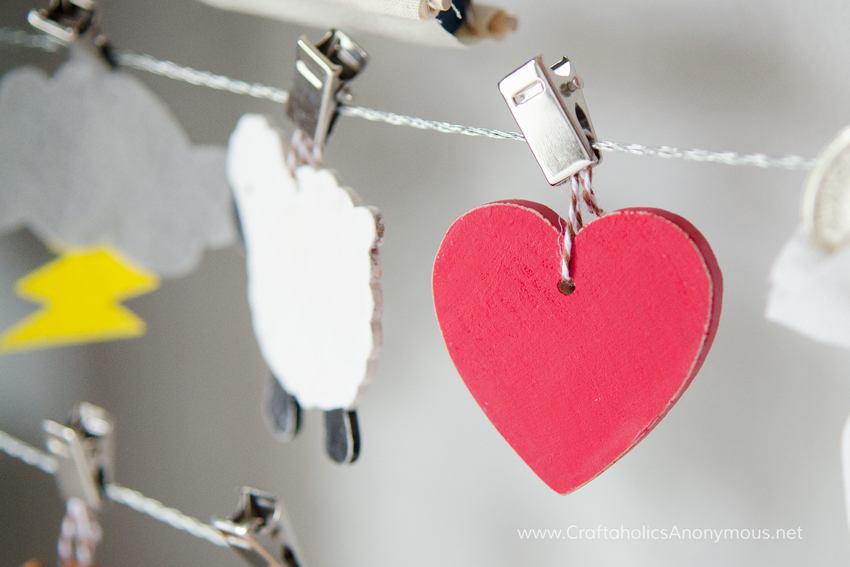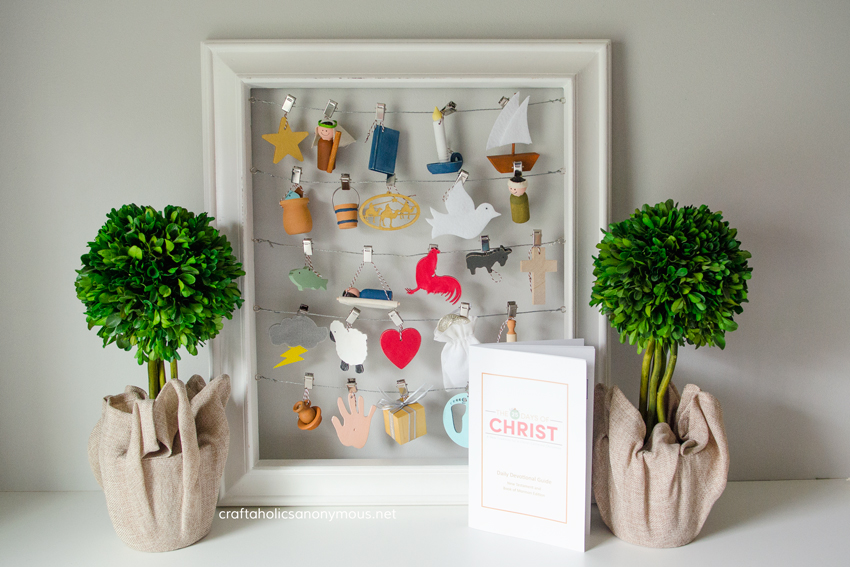 Kati, the gal behind 25 Days of Christ, has put together a detailed kit for the 25 ornaments that also includes the 25 Days of Christ book that guides you through each day, a box to store the completed ornaments, and a gift bag.
Discount Code
Save 10% with code: CRAFT10 (ends 11/13/15)
If you are looking to make Christ the center of your family's Christmas, I highly recommend getting the 25 Days of Christ kit and starting a new family tradition! You can purchase the kits here.

Help us get the word out about this great CHRIST-mas product! Please share this with your friends and family on Facebook! Thank you!

Hi! I'm Linda, the craft addict behind Craftaholics Anonymous®, a craft blog. Crafting is cheaper than therapy, right? When I'm not DIYing something, I can be found taxiing around our 4 crazy kids or working out. Or shoe shopping... because you can never have too many shoes! Happy crafting! ♥