Lori is here to show us how to make super cool paper pine cones. These would make awesome gift toppers, ornaments, and decor items.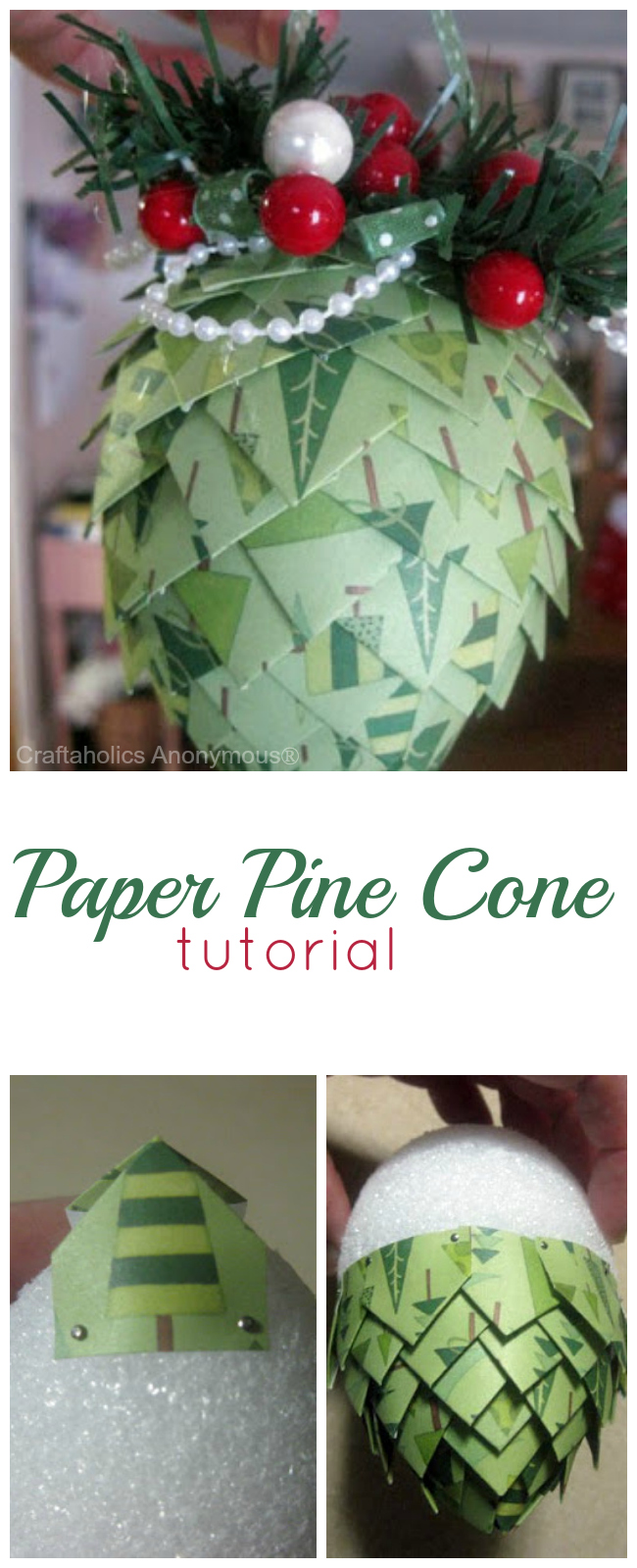 How to Make Paper Pine Cones Tutorial
Hi, I'm Lori–an obsessed scrapper, photographer and lover of paper! You can often find me at my blog "A Scrapmom's Musings" found here. I've been scrapping for almost 12 years and love the freedom of creativity and sense of accomplishment it gives me. I was thrilled to be invited by Linda to be a part of Reader's Tutorial Week and show you how to make a wonderful Pinecone Ornament. This would make a great gift that can be cherished for years to come. Here are instructions on how to create a Pinecone Ornament.


Materials:
* One (1) 12×12 sheet of patterned paper
* One 3″ styrofoam egg
* 18″ length of ribbon to match (not shown)
* Dressmakers Pins–also known as bridal or lace pins or even 'common' pins
* Glue Gun
* 12 inch cutter
* Assorted greenery, faux berries, faux pearls, or other embellishments (optional)
1. Start by cutting your pattern paper into 1″ strips (1″ x 12″).

2. Trim those strips into 1 inch pieces. Each piece should measure 1″x1″. You will use most, if not all, these pieces depending on how tight you layer your pieces.

3. Next, take your 1 inch squares and fold in the two edges of one side to create a triangle. There should be about a half inch, perhaps slightly less, on the opposite side. I fold all my squares so when I start layering, I'll have plenty.

4. Now you're ready to place these triangles onto the styrofoam egg. Tip the egg so the narrowest part is facing up. Place two triangles with the tips touching at the base and pin in place using the dressmaker pins. You want to place the pins near the very edge and at the corners so they're hidden by the next layer. Next, add two more triangles at the tip to create your first 'row'. See photo below.

5. Continue to layer the pieces, overlapping the triangles as you go around the egg. Make sure you're covering up the pins from the previous row.

6. Keep layering the pieces, as in step 5, and continue in this circular movement until you reach the 'bottom' of the egg, which once decorated is actually the 'top' of the egg, but for layering purposes, I'm calling it the bottom….for now.


This is how it should look:

7. The top might be a bit confusing, but just pin the triangles on until there isn't any white showing. Don't worry about the pins being exposed on the top–these will be covered up by the ribbon and embellishments.

8. Cut your length of ribbon into one 8 inch piece and two 5 inch pieces.
9. Make a large loop using the 8 inch piece and pin the ends to the center of the egg as shown. This is the loop that will be used to hang the ornament.

10. Make 2 smaller loops with the 5 inch pieces, criss-crossing them in the center of the loop and pinning in place.

11. Using the glue gun, add your greenery, faux berries, and other embellishments if you choose. I do this because I think it adds more elegance to the ornament. Have fun with creating your ornament and make it as personal as you like. Put your personality into it.

Here is an example of the finished ornament:

I hope you enjoyed this tutorial. If you have any questions, please contact me on my blog at http://scrapmomsmusings.blogspot.com.
Thanks Lori! Those are gorgeous! Don't forget to sign up for today's Ciao Bella Boutique Giveaway!          


Hi! I'm Linda, the craft addict behind Craftaholics Anonymous®, a craft blog. Crafting is cheaper than therapy, right? When I'm not DIYing something, I can be found taxiing around our 4 crazy kids or working out. Or shoe shopping... because you can never have too many shoes! Happy crafting! ♥