Looking for a St. Patrick's Day craft? Check out this easy green burlap pillow.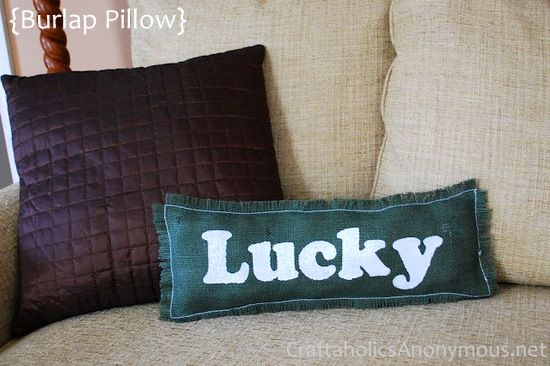 Make this simple, easy burlap pillow! For an even "greener" version, stuff the pillow with plastic grocery sacks :)
Supplies:  
green burlap
freezer paper
white fabric paint, matte finish
foam brush
sewing machine
scissors
Cut the burlap into two 6″x18″ pieces.
Next create a stencil using freezer paper with smooth side down. I used my digital die-cut machine to do this.  Iron your stencil onto your burlap using a medium heat iron.
If you do not have a die-cut machine, you can print out Lucky on printer paper, trace onto the freezer paper (paper side), and then cut out with an exacto knife.
Use your foam brush to generously apply white fabric paint over the stencil. Let dry for about 1 hour and then apply a second coat.
Let dry for 1-2 hours. Then remove freezer paper.
 Next sew the burlap pieces together, WRONG sides together with a 1″seam and a medium stitch length. I used a heavy duty contrasting white thread for fun. Plus it makes it easier when writing a tutorial :)
 Leave about 3″ opening on one side. Fill with batting.
(If you're looking for a cheap alternative, grocery sacks work well too. This is a decorative pillow, not a sleeping pillow ;)
After filling the pillow, sew the opening shut.
Next, you'll create the fringe by pulling the burlap threads until you reach the seam. Trim burlap as needed.
And there you go! Cute pillow to bring you good luck!

Hi! I'm Linda, the craft addict behind Craftaholics Anonymous®, a craft blog. Crafting is cheaper than therapy, right? When I'm not DIYing something, I can be found taxiing around our 4 crazy kids or working out. Or shoe shopping... because you can never have too many shoes! Happy crafting! ♥