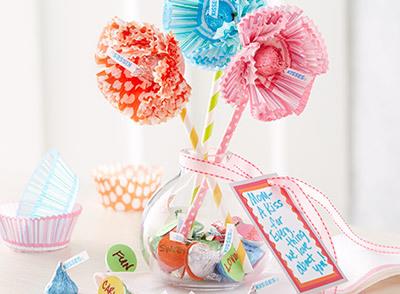 If you're looking for a super easy, yet completely adorable Mother's Day gift idea, this is it! Last fall, HERSHEY'S contacted me and asked me to design a Mother's Day gift using their irresistible chocolate KISSES. I'm always up for a challenge and was excited to use KISSES in another craft! {see past crafts here and here.} So I designed this cute bouquet using HERSHEY KISSES, paper straws, and cupcake liners. Its super duper easy to make and pretty much guaranteed that Mom will love it! This mom gift idea is so easy, even DAD can help the kids make it! {wink wink!}
Easy Mother's Day Gift – Kisses for Mom Gift Idea
Supplies
small glass vase
1 bag of HERSHEY'S KISSES Brand Milk Chocolates
pink ribbon
15 cupcake liners in Mom's favorite colors (5 liners of each pattern/color)
3 paper straws {to coordinate with the cupcake liners}
standard hole punch
7/8-inch circle punch
White cardstock
Pink cardstock
Adhesive runner or glue dots
Hot glue gun
Pen/fine-tip marker
Gift tag
Instructions
1. For the flowers, fold each cupcake liner into fourths so it resembles a triangle with the pattern/color side on the outside.
2. Using a hot glue gun, glue five cupcake liner triangles together by overlapping the tips to create one flower. Repeat to create the other two flowers.
3. Flatten one end of the paper straw (about one inch) and hot glue to the back of one of the flowers. Repeat with two additional straws and flowers.
4. Using the 1.5-inch hole punch, cut three 1.5-inch circles of white cardstock.
5. Hot glue one 1.5-inch circle of cardstock to the back of one flower to sandwich the straw in the middle. Repeat for additional two flowers.
6. Hot glue or a glue dot and attach a HERSHEY'S KISS Brand Milk Chocolate to the center of each of the three flowers.
7. Using a 7/8-inch hole punch, cut 16 circles of pink cardstock.
8. Handwrite one positive quality that describes Mom on each piece of cardstock (i.e. FUNNY, LOVING, CARING, etc.)
9. Use glue dots to attach the pink card stock circles to the bottom of each HERSHEY'S KISSES Brand Milk Chocolate.
10. Fill the vase with the HERSHEY'S KISSES Brand Milk Chocolates created in step 11.
11. Place the three cupcake liner flowers you created into the vase using the kisses to help arrange them.
12. Using a pen or fine-tip marker, write out a gift tag that says, "A KISS for each thing we love about you, Mom!"
13. Attach the gift tag to the vase with pink ribbon and give it to Mom!
You could easily add more cupcake liner flowers to your bouquet or keep it simple with three. This is just a great Mother's Day craft that is sure to bring a smile to any Mom's face!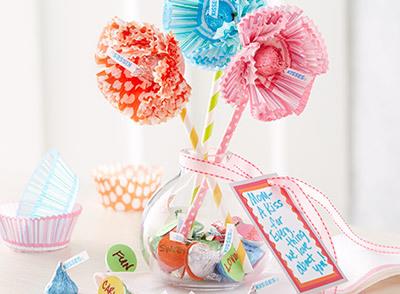 You can find this Mother's Day craft on HERSHEY'S site along with loads of other HERSHEY'S KISSES craft ideas!
What are you crafting up for Mom this Mother's Day? I'd love to hear in the comments below!
Disclosure: This post is brought to you by HERSHEY'S KISSES. All opinions are 100% my own! I only write about products I use and love. :) See my complete disclosure statement here.
Follow along on Pinterest for more Mother's Day gift ideas!
Share and Enjoy

Hi! I'm Linda, the craft addict behind Craftaholics Anonymous®, a craft blog. Crafting is cheaper than therapy, right? When I'm not DIYing something, I can be found taxiing around our 4 crazy kids or working out. Or shoe shopping... because you can never have too many shoes! Happy crafting! ♥