Do you have some wood paneling that is SCREAMING to be updated? This post is for you! There is a light at the end of the paneling tunnel. Here are tips and inspiration to help you get that paneling looking snazzy and on trend once again.

Tips and quotes for this post were taken from this thread on the Craftaholics Anonymous® Facebook Page where Linda asked:

"I need suggestions on what to do with old wood paneling, the really ugly kind from the 70's. I have a family beach house in St. Augustine that I need to update in the spring. Do you know if I can do a white wash? This is a really big craft project!" -Linda
How to Update Wood Paneling
1. "Yes, you can do a white wash…I had hideous paneling in my kitchen, and I bought a huge bucket of drywall compound and slopped it all over the walls. I left it textured and then painted over it…it came out amazing!" – Paula L.
2. "Kilz is amazing on paneling. No need to sand before either. One coat of Kilz, wait the allotted time and then paint with your color of choice. Works great!" – Dacia K.
3. "I usually paint it off white and do a very light darker wash over it. You can mix oil paint (I use dark umber) and mix it with linseed oil to get the wash mixture. I did this for a store here in South Africa and it turned out great!" – Monache C.
4. "Powder TSP works better than the liquid. Wear gloves and use hot water to mix it with. Wash walls then clean with clear water. Proper steps make for a long lasting paint job." – Donna A.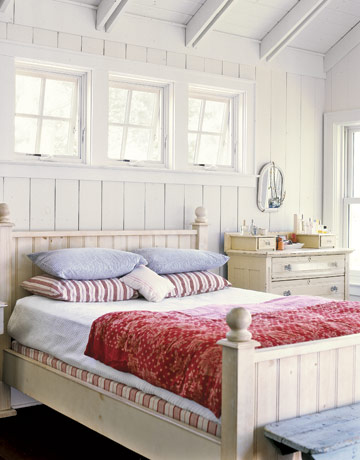 Image from Country Living
Have a Craft Question? Post it on our Facebook Page and get answers! 
5. "My grandma had the cheap, fake "paneling" (a grooved sheet with a woodgrain pattern). We painted it white and it looked like beadboard. It was very refreshing." – Lucinda J.
6. "Or fill the lines with joint compound and then texture mine looks great!" – Kelly C.
7. "Be sure to prep the paneling. Wash it with soap and water to clean the grime, then lightly sand with a fine grit sandpaper. Use a tack cloth to get all the sandpaper residue off. Prime it with Kilz and then paint any color. If you like the lines in the paneling, leave them. If you want to cover them, fill each one with paintable chalk and smooth. I know this is a lot of work, but will provide you with years of beauty when done right." – Sandra L.
8. "I have ugly paneling half way down the wall in my bedroom. I painted directly over it with Behr's Ultra paint (whatever it's called with the primer in it). I didn't need to pre-prime or sand. It is now beautiful and lightened up my whole life." – Donna S.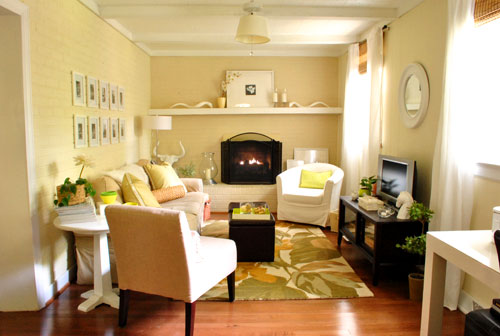 Image from Young House Love
9. "We just did the dark paneling in a house we bought 3 months ago with one coat of primer and two coats of quality paint. We got ours at Home Depot. Looks awesome." – Cheryl B.
10. "I recently bought an old place with paneling. I just painted over it. Used a paint with primer and paint in one and it still took two coats, but I think it looks great. I did it in pastels so the rooms are light and airy." – Marion J.
11. "Yes!! My grandmother painted hers white. It took a lot of primer and paint but it worked!! (maybe a spray painter?)" – Renee M.
12. "JUST PAINT IT! looks soooo good!. It will look like wall paper. We painted our basement paneling and it looks fabulous!" – Bobbi B.
Looking for more Home Inspiration? Follow our Home Pinterest Board for loads of inspiration and drool-worthy room pics from around the web! 
13. "I recently painted our den which had shiny wood paneling. Three coats of white paint covered it fine. I didn't sand at all. Probably could have done a coat of primer and a coat of paint." – Courtney B.
14. "I saw a great idea where you glue rope as wide as the grooves in the panelling into the grooves, either all or some and then paint over rope and all for an interesting take on stripes." – Mary P.
15. "I'm a painter. The paint store can tint your primer towards your paint color. You don't have to use oil base but if the paneling has a high gloss u might want to give it a light sanding." – Anna B.
16. "Fill cracks/lines with drywall compound, sand, prime, paint You also might want to see what is under it too. We had half paneling on our walls and removed it to find perfectly good drywall beneath." – Jenna H.
17. "Use TSP to clean first – it will degloss and get rid of all dirt and grime. For a project that big I would definitely use Sherwin Williams adhesive primer. Those 2 steps will cut out a lot of the sanding. Sherwin Williams sells a self leveling paint that is amazing! I have also painted walls with paint that has a fine sand like texture…being a beach house that would be really neat on at least one wall maybe painted a light sky or ocean water blue. But what ever brand of paint you chose to use…don't go cheap if you want it to last. Several light coats works better than slapping gobs on in one shot. That will cause bubbling and peeling. Good luck…have fun and take some ibuprofen. ..lol!" – Trina H.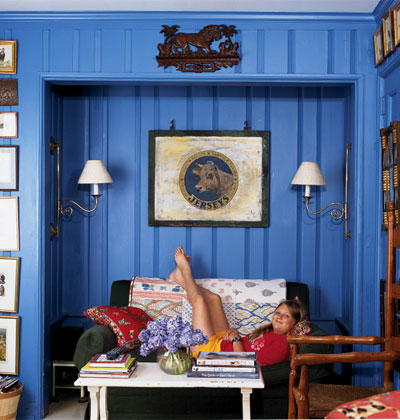 Image from The Decorologist
More Ideas and Tips on how to Update Wood Paneling
18. "I have seen beach cottages where they have painted it white. Looks real nice and very beachy. One place I saw was decorated mostly in white with bright bluish turquoise and silver. It was beautiful." – Marianne H.
19. "I pickled my paneling with a white wash. Looks like antique. Then painted the baseboards trim in white. Really nice." – Debbie C.
20. "Get a quote for having it replaced with sheet rock. You may be surprised how inexpensive it can be – depending how small the house is. This is a real investment that will almost guaranteed pay for itself." – Joe C.
21. "Can you paint it with Chalkboard Paint? Then you could write things or draw things on it and change it when you feel like it, Chalk paint comes in lots of different colors now." – Bea L.
22. "Yes…they have a special liquid that you wipe on the paneling and you then paint over it…you do a section at a time…works great. Sherwin Williams carries it…they will know what you are talking about when you ask for it. I painted very dark paneling and it only took two coats to do it." – Pam S.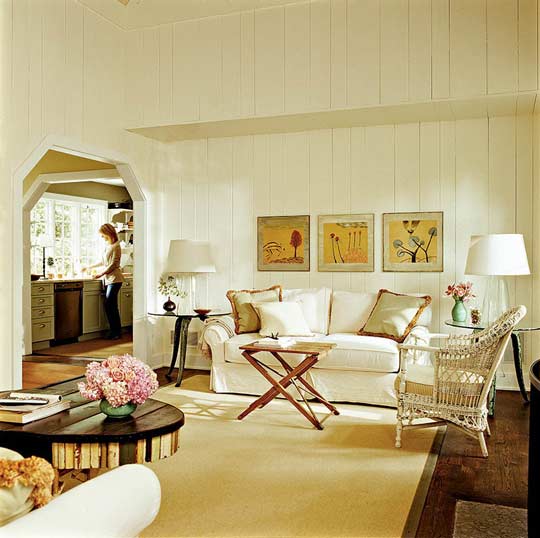 Image from Apartment Therapy
23. "I replaced mine last summer and just to prove a point to my husband I threw a piece on the fire. It went up faster than a dead Christmas tree. I would say REPLACE IT with something safer." – Crissy B.
24. "I bought a big tub of spackling and put it on paneling and used a trowel and sponge to add texture. I painted it tan, looks like sand and is beautiful in my beach bathroom! Did it in my bedroom too!" – Shelly H.
25. "I painted my girls' room with each portion of the paneling between the grooves a different color, and then went back over the grooves a black paint pen. Reminded me of a circus tent. The other way is to paint every other section a matte then a semi gloss. That one was from Martha Stewart. But first clean, remove any/all oils, kilz/prime, and paint." – Janet T.
26. "I used wood filler in the spaces. Used primer first because its very porous and primer is less expensive, but then again if you want to white wash it, you might wanna try a watered down water based paint because that might be all you need." – Ester F.
27. "Clean, prime, and paint base color, let dry, the mix another color with glaze, paint small area then with a sponge go over painted area and remove as much or little as you like. I started at the top and pulled sponge straight down. When finished both colors will show through. You can have some areas with little or a lot of color." – Bertha B.
28. "Our whole basement was the old, ugly paneling. We used 3 coats of white semi-gloss paint and it came out amazing! We never sanded or primered and have had no issues. Good luck!" – Ana B.
29. "white wash instantly came to my mind too! I'll bet you can Google or Youtube recipes for mixing your own or how-to on it." – Valerie P.
Ready to attack that wood paneling? I thought so! If you've already done it, we'd love to hear what worked for you and your tips and tricks in the comments below!
Post your Craft/DIY Related questions on our Facebook Page and get answers!
Latest posts by Craftaholics Anonymous (see all)