i have a little man who is turning the big 3 years old in 12 days. he sure is growing up! and much to my chagrin, he loves tapping away on my laptop….just like mommy does…. sort of. more like, so many buttons with so many possibilities to break mommy's treasured toy! so Leap Frog's new My Own Story Time Pad was a welcomed toy into our home to give him his own "laptop".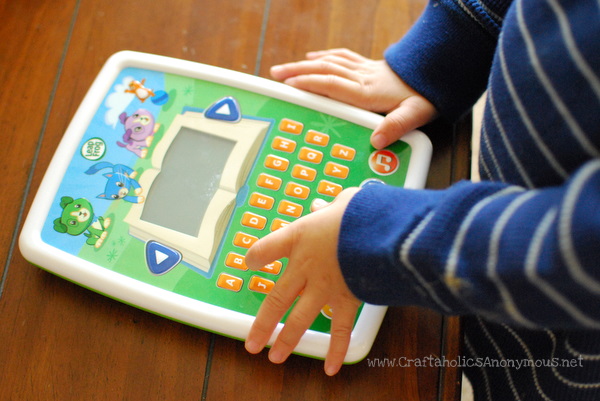 i was going to save it for his birthday, but caved and let him open it early. he sat and played with it for awhile. and through out the day, i noticed he kept going back to it. there are so many buttons and features, it kept him entertained AND learning. My Own Story Time Pad is meant for pre-readers to build early literacy skills through phonics, story telling, music exploration, and the alphabet.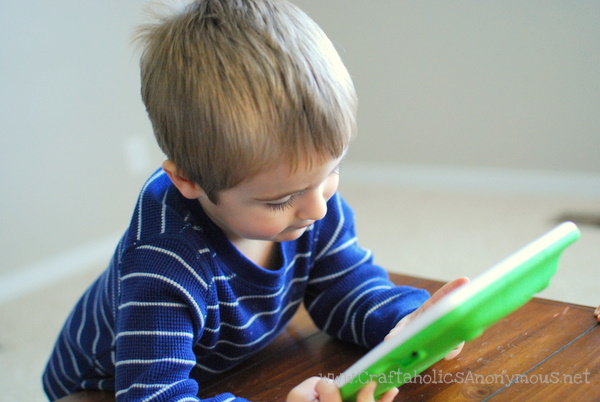 another cool feature, is you can personalize the stories, emails, and music to include a child's name, favorite color, and animal. that way engaging them more. what a neat feature! the My Own Story Time Pad comes preloaded with a story, email, and three songs. it can hold up to five stories, nine songs, and three emails. You can find the My Own Story Time Pad on Amazon for under $30. or check out the LeapFrog page for more details about what this cool new toy can do!
and for the record, the voices, music, and sounds are not annoying. like some toys we own….. i think it is a really cute toy that is educational and fun. which is a hard balance sometimes. Leap Frog is a brand i enjoy and this toy was a hit in my home.
disclosure: this post is brought to you by Leap Frog. i received free product to review. all opinions are 100% mine.
Share and Enjoy

Hi! I'm Linda, the craft addict behind Craftaholics Anonymous®, a craft blog. Crafting is cheaper than therapy, right? When I'm not DIYing something, I can be found taxiing around our 4 crazy kids or working out. Or shoe shopping... because you can never have too many shoes! Happy crafting! ♥