Hi Crafters! Today Linsey is here to show off her major craft room makeover! She has some great ideas. enjoy! -linda
Hi everyone I am Linsey from Midwest Modern Boutique. My sewing room is my favorite room in my house so I am so excited to be sharing with you today!
Craft Room Before
I started in the utility room in our basement using a wood bench that the previous owner had left behind as my table that held my machine. As you can see..it was not the best work space! It wasn't very big nor did it work well for sewing.
The renovations took about three months, most of that time was waiting for the electrical to be done!! We had to put up a wall and add outlets and pot lights to make the room more functional. We also had to tear out this bar and the carpet.
Craft Room After
When I first did my room the colors were lime green and blue but since my favorite color is pink it took less then a year for me to bring out my painting pans and putting the beautiful Modest Magenta from Better Homes and Gardens on the wall.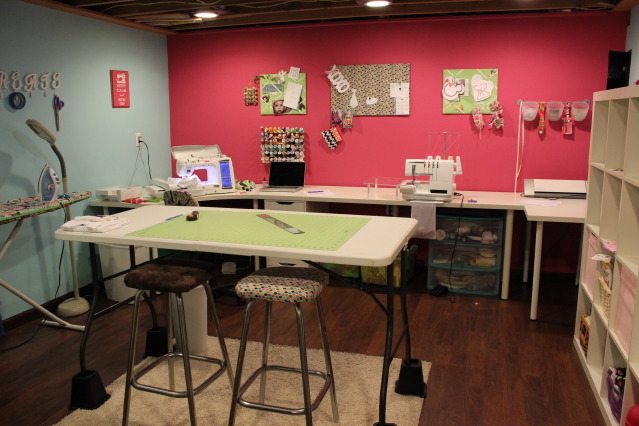 This is now the view when you first walk into my room. I have my ironing station to the left, my fabric to the right, the raised cutting table in the center which I am hoping to replace with something more sturdy someday and the wall of my machines!. Pink is my favorite color so I knew i had to add some into my room. I love the pop of color, which is called Modest Magenta, but if you ask me there isn't anything modest about it.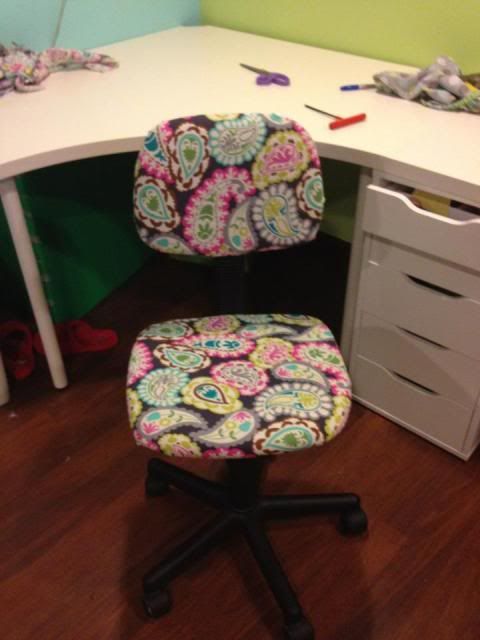 I chose two coordinating fabrics to use in recovering my stools, chair, ironing board and cork board.
Each machine has its own table so I can spread out when I work. I took several trips to Ikea(which is 3.5 hours away) to get most of the furniture in my room. The tables are from the same line but in different sizes to fit the space.
On the corner is my super amazing sewing/embroidery machine that gets used every single day. Then in the middle is my serger and on the far right end is the newest addition my Silouhette Cameo. The thread rack being located where I don't even have to stand up is a life saver! I love the little hanging baskets on the wall that I got from Ikea, I use them to store my tags and extra thread. I also bought some rings with alligator clips on them to hold my most used patterns.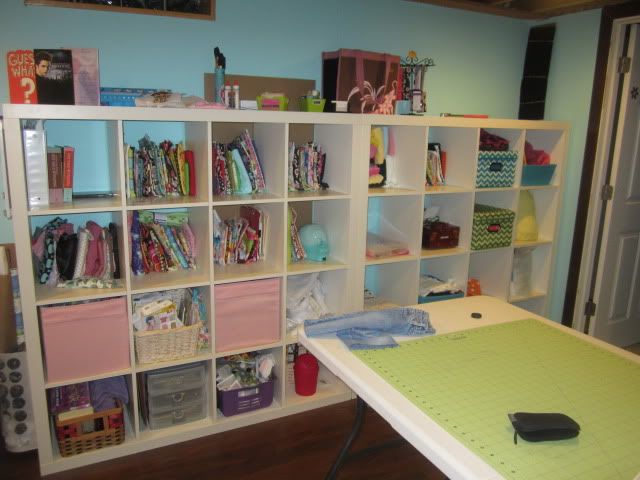 I have two Expedit systems for storing my fabric and all of my other supplies. They take up almost one entire wall but when I look at it and see all my fabric it makes me happy. I may be a little bit of a fabric addict! I have several various sizes and styles of boxes and totes to hold things along with the cubes filled with fabric.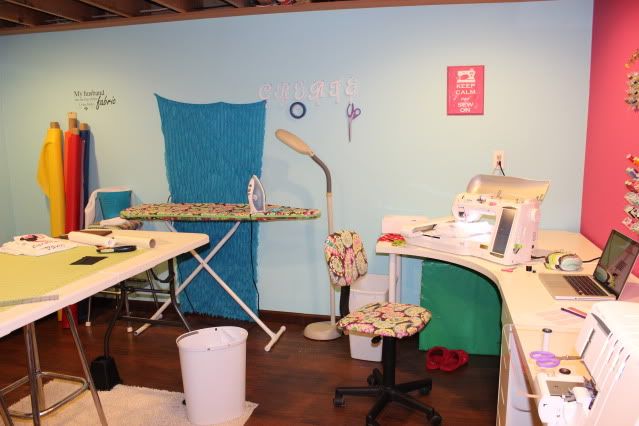 On the other wall is where I have my ironing board and that piece of ruffle fabric hanging from the wall is where I set up to take pictures.
I hope you enjoyed the craft room tour! Thanks for featuring it Linda!
Thank you for sharing, Linsey! You did a fabulous job on your craft room makeover! Loving the Modest Magenta color. If you have a Craft Room, Craft Nook, or even just a Craft Closet that you'd like to show off on Craftaholics Anonymous, shoot me an email!

Want to see more Craft Room Tours? click here!

happy crafting,

Linda
pssst… have you entered the Shabby Apple Giveaway?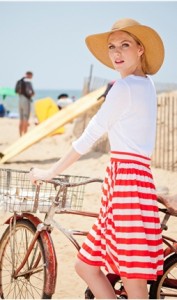 Hi! I'm Linda, the craft addict behind Craftaholics Anonymous®, a craft blog. Crafting is cheaper than therapy, right? When I'm not DIYing something, I can be found taxiing around our 4 crazy kids or working out. Or shoe shopping... because you can never have too many shoes! Happy crafting! ♥