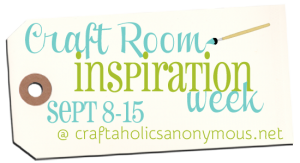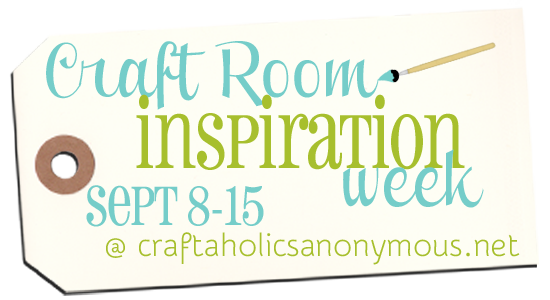 Happy Wednesday and welcome to Day 4 of Craft Room Inspiration week here on Craftaholics Anonymous! Today's tour comes to you all the way from Norway! Here is Helle to show off her colorful craft room! 

enjoy! -linda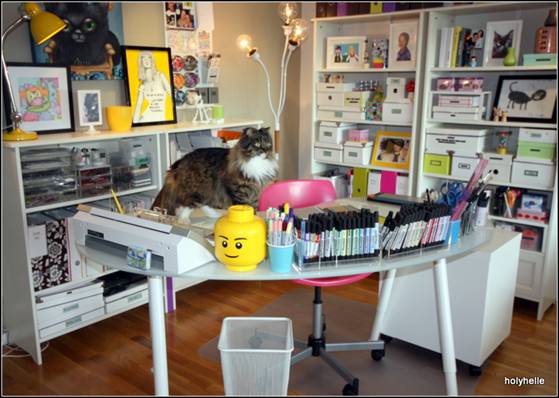 Hi, I`m Helle from Holyhelles Himmel (Heaven) in Norway.
I love color, adore cats, like to work out and I am a true pinterest junkie! I create stuff as cards, art work and scrapbooks on request and I also sell my cards in a local shop.
I can`t wait to show you guys my all white but still colorful craft nook!
I have a very kind boyfriend that actually thinks it`s cozy that I have my craft nook in our living room (amazing, I know!). To tie it in with the rest of our space, all my furniture is white (IKEA), but I have added a lot of color in my bits and pieces. I LOVE color!
Here is a close up, which includes my nosy cat, Apple.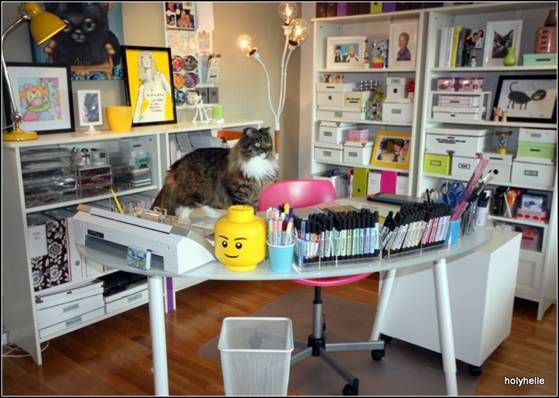 I guess there`s no use hiding the fact that my desk is facing the TV… and the rest of the living room. I appreciate some company when I work.
I`ll show you some of my favorite pieces in my office:
The first pic is my Lego head. bright yellow! It contains it all. Second is my Erik drawer from IKEA. I love the deep drawers. Pic number 3 is showing two of my Blafre boxes (norwegian design). They are just to stinkin`cute! I need pretty things in my office, they inspire me!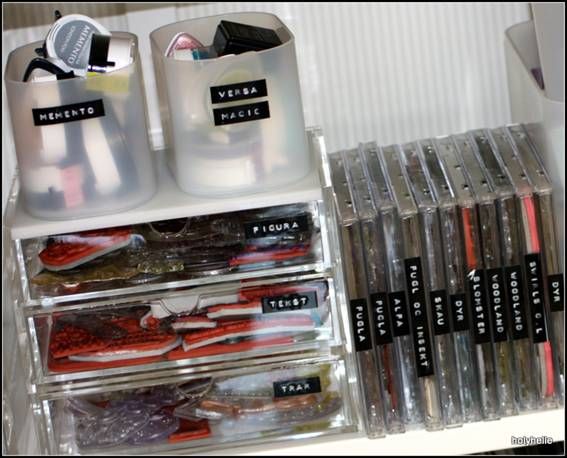 I love being organized (with a bit of whimsy). Everything has it`s place and and the placing must be functional. This is how I store the most of my stamps, using MUJI boxes and cd covers (of course labeled with my dymo label maker which I can NOT live without)
The cd covers keep my stamps organized in categories and make them easy to store, while being protected from dust.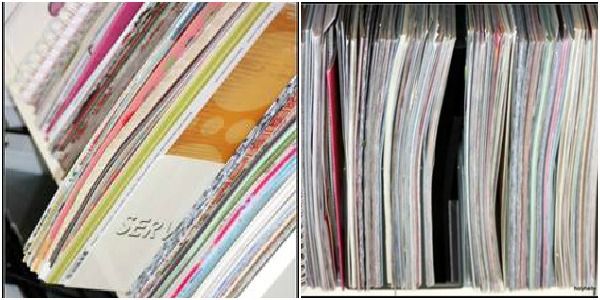 I organize my scrapbook paper using napkin holders dividers for the different colors and themes. That can remove a whole bunch of paper at the same time the rest of the paper falling over in the shelf (I hate that!).
For years (how sad is that?!) I had trouble finding a functional way to store my alphas. Finally I had a lightbulb moment and came up with turning my magazine racks on their backs! It keeps all the alphabet stickers in place while it`s easy to look through them, finding the ones I want and sliding them out.
I have some pictures in my shelves for two reasons. I like them (of course) and I use them to cover up the not so pretty stuff I use. I have made both door signs and cards using my Hama beads which is hiding behind my late cat Mia`s picture.
On my desk I keep the tools I use the most often, and I really, really love my big desk. Love my pink chair too!
That`s it from me and my colorful nook! Hope you all enjoyed the tour and will come visit me at Holyhelles Himmel. Have a great weekend!
Thanks for sharing, Helle! Love your fun pink chair. Make sure to visit Helle's blog and say hi!

See more craft rooms here! If you'd like to have your craft room featured, send a picture or link of your space to info@craftaholicsanonymous.net for more information!

happy crafting,

Linda

PS don't forget to stop by tomorrow and check out another great craft room tour!

Hi! I'm Linda, the craft addict behind Craftaholics Anonymous®, a craft blog. Crafting is cheaper than therapy, right? When I'm not DIYing something, I can be found taxiing around our 4 crazy kids or working out. Or shoe shopping... because you can never have too many shoes! Happy crafting! ♥