I am so excited to be sharing this craft room tour from Coastal & Crafty with you today! It is colorful, organized, and full of inspiration! Enjoy! – Linda
Craft Room Tour with Coastal And Crafty
Once upon a time we had enough room in our house for me to have an entire room dedicated to my crafting stuff/office/whatever. When I was pregnant, that room became our baby's cherished nursery. My crafting supplies went into the garage. Before I knew it, we had a newborn baby and I savored the days of being a new mom.
As babies do, he began to grow, fell into more of a schedule and I found I was missing doing something for myself. In addition to occasionally picking up days working, I wanted to get back into crafting. I had no desire to craft in the garage where it is either too hot, too cold, I could go on.
All the rooms in our house were currently occupied, but it occurred to me maybe I could clear out just one corner and have a little desk for myself. After a lot of work and using many naptimes, I am excited to show you my new craft corner: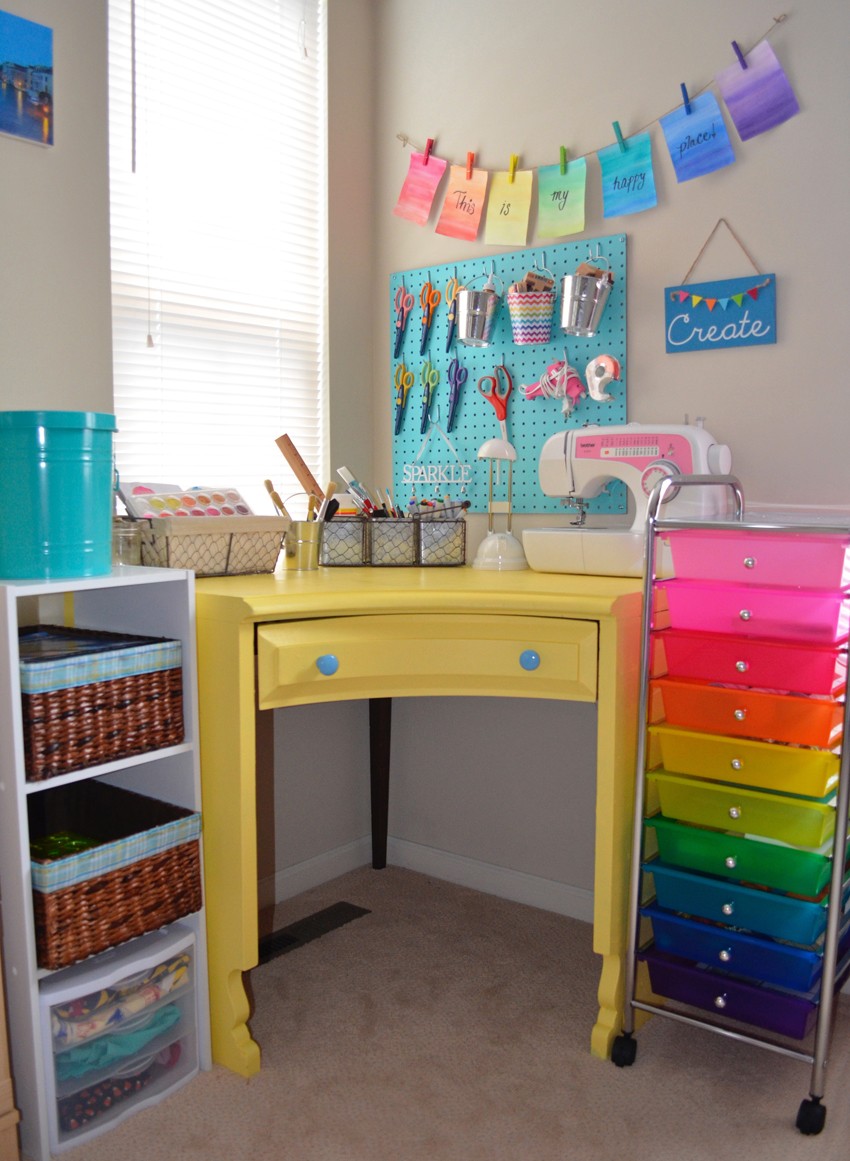 It all started when I found my desk at a local thrift store. I went one day just thinking I would try to find a basic older desk to paint for my space. But when I spotted this corner desk, I absolutely fell in love with it! And I adored the curved drawer. When my husband saw it he (somewhat) jokingly said: "Oh no, not another project". This was not the first… or the even the fifth piece of furniture I've bought to refurbish! I explained this would mean I am not crafting on the kitchen table anymore. The mess would be contained at my desk, allowing me to easily jump back into projects without having to clean up and set up every time. So I got to work on painting it yellow, and switched out the knobs for the pretty blue ones instead.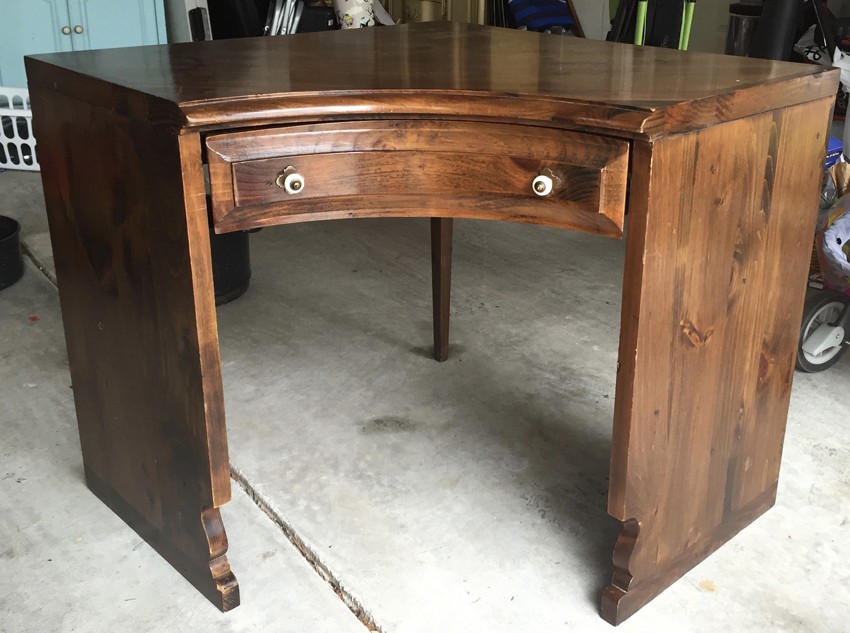 Being a corner desk meant it would maximize my workspace, while keeping my "footprint" to a minimum in the room. I have plenty of space to keep essentials pushed to the edges, while still giving me ample room to work on projects. Being able to keep my sewing machine out is another bonus- lugging a heavy machine out each time can be inconvenient.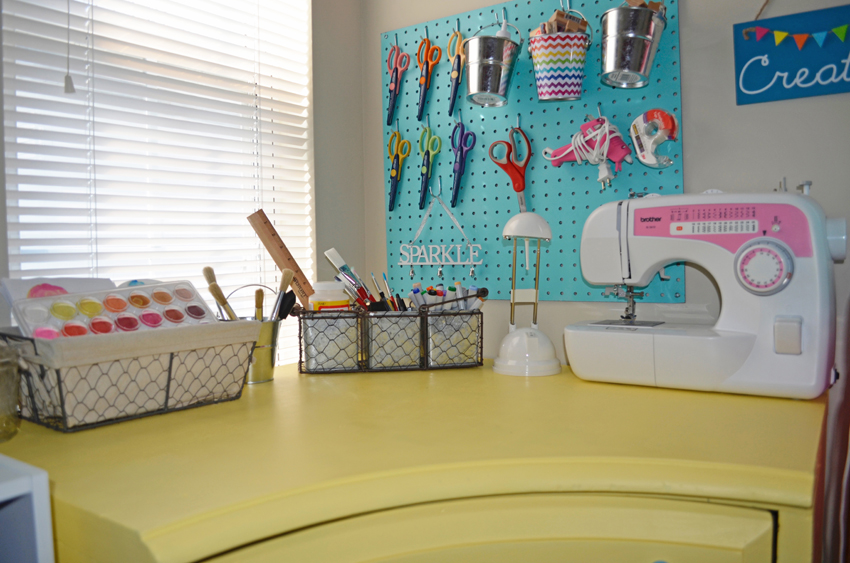 Since I only have a corner for my area, this means I must carefully use the small space I have. A pegboard allows me to store several tools at an easy reach. And I can switch out items if needed, to have different tools more easily accessible for a specific project. With a couple of coats of spray paint I had in the garage, I was able to make my board match my workspace with very little effort. Oh, and the little "Sparkle" sign hanging? I picked that up years ago at a boutique in British Columbia because I've loved sparkles as long as I can remember. Quotes like "Don't let anyone dull your sparkle" or "Leave a little sparkle wherever you go" come to mind when I see this. It's a good reminder to be yourself, do your thing, and do the best you can. I like having a little inspirational piece in my nook.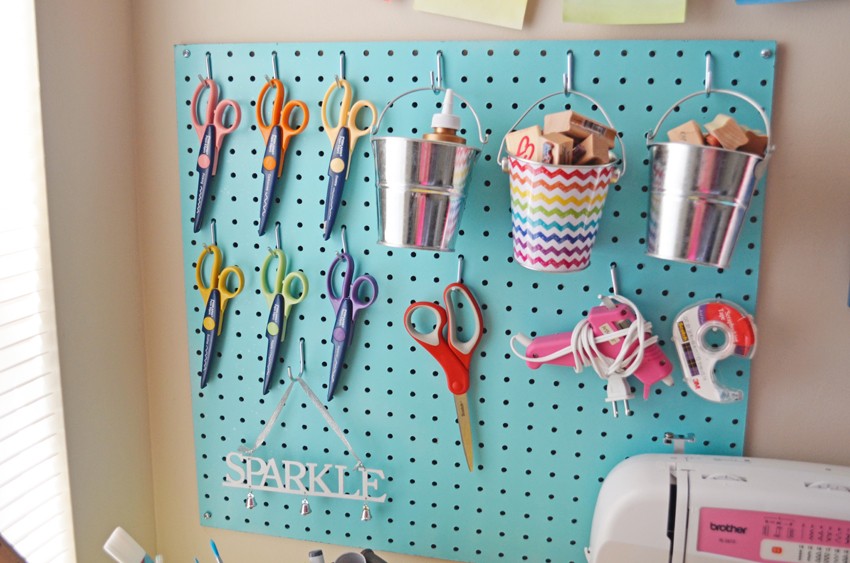 I found these rainbow clothespins at the dollar bin in Target and knew I wanted to somehow incorporate them into my craft corner. With the help of some watercolors, I made myself a bright and cheery banner to hang above my nook.

This little "Create" sign was something I picked up when my little one was a newborn. I tucked it away with my crafting stuff, hoping one day I'd again have the time and space to create things again. The different colors inspired me to add a splash of rainbow when decorating my corner.
Craft Room Tour: Inspiration from Coastal and Crafty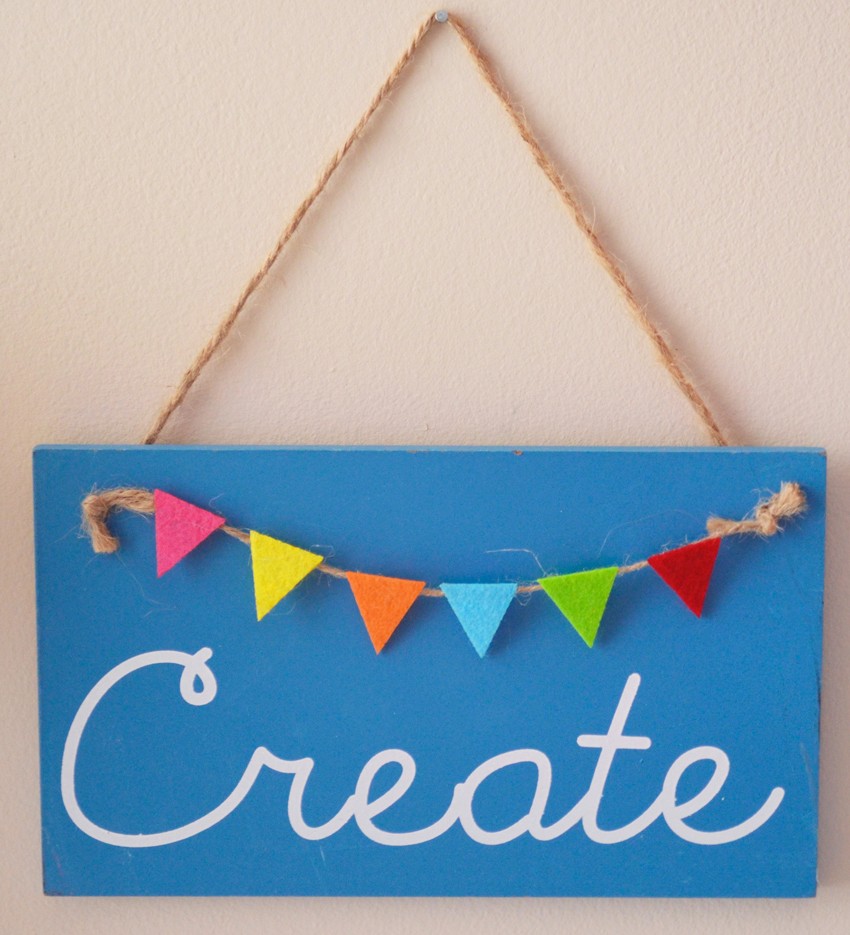 This little shelf works perfectly to hold some baskets I'd already had, as well as a convenient set of plastic drawers that neatly stores different pieces and scraps of fabric. I couldn't pass up the little trashcan on top when I spotted it at Michaels's- the color was too perfect!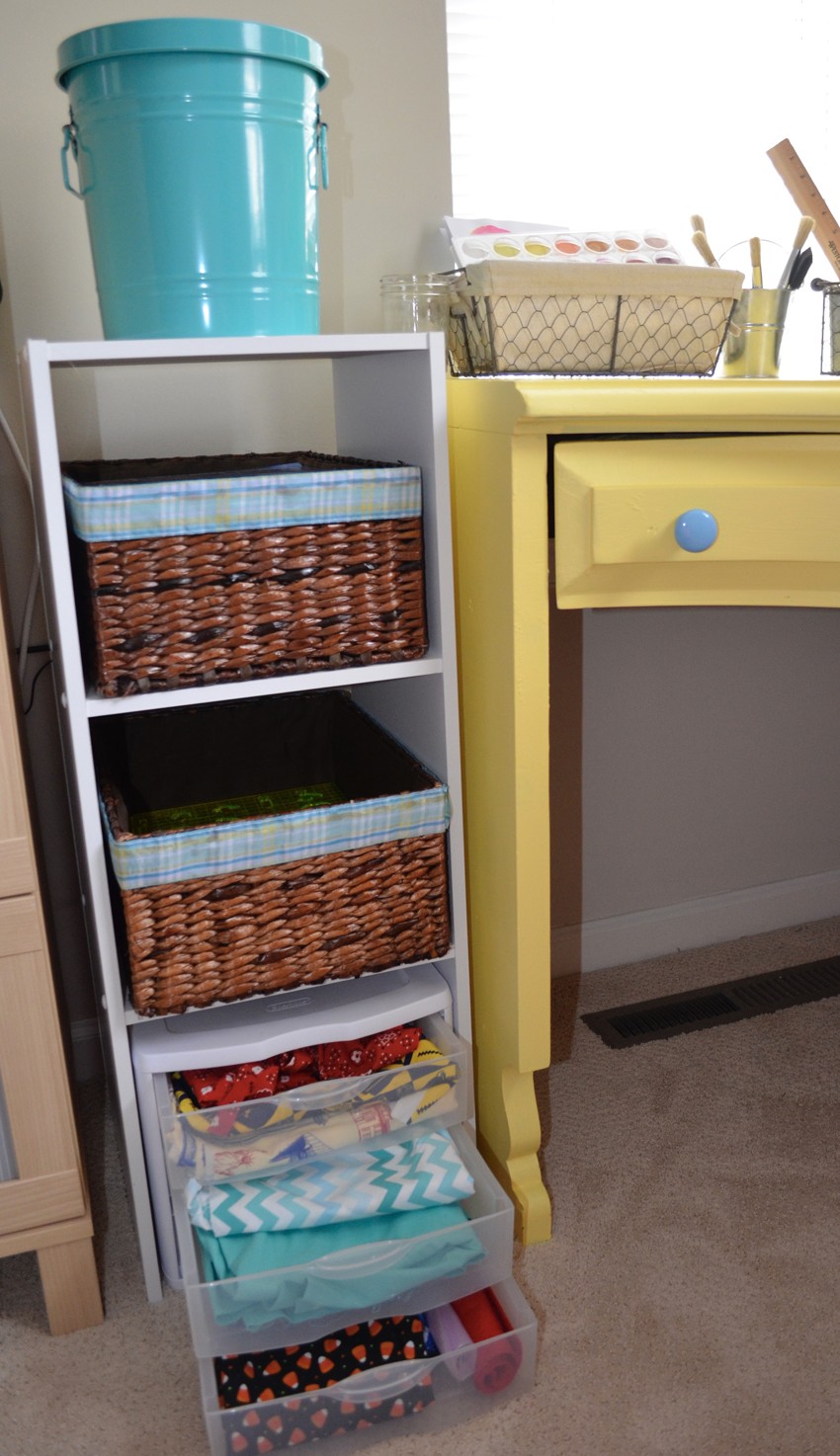 After I thought my craft corner was complete, I came across this rainbow cart at Michael's. It was on sale, bright and colorful, and this was all I needed to justify me adding this along side my desk.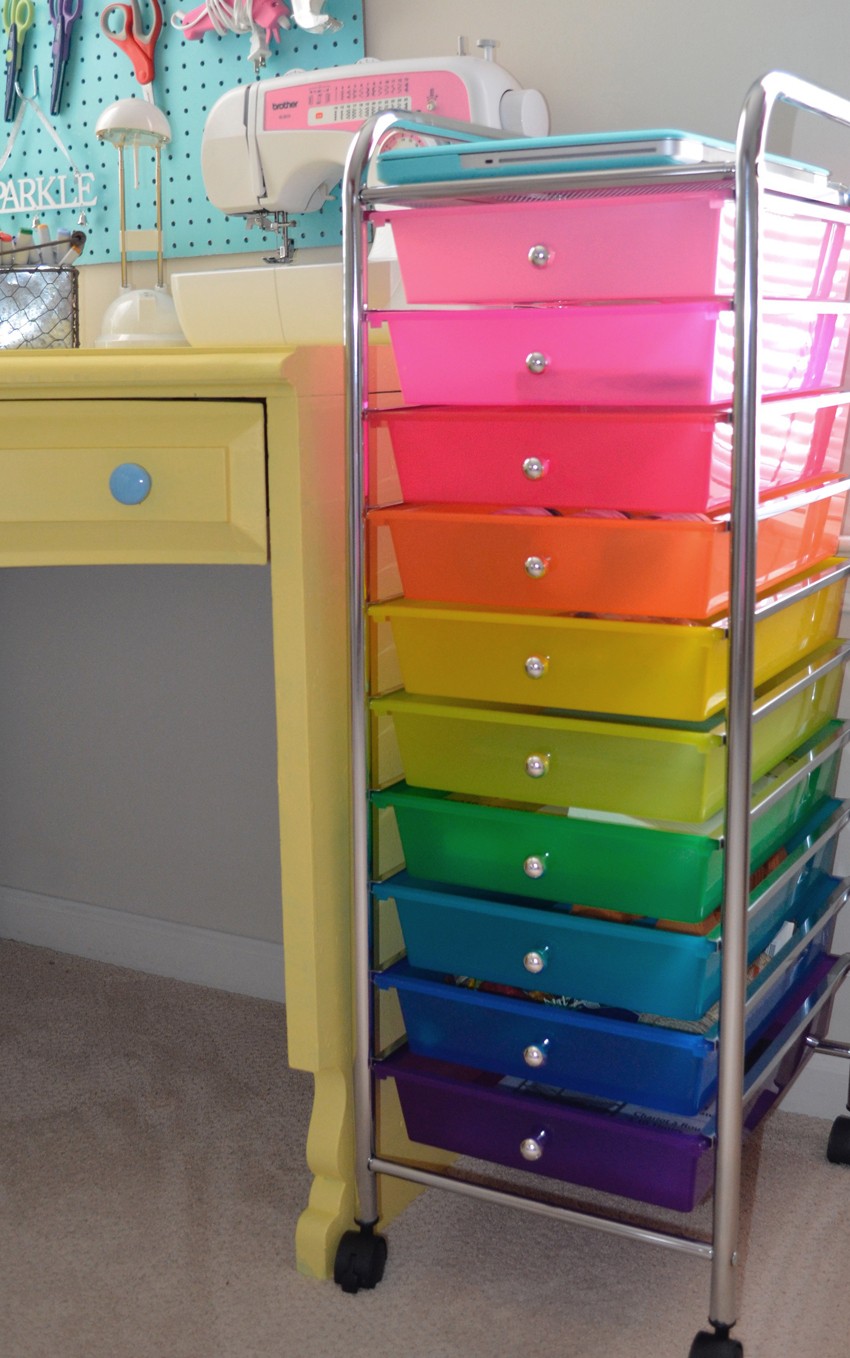 Let's be honest, my corner while decently spacious, really doesn't have the room to store all my crafting supplies (I have a lot). I love these shoe racks for storing lots of things besides just shoes around the house (cleaning supplies, winter hats & gloves). This seemed like the perfect solution for neatly organizing the rest of my supplies. The bonus- when I sorted through my supplies I found I had stuff I'd forgotten I bought, because my stuff was so disorganized in the garage.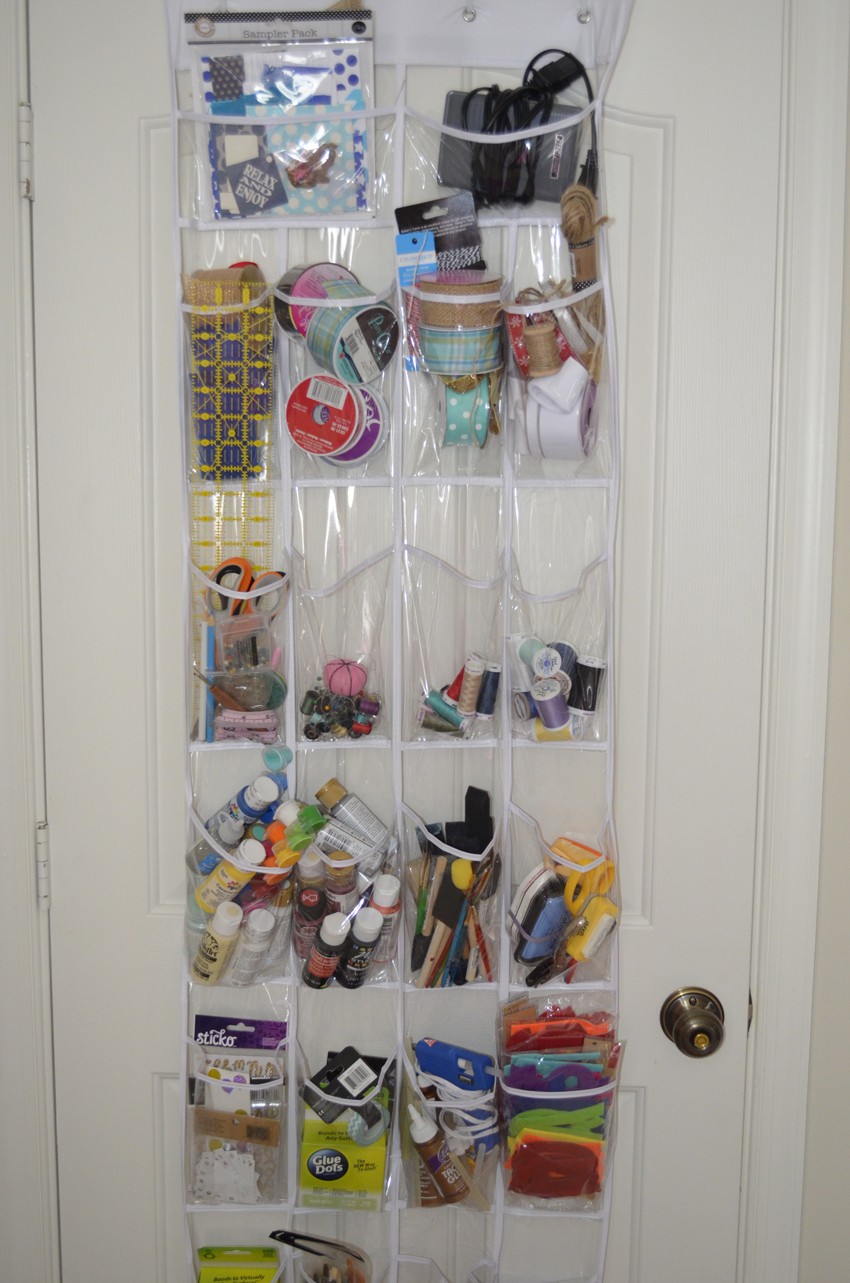 Here is a quick photo of what my craft corner looks like in comparison to our guest room (don't mind the disassembled coffee table we stored in here when it became a baby hazard). Anyone sleeping in here still has adequate space, as do I when I'm crafting. I hope I can inspire others like me to find a space to claim for yourself somewhere in your house, even if you're also always wishing for more square footage in your home. Get creative and create a space to create!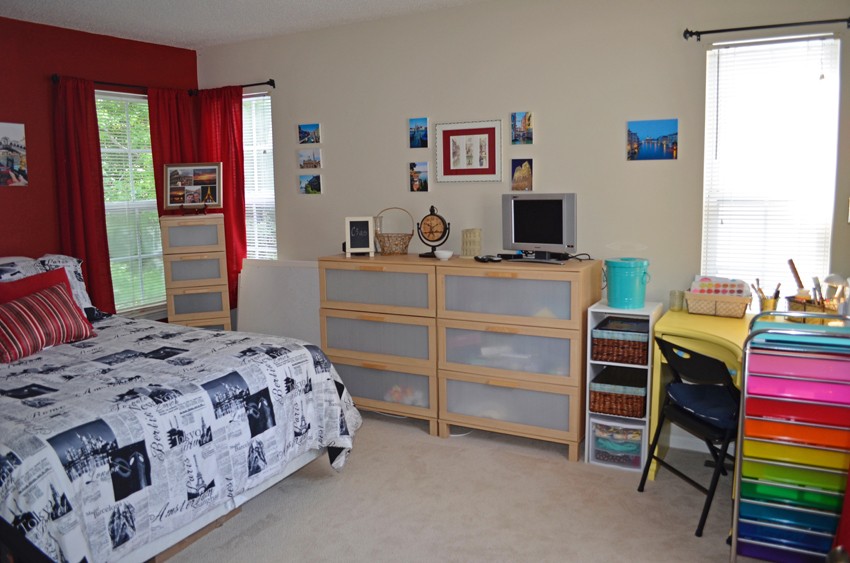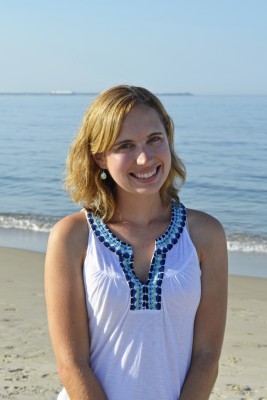 While I occasionally pick up days as a dental hygienist, I consider myself very blessed to be a stay at home mom to our one year old son (and a mischievous dachshund). In between playing with and caring for him, I love crafting. I enjoy photography, gardening, making seasonal décor, watercolors, sewing simple projects, canning, cake decorating, and scrapbooking. Learning to crochet is next on my list. I grew up in Baltimore, MD, but as a military spouse, we are soaking up coastal life in the Virginia Beach area. Beach days are one of our favorite family activities. You can find me on Instagram at @CoastalandCrafty
Also, in my garage I run my Etsy shop, Frankly Pressed, specializing in custom designs for babies and children.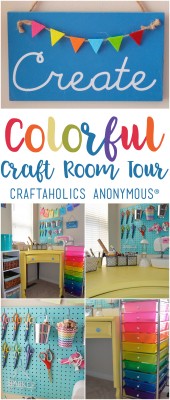 Latest posts by Craftaholics Anonymous (see all)