Sara from The Rosy Life is here today to give us a tour of her gorgeous craft room. You are going to love how colorful and whimsical her space is! Enjoy! – Linda
Craft Room Tour
We live on a small cattle farm and the photo gracing my studio door shows off one of my favorite cows! I also recently spray-painted a shelf destined for the trash and turned it into a treasure instead! It holds almost all of my art supplies, from paint to stamps and inspiring magazines.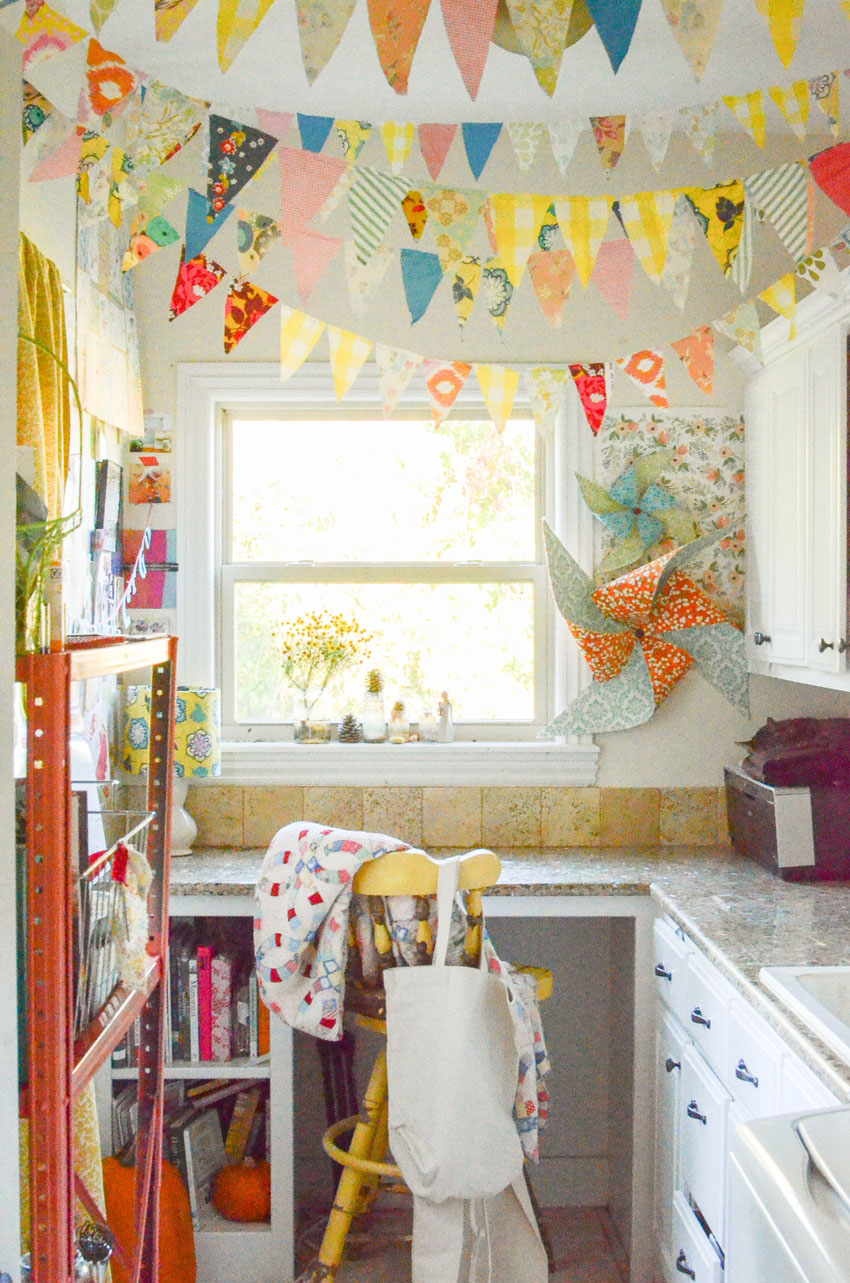 This room was a bit of a challenge to decorate at first, with it's long rectangular shape. I had the idea to hang colorful, fabric bunting from the ceiling and it instantly cheered the space right up! This is the view of my studio after it's been cleaned real good!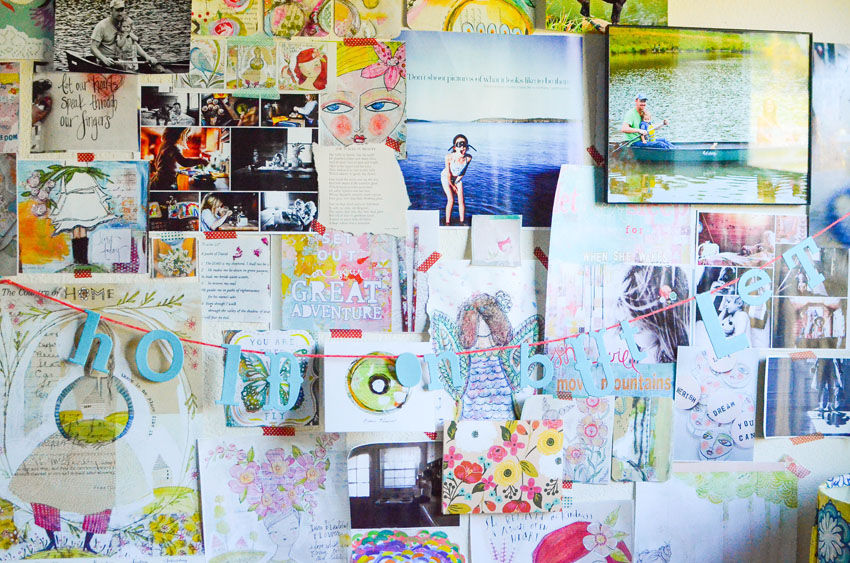 A big part of my process as a mixed-media artist and photographer is to stay inspired! I love to surround myself with my favorite images, quotes, and paintings! An inspiration wall is the perfect way to do that. I simply tape up whatever I like and take it down when I'm ready for a change!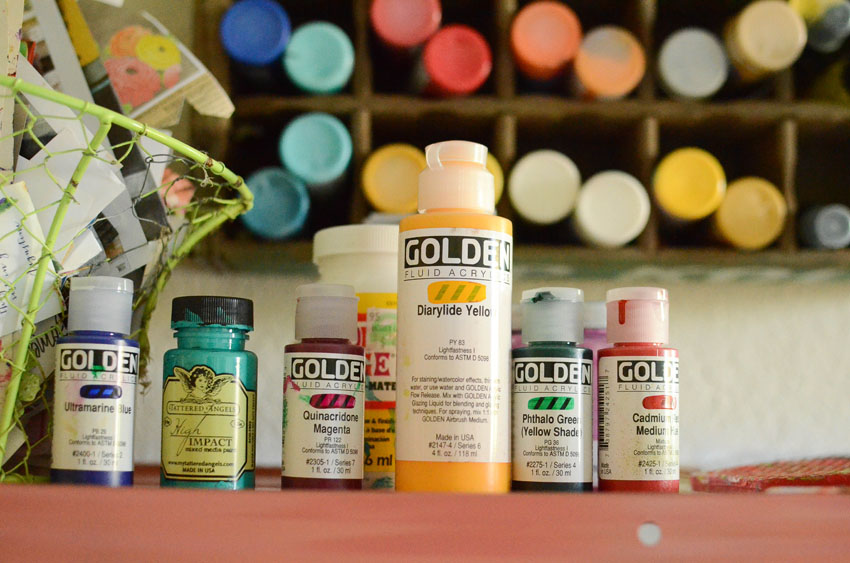 I have gobs of paint. Cheap kinds, expensive kinds…I've almost never met a paint I didn't like. Keeping them sorted by colors makes a pretty rainbow and is a great organizing tool too!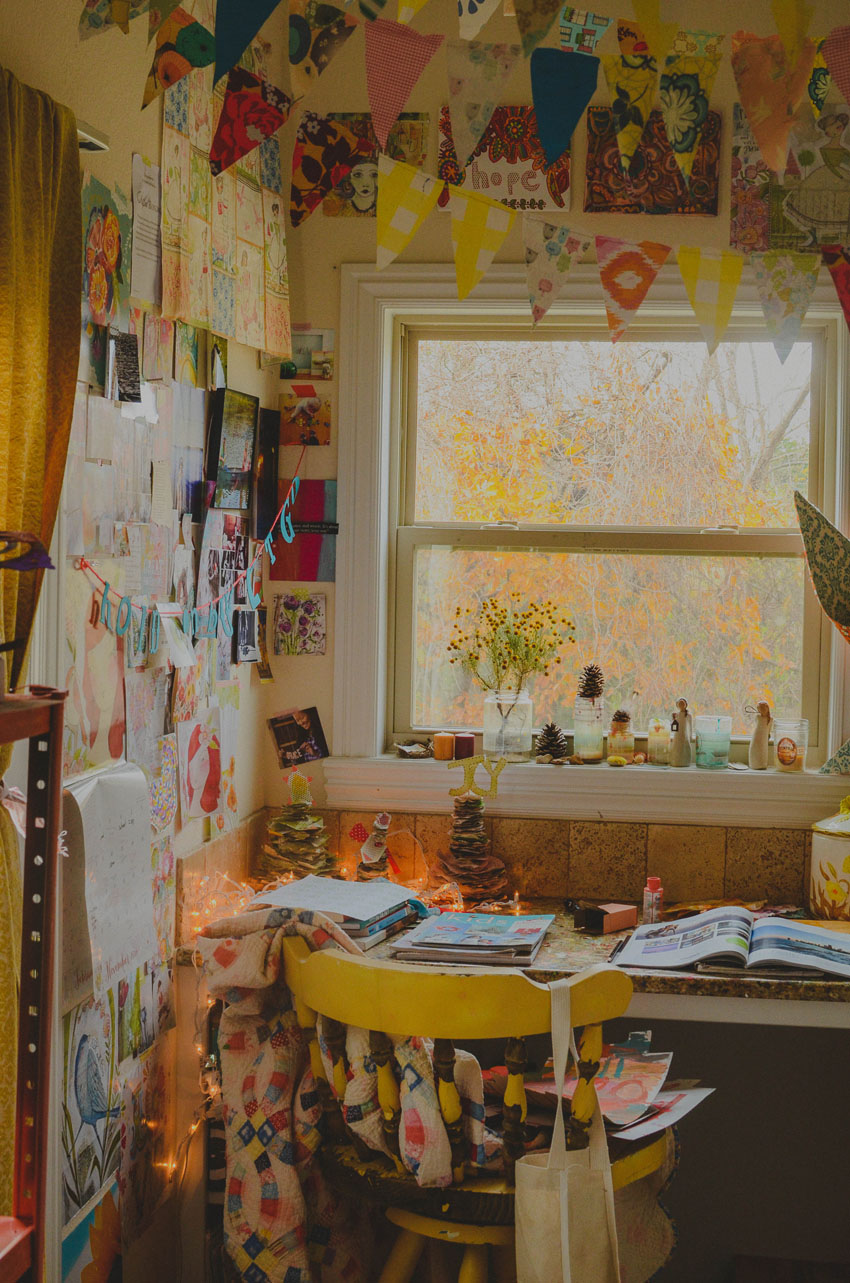 Sometimes the light in the studio is dark and moody and I like that just as much as the bright, sunny days. Both speak to me. Of course, twinkle lights tucked here and there create magic, no matter what the weather is outside.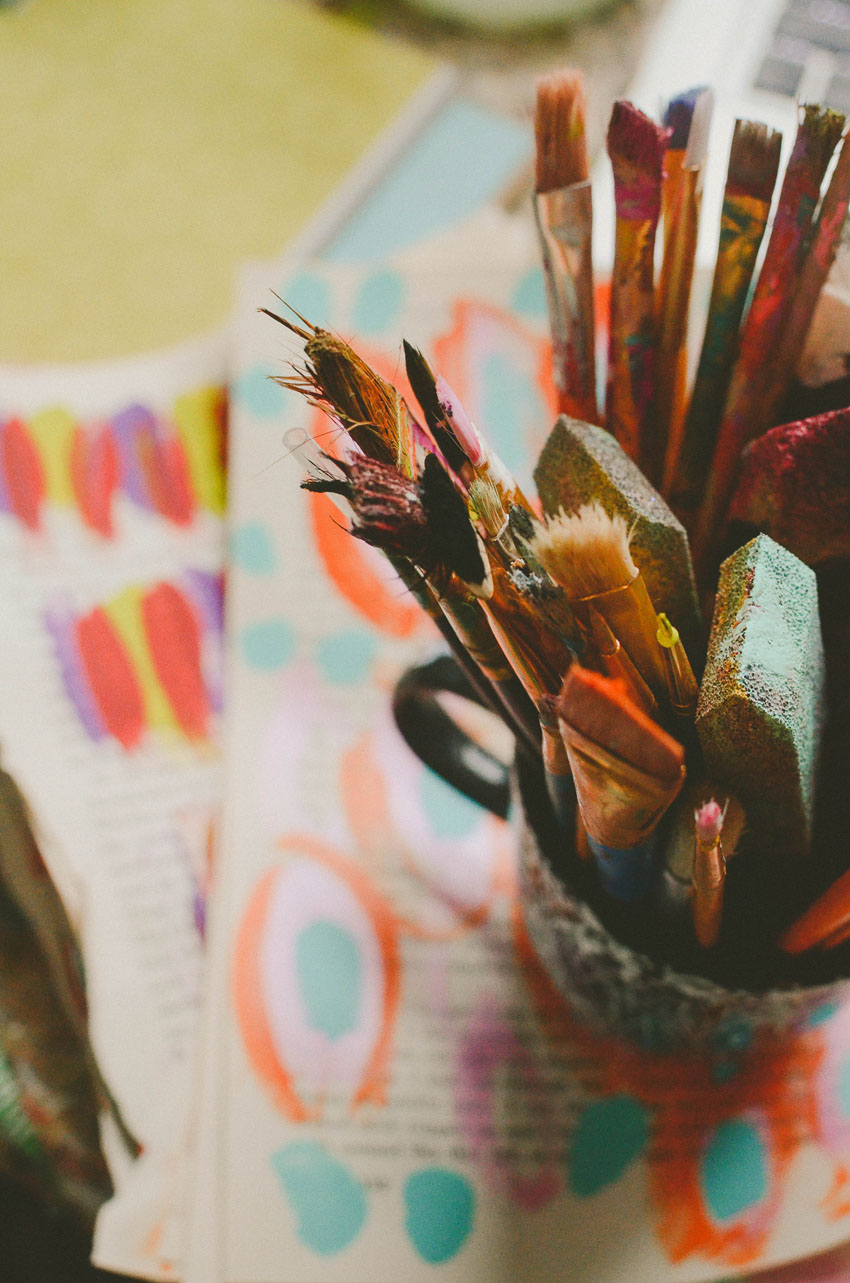 An easy, artful way to display my paint brushes is by keeping them in a mug I embellished myself with a white Sharpie paint pen. And as always, I have stacks of painted pages on hand, ready for banner making and journaling both.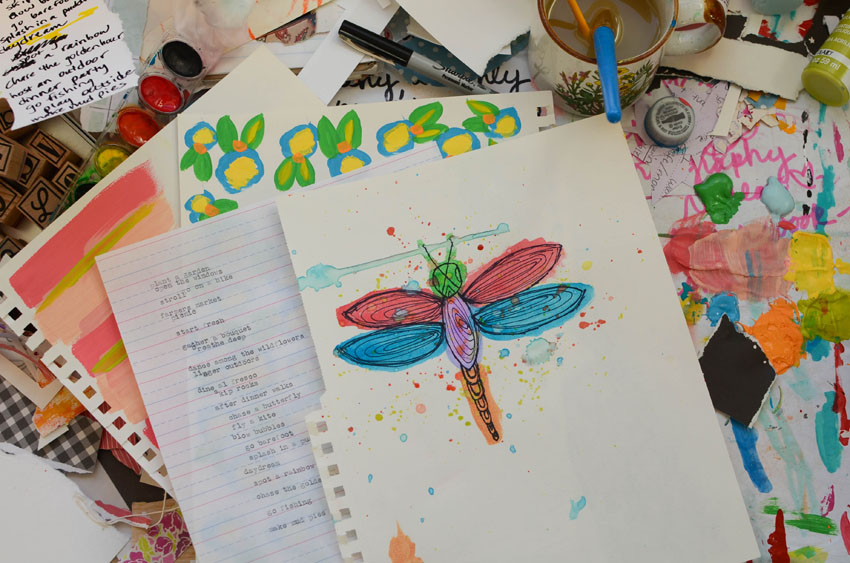 I live in Arkansas and we're at the tail end of a cold and bitter winter. My creating lately has been inspired by the warm weather and wildflowers that I just know Spring is sure to bring.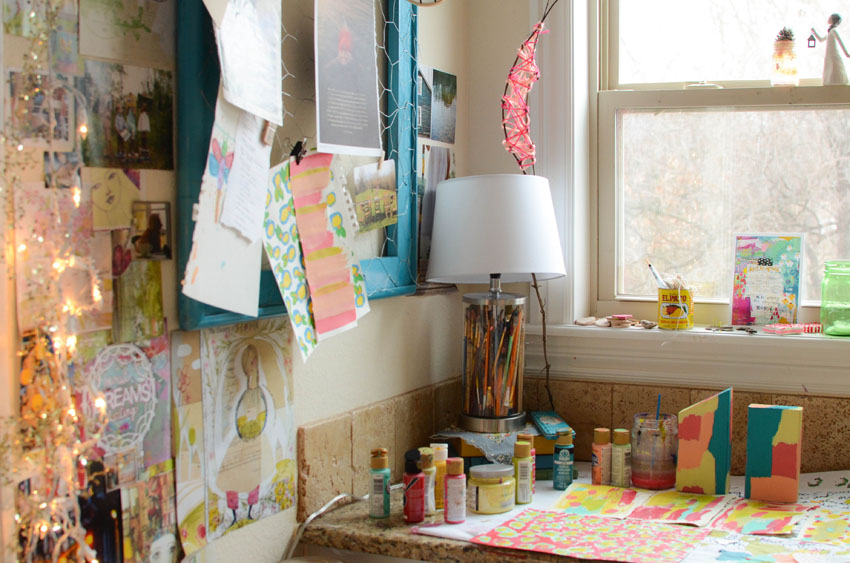 I often take pictures of the works in progress in the studio to track what I'm up to. I tidy up my studio every few weeks but love how colorful works of art or bottles of paint look as they're left out. This too, inspires new ideas. I encourage others to let the "mess" become a happy mess and spur more creativity.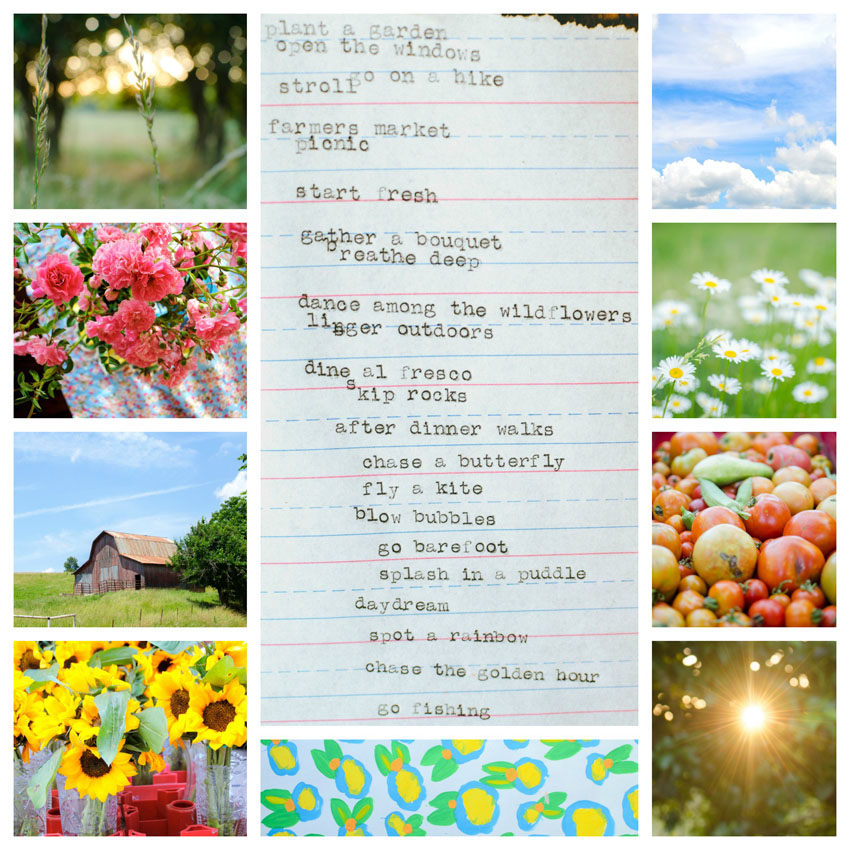 This spring bucket list is available in my shop and is the light at the end of the long tunnel of winter for me right now!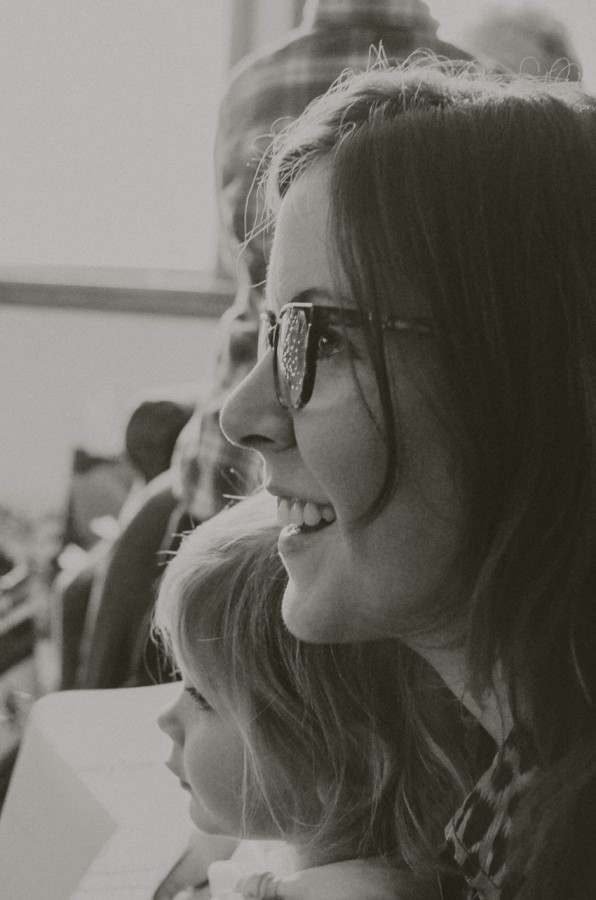 Meet Sara: In a former life I was an elementary teacher. Fast forward to now and I'm a stay-at-home mama to little girls, ages two and three! :) I've loved creating since I was very young, but didn't enter the painting and mixed media world until early last year. I also love photography and enjoy capturing the artistic side of my life as well as the rosy in the routine at The Rosy Life. I share my works of art and photography in my Etsy shop and host local craft and photography retreats on my farm. I'd love to hear from you and you can reach me any time at sunshinebysara@hotmail.com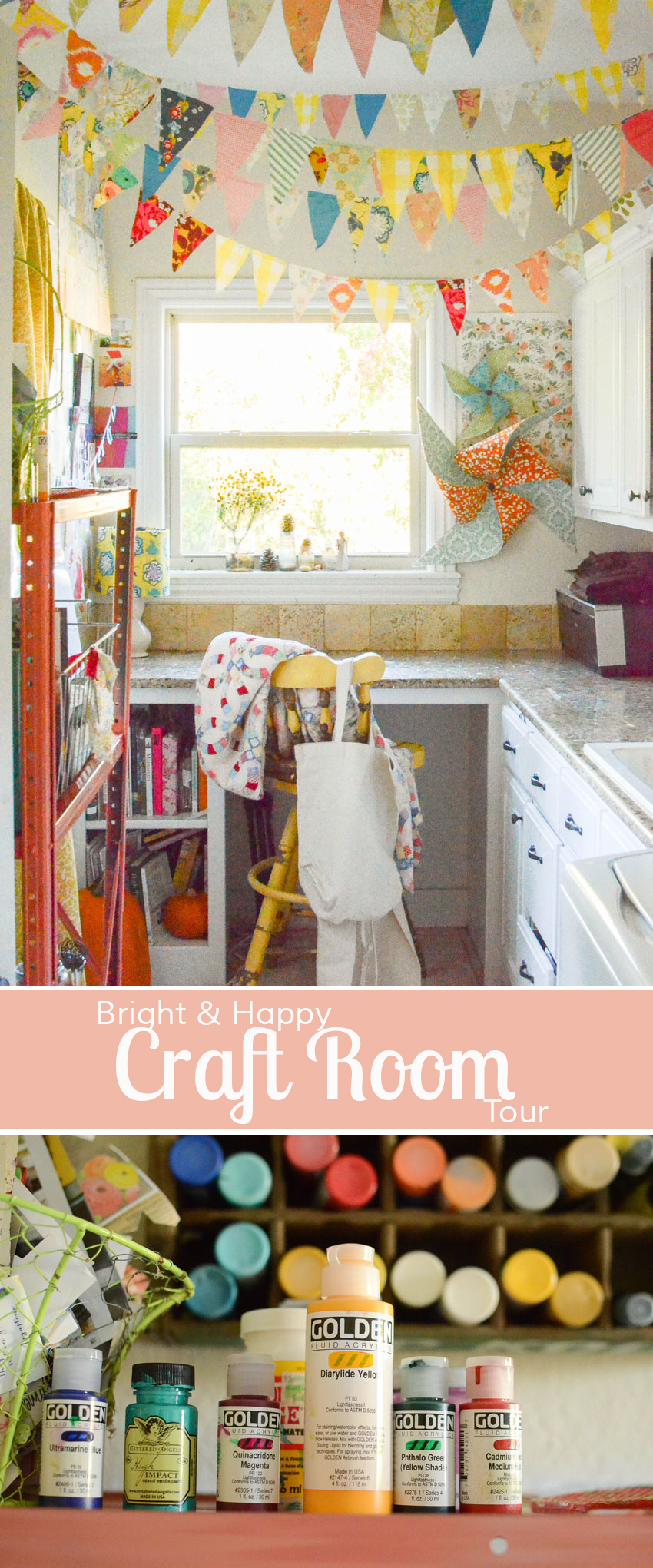 Latest posts by Craftaholics Anonymous (see all)