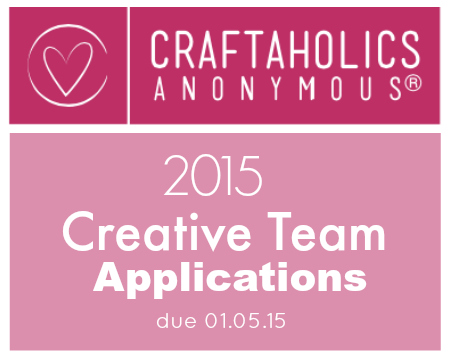 I'm so excited to announce the hunt for the 2015 Craftaholics Anonymous® Creative Team! I am looking for fresh, new ideas to share for 2015. So I am on the search for several new contributors to bring awesome new content to our readers!
Not interested, but know someone who would be perfect for this opportunity? Share this post with them and encourage them to apply! 
I am looking for:
Someone who is creative, has new ideas, very organized, meets deadlines, and wants to be a part of a team.
Crafts, DIY's, recipes, printables, holiday ideas, home tips, kid crafts, party ideas, etc.
Excellent photography. Creativity is so important, but you also need to be able to capture the beauty of your creation with a camera. Think natural lighting, good composition, and no flash.
*Note: You do not have to be a blogger to apply for the creative team. Anyone can apply! :)
What will be expected:
1. One original post (a new idea that hasn't been posted before) each month uploaded on time.
2. You will need to share your post via your social media outlets.
3. Being an active part of our team.
4. A one year commitment.
What will you get out of it?
1. Money! You will be paid per blog post.
2. Not only will you get lots of new traffic, you'll be able to showcase your work to an audience of over 1 million people each month and gain some new friends while you're here. Oh and some awesome Google juice as well. ;)
3. You'll get 3 pins from your blog pinned to my Pinterest boards!
4. You'll be apart of our awesome facebook group where we share ideas, blogging tips and tricks, and simply help each other out.
5. Your bio + blog and social media links will appear at the bottom of all your posts.
Is this something YOU are interested in? If so, I'd love for you to apply below!
How to apply:
Fill out the form below. Please take your time when filling out the form to show us your personality and be completely honest about your skills and work.
We are no longer accepting applications. Sorry! I hope you'll apply next year!
*if you have troubles with the form, you may email me your application at craftaholicsanon [at] gmail [dot] com
The deadline is January 5, 2015 …I can't wait to see your submission!
Contributors will be notified on or before January 12, 2015. The new 2015 Creative Team will be announced by January 30, 2015.
Unfortunately, due to the amount of submissions, we won't be able to respond to every applicant.
Thank you for taking the time to apply! I can't wait to work with YOU!

Hi! I'm Linda, the craft addict behind Craftaholics Anonymous®, a craft blog. Crafting is cheaper than therapy, right? When I'm not DIYing something, I can be found taxiing around our 4 crazy kids or working out. Or shoe shopping... because you can never have too many shoes! Happy crafting! ♥