Happy Tuesday! Its never too early to start your Christmas crafts! Here are some fantastic ideas to use your scraps of Christmas fabric this holiday season. There are some great handmade gift ideas, Christmas decor, and so much more!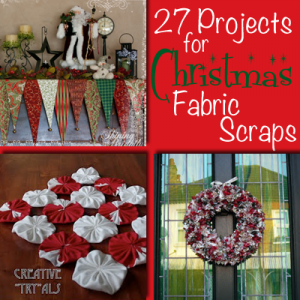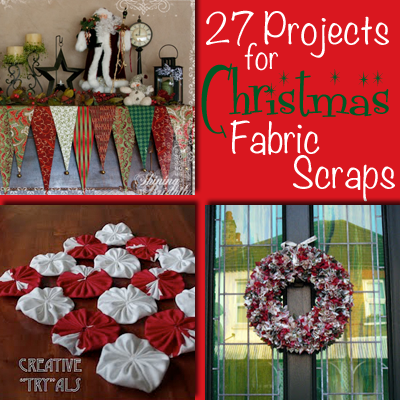 Christmas Fabric Craft Ideas

Images from Keri Bradford Studio, Creative Tryals,and RosMadeMe.
Responses in this post were taken from this thread on the Craftaholics Anonymous Facebook page where Lynn asked: "I need some good ideas that use up Christmas fabric—I have so much and have all ready made lots of quilts and still have tons!!" -Lynn
1. "Stockings for troops overseas!" – Krystal V.
2. "How about making aprons for gifts?" – April B.
3. "Christmas tree skirts, table runners, decorative pillows, stockings for people in the hospital or a retirement home." – Myaela C.
4. "Advent or countdown calendar or a rag wreath." – Amy M.
5. "How about making table runners, place mats, and napkins?" – April B.
6. "Pot holders, aprons, ornaments, stockings, potpourri pouches, etc. for gifts or selling." – Raina G.
7. "Pillow cases!" – Megan J.
8. "Check out this cool mantel banner from Kerri Bradford Studio!" – Sheri E.
9. "Take two contrasting and not necessarily matching yards and make aprons." – Deanna T.
10. "Cut 1″ x 4" strips of fabric with pinking shears or a rolling cutter, then tie onto light strand in between bulbs. The C7 size is about right, then you have a light up garland! Use coordinating fabrics." – Lisa C.
11. "Reuseable Gift bags to be used instead of wrapping paper maybe?" – Ellen W.
12. "What about a rag rug? You could use it for years since it's holiday themed." – Stephanie P.
13. "Aprons with matching pot holders would be a cute gift or pillows." – Ariana G.
14." Tablecloths or a Christmas tree skirt." – Krista H.
15. "Christmas pennants & garlands!" – Kimberly O.
16. "Small animal shaped pillows (or any shape really) for the children that are in the hospital. My oldest daughter has received several of the small pillows during her hospital stays that people have made and donated; she loves them." – Leslie K.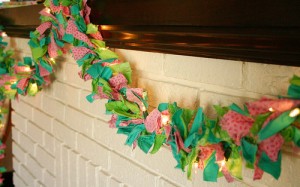 Image via Sparkle Candace
17. "You can look up Linus Project. They love to get blankets and quilts for kids in the hospital or foster care. Great service project too!" – Stephanie H.
18. "Seasonal covers for kitchen appliances or for your sewing machine(s)." – Kathleen J.
19. "Aprons, dog bandanas for rescue dogs, lap throws for nursing homes, or place mats." – Robin S.
20. "Chair slip covers with matching table runners, coasters, casserole totes – these make great gifts!" – Paula B.
21. "Rolled flowers for embellishing pillows or as gifts for girl's hair pieces. Or you could add them to simply wrapped gifts." – Leah P.
22. "Toppers for canned goods as giveaways." – Becky H.
23. "Pet blankies for your local animal shelter; there is a great pattern online with the dimensions. Check with your local shelter. Ask your local quilters guild for other ideas." – Pat S.
24. "Stars filled with potpourri to put on the tree that can then be stored in your drawers to keep woollens smelling fresh." – Nicole V.
25. "Make reusable bags and use them as gift bags. Then the recipient can use them during the holiday season every year after." – Nancy P.
26. "Small blankets for your local NICU patients and other children in the hospitals during the holiday." – Johnna S.
27. "I am in the process of making catnip toys but make sure it's pre-washed and no metallic prints. People LOVE the catnip birds!" – UnI Quilts, Quilts Made by You & I
Got a crafty question? Head over to the Craftaholics Anonymous Facebook page to submit it!
Now who's ready to pull out that Christmas fabric and bust out some Christmas crafts? So many awesome ideas! Love great stash buster crafts like these.
Thank you for stopping by today! I hope you'll follow Craftaholics Anonymous via RSS feed or email updates! 
happy crafting,
Linda
Latest posts by Craftaholics Anonymous (see all)