Super easy Valentines Day wreath idea!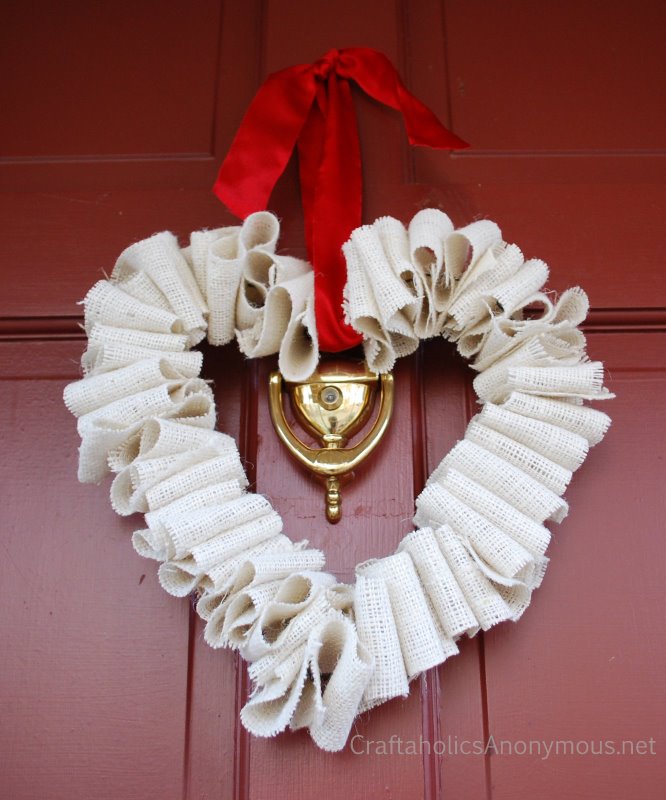 Check out my door decor for Valentine's Day! V-day is one of my fav holidays, for real. You'll find out why a little later, in another post. Anyways, this is the project I'm doing with a craft group at church in a couple weeks. This burlap wreath is really easy and cheap to make. It only costs about $3.50 to make one of these. And you can do it with red burlap as well that would be super cute. I'm all about using different colors of burlap, can you tell? haha
Wire
Burlap, about 1/3 yard
Wire Cutters
Pliers (optional)
Scissors
Using your wire cutters, cut  two 18″ lengths of wire and bend into half heart shapes.
Use pliers to twist wire ends together. Do not twist together the bottom ends. You will do that at the end. You may not need pliers depending on how pliable your wire is.
Cut your burlap into 2.5″ strips.
Thread your burlap onto you wire so that it looks like this:
I threaded it onto the wire about every 3″ or so. I varied the lengths to give it more texture.
Add burlap until your heart looks full.
Twist the bottom wires together and bend back to hide the ends.
Rearrange burlap loops to cover the ends.
All done!
Hope you enjoyed this simple Valentines Day wreath!

Hi! I'm Linda, the craft addict behind Craftaholics Anonymous®, a craft blog. Crafting is cheaper than therapy, right? When I'm not DIYing something, I can be found taxiing around our 4 crazy kids or working out. Or shoe shopping... because you can never have too many shoes! Happy crafting! ♥