Good morning CA readers! I'm Amie, and I am beyond thrilled to be here today! I've been following Linda for a long time now and I'm always inspired by her creative mind. Though I'm no stranger to crafting, I am relatively new to the world of craft blogs! My family blog was getting clogged with excessive crafts, so now I have my own corner of the internet called Kitty Cats and Airplanes where I post lots of crafty tutorials and recipes! (I actually have lots of corners of the internet, including a newly opened Esty shop!) So come say hi, I'd love to have you.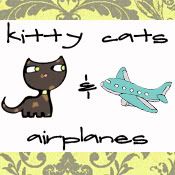 ———————–
Now, I know the elastic waist skirt is not a new concept, (seriously, I just googled it and came up with almost 300,000 results!) but I wanted to take it to the next level. You know, go from "Hey, cute skirt." to "Dang girl! You MADE that?" A skirt worthy of a night out instead of just a skirt for Sunday.
Thank you, black lace and elastic. Want to make one of your own? It's super easy and will only take an hour of your time! You will need:
1 1/2 yards of lightweight, white cotton (more or less depending on your size)
1 1/2 yards of black lace
A few yards of 2 inch elastic (depending on waist measurement)
Iron/ironing board
A cup
Disappearing ink pen/chalk
Measuring tape
Sewing machine, matching thread, scissors, seam ripper, all that jazz for sewing.
Getting started is by far the hardest part, because unless you've got a fifth grader lying around you're going to have to do some math.
Get a measuring tape and measure around your hips. Take that number (let's call it "h" and say it's 36 inches) and multiply it by 1.5 (h x 1.5; 36 x 1.5 = 54). Let's call that new number "n." Divide "n" by four. (n/4; 54/4 = 13.5) Round any decimals you get up, so your final number is 14. Remember this number, this is the magic number for the waist of your skirt. Next, measure how long you want your skirt to be and add two (so if you want it to be 28 inches long, your magic length is 30″.)
With those two numbers you are ready to make your skirt! Lay our your cotton fabric folded from selvage to selvage (just like how it was on the bolt). Then, fold it again in the opposite direction so that you have four layers of fabric. Using your disappearing ink pen, draw your skirt shape ON THE FOLD. Use a tape measure to measure out the magic number for your waist (in my fictional equation, 14″) at the top, and use your second magic number (30″ in this case) to mark where your skirt will end. I wanted my skirt to have a little bit of flare, so I used an existing A line skirt I had to help me with the shape. However, this is more work, and it is perfectly acceptable to use a long rectangle.
Cut out your skirt. You should have two equal pieces (if you have four, you forgot to cut it on the fold.) Keep it nicely folded like this, you'll be using it again next!
Lay your just-cut, folded pieces of cotton down on your black lace (that is folded the same way your cotton was.) Using it as a pattern, cut out the shape from your black lace, adding an extra inch to the bottom. (I added a few extra inches but didn't like it in the end, so only add an inch!) You should now have four skirt pieces, two in white cotton, two in black lace that are slightly longer than the white cotton pieces.
Next, we're going to create the sexy scalloped edge! This is where the cup comes in. Lay the cup down on the very edge of the bottom of your black lace pieces and carefully trace around the bottom of the cup. I used chalk, because my disappearing ink pen wouldn't show up. Pick it up, line it up with the edge of the first traced shape and the bottom. Trace again. Keep doing this all the way around, and then very carefully cut along your scallops. Since lace doesn't fray, that's all you need to do!
Lovely. :) Brush off any excess chalk and start imagining where you're going to wear your skirt. (Valentines Day date maybe??)
Next, hem your cotton pieces. Fold up the raw edge of your skirt 1/4″ and press with an iron. Fold it up again another 1/4″ so there are no exposed seams. Stitch along your hem to close it all up. It should look like that really good (sarcasm) picture above.
Now we can sew the skirt pieces together! Pin the two matching pieces (cotton with cotton and lace with lace, otherwise it'll just look weird) together, right sides together, and using a 5/8″ seam, sew up the sides. (I like to the sew a zig zap stitch right next to it for added strength, but that is totally optional.) Do this for both skirts.
Woo hoo! It's starting to come together! Turn both of your skirts right side out.
Put your arms through the black lace skirt, grab the white one, and shimmy them together. The wrong side of the black lace skirt should be touching the right side of the white skirt. (Hmmmm, kinda looks like an old lampshade, maybe I'll try my hand at a lampshade skirt? Kidding.) Pin all around the top, making sure the side seams and the tops line up pefectly.
I tried to get a picture of the next step but this cutie kept pulling the camera out of my hands while she played with the strap. Sooo the next description will be a long one.
You'll need to ruffle up your skirt now! Set your machine to the longest straight stitch possible, and using a 1/2″ seam, stitch along the top (no backstitching!!). Stop when you get to a side seam, and then pick it up and start it again after the seam. Leave long threads. Do it again, but this time with a 1/4″ seam. You should end up with four stitches, two on each piece of the skirt. Having two lengths of thread to pull on makes it SO MUCH EASIER.
Get out your elastic and wrap it around your waist without stretching it out. Subtract an inch, cut it, and using a zig zap stitch, sew it into a loop (using a zig zap stitch helps it stretch after it's been sewed.)
This loop will be your guide while you ruffle up your skirt!
To ruffle the skirt, take those long threads and gently pull them. Your skirt will magically start to ruffle up! Gently move the ruffles down the skirt and pull again. Keep doing this until your entire skirt is ruffled up as much as it possibly can. (It will look way to small to be a skirt. This is ok, you'll fix it in a second.)
Using your elastic as a guide, slowly and gently pull out some of your ruffles until it is the same diameter as your elastic.
(Can you tell I did this over the course of a few days? Sorry if the changing light hurts your eyes!) Once it's all matched up, pin the elastic right on top of your skirt. Then, using a ZIG ZAG stitch, sew the skirt onto the elastic. Trim any excess threads aaaaaaaaaaaaand…
Show it off girl! Call a babysitter, grab that hottie, and take this skirt out! I added a silk sash to dress my up a little bit more. Aside from wow factor (don't tell your friends it was easy, just let them think that your the world's most talented seamstress) this skirt is ridiculously comfortable! The elastic waist makes it easy to wear for you preggers folks out there or for those of us me, who might have had one too many of Linda's amazing brownies!
I hope I have changed your mind about elastic waist skirts. :) Stop by Kitty Cats and Airplanes sometime too, I've got lots of tutorials to share! Thanks so much for having me today Linda, it truly is an honor!