Hello Craftaholics Anonymous readers! So happy to be here. Thank you, Linda! I'm Catherine from the blog Design Editor. I'm a graphic designer and mom of 19-month-old twins sharing my love for all things design. My Etsy PRINT! By Design Editor features affordable printable designs for events, home decor, memory keeping and crafts.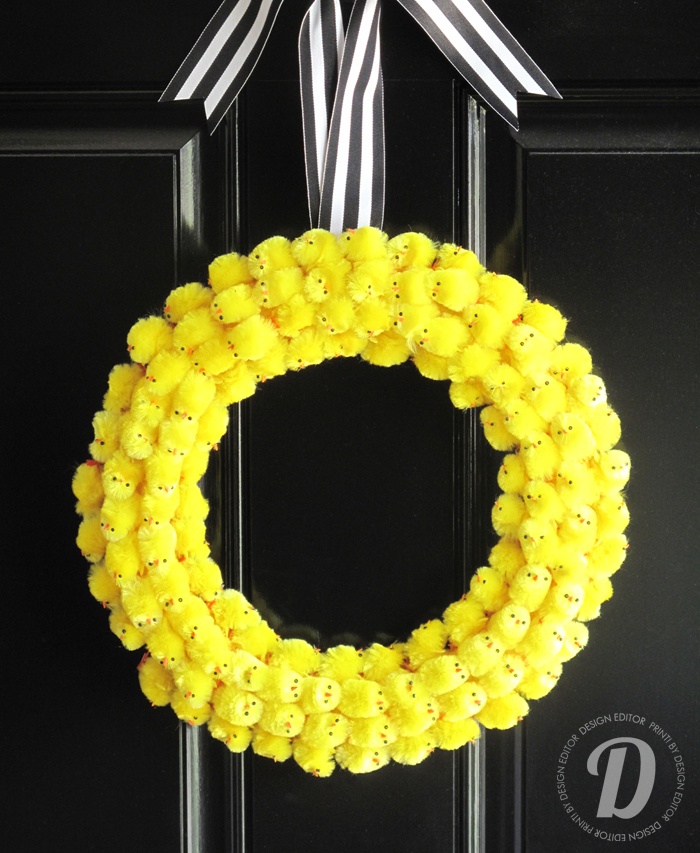 Today I'm sharing my Easter Chick Wreath Tutorial. Remember these retro chicks? My wheels started spinning when I saw boxes of them in different sizes and colors at my craft store. I snagged a few and made this wreath for our front door. Love the pop of color! Take advantage of the Easter sales and make one for yourself. Here's how to make it:
Chick Wreath
Chicks
Styrofoam wreath form
Acrylic paint
Paint brush or foam brush
Glue that dries clear
Ribbon

Paint your wreath form. This will hide any gaps between the chicks.


Arrange your chicks in close formation around the wreath facing the same direction. These little guys have feet that stick right into the foam. Hold off using any glue until your design is in place in case you need to make any spacing adjustments. When you're happy with your wreath add glue in any areas where it needs reinforcement.


To hang, glue ribbon to the back and allow to dry before hanging. I went very clean with my design, but you could have fun by adding a bow or a little sign to the outside of the wreath.
Have a wonderful Easter! Stop by and say hi sometime!

Hi! I'm Linda, the craft addict behind Craftaholics Anonymous®, a craft blog. Crafting is cheaper than therapy, right? When I'm not DIYing something, I can be found taxiing around our 4 crazy kids or working out. Or shoe shopping... because you can never have too many shoes! Happy crafting! ♥