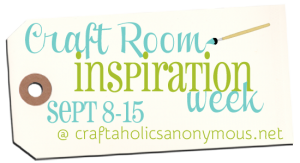 Happy Tuesday, crafters! Welcome to Day #2 of the Craft Room Inspiration Week on Craftaholics Anonymous! Today Jennifer is here to show off her pretty green, blue, and white crafting space. Enjoy! linda
Craft Room
Hey guys! I am Jennifer from Hope, Longing, and Life and I am so excited to joining you all today! I write a home decor blog that is speckled with family funnies, DIY projects, and our personal journey with grief. I hope you will swing by check it out!
I am here to today to give you guys a peek into my craft room. I have to say that I love this room! It is my happy place and inspires me in all things creative. Bright green walls, wallpaper backed built-ins, and loads of functionality make up the space. I also threw in a few crafty decor projects to really set the mood in there. So here it is….
The built-ins are billy bookcases from Ikea. We added doors and crown molding to complete the look.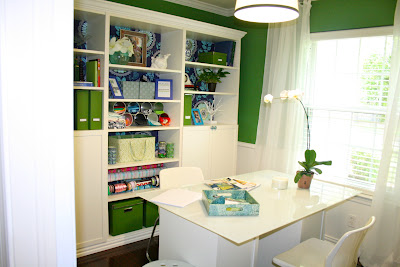 The wallpaper served as the inspiration for the room. Blue, green, and just happy!
Silhouettes of my kiddos and bunting made from scrapbook paper adorn the opposite wall.
I made the kids a space for crafting too. This is an Ikea side table that I stenciled. Would you believe it was $8.00???
My letter writing station…always good to have to have what you need right on hand!
Gift wrapping is made easy with tension rods. They hold the paper and ribbons.
The memo board is a great place for happy memories or inspiration for current projects. It was an easy DIY project out of insulation board from the hardware store.
Thanks for taking a peek into my craft space. There is more detail on the DIY projects and sources on my blog if you need them. Happy crafting everyone!
Thanks for the tour, Jennifer! Lots of great ideas and lovely colors! Make sure to stop by Jennifer's blog and say hi!

See more craft rooms here! If you'd like to have your craft room featured, send a picture or link of your space to info@craftaholicsanonymous.net for more information!

happy crafting,

Linda

PS don't forget to stop by tomorrow and check out another great craft room tour!
Share and Enjoy

Hi! I'm Linda, the craft addict behind Craftaholics Anonymous®, a craft blog. Crafting is cheaper than therapy, right? When I'm not DIYing something, I can be found taxiing around our 4 crazy kids or working out. Or shoe shopping... because you can never have too many shoes! Happy crafting! ♥