Amy is here to show off her adorable craft nook that is right off her kitchen. She's done an amazing job organizing her supplies and utilizing the small space. Enjoy! -Linda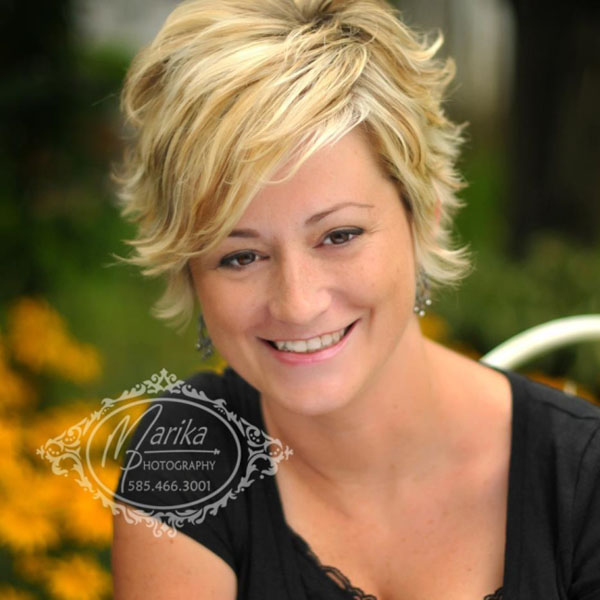 Craft Nook
Hello! I am Amy Kenyon… I am an Artist, specializing in cupcake paintings. Some people will ask me "Why cupcakes?" And I say "Why not! Cupcakes make you smile :)" I live in a small country town in New York state's southern tier with my family. I have a wonderful husband and 3 beautiful boys. When I am not being a busy mom, I will post to my blog or to my Artist page on Facebook.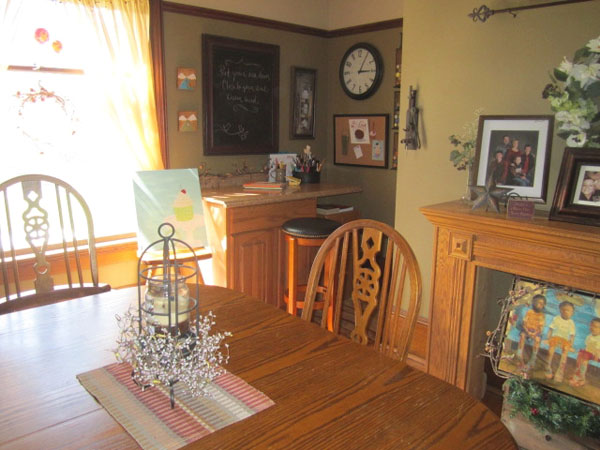 I have my little craft nook in a corner of our dining room. I originally had a whole room to myself and my creativity but my boys needed a room for their games and hanging out with their friends. So I down sized. But it seems to really function for me.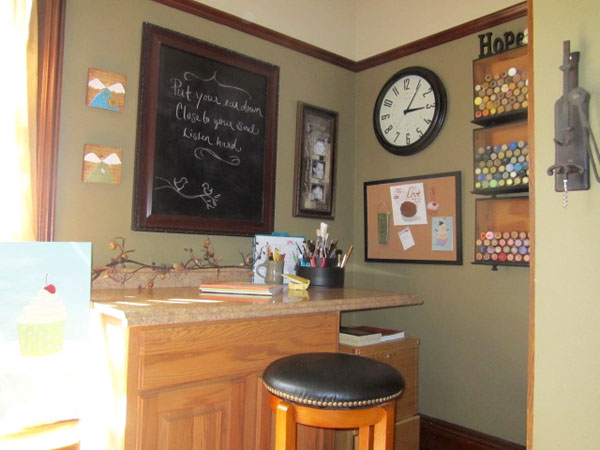 There is plenty room for me to work on any project and to the right of my work area there is a hidden closet to store all my supplies.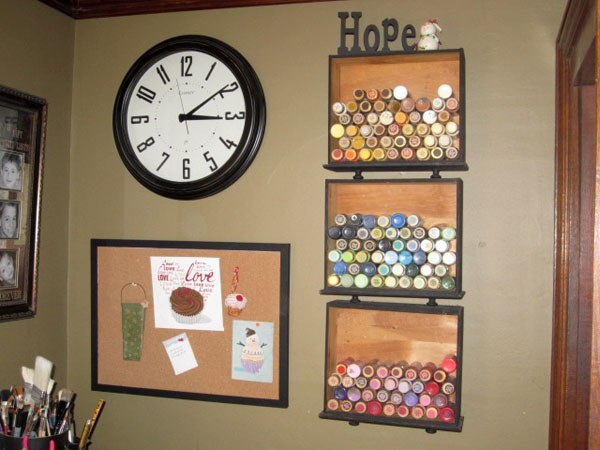 I turned an old set of desk drawers into a shelving unit to hold all of my paints. I love that I can see all the colors in front of me. I have a bulletin board that I have some of my work hanging on and I also pin ideas and reminders on it.
Hope is always around. I love my little ceramic snowman that keeps me company.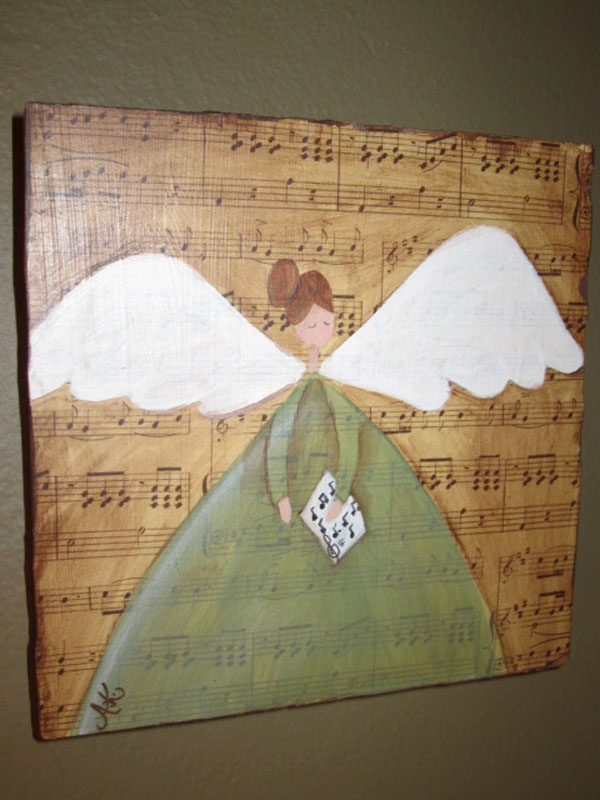 I have a couple of my prim angels hanging up to bring me luck.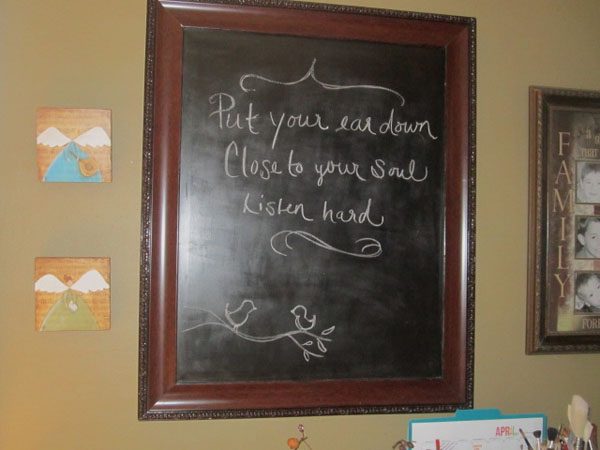 I made a mirror we had into a chalkboard to display inspiring quotes, not only for me but for my family to see.  Some pictures of my boys grace the right side of the message board.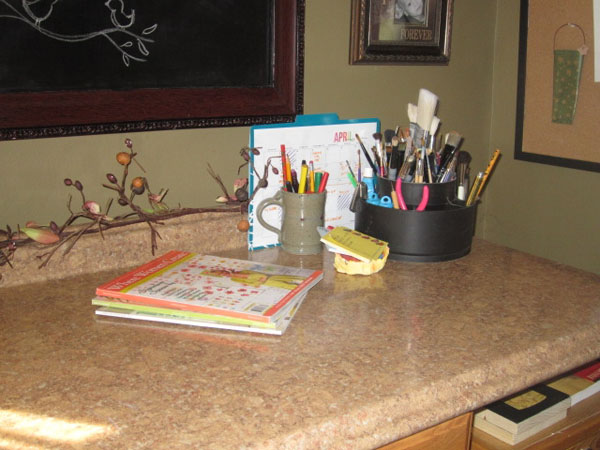 My work space is rarely this clean. I keep my brushes and other tools organized in a handy Pampered Chef organizer. I keep my note pads in a little dish one of my boys made in school in easy reach to jot down ideas and notes. I always keep a monthly calender on my desk to check dates for deadlines and orders.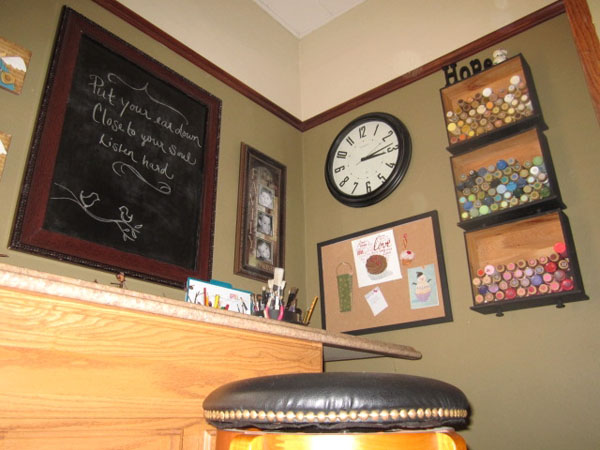 I like how everything flows together. Not too much and not too little. Thanks for visiting my little Craft Nook! ~ Amy
Need some craft room inspiration? Check out the craft room tours page to view all the craft rooms featured!
Enter to win a $100 Sherwin-Williams gift card giveaway here! 

Hi! I'm Linda, the craft addict behind Craftaholics Anonymous®, a craft blog. Crafting is cheaper than therapy, right? When I'm not DIYing something, I can be found taxiing around our 4 crazy kids or working out. Or shoe shopping... because you can never have too many shoes! Happy crafting! ♥