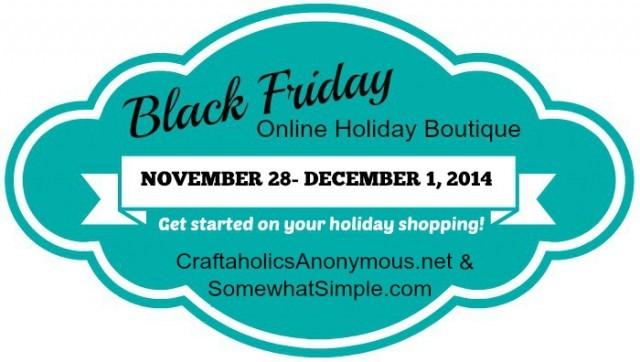 If you have an online business or etsy shop you'd like to promote this holiday season,
NOW IS YOUR CHANCE!!!
Join Somewhat Simple & Craftaholics Anonymous for our annual
BLACK FRIDAY VIRTUAL BOUTIQUE!!!
General Information:
What you get: Your shop featured on CraftaholicsAnonymous.net and SomewhatSimple.com Black Friday thru Cyber Monday.
Reserve your spot: There are a limited number of booths available. Last year the vendor spots filled up FAST, so if you are interested in reserving your own online booth, don't wait- act now!
Dates: This boutique will go live at 12:01am the day after Thanksgiving. It will remain on both sites for all of Black Friday, all of Saturday & Sunday, and all of Cyber Monday.

Cost: We have a couple different options available- basic ads and premium. All reservations are booked by the form below and they are NON-REFUNDABLE.

Shop Discounts: To be a vendor at this boutique, please offer a discount for our readers. Remember, this is the biggest shopping weekend of the year and the better the discount, the better your sales will be! Some examples of a discount could be free shipping, free gift wrap, free item with purchase or a percentage off the price.
READY TO RESERVE YOUR SPOT?
Great! All ads will be reserved by using the form at the bottom of this post. Here is what to do next:
1. Create an image:
All images need to be 600×250 pixels or they will look stretched and blurry.
If you are unsure how to make one, we recommend visiting PicMonkey.com and creating a collage- you'll be surprised at how easy it is!
Images that feature your products will do better than an image of your shop logo.
2. Choose an ad:
The PREMIUM package includes a 600 x 250 pixel image that will rotate among 4 other premium ads at the top of the boutique.
The BASIC ad includes a 600 x 250 pixel image and will rotate under the 5 premium ads.
3. Click "Buy Now" and follow the prompts.
HELPFUL INFORMATION
The dates listed in the description of the ad spot are not accurate- all ads will go live on Black Friday, not the date mentioned.
Please email steph@somewhatsimple.com if you have questions BEFORE you book your spot.
Again, all reservations are final and cannot be changed.
TIPS
1. Cater to all price ranges. You will have people visiting your shop with different budgets. Make sure there is something for everyone.
2. Stock up your store. The more you have to sell, the more time people will spend browsing your shop and the more likely they are to find something they love!
3. Help advertise this boutique! If we work together, our shopping crowd will be even bigger! Blog about it, use Facebook and Twitter and email everyone you know!

BRING ON THE HOLIDAYS!!!!

Hi! I'm Linda, the craft addict behind Craftaholics Anonymous®, a craft blog. Crafting is cheaper than therapy, right? When I'm not DIYing something, I can be found taxiing around our 4 crazy kids or working out. Or shoe shopping... because you can never have too many shoes! Happy crafting! ♥