my white burlap christmas wreath!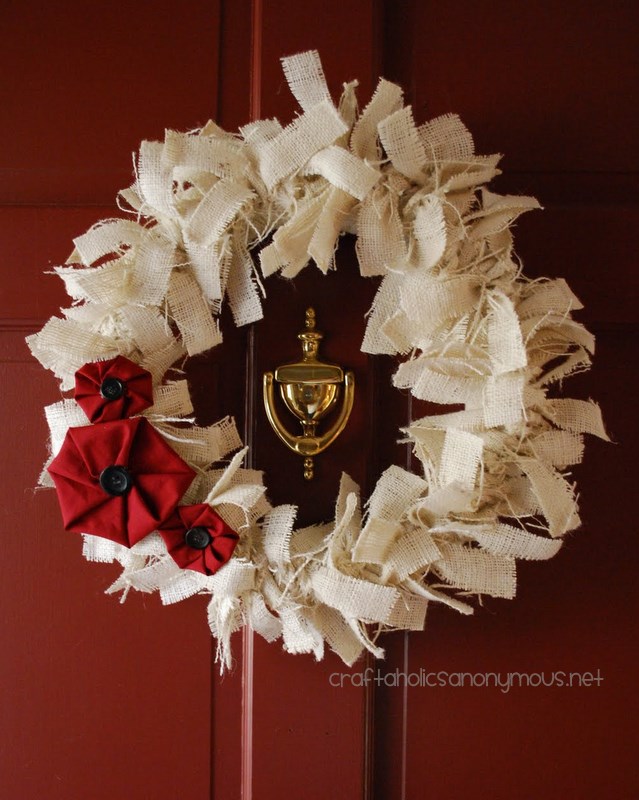 doesn't it look so pretty against my red front door??
here's how i made the super easy red flowers….
Tutorial Week Day 2: These are the easiest fabric flowers I have made… hands down. All you need is:
 scissors
fabric (can be scraps)
hot glue gun
buttons, jewels, or beads
First, cut a circle out of fabric. Mine is roughly 5″ in diameter. I used a roll of scrapbook adhesive and cut around it for my circle. No need to make it a "perfect" circle.
Fold in both sides to find the middle of the circle.
Keep your finger on one side and hold it down. This will be part of your first pleat. (sorry for the fuzzy pic)
Take the next little bit of fabric and fold it over to create a pleat. Be sure to keep your finger in place to hold the pleats down.
This is give you an idea how to make the pleats in case you were lost. Again, sorry for the bad pic.
Keep going around the circle and making pleats.
Adjust the pleats so that you like the shape of the flower. It will most likely be a little lopsided. But that's part of the "cute factor", so don't stress about making it completely perfect. (all you darn perfectionists!:)
Put a couple dots of hot glue under the pleats to hold them in place.
Then put a circle of glue in the center of the flower and attach a button, bead, or jewel (or whatev bling you choose).
There you go! Easy, huh. These would be cute for headbands, clips, handbags, pins, etc. I made 3 of these flowers for my White Burlap Wreath:
I've had a lot of questions about my Burlap Wreath. So I decided to post a few tips and tricks to making a burlap wreath (sorry, not a full blown tutorial. It's a tag along today :)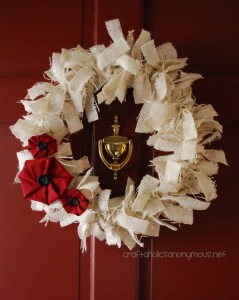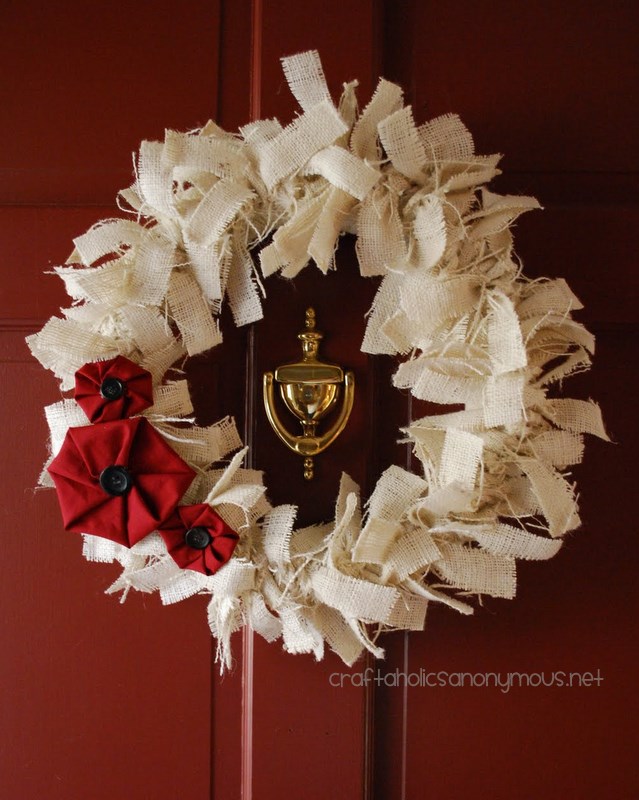 I used a 14″ round hard foam ring (avail at craft stores.)
Paint the foam ring white (or the color of your burlap) so that the green foam ring doesn't show through. I just used craft paint.
Before you cut your burlap, lightly spray it with a water bottle. This helps with the mess. a little. :)
I cut about 1 1/2 yards of burlap into 1″x16″ strips.
I very highly recommend using a rotary cutter to cut your burlap. You can use scissors and a yardstick, but I'll just warn you, your wrist will hate you after!

(added later) I wrapped the burlap strips around the foam ring and then tied a double knot. I overlapped the strips and bunched them up as I went. If you try to undo a burlap strip after you've tied it, the burlap will shred! :)

Hi! I'm Linda, the craft addict behind Craftaholics Anonymous®, a craft blog. Crafting is cheaper than therapy, right? When I'm not DIYing something, I can be found taxiing around our 4 crazy kids or working out. Or shoe shopping... because you can never have too many shoes! Happy crafting! ♥