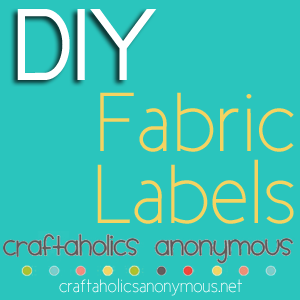 Happy Wednesday! Ever wondered how to make clothing labels for items you've sewn or crafted? Well, Reenie asked a similar question on Craftaholics Anonymous facebook page: "Fabric Labels: Does anyone know where I can buy my OWN printable fabric labels, the ones I can print off myself. I really can't afford to by some from a professional company as of right now, so I thought I would try the "DIY" kind, first. Has anyone done there own? Did it work well? Thanks so much! =)"
 How to Make Clothing Labels
1. "I saw a blogger use actual fabric. Spoonflower prints custom fabric. If you (or a friend) have photoshop, you can size your logo there and print a bunch on a yard or so of fabric. Then you just have to starch, cut and sew. Good luck!" – Kristen K.
2. "You can print your own… Glue freezer paper to a regular piece of computer paper (wax side up), iron on some plain fabric, and print your logo right on! And, yes, I have tried it before, and it worked great! :)" – Mandy E.
3. "I have used a roll of canvas-y material that Joann's Fabrics sells. (Maybe available in Hobby Lobby stores too) It really depends on the quality of your printer though and if your product will be washed a lot. If it's going to be washed, you could always iron on the inkjet transfer paper over your printed labels. (Like a plastic covering) The fabric comes in an 8 1/2″ wide roll that you cut to 11″ to put a whole page into the printer printing a lot of labels at once." – Courtney G.
4. "Here's a hint: Use the fusible fabric sheets that can be run thru your home printer. design your tag using any address label program. You will get 30 labels per sheet :) heat from an iron sets the in. HTH!" – Kathy L.
5. "I do it like Cathy. I use those fabric transfer paper sheets like address labels and then I just iron them onto small squares of muslin. I do a bunch at a time so they last a while before I have to replenish my stash. You can see some of my labels at Sugarplum Cuties" – Kirsten D.
6. "Vanessa at Crafty Gemini has a tutorial on how make your own <a href="http://youtu.be/8mH2R2dVQxc">here</a>!" – Kathy R.
7. "make sure that you do reverse the image so it comes up right. I have been successful using my own and then ironing them onto twill tape as well." – Stacy P.
8. "After you print out on muslin using freezer paper method, heat set the ink. It should last longer. The possibilities are endless. You should be able to do a google search for free printable labels too." – Sharon M.
9. "I did the spoonflower labels. I got a hundred labels on a fat quarter (3/4 inch x 2 inch) of quilting cotton for about $12. They look great and if you wait until Spoonflower does a coupon or promo, you can even get 2 fat quarters for the price of one." – Kristen S.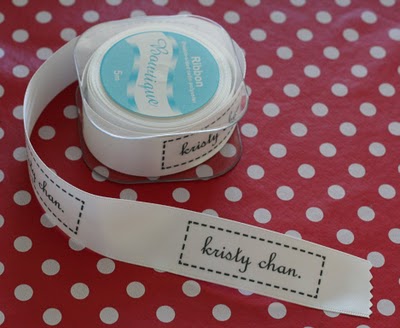 image via Lower your Presser Foot
10. "I found a tutorial once to use satin ribbon (in the larger sizes), and use iron on printer paper – joann, michaels… and you iron it on to the ribbon then sew little pieces of the ribbon in to the project." – Miranda M.
11. "I ironed heat n bond onto the back of fabric, created my labels on a word document and ran the fabric through the printer. Then just cut out the labels and iron them on the clothes." – Rachel A.
12. "I usually order from Jennifer's Jewels too on Etsy, she's great. And I've used her labels for several years now and they still look great after tons of washing! They're not too bad on the price." – The Crafted Sparrow
13. "I just buy a pack of iron on transfer paper from Walmart and a spool of 3/4″ satin ribbon. Design my logo on the computer, print with reverse image, iron onto the ribbon and sew it on! voila! Labels for about $10 and I get about 30 per sheet and there's I think 10 sheets per pack!" – Cheryl K.
Hope you enjoyed these great ideas and tips for how to make clothing labels! You can find the complete thread that these responses were taken from here. If you have a craft related question, post it on the Craftaholics Anonymous facebook page.
happy crafting,
Linda

Hi! I'm Linda, the craft addict behind Craftaholics Anonymous®, a craft blog. Crafting is cheaper than therapy, right? When I'm not DIYing something, I can be found taxiing around our 4 crazy kids or working out. Or shoe shopping... because you can never have too many shoes! Happy crafting! ♥