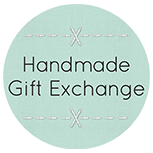 Twice a year, Craftaholics Anonymous hosts a Handmade Gift Exchange for readers and crafters everywhere. Participants make a handmade gift for another crafter with whom they are paired. This is a great way to make a gift AND a friend! There is no skill or money requirement, it is open to everyone!
The next Gift Exchange will start June 1, 2015.
Sign ups will be June 1-7 and gifts will be mailed by June 30.
Sign up below to get an email reminder for the next Handmade Gift Exchange!
Share and Enjoy