Hi Craftaholics!
I'm so excited to be back, sharing another fun project with you, a teacher appreciation gift!  This project was a bit of a struggle for me to wrap my mind around, because even though many of your are preparing for the end of school and summer break, up here in Canada, we are still wearing snow pants and mittens!  But, I know many of you are heading into summer weather, so I wanted to help you get ahead of the curve and plan out a great teacher appreciation gift.
Teacher Appreciation Gift Idea
First of all, let's talk teacher appreciation gifts for a second.  I am a teacher myself and I absolutely love thoughtful gifts – especially something that the kids make.  But if you are a parent who is struggling to make a crayon monogram the day before the last day of school… just let it go!  Teachers appreciate gift cards as well, so don't stress yourself out!  But, if you want to package up a gift, I love gifts like this – gifts that are full of useful things that your child's teacher will love.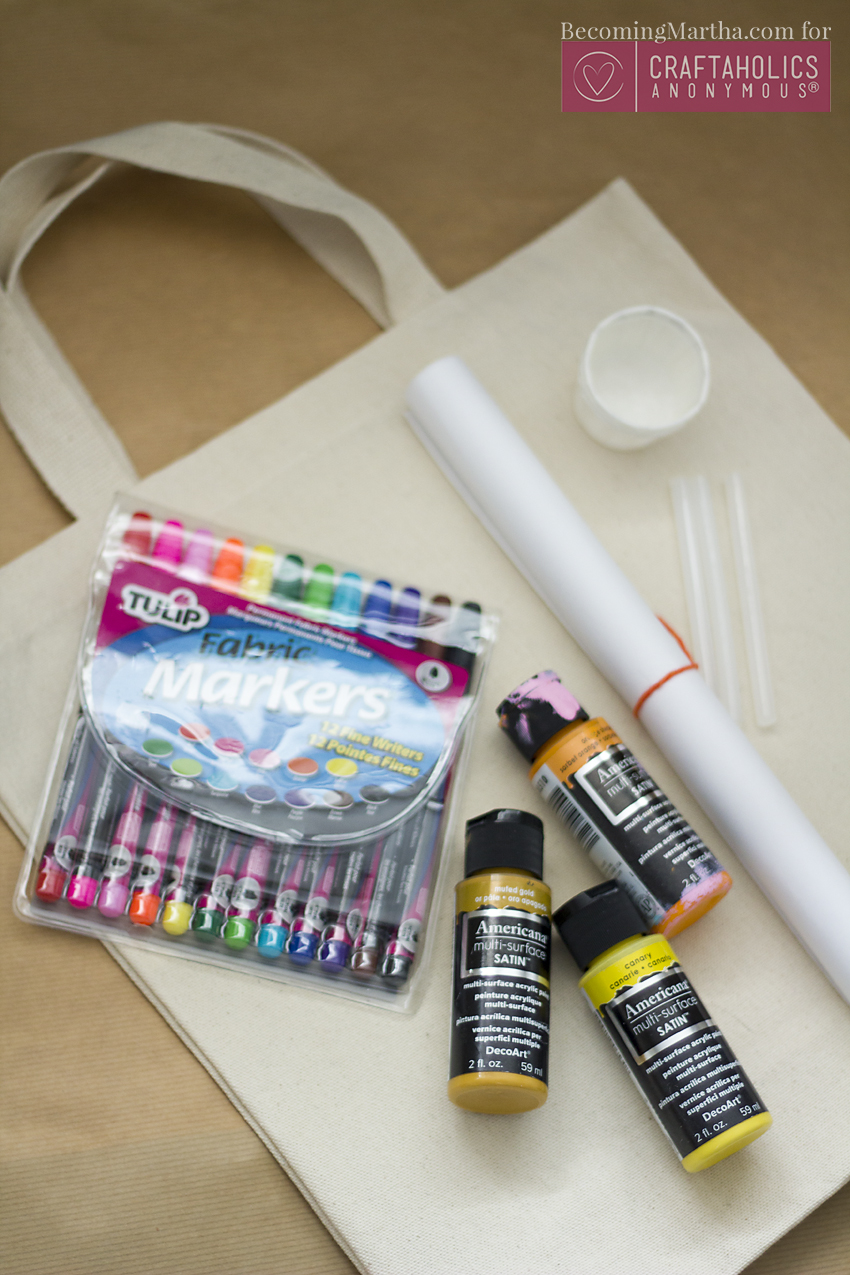 I helped my daughters make bags like this last year for their teachers – except we did an apple version in green, red, and yellow paint.  (I didn't write a tutorial for those, but I did share them on instagram and its exactly the same process as this one if you want to switch it up for an apple.)
All you need to create these cute paint dotted teacher tote bags are:
canvas tote bag
freezer paper
fabric or multi surface paint
glue sticks (or something with a round, flat end so it can be "dabbed")
fabric markers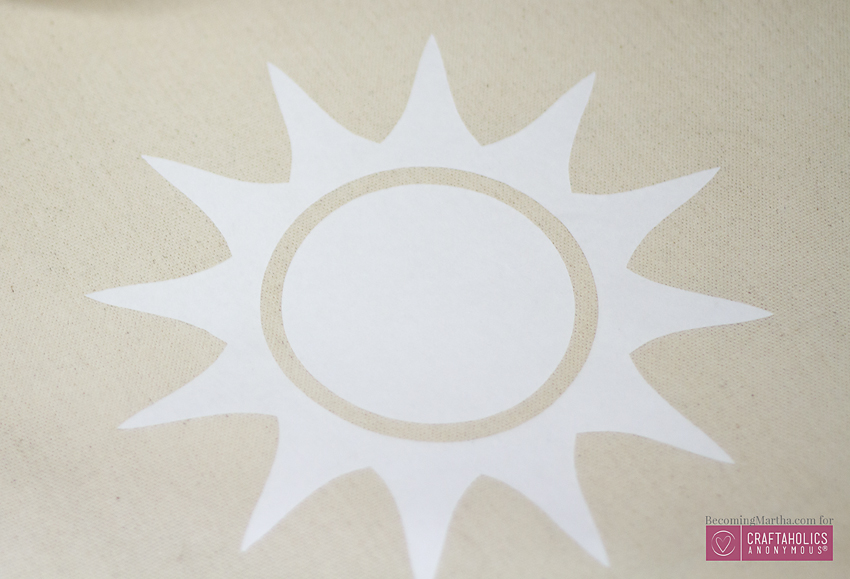 The first step is to cut the sun silhouette out of freezer paper.  You can easily create this with a die cutting machine, or you can print one out, trace it onto the freezer paper, and cut.  Once the silhouette is cut out, use an iron to adhere the freezer paper to your bag (glossy side down towards the bag).  This will create a stencil for you to paint over.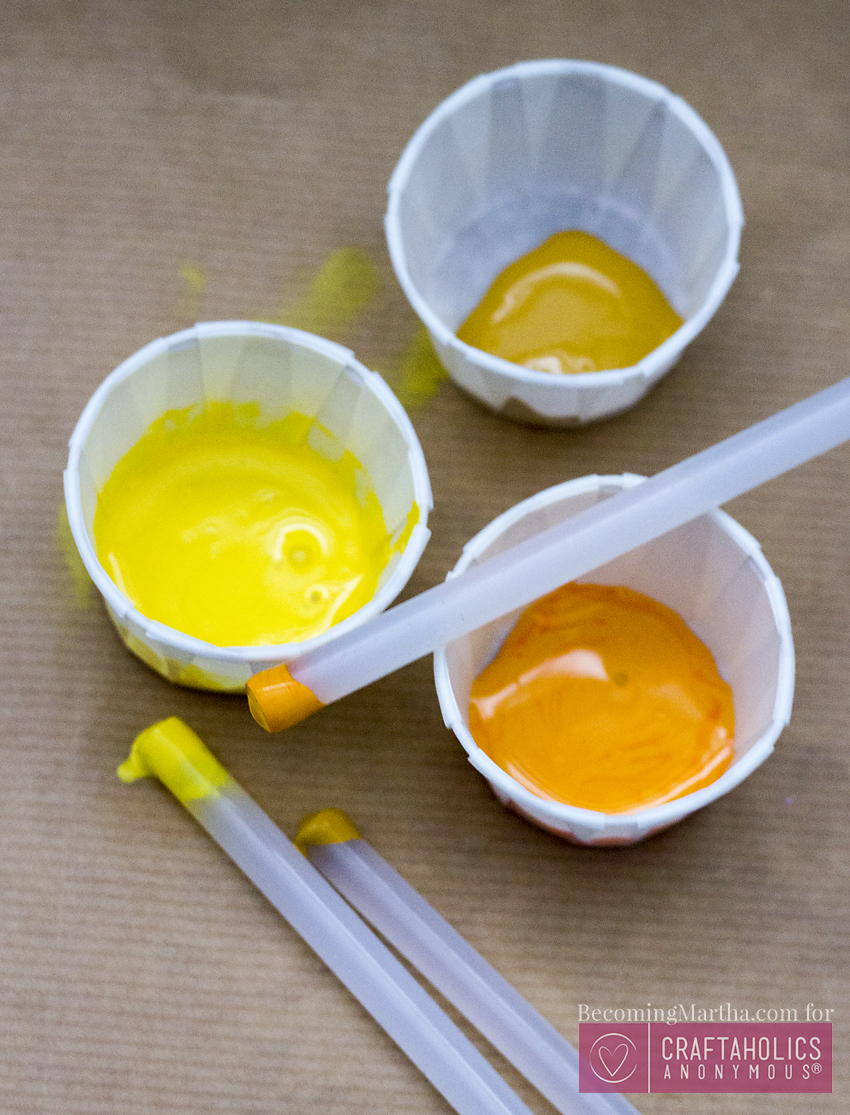 My daughter picked the colors that we used – a canary yellow, bright orange, and a deep gold color. We used one glue stick for each color so that we didn't have to worry about wiping them off when we changed color.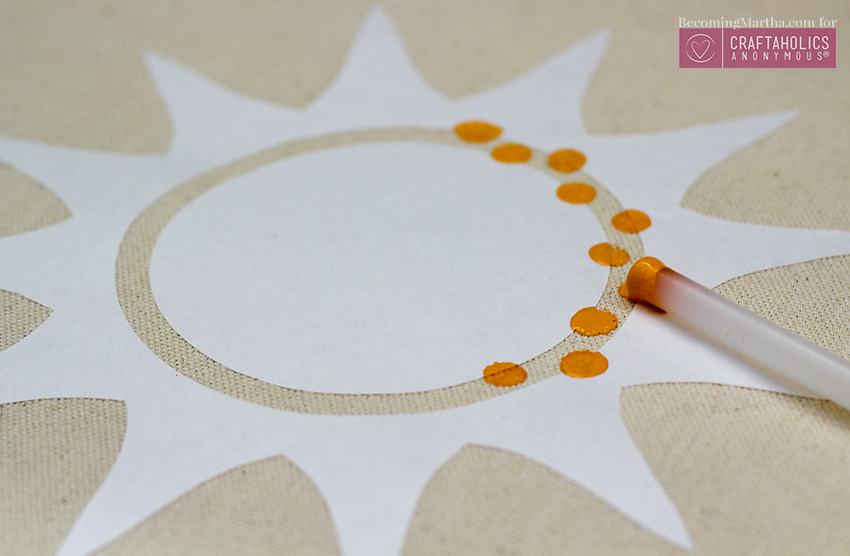 Start with the inside of the sun, and dot around the circle with your first color, staggering the dots.  Overlap them with the freezer paper by different amounts – place one mostly on the paper, one mostly on the bag, one half on-half off, etc.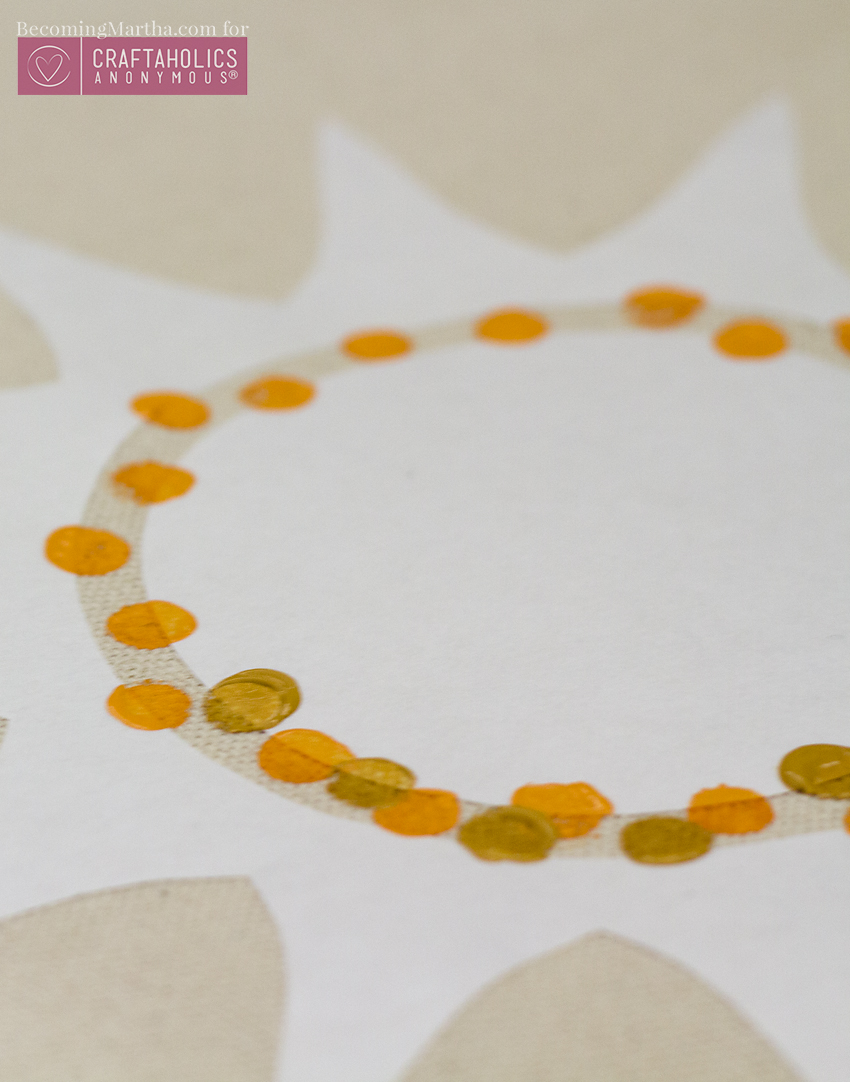 After the whole ring is dotted with one color, go back with the second color.  Then, go around with the third color.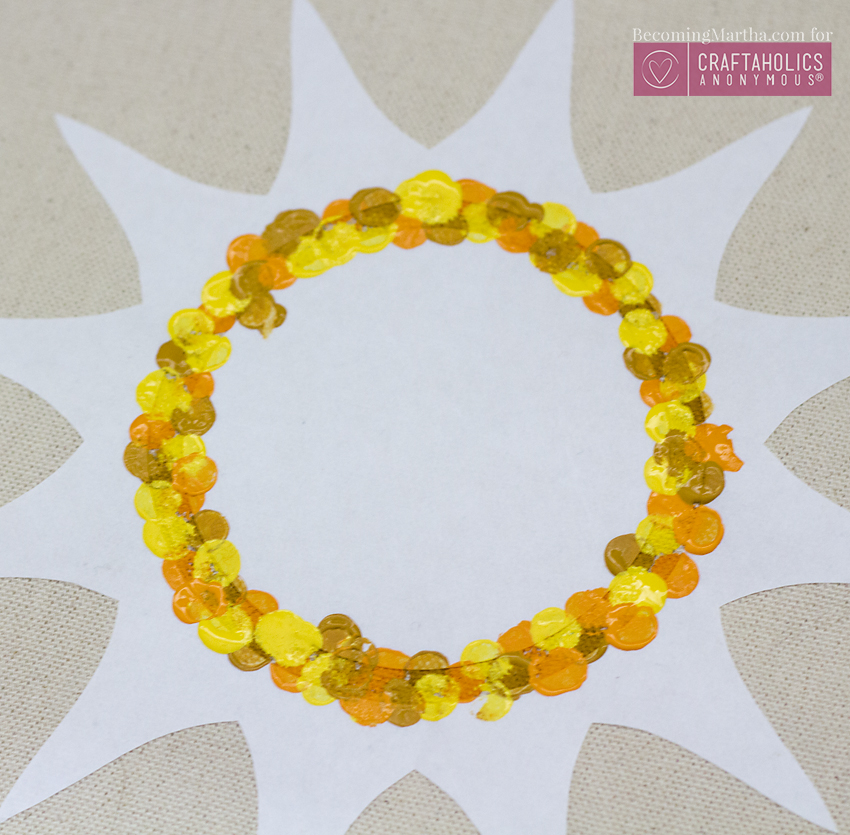 Once all three colors have a full ring, fill in any empty spots as you find them.  Then, repeat the same process on the outside, with the first rounds close to the paper and gradually staggering away from the paper as you go.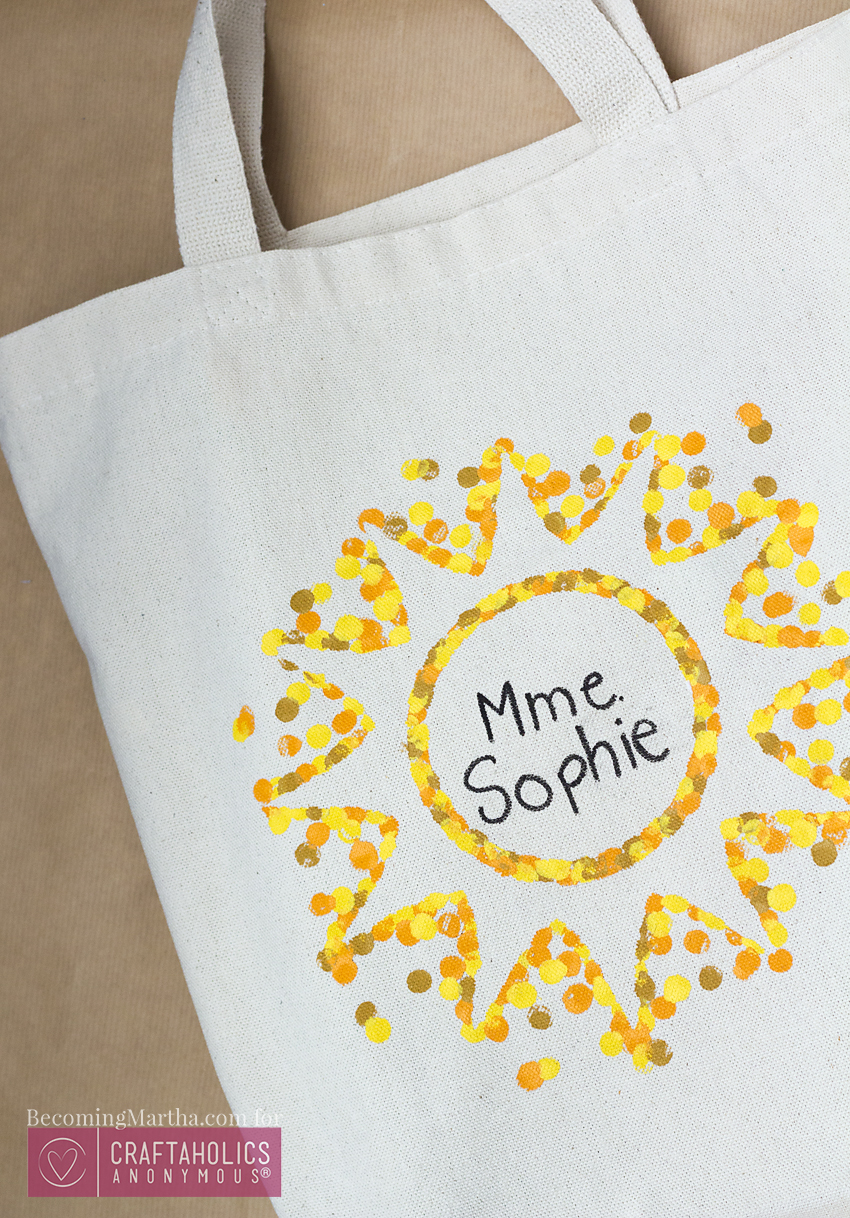 Once the paint is mostly dry, use tweezers to pull the freezer paper off the bag.  It will come off easily, so don't worry! The last step is to have your child write their teachers name in the middle.  You can have them practice first in pencil, and if they print lightly, it is easily erasable in case of mistakes.  Then, just trace over the printing with the fabric marker.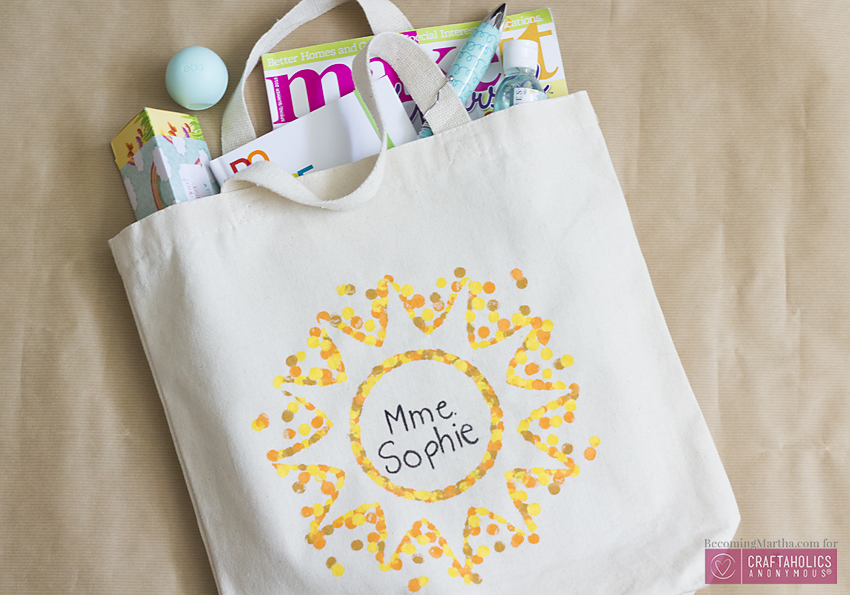 Now you have a beautiful, personalized bag that you can stuff with all of your teachers favorite goodies.  We grabbed a magazine, a huge Toblerone bar (which we wrapped in pretty paper with an attached note), notebook, pen, and pretty eos lip balm.  It's guaranteed to be a gift they will appreciate and use, which I think is the most important thing of all!
Are you a teacher?  What would you like to see stuffed in a goodie bag like this?  Leave a note below so everyone has a lot of ideas to fill a perfect gift bag!

More Teacher Gift Ideas!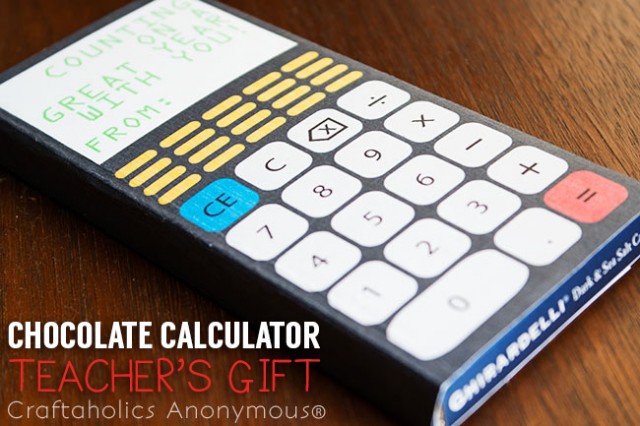 Calculator Chocolate Bar Cover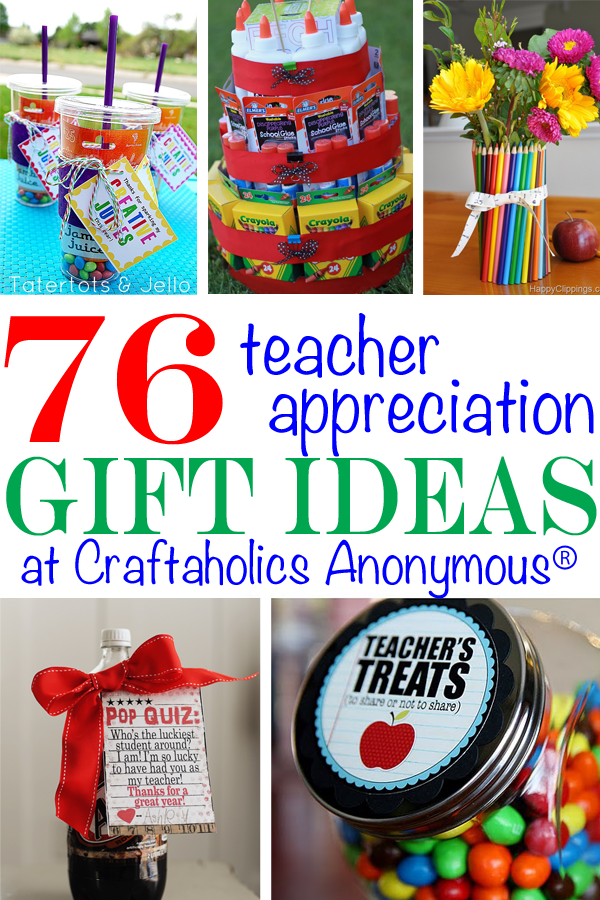 76 Teacher Appreciation Gifts
Latest posts by Sarah Desjardins (see all)