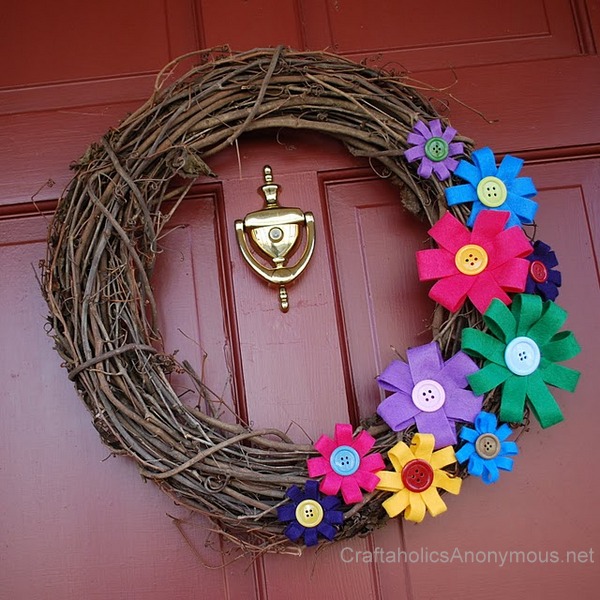 Here's how to make easy spring felt flowers! I put them on a twig wreath for spring, but you can use them for all sorts of spring crafts.
these are super easy and fun to make. and talk about cheap!! only a few pennies to make each flower, can't beat that! all you need to make these beauties is: felt, glue gun, scissors or rotary cutter, and buttons.
  start by folding over one end and gluing in place to create petals. i am doing about 1″ here.
 fold the strip up at an angle and put a dot of glue to hold in place.
make your next petal by folding the felt down. try and keep the petals the same length. but don't stress if they aren't. they'll still look great :)
continue making petals until your felt strip runs out. trim the excess (if there is any) and take your next felt strip and glue the corner to the last petal and finish making petals until circle is complete.
glue the first and last petals together overlapping slightly at the bottom of the petals.
glue a button in the center and you're done! easy as that!
*you can very petal widths and lengths to make different flowers. you can also layer them for a fun effect too.*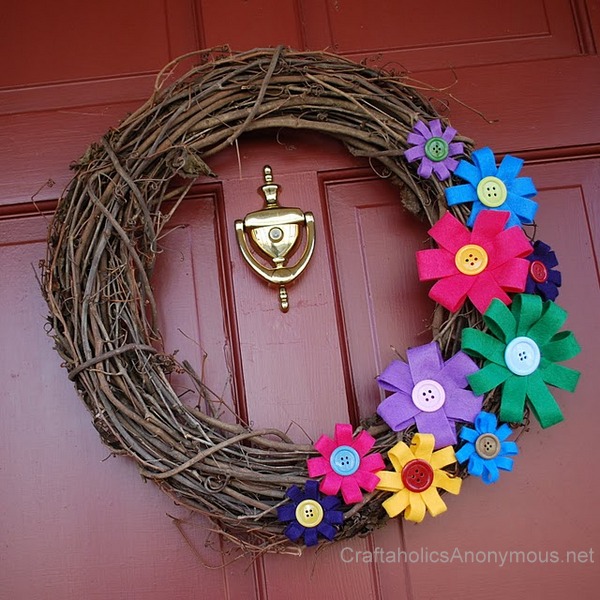 perfect for a spring wreath ;)
Share and Enjoy

Hi! I'm Linda, the craft addict behind Craftaholics Anonymous®, a craft blog. Crafting is cheaper than therapy, right? When I'm not DIYing something, I can be found taxiing around our 4 crazy kids or working out. Or shoe shopping... because you can never have too many shoes! Happy crafting! ♥