Katelyn is here to share her polka dot Ruffled Burlap Christmas Tree Skirt tutorial with us today! This makes a great last minute no-sew Christmas craft. Enjoy! -Linda
Ruffled Burlap Christmas Tree Skirt Tutorial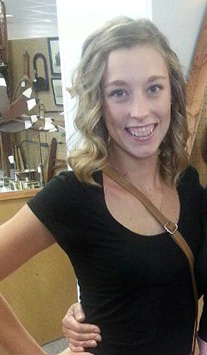 Hi! My name is Katelyn. I am currently a junior in college working on degrees in Early Childhood Education, Elementary Education, and Broad Field Social Science. I grew up in Iowa but I am attending school in Wisconsin. I love crafting, baking, cooking, and spending time with my family and friends during my free time. You can read more about me on my blog.
As a college student, all of my crafting is done on a budget, which is why this tree skirt was thought up! I wanted something elegant, rustic, and sparkly to give the finishing touch to our Christmas tree. Unfortunately, to buy a burlap tree skirt it can cost upwards of $35 dollars. I was able to make this tree skirt for only $15 dollars!
Materials:
Flat bed sheet
4 yards of burlap
Craft paint (optional)
Glue gun
Pins
Ribbon
Mod Podge
How to Make a No-Sew Ruffled Burlap Tree Skirt
Directions:
1. Cut burlap into 7inches wide by 4 yards long strips. (My last strip was smaller width wise because it didn't evenly fit all strips. But I used this smaller one for my last two tiers!)
2. Paint circles on the burlap using the craft paint and sponge brushes. This is optional, but I wanted to add a little sparkle to mine! Make sure you put something under the burlap because the paint will leak through.
3. While the paint is drying, fold the flat bed sheet into a rectangle (In half then in half again). Then from the corner on the folded edge, draw a semi-circle from one folded edge to the other. To do this, I cut a string to 25 inches in length and tied a pencil to on end. I taped the other end to one corner of my sheet and used it like a compass. This will give you a full circle base of 50 inches when the sheet is unfolded. A standard size tree skirt is 48 inches, so this give you a little wiggle room.

4. Don't unfold your sheet yet! In the folded corner, place a cereal bowl to create another semi-circle. Trace around the cereal bowl, then cut it out. This creates the opening for your skirt to go around the tree.
5. Unfold the flat bed sheet. You have just made the base of your tree skirt! To finish up the base, cut a straight line from an outside point of your skirt to the middle.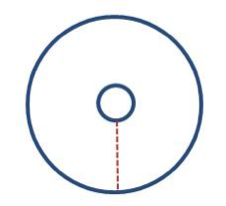 6. Now it's time to ruffle all of that burlap! To do this, just fold, pleat, and pin every three to four inches or so at the top of the burlap. For the last two rows of burlap (the closest to the center) I made the ruffles closer together.

7. Time to assemble! Start at the bottom, and make your way to the center. Line your first strip of burlap at one side of your straight cut on your base. Let the first strip hang over the edge by about 2 inches. You can pin your burlap to the sheet as you go to keep it secure. I overlapped each new tier of burlap over that last by about 2-3 inches to cover the pleats and where I glued it to the sheet. In some rows, my burlap strips weren't long enough to go all the way around the skirt. To fix this, I simply started a new strip by overlapping the edges by 2 inches and kept going until I reached the other side of the opening. I can't really tell where I did this at once I put it around the tree!
8. One all of the strips are placed, get the glue gun out and glue out! Glue the burlap to the base at each side of the opening, every pleat and halfway between each pleat. Glue only at the top of each strip of burlap!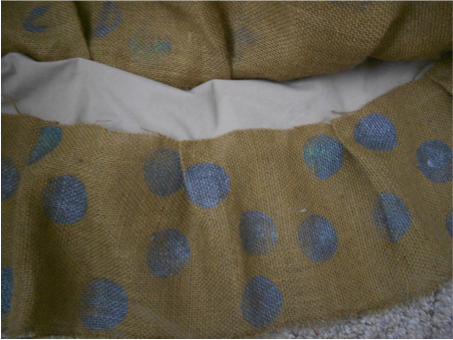 9. Next, glue strips of ribbon on each side of the opening to tie the skirt shut.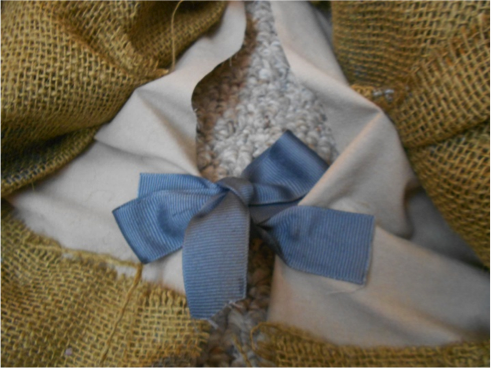 10. Next cut a strip of ribbon big enough to go around the inside of the center circle. Hot glue half of the ribbon on the top side of the skirt. Then fold it over and hot glue to the back of the skirt.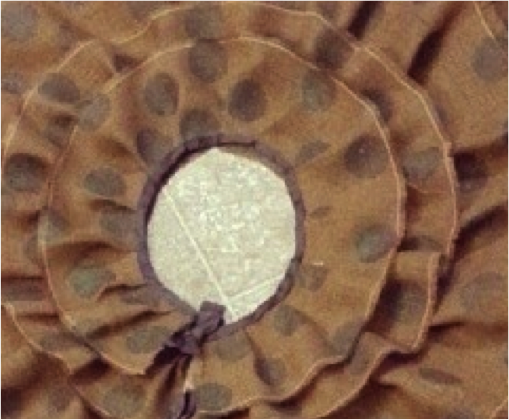 11. To finish, apply Mod Podge to any open edges of the burlap to prevent fraying.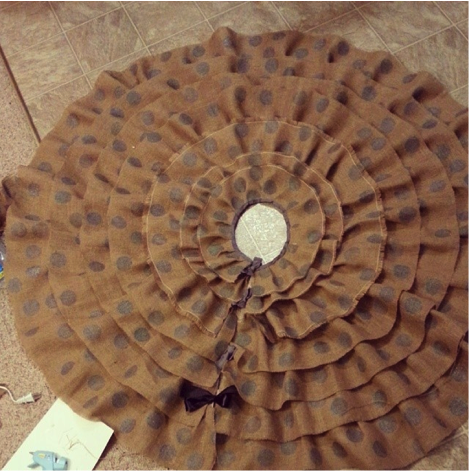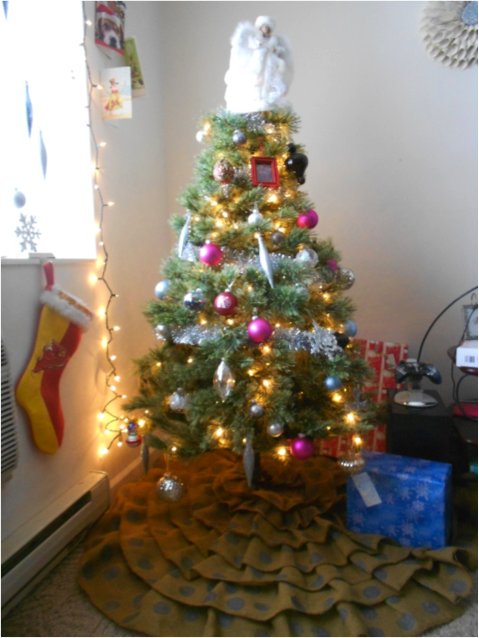 Thanks for sharing your Ruffled Burlap Christmas Tree skirt with us today, Katelyn! You can find her over at Sweet Potato Pie blog.
New here? Welcome welcome! I recommend following along to get inspiration for your every day crafting adventures!
Latest posts by Craftaholics Anonymous (see all)