Hey there! I'm Alexis and I blog over at Persia Lou. I am really excited to share my newly claimed craft space with you all today. Welcome! Come on in!
Multi-Purpose Craft Room
It is SO exciting to finally have a space to organize and store my craft supply hoard. When we first moved into our home nearly five years ago, we set up our small loft as a library/office space. We added bookcases to one wall, a desk, and a couch that no one ever – EVER – sat on. Meanwhile, I stored my craft supplies in random cupboards, corners, and hidey-holes all over the house, which meant it usually took me at least half an hour to collect the things I needed for any project. Boo.
Well, not anymore! Goodbye, couch no one ever sat on! Hello, craft storage!
Since we really don't have a bit enough house for me to claim this room only for crafting, it actually serves several functions: craft room, office, library, and kids' space. Come on in, and let me show you around.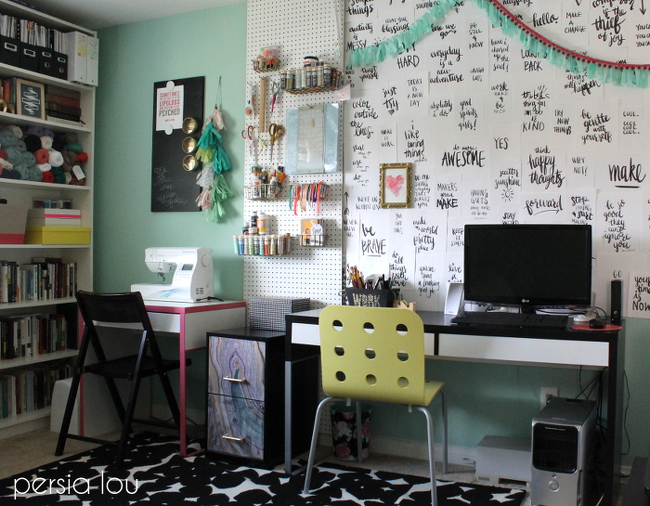 The right side of the room is my main work area – the desk and computer, sewing table, filing cabinet, and pegboard wall storage. Our two giant printers and my Silhouette live next to the half wall to the right.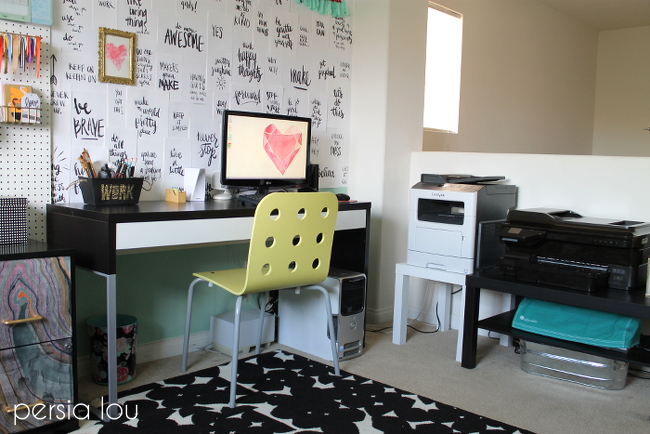 Probably my favorite part of the whole room is the quote wallpaper I created for the wall in front of the desk.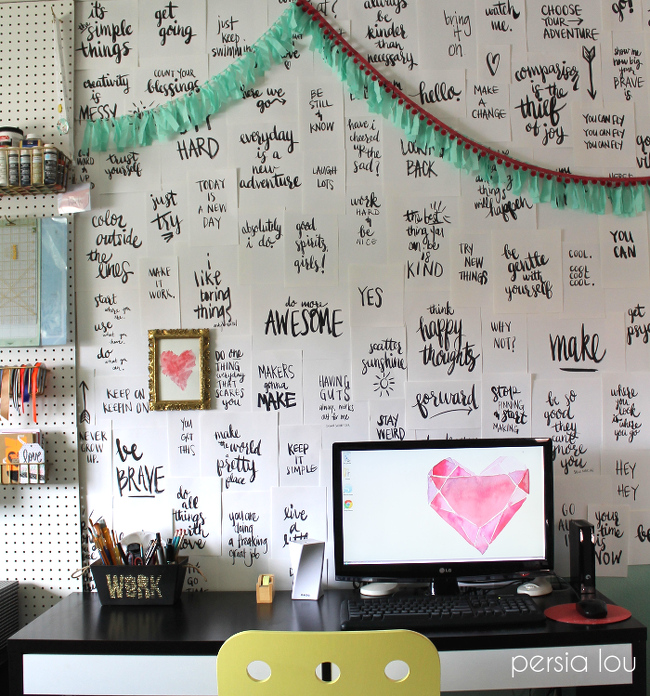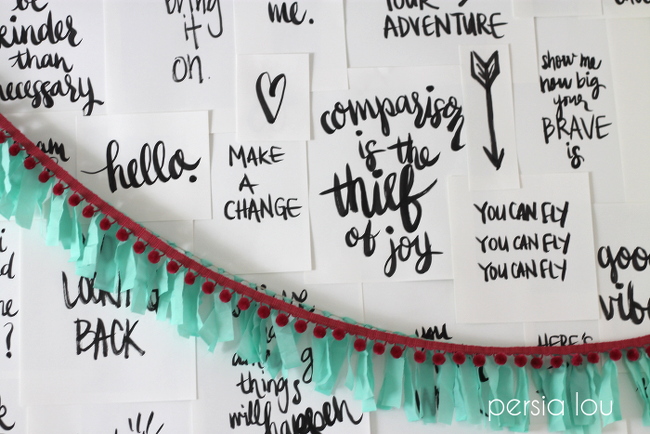 It kind of borders on insanity to cover your wall in little pieces of paper, but call me crazy – I love it. To create the wallpaper, I just wrote favorite words and sayings on white cardstock, and then taped them to completely cover the wall. It took a bit of time, but it gave me a good opportunity to work on my lettering.
I have all of my most frequently used brushes, pens, and pencils stored in a little tote on the desk.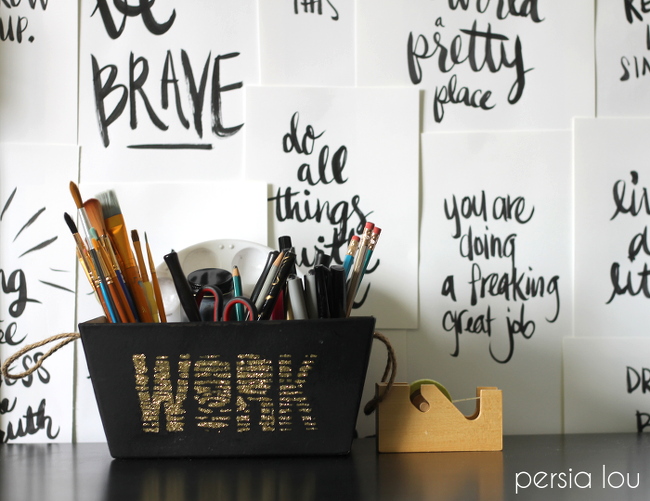 Moving down the wall, I have my pegboard wall storage and pretty marble paper filing cabinet.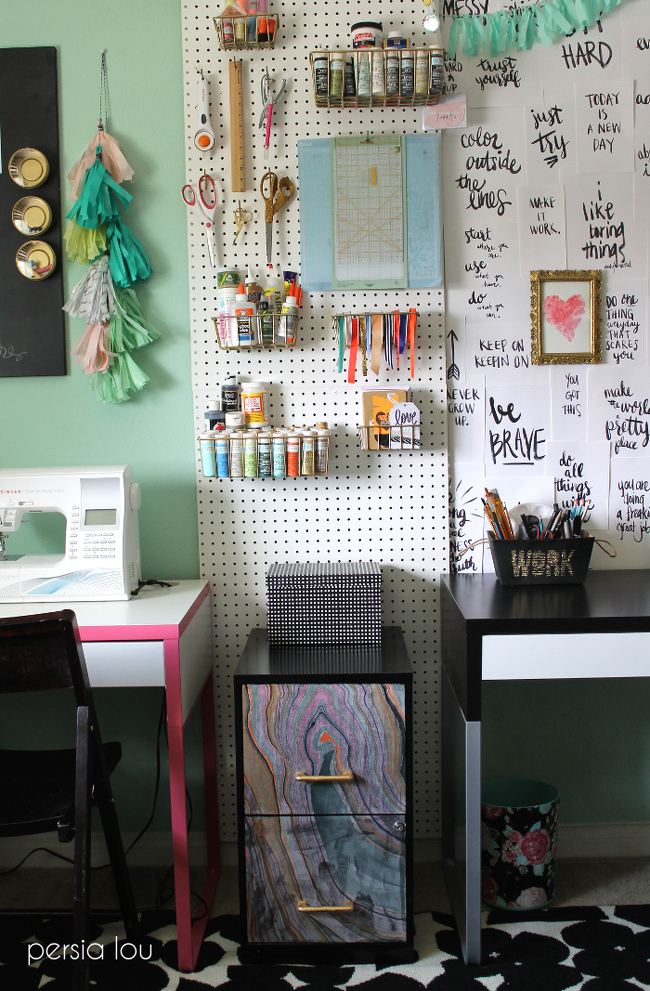 I spray painted the pegboard baskets and hooks gold to make them feel a little more special. (There was a lot of gold spray paint used in the making of this space).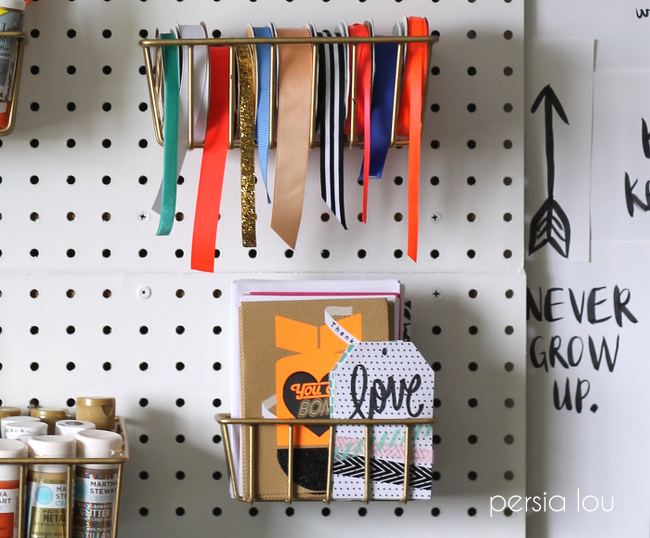 My favorite things on my pegboard are my ribbon basket and the basket holding notecards and gift tags. It's so nice to know right where they are when I am wrapping up a gift last minute!
Next, is my sewing table. I have never had an actual sewing table before and it is kind of awesome. Hanging above the sewing table is a Ikea magnet board I painted with chalkboard paint.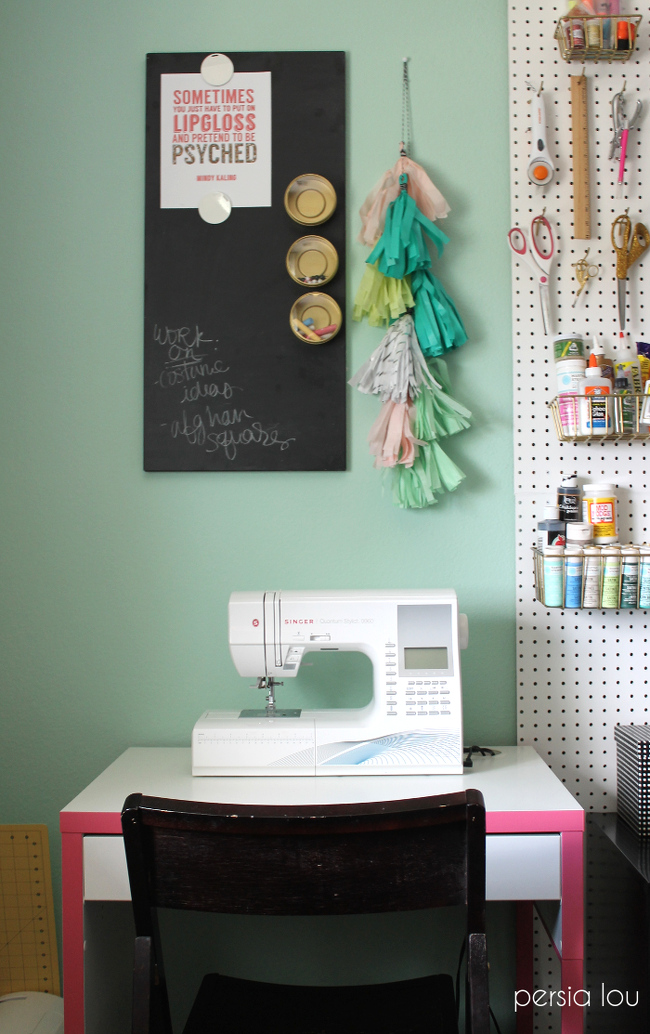 I cleared off space on four of the shelves that hold our book collection to make space for craft supplies. Being able to see all of my pretty yarn makes me so happy and gets my fingers itching to crochet.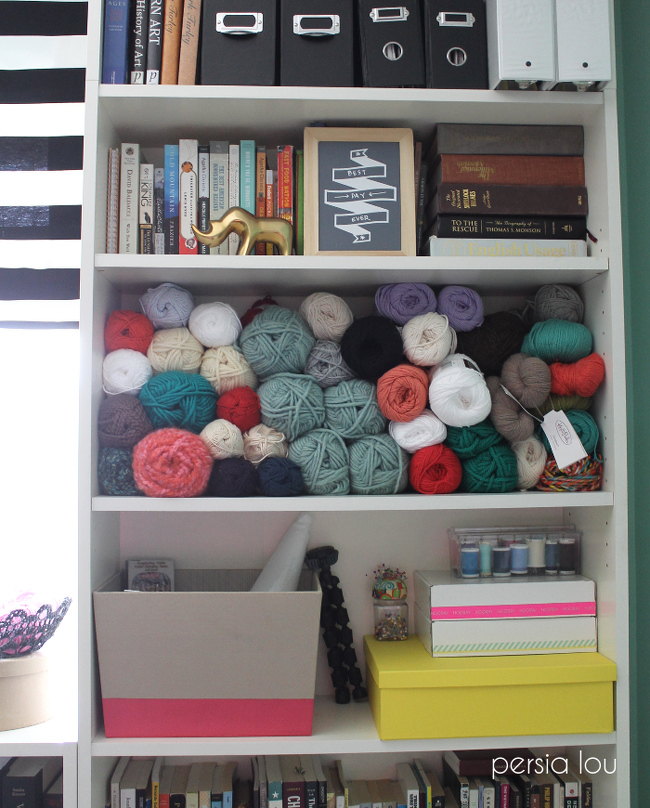 On the other side of the room there is more craft supply storage and an area for my kids to work on their projects while I am working on mine.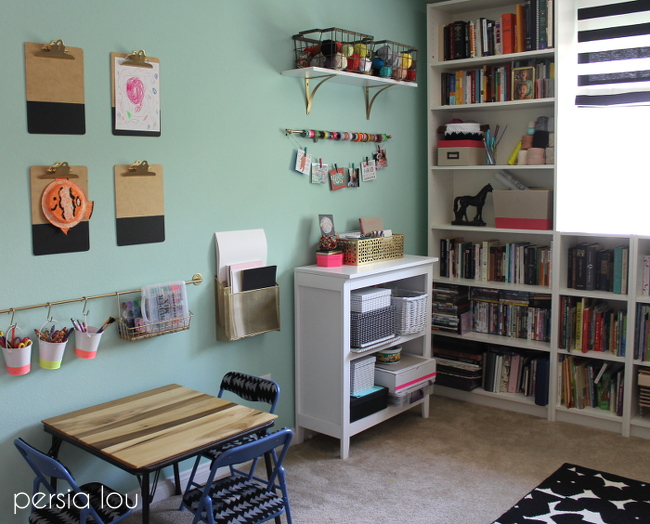 The bookshelf holds boxes and baskets of supplies – scrapbook paper, more ribbon, and kids' are supplies – and above that I have more yarn storage and a little cheap curtain rod to hold my washi tape.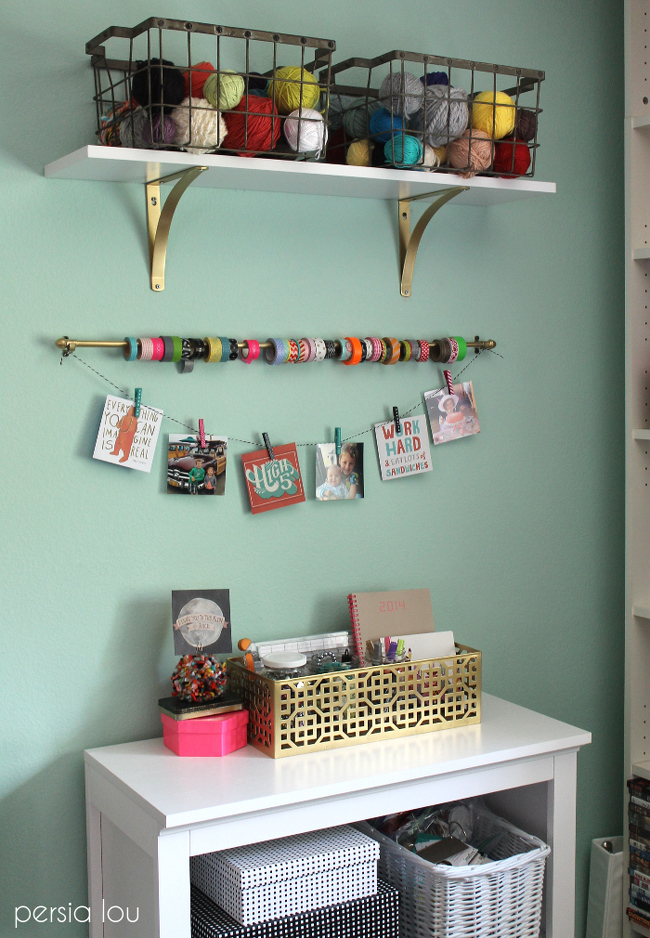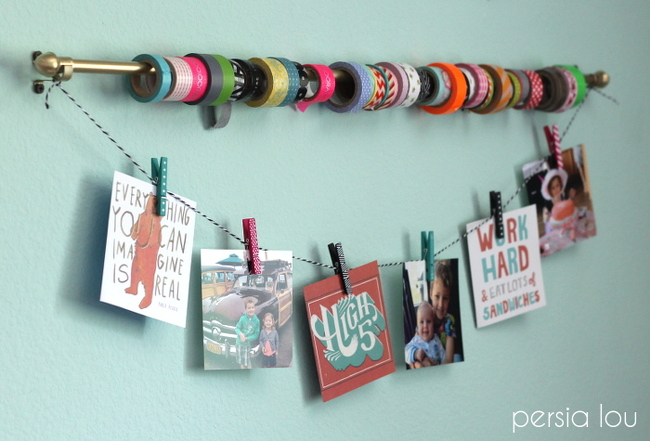 The kids' art space is made up of a table I refinished, supplies hung from an Ikea rod (spray painted gold, of course), paper wall storage, and clipboards for displaying the latest masterpieces.
And that's it! I am so happy with this space, and I hope you liked it too! Thanks so much for taking a look around!
Thanks for sharing your gorgeous space, Alexis! I'm in love with all the colors and the pretty decorations. So  many awesome craft room storage ideas! Congrats and enjoy your new creative space :) Go follow Alexis at Persia Lou! -Linda