Hi again, friends!
I can't believe I'm sharing these marbled clay pendants for May already!  How did we end up so far into 2016 already?!  I'm pretty sure it was just Christmas (and to be honest, I still have a small pile of Christmas items in the corner of my living room still waiting to be taken out to the garage!)
Either way, here we are in May, and I've been busy thinking of projects to give my kids to do on those summer days where it's raining or simply too hot to be outside.  These marbled clay pendants are a perfect project for your teens and tweens to do, since they can handle the majority of the project themselves.  Depending on their age, you may have to put them in the oven, but everything else can be easily done by the kids.
DIY Marbled Clay Pendants
The supply list for this project is pretty short.  You'll need: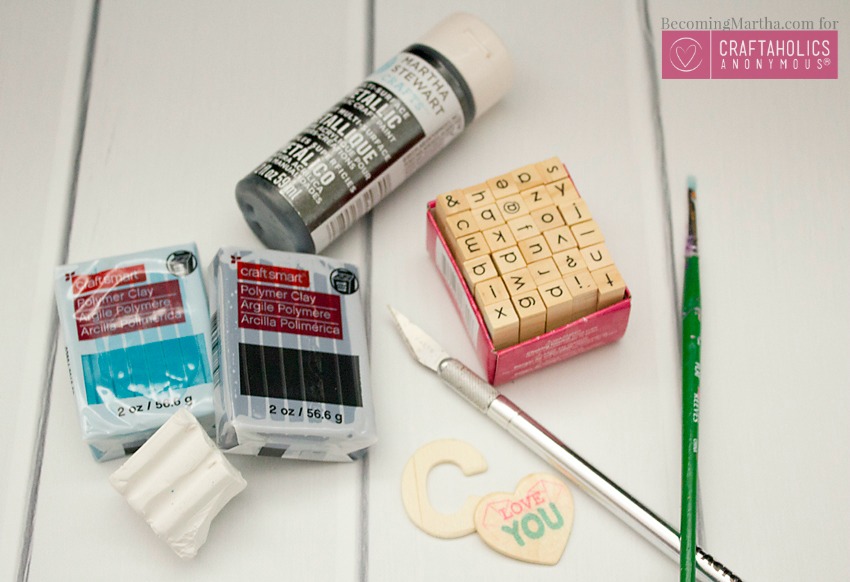 oven bake clay in 3-4 colors
a cookie cutter or shape to use as a template and a craft knife
acrylic paint
jump rings
necklace chain or cording
stamps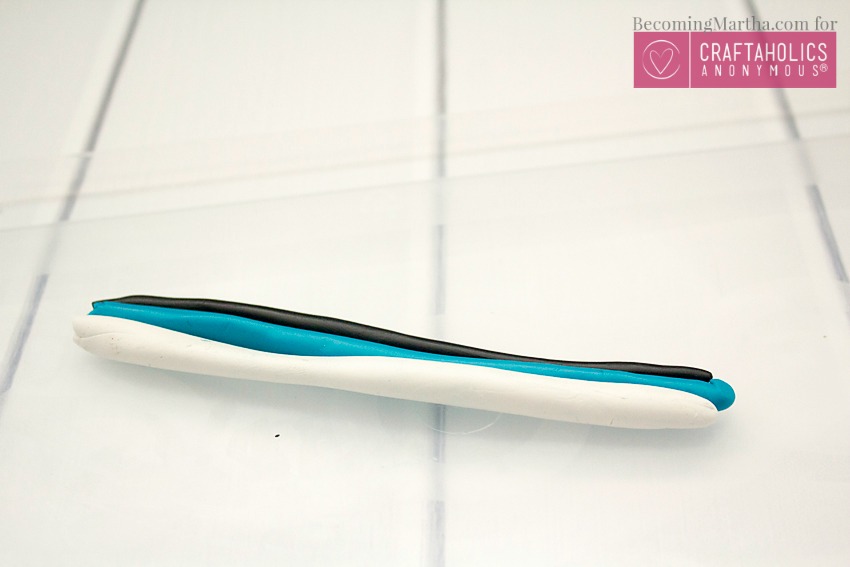 To start, work a small piece of clay until soft.  Pick one color to be the dominant color of your design – for mine, I used white.  I rolled a piece to about 6 inches long, and then worked the next color.  I used half as much blue as I used white, and rolled it to the same length.  Lastly, I took half as much black as I did blue, and rolled it out, again to the same length, and stacked the three ropes together.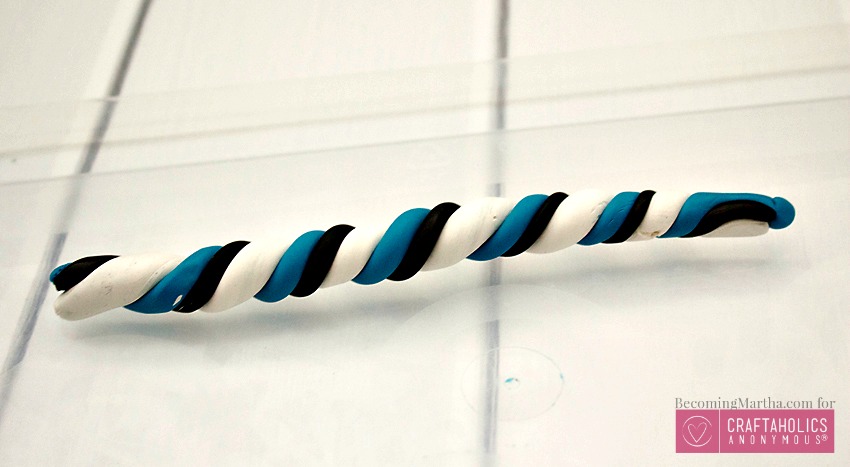 Twist the three strands around and around, and then roll across your work surface until the snake gets about 11-12 inches long and looks like one strand instead of three.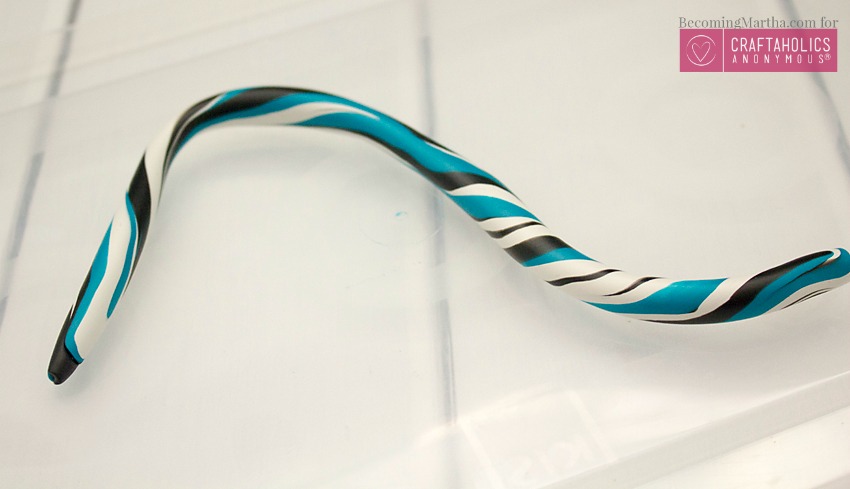 Then, fold in half, twist around itself again, and roll to combine the two strands.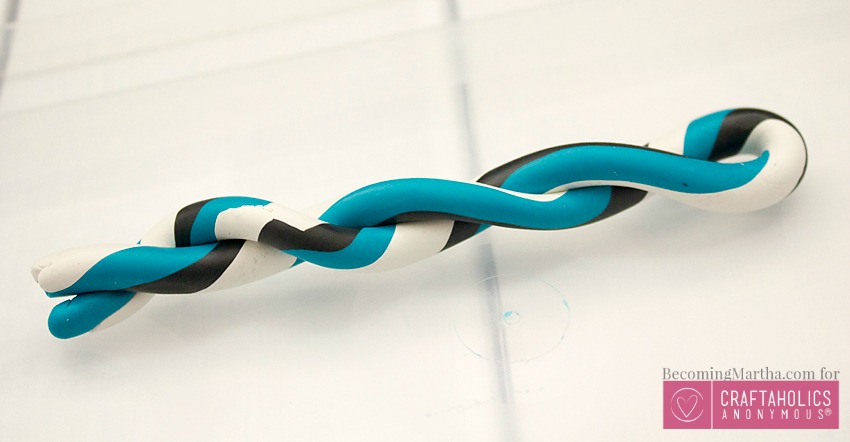 When it gets long again, fold in half and twist it around itself before rolling out again.  Repeat this process several times (3 is usually good, but go again if you want more marbelling).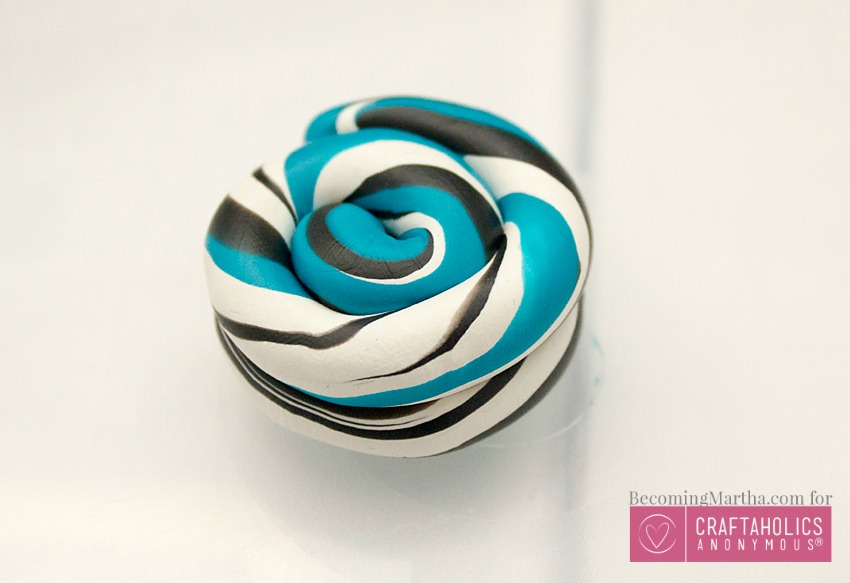 Once done, roll the strand up, and use a glass jar or a roller to flatten and thin the clay out to about 1/4″. (Tip: I was rolling with my paint bottle, however the label started peeling, leaving little specks of paper in my clay.  So definitely use something without a label.)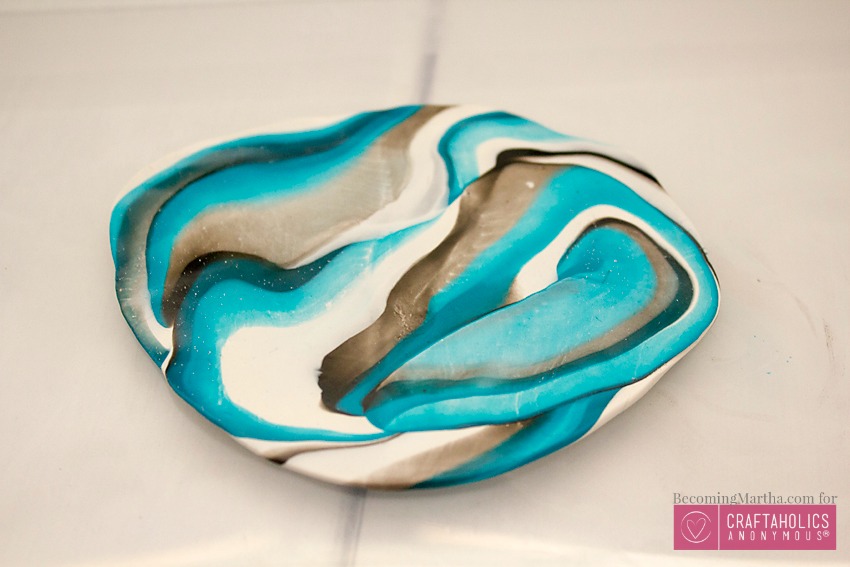 Next, place your template or cookie cutter on the clay, and cut it out using the craft knife or cutter.  We used this wooden heart embellishment, a mini bone shaped cookie cutter, and an icing tip to create our shapes.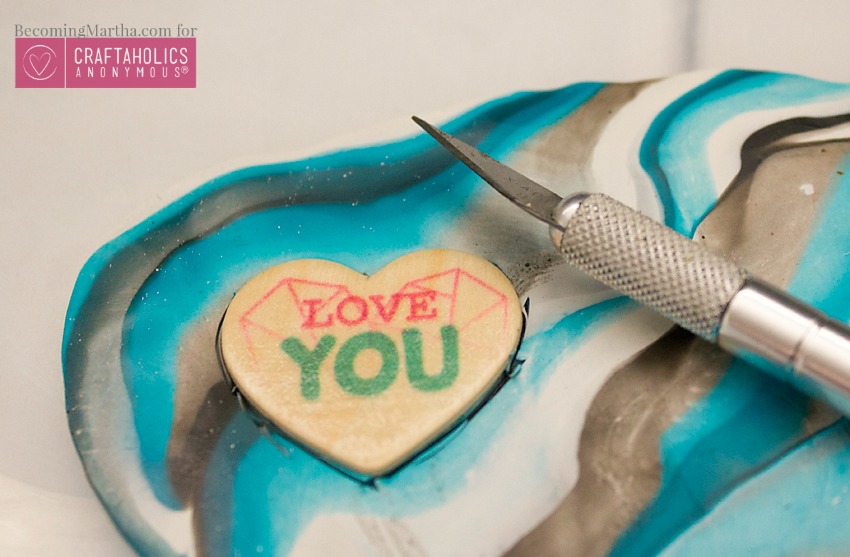 Poke a hole in the top to place a jump ring through once it bakes. Use the stamps to add any text – we cut the heart in half to create a BFF charm, and my daughter also decided to make pet tags for her little sisters stuffies, so she stamped the names on those as well.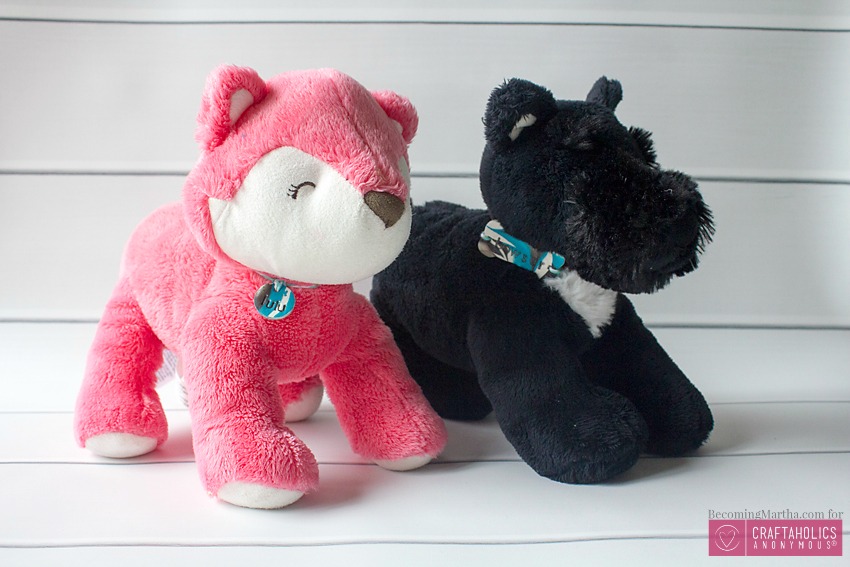 Bake the charms according to the package directions.  Mine was 15 minutes at 275 degrees for 1/4″ thickness.  I burnt my first batch, and I realized my oven rack was too low.  I placed my second on the highest rack position, and they turned out perfect.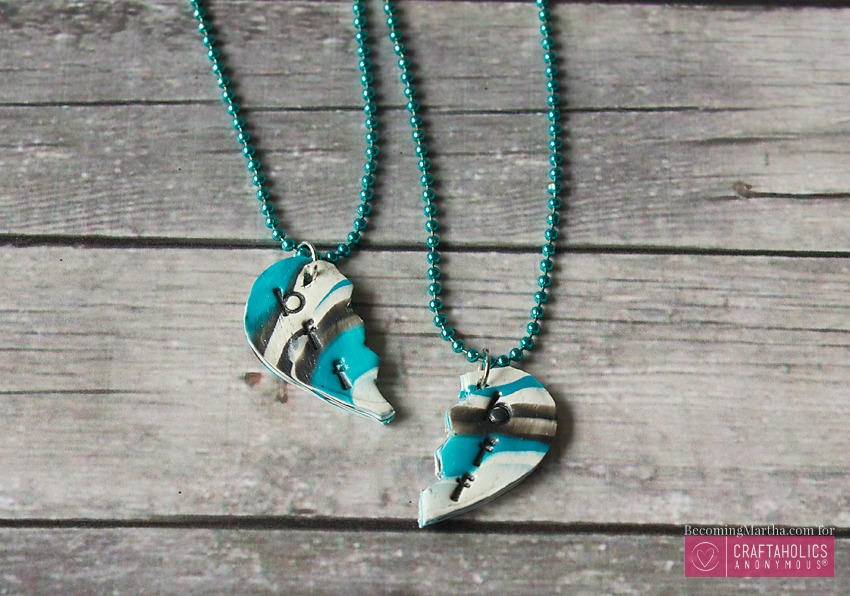 Once done, let cool, and if you stamped text, paint the recesses of each letter.  To do this, dab a pretty dry brush all over the stamped area, and wipe off with a paper towel.  The paint will stay in the recessed areas, and wipe clean off the rest of the baked clay.
Put the jump ring through the hole you poked, and string it onto your necklace chain or cord.  You ocan also just string it right onto the cording like my daughter did on the pet tags.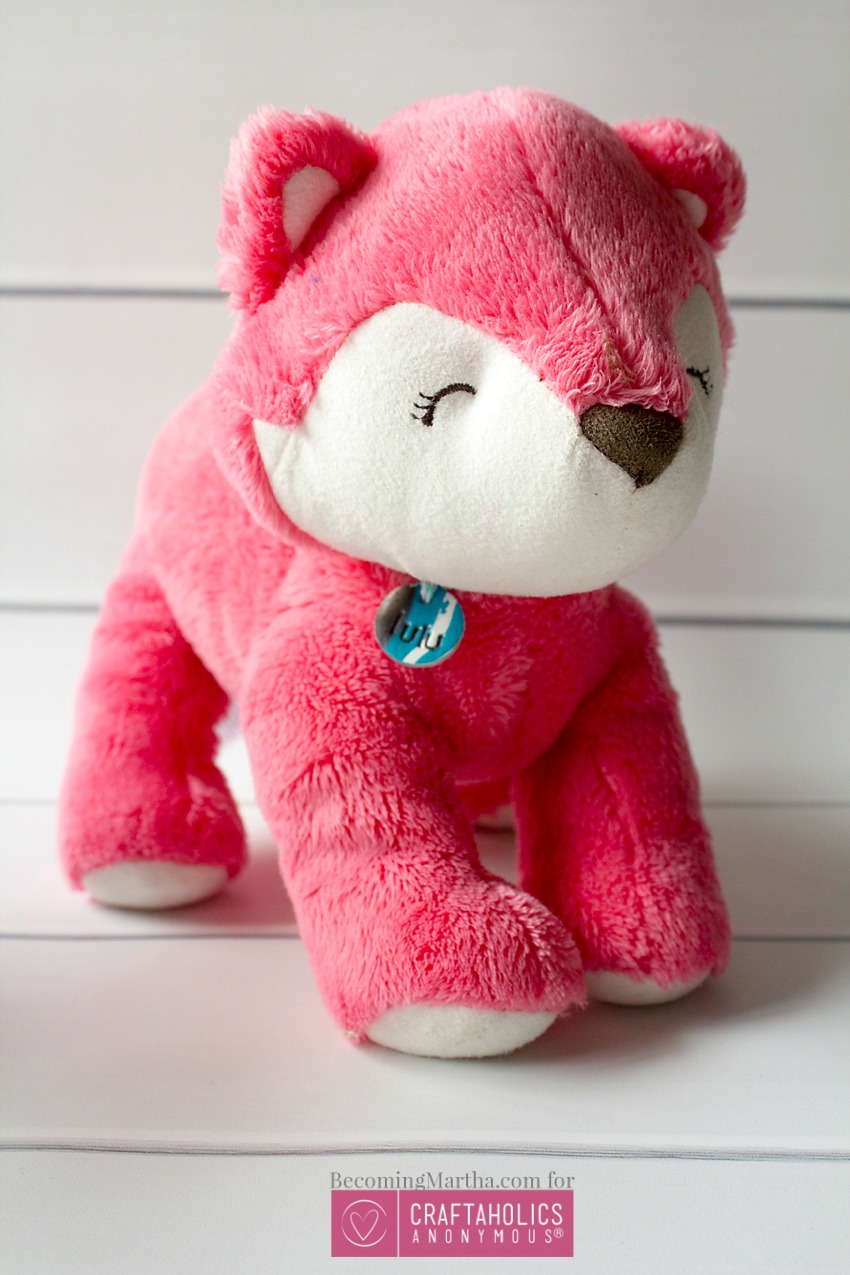 And there you have it – a super cute BFF charm, or monogram charm, or whatever your heart desires!  You could also roll small balls and poke a hole all the way through to create beads – which I will be sharing later this month over on my own blog, Becoming Martha.  The options are limitless, which I really look for when suggesting creative projects to my tween.  She loves having the option to make it her own, which this open ended craft allows.
I hope you enjoyed this post and I'll see you again next month fellow craftaholics!  In the meantime, feel free to keep up with my crafty endeavors over on Instagram – hope to see you there!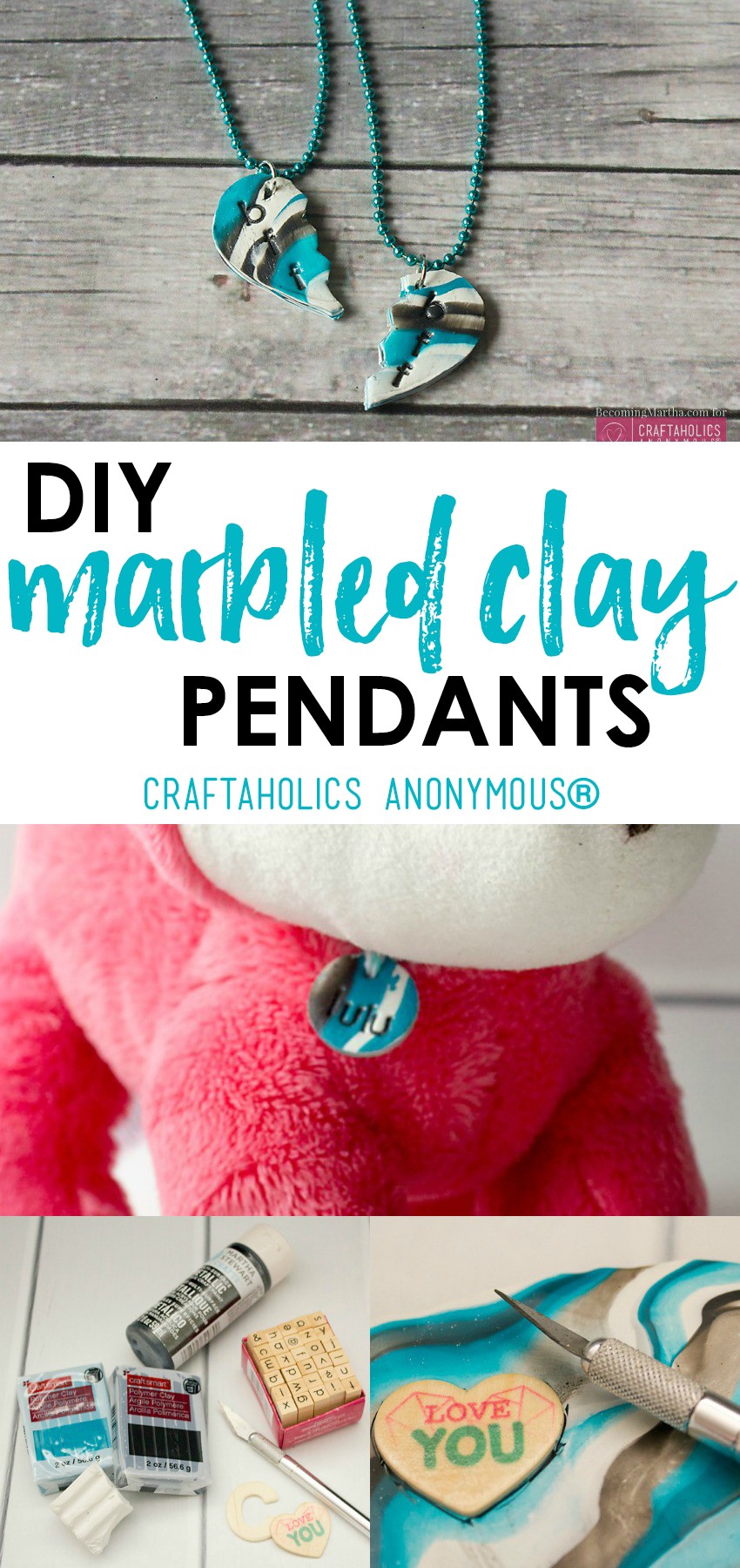 More jewelry tutorials: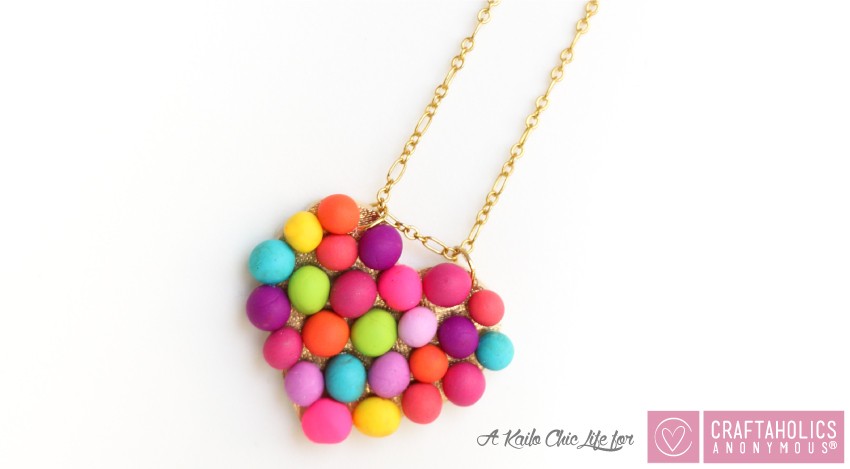 Clay Pom Pom Heart Pendant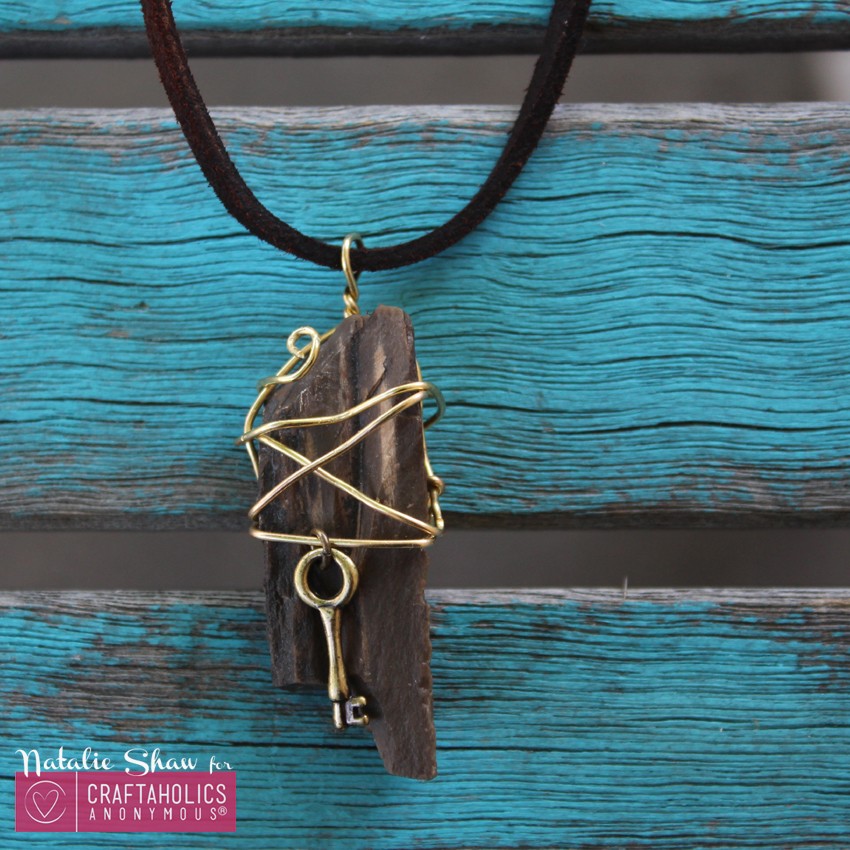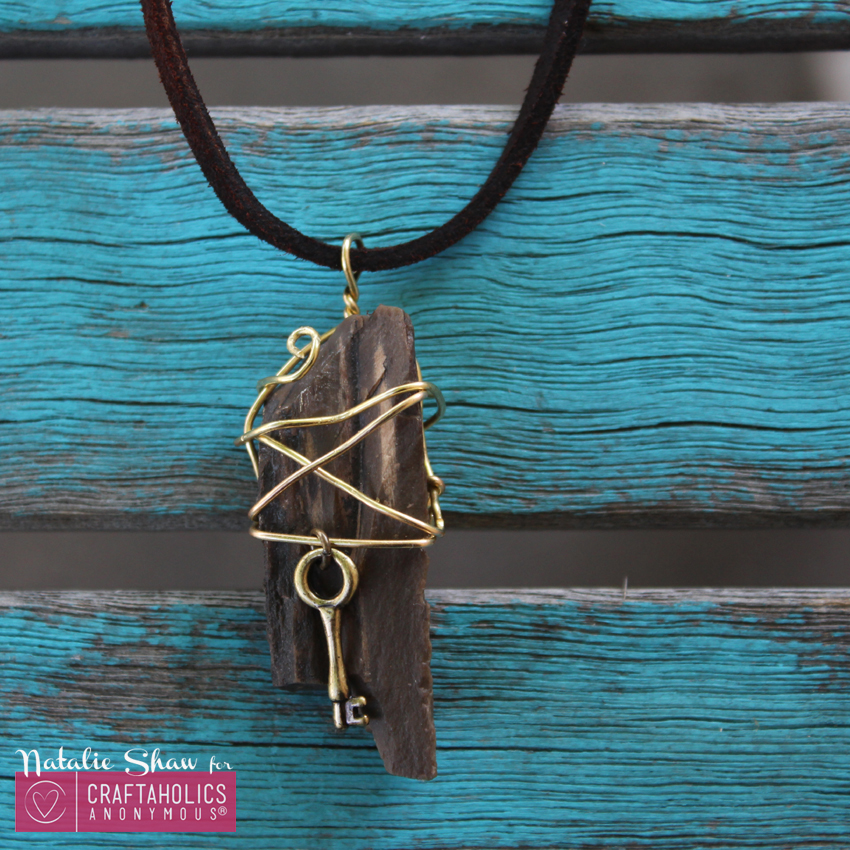 Wire Wrapped Pendant Neckalce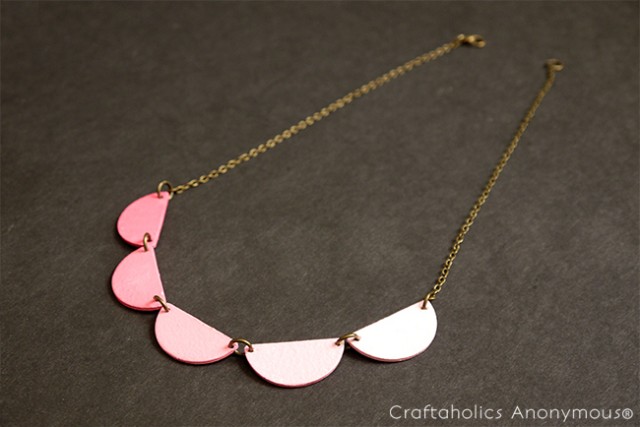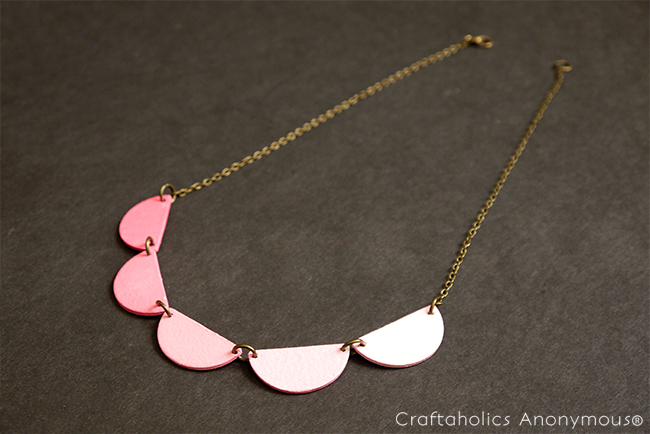 Ombre Scallop Necklace
Latest posts by Sarah Desjardins (see all)