Are you ready to learn how to distress furniture? Jenn, Creative Team, is here for Part 2 of her 'How to Paint Furniture' series! She is going to show us her awesome distressing furniture technique. Enjoy! -Linda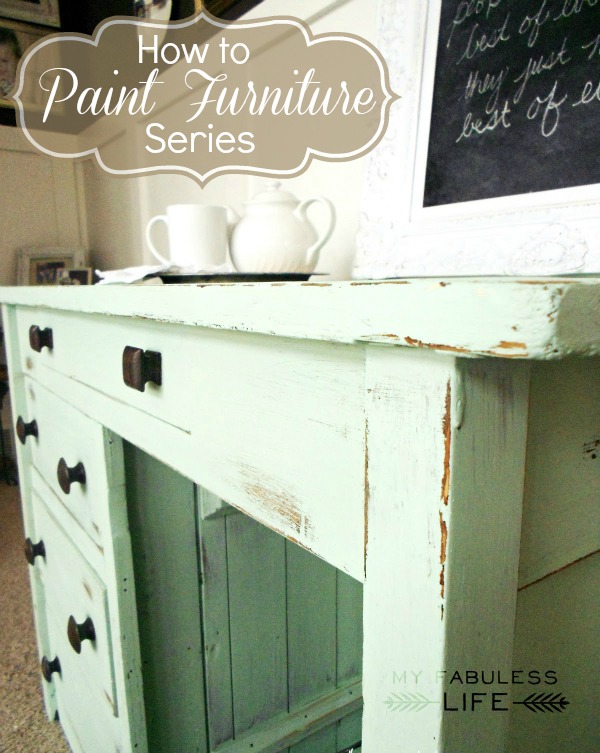 In Part 1 we talked about sanding, priming, and how to paint a smooth, undistressed finished.  Today I'm going to show you one of my favorite methods for painting and distressing furniture to give it that perfect aged look.
Distressing Furniture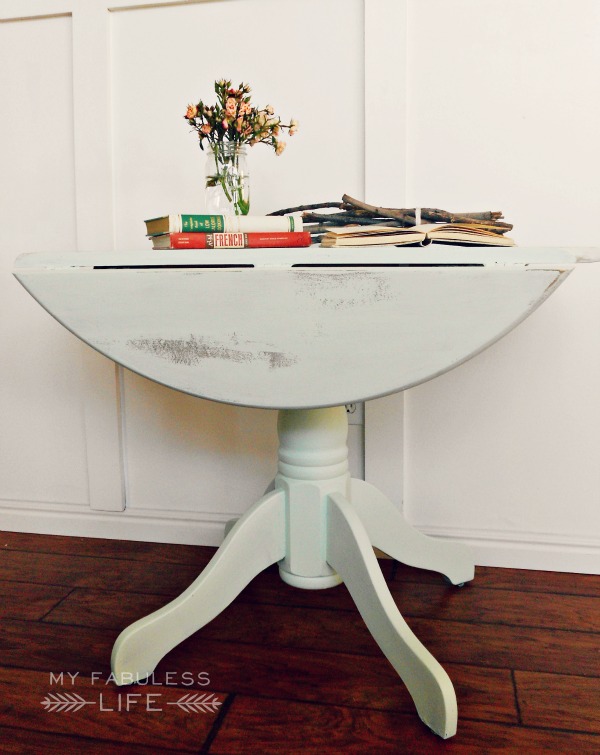 I want to start by going back to prep though and touch on something we didn't the last time: stripping furniture.  A common mistake I think a lot of people make in painting furniture is thinking that you can just paint over the old paint, the sand through the new layer of paint, and the old layers of paint in the places you want distressed and get the same look.  I wish, but not so much.  If you just want to distress edges and corners, you'd be just fine to paint over the old paint, but if you want the "all-over distress," you have to do a little work and get back to the bare wood, which is where stripping comes in.  Bottom line: you're not going to get the paint-on-wood look unless you paint over the bare wood.  Something else to note: the color of the wood does not change when you paint over it, so you can't paint over a piece of cherry wood and expect to get that dark looking finish.  If you want the dark finish, you'll have to restain the wood before you paint.
This table started out black, with white primer underneath, which by the way, if you're going to paint with dark paint, it's best to use a tinted primer.  Because there was so much paint, it would have taken just short of FOREVER to sand all of the paint off.  Enter: paint stripper.  Essentially, sanding roughs up a piece so paint will stick and stripper gets rid of it so you can start from square one.  Stripper is as simple as spreading it on (I like Citristrip or Jasco), letting it dry until the paint starts to bubble or flake, and then scraping it off and repeating if necessary (the directions are on the back of the bottle).  If you're not stripping a flat surface, you can use a stiff bristled brush to scrape off the paint from crevices.  On this particular table, I didn't sand the bottom at all since I knew I wasn't going to be distressing it as much as the top, and the paint, which we'll talk about in a minute, works great without sanding.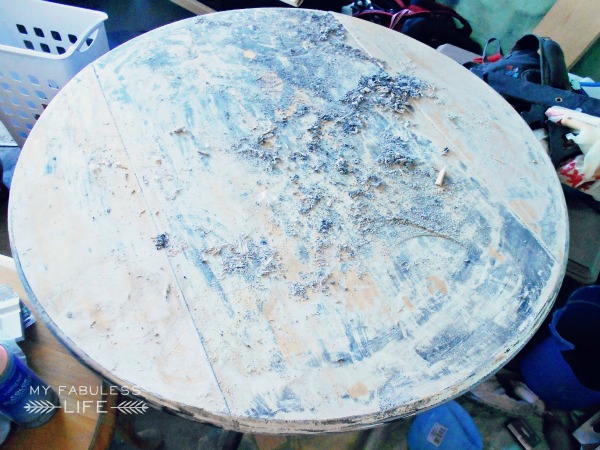 Once it's stripped, do any necessary sanding to get the rest of the paint off.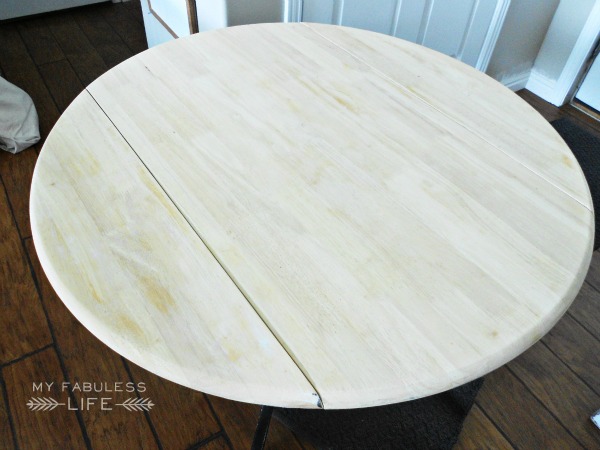 Next comes staining.  I used to be afraid of staining, but it's really the easiest, most fool-proof thing in the world.  Dip a rag in the stain and just rub it on in circles.  Let it sit for a bit and then wipe it off with a dry rag in the direction of the grain. (This picture is before wiping off the excess.)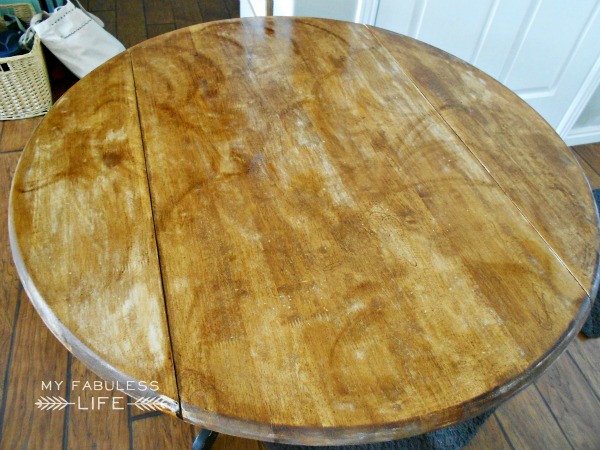 Let the stain dry for at least a few hours (overnight is best) and then let's get onto the fun part: paint!
My favorite paint finishes for furniture are flat or satin.  If I'm distressing furniture, I always mix my paint with tile grout. 1 cup paint to 2 Tbsp unsanded tile grout.  It creates a super thick paint that gives amazing coverage with no sanding, no priming, it distresses beautifully, but once it cures is almost indestructible.  In fact, I used it on a desk for my daughter well over a year ago and it's still going strong, which is quite the feat with a three year old.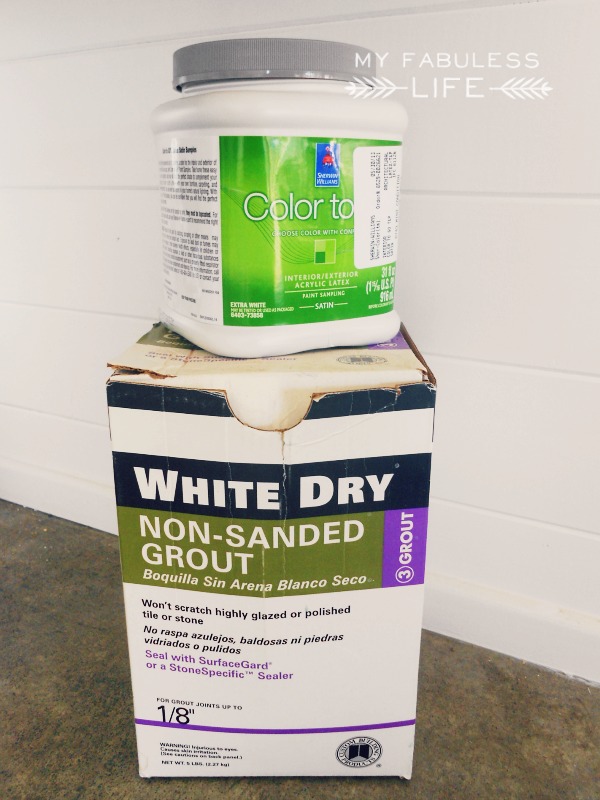 Mix the grout WELL into the paint until you get a thick, milkshake consistency.  If the paint starts to harden up and get too thick, you can stir in a little water.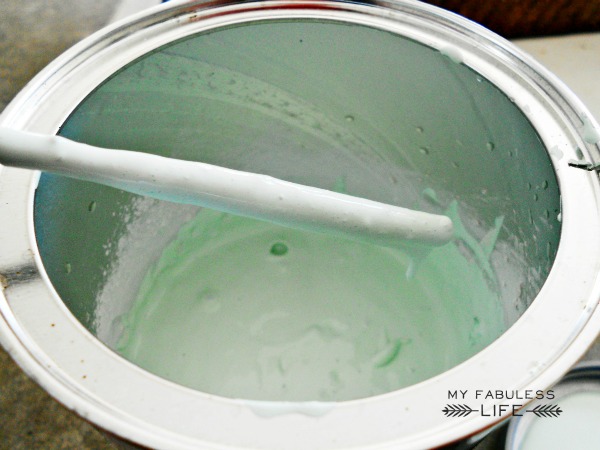 Get just a small amount of paint on the end of the brush and paint in long strokes.  It should feel a bit like dry-brushing, and there will be places where the paint doesn't adhere to the wood and I leave those parts, because that gives the distressed finish in the end.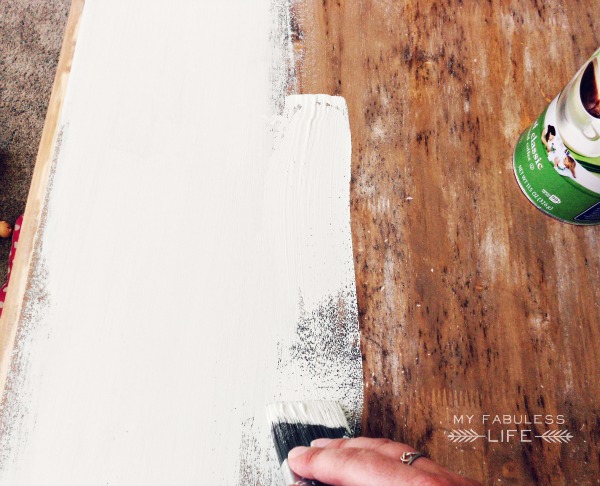 It's really a matter of how much distressing you want.  As you paint over the surface, paint more or less on to get the look you want.  Just be aware of thick brush strokes.  Most of the brush strokes will correct themselves with this paint, but if you have a spot that's particularly thick, brush over it and even it out.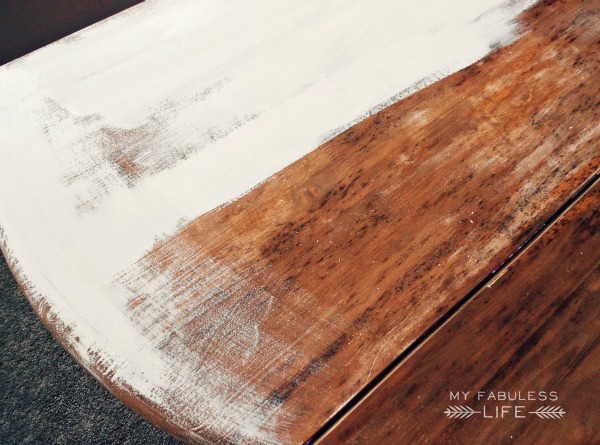 If you're wanting more coverage, like I did on the bottom of this table, paint several in thin coats, letting each one dry before adding another, until you get the finish you want.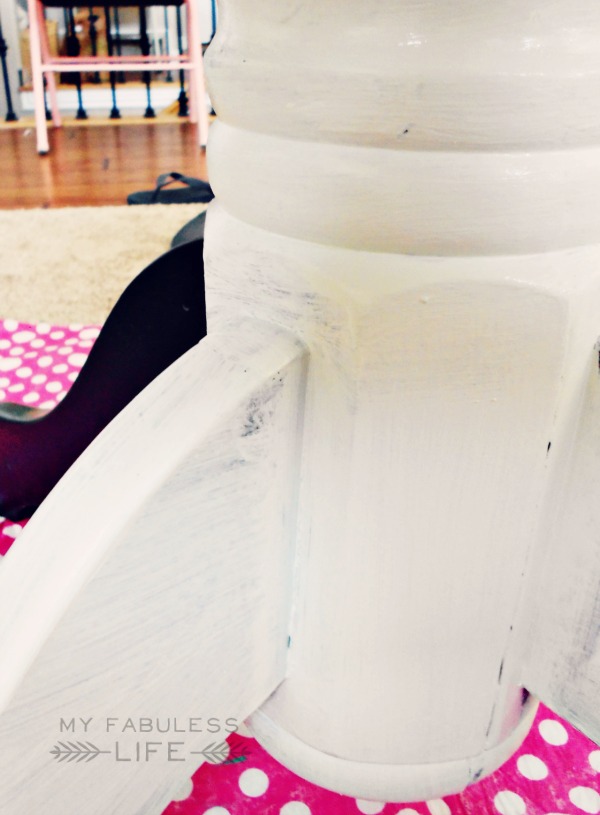 To add more distressing on the edges, just sand with a fine grit sandpaper. Fine grit is important because more coarse sandpaper will leave scratches and it won't look natural.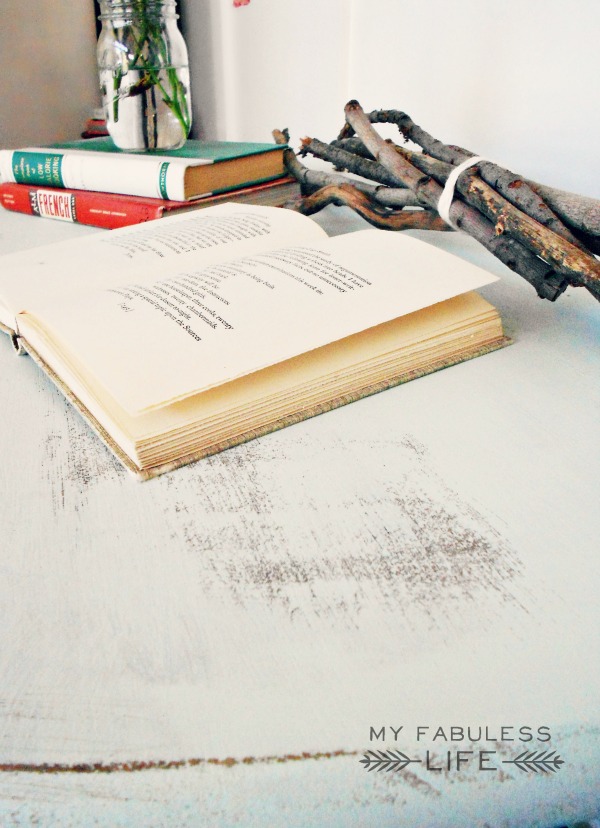 When I distress, I always keep in mind where wear and tear would have naturally occurred, like on the edges, bottoms of table legs, around keyholes and handles, etc.  And that's it.  If this is your first time painting furniture, I'd recommend starting on something flat like a dresser that gives you a lot of even surfaces to work with and get a feel for it.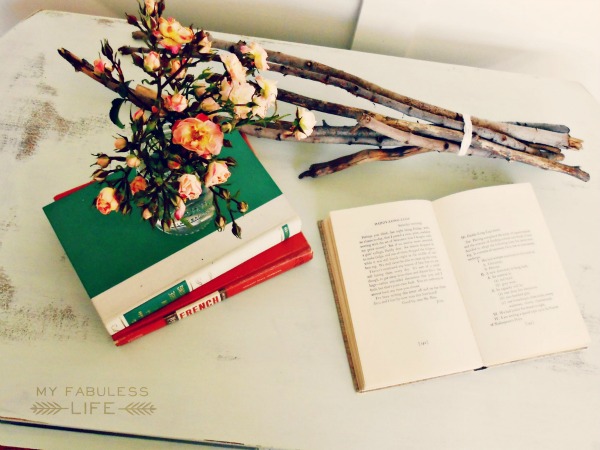 You can see a few other projects where I've distressed here and here.
What techniques have you used in distressing furniture? 
Happy crafting,
Jenn
***
Don't forget to sign up for the Summer 2013 Handmade Gift Exchange!

***
Have you entered this awesome giveaway?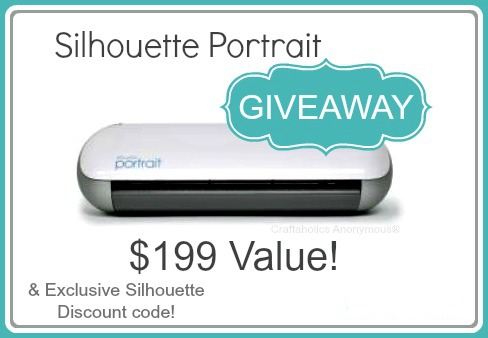 Latest posts by Jenn Menteer (see all)