Hey Craftaholics Anonymous® readers! Its Jessi here from Practically Functional! St. Patrick's Day is just around the corner, so if you need a quick and easy craft idea for this green holiday, try using a bell pepper to make a shamrock stamp! It's a great kids craft and you only need a few supplies and a few minutes of time!
Easy Bell Pepper Shamrock Stamps
You can use these pepper stamps to make super cute St. Patrick's Day cards, or if you use multi-surface paint, you can even stamp shamrocks onto fabric to make t-shirts, hats, tea towels, or tote bags! Kids and adults love these DIY Shamrock Stamps!
How to make Bell Pepper Shamrock Stamps:
Bell pepper (bonus points if you can find one with four lobes to make a four leaf clover!)
Craft paint
Knife
Paper or fabric surface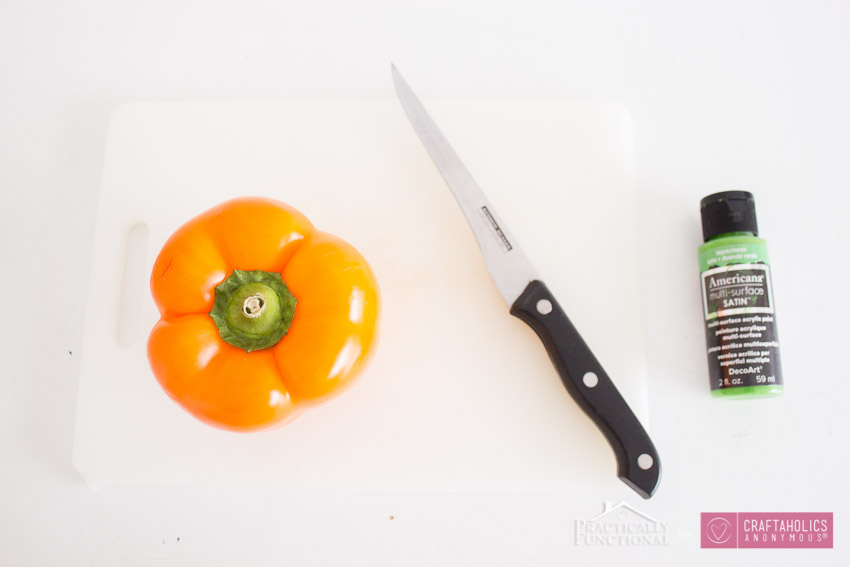 Start by cutting the bottom third off of your bell pepper. Make sure it's a nice flat cut so that all edges of the pepper will hit the paper at the same time. You don't need to pull out the seeds unless they are close enough to the bottom that they will get paint on them.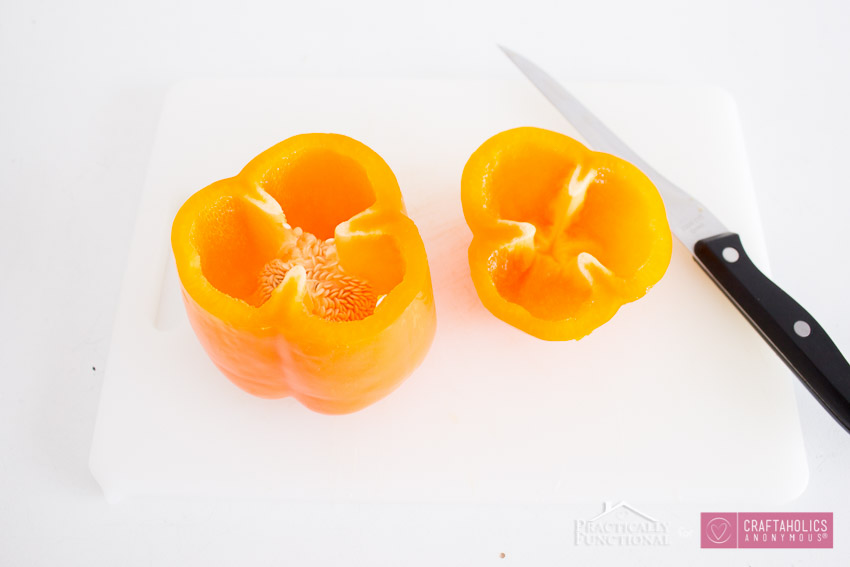 Pour a little bit of craft paint onto a paper plate and then place the top half of your bell pepper into the paint with cut edge down. Move the pepper around a little to make sure all of the edges are evenly covered in paint.
Then pick up the pepper and firmly stamp it onto a piece of paper!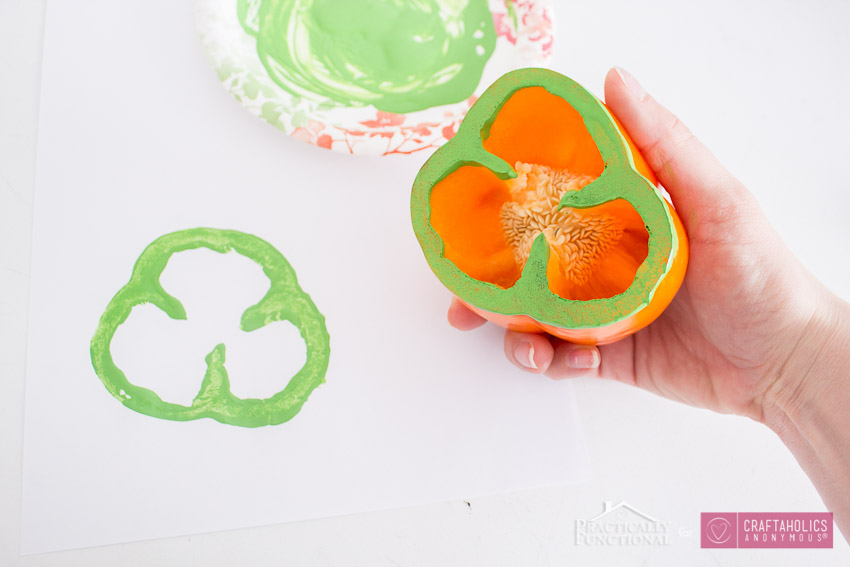 Ta-da!
If you want to add a little stem to your shamrock, you can tilt the pepper and stamp again with just one edge of the pepper.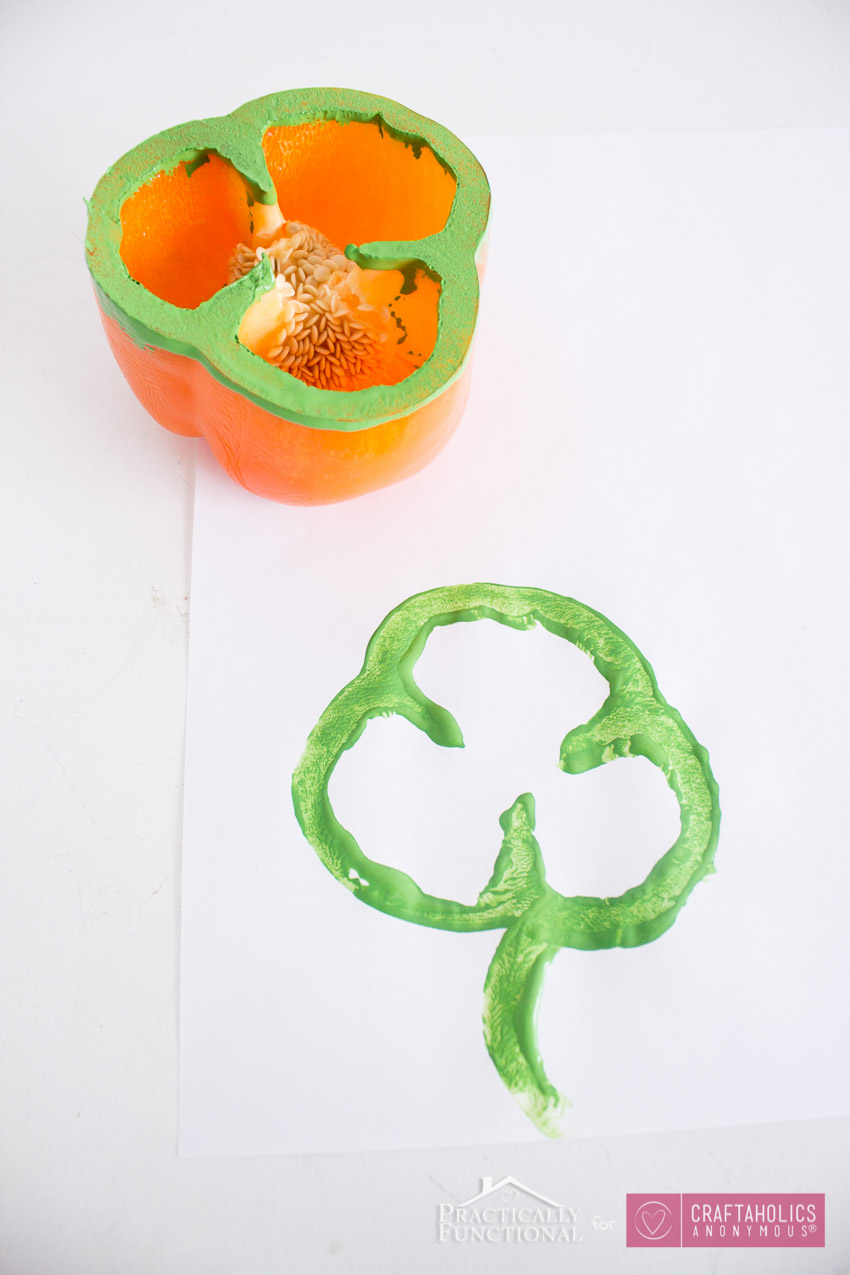 If you liked this St. Patrick's Day craft, check out these green and gold St. Patrick's Day roses! They are quick and easy to make; all you need is green food coloring, gold glitter, and white roses!
If you want more simple craft projects, stop by Practically Functional for a visit anytime, or follow along through social media! I'd love to see you there!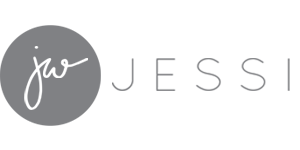 Hi, I'm Jessi, and I blog at Practically Functional, a blog about real projects that real people can actually do! You don't have to be a pro in order to craft or do DIY projects; Practically Functional is full of projects for everyday life that anyone can do, regardless of skill or experience! Whether you're looking for fun crafts, DIY projects both big and small, gardening advice, cleaning tips, or quick and easy recipes, you'll find them here! Follow the step by step instructions in every tutorial, and don't hesitate to ask if you have any questions! Make sure you
subscribe to free weekly emails
so you don't miss a single tutorial!
Latest posts by Jessi @ Practically Functional (see all)