Happy Labor Day! For a fun change of pace today, I have the cute girls from Everyday Art here to show us How to Make a Rag Rug tutorial. I love their super easy technique! This is definitely a great craft for fabric scraps. {don't ya love scrap busters?} enjoy! -Linda
How to Make a Rag Rug Tutorial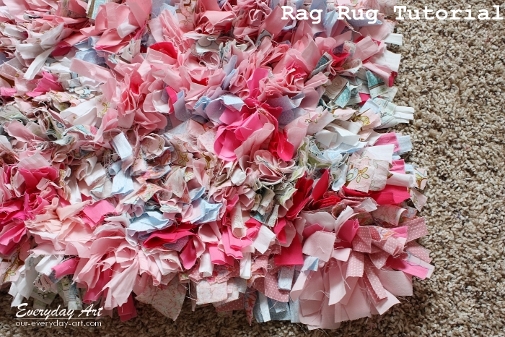 Hi, my name is Jaime and my sister-in-law Emily and I are craftaholics. :)
We like to share our creations on our blog, Everyday Art because we think that everyone likes to create a little art everyday.
We're excited to be here at Craftaholics Anonymous® today sharing one of our recent projects.
Introducing, the Pink-and-Blue Rag Rug: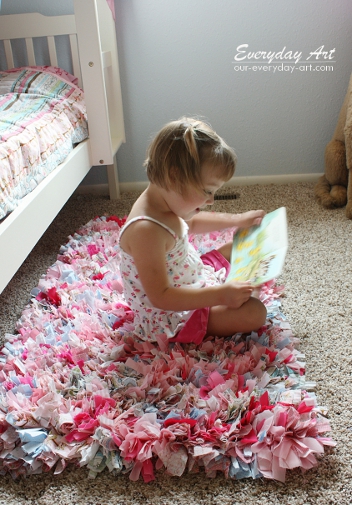 And I must say, phew!, what a long, loooong time this project took me! Many hours sitting watching shows/listening to audio books while working on this puppy. But, I have to say, even knowing how many hours (days, weeks, months) I've put into this, I'm so pleased with how it turned out. I love it. :)
We recently moved and I put my two oldest girls in a shared bedroom. One loves blue, the other pink. So what to do but make a pretty blue-and-pink room for them? After completing the blue-and-pink quilts for their bunk beds, painting the walls blue, and hanging pink curtains, I tackled the rag rug as my next project.
As you can see, it turned out cute, coordinating, and much loved by the two girls.
The rug really was simple to make, just time-consuming. Basically, I used strips of fabric (1000s of them) cut about 1 inch x 5 inches. I stuffed these strips into a non-skid rug mat and voila! No need to even bother tying the strips.
You can see the rug mat in this image and about how often I skipped holes. Obviously, I certainly could have made it more full by skipping less holes in the non-skid mat, but there really wasn't a need to make it any more full. I used leftover fabric from their quilts plus other scraps and purchased fabrics.
The rug has been in the girls' room for about 2 weeks now and it easily fluffs up with a little shake and appears to be holding up well. With projects like this, the personalizing possibilities are truly endless–any color scheme would be fun.
Ready to make one yourself?
Rag Rug Tutorial
Supplies:
Here's an image-tutorial on how to make a rag rug:
I hope your rug goes well! I think this was one of my all-time-favorite handmade items.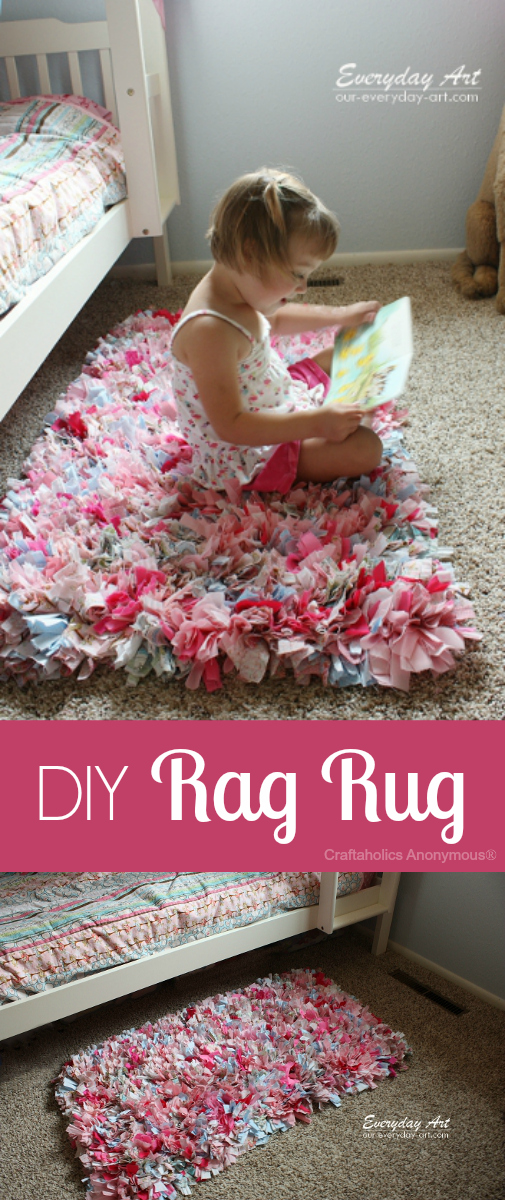 Thanks Linda for having us. :)
Lots of love from the gals at Everyday Art!
 Follow along on Pinterest for more Crafting Ideas and Inspiration! 

Hi! I'm Linda, the craft addict behind Craftaholics Anonymous®, a craft blog. Crafting is cheaper than therapy, right? When I'm not DIYing something, I can be found taxiing around our 4 crazy kids or working out. Or shoe shopping... because you can never have too many shoes! Happy crafting! ♥